Hitachi Ltd. is a conglomerate brand founded in Japan. Hitachi Ltd. is the parent company of Hitachi Group and is a decisive member of GKB Group of Companies. The term Conglomerate represents the varied business interest of Hitachi; it is like one single brand operating in varied entrepreneurial verticals.
Enterprises like Blue Star, Lloyd Electric and Engineering and Samsung are the pioneers that keep Hitachi on the toe by threatening to win over its consumer base.
The conglomerate nature of Hitachi Ltd. can only be understood by listing the 11 varied verticals, which includes of
Telecommunication systems

Power System

Social Infrastructure

Financial Services

Automotive Systems

High Functional Materials and Components

Digital Media and Consumer Products
Hitachi Ltd. is a public enterprise listed on Tokyo Stock Exchange and it ranks 38th in Fortune Global 500. A study in January 2014 found that hard disks from Hitachi were the most reliable. What makes Hitachi one of the most loved brands is its promise of delivering quality products and services under all constraints.
About Hitachi
Type: Multinational conglomerate corporation
Industry: Electronics, energy, construction, information & communication technology, transportation
Founded: 1910
Founders: Namihei Odaira
Headquarters: Chiyoda City, Tokyo, Japan
Area served: Worldwide
Current CEO: Keiji Kojima
Number of employees: 350,000+
Major products: Electronics, power systems, construction machinery, railway systems, information & communication technology solutions, transportation systems
Product in the Marketing Mix of Hitachi
Hitachi Ltd. deals in an array of products and services including Financial Services and Digital Media and Consumer Products. The ever-expanding product line caters to a wide range of audience and tries to fulfil each and every requirement of a valued customer.
An Electrical Engineer named Namihei Odaira started Hitachi and the first product of the company was an Electric Induction Motor, which happened to be Japan's first 5-horsepower motor. From manufacturing motors to catering people with Financial Services, Hitachi has come a long way for sure.
One gets to choose from a lot of variants in almost every sector of Hitachi product line. Hitachi is helping people make a better choice by providing them with sumptuous options.

Price in the Marketing Mix of Hitachi
Be it Aircraft Engines, Automotive Products, Construction Machinery or Defense System, Hitachi has always tried to maintain a balanced pricing, with keeping competitors in mind. The defence products and construction machinery are sectors where sales depend on upon Quality and not Pricing play an important role in shaping the marketing mix of Hitachi under the Pricing vertical.
Hitachi's approach in telecommunication system sector and Power System is surely of enamouring costumers by luring them using attractive pricing. The enterprises have successfully catered more than 50 Nations with quality products and continue to expand its outreach on a daily basis.
The fact that Hitachi Ltd. is growing on daily basis and has very less number of setbacks proves that the enterprise has been putting money and ideas in the right direction. When you are moving ahead with the right strategy, you can always cut out prices and provide your costumers with heavy discounts. Hitachi has hit the bull's eye with marketing strategy and price-cutting.
Place in the Marketing Mix of Hitachi
Founded in 1910, Hitachi is headquartered in Chiyoda, Tokyo Japan. Listed as a public stock company in Japan Stock Exchange Hitachi has an impressive global outreach.
Including countries from South America, North America, Asia, Europe and the Middle East the company operates in more than 50 Nations. Hitachi's outreach signals towards the core business value founders and board members have passed to the next generation over the time. Simple expansion model, quality services, affordable pricing has helped Hitachi to grow as a brand.
The diverse portfolio including 11 vertical of business allows Hitachi to sell different products in varied countries; for example, Hitachi's defence products are quite popular in the Middle East whereas countries like India, Japan and Bangladesh enjoys access to telecommunication systems.
Promotions in the Marketing Mix of Hitachi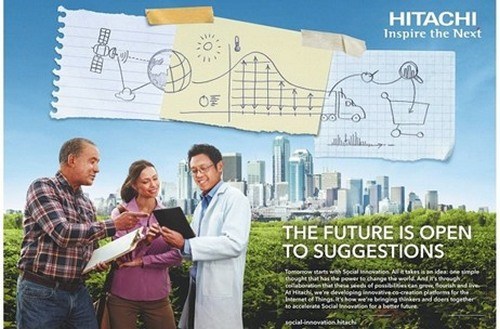 Hitachi as an enterprise has always relied on its quality product and customer experience for marketing whereas promotional ads have always been a part of the plan but enrolling a superstar celebrity is just not the Hitachi way.
Hitachi has left the world impressed and head over heels in awe by publishing some really generic and funny ads. The enterprise aims to sweep over the audience by their wit and intelligence. Well, the quality that Hitachi delivers puts it ahead of a lot of contemporaries, which adds up to the popularity and increases sales.
Hitachi has actively contributed to Corporal Social Responsibility across the world. They have done some really impressive work in the Sub-Continent.
Hitachi- Inspire the Next is the motto that will continue to inspire awesome technology and help people lead a simple yet overwhelming life.
Liked this post? Check out the complete series on Marketing Mix