Hummer is a subsidiary of its parent company General Motors. It is associated with automobile industry and deals in manufacturing and distribution of SUVs and trucks. Company was founded in year 1992 and became defunct in the month of May in year 2010. Hummer had a strong emotional appeal with a sense of preparedness and capability towards any situation. Vehicles from Hummer were not for everyone but for selected few who could afford it despite its high prices.  Some of its main competitors are as follows-
Mercedes G-Class
Land Cruiser
Land Rover
About Hummer
Type: Automobile
Industry: Automotive
Founded: 1992
Founder: AM General
Headquarters: Detroit, Michigan, United States
Area served: Worldwide
Key people: Duncan Aldred (Chairman) and Michael Arcamone (CEO)
Number of employees: 1,000
Product in the Marketing Mix Of Hummer :
General Motors won a contract with United States army and designed a prototype vehicle to suit their particular needs. Later the company launched a civilian version for public usage under brand Hummer.  It was projected as a brand that supplied all-terrain, rugged and strong vehicles. Iconic designs and durability were its main assets. Models under the product portfolio of Hummer are as follows –
Hummer H1- It was the first vehicle launched under brand Hummer. Company had been selling its vehicle Humvee to military and they decided to bring out a civilian version with basic mechanical components remaining the same. Enhancements of a passenger car like stereo system, upgraded upholstery, sound insulation and air conditioning were added and the first model H1 rolled out in year 1992.
Hummer H2- It was the second vehicle from brand Hummer's kitty and had two versions H2 SUT and SUV. These vehicles were seen in consumer market between the years 2002 and 2009. Trucks were modified version of H1 and were slimmer, taller, lighter and longer.
Hummer H3- It was off-road and sport-utility vehicle launched between years 2005 and 2010. These were smallest models and were available in twin versions H3T and H3.
Hummer HX- It was a concept car, smaller than its other models. HX was launched in year 2008 and was off-road vehicle with two-door facility
Plug-in-hybrid- It was a prototype unveiled in year 2009 and had features like E-REV powertrain and 4-cylinder engine

Place in the Marketing Mix Of Hummer :
Hummer was of American origin and had its headquarters base in Detroit in United States. It started its operations for its first vehicle H1 from assembly plant at Mishawaka in Indiana. H3 models were manufactured at its plant in Struandale, Port Elizabeth in South Africa. Another plant was opened in Shreveport at Louisiana in year 2005 and in year 2006, in Avtotor in Russia. Hummer vehicles were available in markets like United States, Europe, Australia and Asian countries like Japan. Brand had a strong distribution network that was dependent on its dealers through alliances and partnerships in thirty-five countries by the end of year 2006. Vehicles were easily available through them.
Price in the Marketing Mix Of Hummer :
Hummer brand catered to the needs of a special category of customers that believed in its ruggedness and durability features. These were not projected as conventional modes of transportation but as luxury items, which offered extra safety features in adverse conditions. Because of its special features production cost of Hummer vehicles was a bit high than similar sounding vehicles of its competitors. Brand adopted a premium pricing strategy for its vehicles as it realised that its potential customers were willing to pay extra amount for these the high-end products.
Promotions in the Marketing Mix Of Hummer :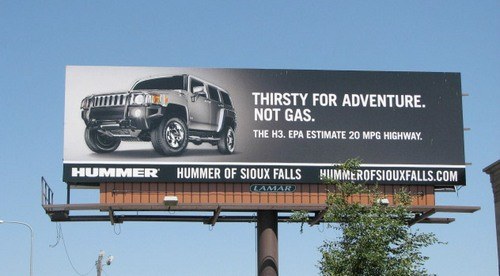 Hummer had a very strong aura that helped in popularising its brand image. It had a self-descriptive tagline-"Like Nothing Else". American actor and state governor for California Arnold Schwarzenegger was a fan of Hummer vehicles. Racing team of Hummer started in year 1993 and was led by Rod Hall, an off-road racer.
Robby Gordon in H3 participated in Dakar Rally.  Brand became hugely popular and this was because of its positive image that projected the vehicles as safe for all-terrain. Trucks were featured in commercials that were advertised through print media on billboards. Hummer had an official website that dished out specifications, warranty, service details, pictures and customer experience to the interested parties so as to create a positive influence.
Liked this post? Check out the complete series on Marketing Mix