Royal Crown Cola is commonly referred to as RC Cola. It is a soft drink associated with beverage industry. RC Cola was founded in the year 1905 by its founder Claud A Hatcher. It has a long-lasting and pioneering history that has made it one of the popular products in the beverage industry. Currently, RC Cola is a subsidiary of its parent company Plano, a part of Dr Pepper Snapple Group. RC Cola faces stiff competition from following
Coca-Cola
Pepsi
Thumbs Up
Mountain Dew
About RC Cola
Type: Soft drink company
Industry: Beverages
Founded: 1905
Founder: Claud A. Hatcher
Headquarters: Columbus, Georgia, United States
Area served: Worldwide
Current CEO: Al Carey
Number of employees: 1,200+
Major products: RC Cola, Diet RC Cola, Cherry RC Cola, RC Draft Cola, RC Ginger Ale, RC Cream Soda, RC Peach, RC Cola Zero Sugar
Product in the Marketing Mix Of RC Cola :
RC Cola is one of the major and iconic beverage brands that have been in the consumer market for more than one hundred years.  It is a soft drink of cola flavour with clean and crisp taste.
RC Cola is available in different sizes and packages including glass bottles, cans and pet bottles in sizes of 2 litres, 1.5 litres, 1 litre and 200 ml. It is associated with several innovative options like first 16-ounce soda, first caffeine-free soda and first canned-soda. It became the first beverage brand to launch its diet cola in the mainstream market and also the first to arrange taste-tests on a national scale. RC Cola has launched several products and its variants over the years. Some of the most popular ones are as follows-
RC Cola
Chero-Cola
Light RC Cola
Royal Crown Mixers
RC Orange
RC Cloudy Lemon
RC Upper Ten
RC-Q
Diet-Rite Cola
RC Cola Lemon
RC 100
RC 100 Sugar-Free
Cherry RC Cola
Kick
RC Draft Cola
RC Cola Edge
RC Cola Zero
RC Kick
RC Dra-Cola
RC Ten
Diet RC Cola Lemon
Diet Cherry RC
Diet RC Cola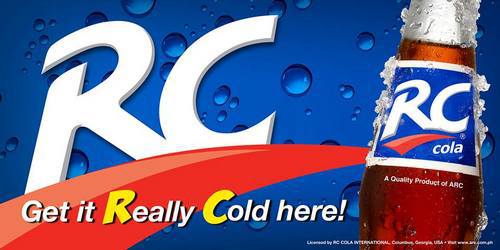 Place in the Marketing Mix Of RC Cola :
RC Cola was first introduced at Georgia in American soil and from there spread its product presence to several countries in the world like Philippines, Iceland, Thailand, Bangladesh, India and Estonia. It has several manufacturing facilities to create innovative products. RC Cola has a strong distribution network that includes services of manufacturers, warehouses, distributors, good logistics along with sales offices, administrative offices and sales agents so that products reach consumers easily via supermarket, hypermarket, discount stores, convenience stores, corner shops, food stores, cafes, fast-food joints and restaurants.
Price in the Marketing Mix Of RC Cola :
RC Cola has targeted every section of society from the all-age group including adults, teenagers and children as its target customer. It has projected its brand as a beverage for common masses. RC Cola has been interested in increasing its market share by penetrating in further markets.
Therefore it has adopted a penetration pricing policy that will help it to reach both common consumer market in urban areas and unchartered areas in the rural sector. It faces stiff competition from two rival brands in the consumer market. The company has implemented competitive pricing and kept its product prices at same levels with product prices set up by rival brands so that its prices seem affordable and inexpensive to consumers.
Promotion in the Marketing Mix Of RC Cola :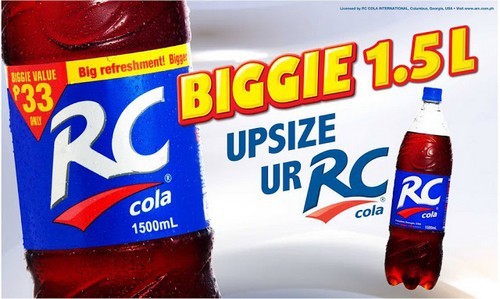 RC Cola has always been a believer of advertising and celebrity endorsements to gain maximum brand awareness. During the 1930s it launched a campaign with tagline The Season's Best and 1940s an ad was launched in magazines starring famous actress Lizabeth Scott with tagline RC tastes best, says Lizabeth Scott. It also roped in famous personalities like Lucille Ball, Shirley Temple, Joan Crawford and Bing Crosby.
RC Cola entered into sponsorship deals with New York Mets on an on and on basis during the 1960s, 70s and 80s. Ads were later launched on television and a commercial featured Tom Seaver and his wife Nancy. RC Cola was a sponsor of Marco Andretti during IndyCar Series 2012 and 2013. Currently brand advertisers via television, radio, newspapers, magazines, billboards. Social media platforms like YouTube and Facebook to remain in limelight. As part of its promotional marketing RC Cola takes part in several events and promotes its product portfolio via free tastings.
Liked this post? Check out the complete series on Marketing Mix