American express is a public company belonging to the financial services industry, which was founded in 1850 in Buffalo, New York, USA. It has its headquarters in New York City. Kenneth Chenault is the Chairman and CEO at present of the company. The company offers services like finance, insurance and travel.
Its main products are charged cards, credit cards and traveler's cheque. Out of the total volume of credit card transactions (in $) in the US, approximately quarter of it is the share of American express cards. It was listed as one of the top 20 most admired companies by Fortune. It's the 4th largest card network in the world on the basis of number of cards in circulation. Its major competitors are Visa and Master Card.
About American Express
Type: Financial services company
Industry: Payment services
Founded: 1850
Founders: Henry Wells, William Fargo, and John Butterfield
Headquarters: New York City, New York, United States
Area served: Worldwide
Key people: Stephen Squeri (Chairman) and Stephen Squeri (CEO)
Number of employees: 67,000
Product in marketing mix of American Express
The company offers various card services in the US to consumers and small businesses. International card services like American express make my trip credit card in India and American express AeroplanPlus reserve card in Canada.The famous cards are Green, Gold and Platinum charge cards. American express corporate meeting card allows us to track,analyze and improve the meeting expenditures.
The reward points gained with its usage can be spent across 18 countries in the world outside US. Through its joint venture GBT it also offers corporate cards to the corporate account holders. It is also engaged in providing business-to-business payment solutions for daily large ticket business payments.Its global network and merchant services (GNMS) operates a global payments network that settles proprietary and non-proprietary transactions.
Top products from the house of American Express can be listed as:
Charge Cards
Credit Cards
Traveler's Cheque
Place in marketing mix of American Express
The company is known to provide value to its cardholders through its innovative approaches, which save the customers both the time and money. The membership reward program gets the mid market companies to achieve better savings and enjoy several benefits. Corporate MR points can be redeemed for cash back and directly benefit the business. They convert the data into usable information for corporate customers and hence help them to manage their expenses and improve the business efficiency. They have the largest integrated global platform, which gives them an edge over their competitors.
In recent past, American Express has confiscated expansion barriers and has developed bases in developing countries like India, Singapore and aims to continue with the expansion spree. The smart management of resources, exquisite policies that ensures easier compliance with the varied governmental regulations ensures easy business development.
Introduction of American Express in countries like India, Singapore and Dubai have allowed business personnel to live life king size. The traveler's cheque and the incredibly powerful credit cards allow people to use money smartly and beat the most innocuous of problems with great ease.
Price in marketing mix of American Express
In the US vast majority of businesses accepts the American Express card, but as it charges slightly higher acceptance and merchant fees, so some merchants don't accept it. American Express charges around 3% of the sale to the retailers and its competitors like VISA and Master Card on an average charge around 2%. And this is because of the difference in the business model of American express as they make money from swipe fees charged to the merchants and the annual fees charged to the customers and has minimal interest income. But the reward points that customers get on spending are really beneficial.
The annual fee charged by American express cards is in the range of $50-$500; which in promotional offers is waived off for the first year,whereas VISA charges $500 and some of its cards have no annual fee at all.
Promotions in the marketing mix of American Express
The brand marketing focuses on trust, security and service. American express's small business Saturday is a good example of how branding is valued by them as they have created personalized experience for customers. Their brand advocates a feeling of belonging to a community of individuals with specialized services.
People using American express cards are found to have more satisfaction on certain aspects than others as you enjoy further reward points on the big-ticket purchases like airline tickets. The outlook of the company reflects it's meant for the classes and not for the masses.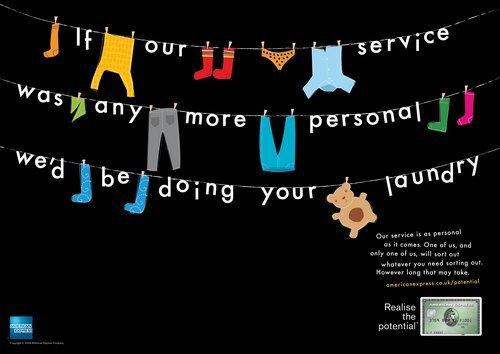 American Express aka Amex needs no promotion given it is not for every Tom, Dick and Harry; one needs to have exceptional portfolio in order to own a product from the house of American Express. One can never identify a marketing campaign run by American Express. The promotion of American Express is like those of secret services where they do not reveal much but are never out of demand.
Liked this post? Check out the complete series on Marketing Mix