Kohinoor Condoms is an established brand of Indian origin associated with FMCG industry. It is a personal care product for males and is used as a contraceptive brand. A company has targeted urban people who are above 18 years as its potential customers. Education has helped people in understanding the advantages of condom usage and this has helped the brand in creating a good market for itself. It faces stiff competition in consumer market and some of its main competitors are as follows-
Trojan
KS
Moods
Shields
Manforce
Product in the Marketing Mix Of Kohinoor Condoms : 
Kohinoor Condoms is one of the most popular contraceptives designed for pleasurable sex. It is used as a protection against pregnancy as well as against any unwanted disease like Aids. Kohinoor has been declared as one of the most innovative brands and has a product portfolio of several variants like-
Kohinoor Xtra Time Condom- Available in dotted texture and has extra sensitivity
Kohinoor Rose Condom- Has seductive fragrance and added sensitivity
Kohinoor Pink Condom- Reliable and durable
Kohinoor Xtra Thin Condoms- Reliable with additional sensitivity for providing extreme pleasure
Kohinoor Xtra Ribs Condoms- Has extra sensitivity to ensure ultimate satisfaction
Kohinoor Triple Xtra Condom- Includes extra ribs, dots and sensitivity
Kohinoor Xtra Dots Condom- Extra-dots texture provides additional sensitivity and helps in extreme pleasure
Kohinoor Xtra Time Condom- 100% natural with dotted texture and additional sensitivity
Kohinoor Silk Condom- Unique condom with features like latex-free, lubricated and transparent for long-duration pleasure
All Night Sweet love Combo- Long-lasting lubricant with raised dots to provide maximum pleasure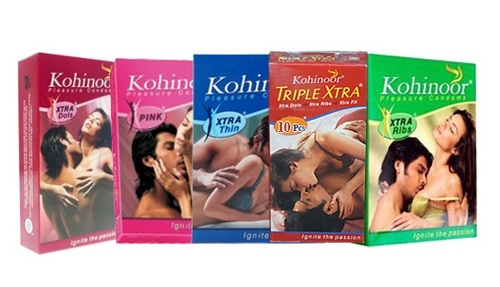 Place in the Marketing Mix Of Kohinoor Condoms :
Kohinoor Condoms is an Indian brand and is easily available in most parts of India. It has spread its network mostly in urban cities as usage of condoms is still not encouraged in rural areas. Kohinoor Condoms has an excellent distribution network that helps in transporting its products to consumers via distributors, stockist, super stockiest, dealers, retailer and lastly consumer. Each of them receives a cut or margin on its sales figures. The product is easily available in malls, beauty parlours, chemist stores, discount stores, corner shops and supermarkets.
Price in the Marketing Mix Of Kohinoor Condoms :
Advanced technology has made manufacturing of Kohinoor Condoms less costly. It is a very competitive market and brand faces fierce competition from several rival companies. It also wants to make further inroads and spread its products in rural markets along with the urban market. Kohinoor Condoms brand has adopted a penetration and competitive pricing policy for its variants. It has kept its prices marginally lower than prices set up by its rival companies because it wants to gain a competitive advantage over others. India is a price-sensitive market and consumers do not want to spend extra on something like a contraceptive, which they can easily get at a lower rate. Hence brand has kept affordable and inexpensive product rates so that an individual can easily make a purchase.
Promotions in the Marketing Mix Of Kohinoor Condoms :
Kohinoor Condoms has become one of the most recognised brands because of its intensive marketing campaign. It has launched several innovative and informative ads that have gained instant recognition. The brand has taken help of a maximum number of advertising tools to market its products via electronic, social and print medium. Its ad campaigns are shown via television channels and radio. It has published print ads in newspapers, magazines and hoardings at several places.
Kohinoor recognises the instant impact of star power on the mindset of common masses and has roped in Divya Parameshwaran, an Indian actor and model to act in its campaign. It has also marketed its product via social platforms like Twitter, Facebook and blogs. Relevant and vital information is updated periodically on its website to keep its clients in the know-how of any latest developments. Sometimes during certain events brand distributes free condoms as part of its promotional campaigns and this helps in creating further brand visibility in the market.