Founded in 1999, Aircel is an Indian telecommunication enterprise providing people and institution with access to 2G, 3G and 4G networks. The headquarters of Aircel are located in Chennai, Tamil Nadu.
Aircel has also been merged into Reliance Communication in order to provide people with better data and voice call services though Aircel continues to run its processes independently as well. Maxis Communication leads the enterprise with 74% of stock and shares while the rest 26% are owned Sindya Securities and Investments.
With 83.05 Million-Voice call and Data subscriber, Aircel happens to be the fifth largest telecommunication company in India. The top five-telecommunication companies include Vodafone, Airtel, Reliance and BSNL.
Aircel has proved its mettle in North-East Region along with bit of south regions; some of the states where its presence can be felt strongly are:
Odisha
Assam
North-East
Tamil Nadu

About Aircel
Type: Mobile network operator
Industry: Telecommunications
Founded: 1999
Founder: Chinnakannan Sivasankaran
Headquarters: Gurugram, Haryana, Mumbai, India
Area served: India
Key people: S.P. Hinduja(Chairman) and Gurdeep Singh (CEO)
Number of employees: 9488+
Product in the marketing mix of Aircel
Reaching out to the vast Indian audience requires specialized skills or services that impress everyone. While Aircel is yet to pan across India, it has surely made a place for itself in the lives of people from Northeast and Southern regions of the country. While the company constantly looks forward to expand and make a dent in the world, improving services side by side is just another thing they prefer to concentrate on.
Aircel for now has mastered the art of delivering quality Voice Call services in the spectrum of 2G, 3G and 4G. The enterprise is equally adamant about quality services of Data in spectrum of 2G, 3G and 4G.
Aircel aims to go pan India but they are taking it slow because of the lack of orders from the contemporary government. The company has aims for delivering quality services in the remotest corners of the company. The world can be relaxed and look forward to something amazing coming out from the house of Aircel.
Place in the marketing mix of Aircel
Aircel has a strategy that is working well for the company but the simple idea of taking it slow with expansion is going to harm the enterprise. Contemporaries like Reliance and Airtel are rushing to the remotest corners and are promising impeccable services at affordable price. The collaboration contemporaries are establishing are yet another challenge for Aircel. The digital allocation and distribution of resources is an extremely aspect of business development and from here Aircel seems to be losing on it.
While Aircel is busy making market presence, quality services offered to people are helping with word of mouth. Extremely cheap services are making people from Northern regions desperate about the launch of Aircel in their areas. Aircel needs to grab the opportunity by both hands and make a dent in the world.
Price in the marketing mix of Aircel
New to the world of 2G, 3G and 4G, Aircel aims to establish itself first hence they are quite lenient with rates. The free calling services and exceptionally good data services at affordable rate is helping enterprise climb ladders faster than anyone else. Like any other telecom provider, Aircel is trying to establish itself in the market with a Penetration pricing strategy.
Aircel promises 1 GB of 3G/4G data at an unbelievable price of 150 INR in varied regions of the country. There's a lot more to come from the house of Aircel. People using Aircel connection are quite satisfied with the service and pricing; they are not going to anywhere in near future. All Aircel needs to expand at a faster pace and introduce the whole of India to an amazing service at affordable price.
Promotion in the marketing mix of Aircel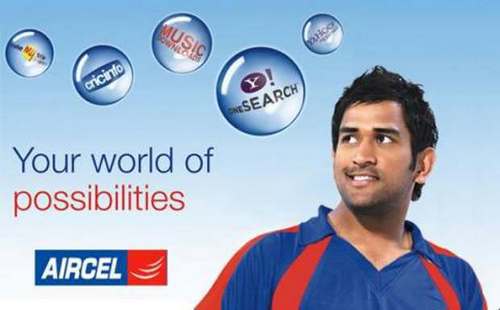 Mary Kom, Dhanush and Sameera Reddy are some of the reputed faces that represent the brand at varied levels. South actors like Dhanush and Sameera Reddy have turned the brand into a household name, while the impeccable association with Chennai Super Kings has helped the brand build the requisite trust among people.
Aircel is not only winning with brand awareness but they have also showcased their concern towards the degrading health of our planet and have offered help in preserving tigers and making this world a better place for them.
Mahendra Singh Dhoni, the Captain of Indian Cricket Team has also served the brand as brand ambassador and is bound to resume as soon as the ban from CSK is lifted.
Aircel is moving in the right direction with all the establishment and campaign; all they need to do is increase their pace and change the people use voice call and data services in India.
Other reads – Marketing mix of Airtel | Marketing mix of Vodafone
Liked this post? Check out the complete series on Marketing Mix