Freelancers have proved a boon to the business industry for outsourcing as they can be hired just for a particular job. It is a monetary bonus as you do not have to employ a full-time employee and the overall cost is actually quite low.
Selecting the right freelancer and working with him is not as easy as it seems as you have to find a worthy candidate and have to step aside those who miss deadlines, are working on several projects at once and are unresponsive by nature.
Before you hire one you need to research about him, review his work and lastly have a personal interview so that you can determine whether he will prove a right fit in your organization at that point-of-time.
1) Work experience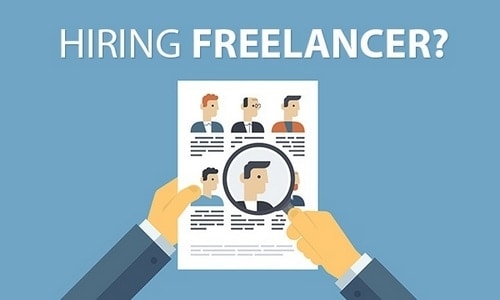 Experience matters a great deal when you have to meet a deadline and are looking for an expert freelancer to complete the job in the given time-frame. An important question to ask before hiring them is about their working experience.
How long have they been working in the industry and on similar projects is a feasible question. If they have the know-how and expertise to do the job it will save ample time. In some cases, a freelancer is new and without experience but he has the necessary expertise that surpasses the knowledge of others.
Go for him if he comes with a good recommendation. You can ask for his approach and tactics which he had been using earlier to make a definite opinion.
2) Necessary and relevant skills and tools
You are going to hire a freelancer for a particular job so make sure the person is equipped with the necessary skills and tools to complete the job. Tell him about your requirements and issues which he may face during the project.
Now enquire about his level of expertise, skills, and tools and how is he going to handle your job with those skills as it is an important question to ask a freelancer before hiring him. A new freelancer might not have acquired the necessary skills and tools by that time but an experienced one must have gained an in-depth knowledge.
His answer to the question can help you in determining whether the freelancer understands the requirements of the job and will he be able to handle it to the best of his ability.
3) Will you be able to meet the deadline
A freelancer can have as many work commitments as he desires. When you are hiring him it is for a specific project and its timeline might be also fixed beforehand. As the chances of you being the freelancer's only employer are slim it is better to inquire beforehand about it.
Will he be able to meet the deadline is a viable question to ask freelancers before hiring them. In most cases, experienced and established freelancers are booked in advance for special projects and might not have the necessary time to handle it within the timeframe.
Make sure that you are firm in your resolve and ask him directly whether he will be able to complete the work allotted to him.
4) Can he provide references
Referrals are an integral part of a freelancer's CV. Every individual who has worked as a freelancer will keep his previous client list ready and at hand to let others know about it. How many clients have you worked with and can you provide references from them are an important question to ask freelancers before hiring them.
When a person fails to provide reasonable referrals it means that his clients are not satisfied with him. If he gives you his client list then it is better if you check with some of them to gain a better perspective about his mode of operation and success rate in handling such projects. This will help you in understanding him better so that you can easily determine his suitability for the job.
5) How does he charge his clients
 When we hire freelancers one of the important things to look for is the rate which he charges his clients. Until and unless he gives his rates one cannot quantify his value. Individuals working on specific projects either work on an hourly basis or on a fixed amount that is arrived after negotiations.
In some cases, the freelancer opts for an hourly system but with a provision of bonus if he meets the deadline much before and the work is also top-graded. When the output of a freelancer exceeds the expectations of his employer then it is better to give him his monetary due as well as a great referral.
6) Your modus operandi
Social media portals have made it easy to hire professionals as freelancers as there are several sites which give a detailed background of people looking for jobs. Outsourcing marketplaces from all over the world are now at the tip of your fingers and you can make a viable choice with just a few clicks.
One important question to ask a freelancer before hiring him is his normal working hours. Will he be spending only a chunk of time every day on your project and the rest on some other project or he completes one and then starts other is an important query that needs to be addressed?
Enquiring about his modus operandi and the number of hours he usually sets for a project is important as he needs to meet the deadline at any cost. It is better to come at a final arrangement beforehand to avoid any friction later on.
7) How will he keep you in the loop (Ways of Communication)
When an employee is on a project there are several opportunities for people like team leader and supervisor to make sure whether he is doing a good job and will he be able to meet the deadline. But when you hire a freelancer then he is working from his workplace and not your office, so how are you going to keep regular tabs on him.
How will he keep you in the loop is an important question to ask freelancers before hiring them as maintaining open communication is necessary for everyone. A freelancer might be too busy for customary updates as it might hamper his creativity or someone might prefer to update you regularly. Be specific and know beforehand what he prefers. If you are in accordance it is good and if not then you can come to a viable compromise that might work for both of you.
8) Why does he freelance
Freelancers no doubt have flexibility in their timing but they cannot boast of a regular income. If they are getting clients in bulk then it is ok, but what happens during a lean period. It takes a lot of courage and a definite mindset to become a freelancer.
As a future employer, you need to ask him the reason for freelancing to get an insight about him. Is he freelancing because of some emergency that requires his presence at home or does he like the freedom of working alone are important questions to ask freelancers before hiring them? These questions are not relevant to your job but will help you in making up your mind about him.
9) What type of projects has he worked on
It is important to ask a freelancer what type of projects he has worked on before hiring him. Let him tell you about his past projects, clients and work experience. This will shed a light on his capability and mind frame and let you know whether he is suitable for the job you are offering.
Listen intently and focus on the nuances to understand him better. Was he excited or was his voice devoid of any emotions are important questions that need to be addressed.
10) How does he deal with unhappy clients
If you want to delve deep inside the mind of an individual then how you do deal with an unhappy client is a question to ask freelancers before hiring them.  His answer will actually prove quite interesting. Is he going to share the blame or is he going to put the full blame-game on the client?
If he starts complaining about the client then you need not to think any further, just show him the door. In some cases, the reasons are genuine so make an effort to know the reason and make up your mind accordingly.
These were some of the ways you can evaluate freelancers by using the right questions to ask freelancers before hiring them.
Liked this post? Check out the complete series on Business