Exempt employees are exempted from being paid for their overtime work. We all know that a number of employees work overtime and get paid for the overtime worked. But are all the employees paid extra for the overtime done?
No, exempt employees do not fall in this category.
But how to know who are the employees who can come under the exempt employment? The qualifications of such employees are being checked by the Fair Labor Standards Act (FLSA).
Are you getting interested in the term so that you can benefit out of them? In order to do so, it is important to understand in details about such exempt employment. Let us unravel the mystery here and now
Who Is An Exempt Employee?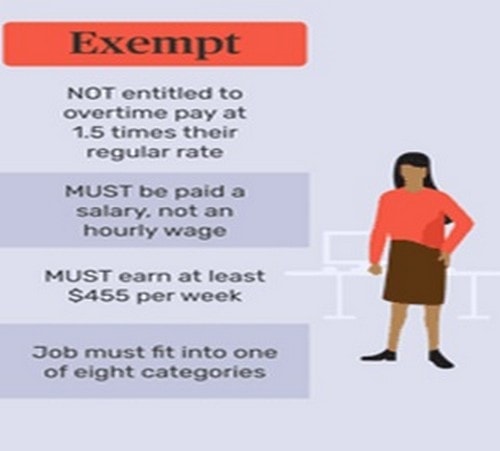 In order to be an exempt employee, a person needs to fulfill a number of eligibilities. The three most common factors that the person needs to fulfill are:
The person be salaried
The minimum yearly salary of the person should be of $23,660
The person should have responsibilities of high level
There are a number of exemptions under which the employees can be-
1) Executive Exemption
The first one is the executive exemption. Such employees generally handle small business, have authority over a few full-time employees, and are in the position to hire, promote or even fire other employees.
2) Administrative Exemption
The next is the administrative exemption. Employees under this exemption perform non-manual work of the management or the business operations. They are free to make decisions about any task without getting permission from anyone.
3) Professional Exemption
The professional exemption is the next option and employees of this exemption take care of jobs that need advanced knowledge in various sectors of learning and science. They should be certified in a specific field and should have artistic or creative talent in them.
Importance of Exempt Employees for Small Businesses
Having the hardworking and dedicated professionals is one of the significant resources for all kinds of businesses and for small businesses; it is inevitable to have such a loyal workforce. The job of such workers turns more important when businesses have constrained assets.
In such situations, exempt employees are of great importance. Employees in basic jobs like professional, executive, and administrative are significant for the success of such companies. They are involved in dealing with the business, channelizing and executing the business policies and performing specific assignments that require their decision-making abilities.
For an independent company to achieve its objectives, it is important to have employees in critical jobs to buckle down to get more productive outcomes in limited time possible.
In the event you opt for non-exempt employees or regular employees in such scenarios, you will be required to pay more. As indicated by the Fair Labor Standards Act (FLSA), regular or non-exempt employees are qualified for the lowest pay permitted by law + overtime pay.
And the overtime pay that you will be bound to pay is one and half times the normal rate of pay.
Because of such laws, independent ventures, new startups, and small businesses will be demoralized to ask their employees for long working hours. Then, accomplishing your business objectives would become troublesome for you.
Opting for Exempt Employee framework will be highly productive and result driven for you in all such situations.
Key features of Exempt Employee Concept for Businesses
1) Exempt Employee Act
To avert the problems that small businesses may face with regular or non-exempt employees, they can utilize 'Exempt Employee Act'.
In this, FLSA gives exclusion from both the lowest pay permitted by law and extra time payment for employees.
The key thing to notice here is- these employees should be employed as Professional, Administrative, Executive, Outside Sales Roles along with a few employees with the computer skills.
2) Qualification for getting the status of Exempt Employee
Along with job titles, there are some other factors that play a key role in getting exempt employee status. So, for you to get qualified, you need to finish certain tests as per your job profile and pay as per the Department's guideline.
Despite the fact that the job profile differs from one occupation to other, a typical guideline for the exempt employees is that they ought to be paid on the salary basis and their basic pay ought not to be under $455 every week.
3) Just for White Collar Employees
As indicated by FLSA, just 'white collar' representatives who fulfill the job profile and compensation tests become qualified to be termed as exempt employees.
Here, you need to understand that this exemption is not applied to 'blue collar' specialists who do physical work that includes repetitive tasks using their hands, energy, aptitude or skill.  Such tasks can be similar to that of workers in construction, production, upkeep fields and in occupations for example plumber, mechanics, carpenters and so on.
All these workers are entitled just for the lowest pay permitted by law and overtime pay. The exempt act is additionally not appropriate for employees in different public service departments such as Fire Fighters, Police, Paramedics and so on.
Benefits Of Exempt Employees
In the first instance, it may seem that not getting paid for the overtime job done is a great disadvantage of the exempt employees. But on a closer look, it can be noticed that there are a number of benefits of such employees and hence being an exempt employee can seem to be a great option.
There can be a number of advantages of being an exempt employee among which two of the most important ones are discussed here. These are the most major benefits of being into exempt employment because of which a number of people look forward to such an opportunity.
1) The Salary

It is true that the employees under the exemption category are provided with an overtime payment. But this is only because they are not paid on an hourly basis. When they are not paid hourly basis, there is no such option that they can be paid extra for the overtime work they are doing.
It can be said that the employees are paid salary for the projects that they are working and not after the completion of the project. Hence, the number of hours needed in the completion of the project is not considered.
The minimum salary of such employees has to be of $23,600 each year. It does not matter whether the employees are working extra or lesser than the office timing. There are a number of employees who look at this type of employment to be a great benefit.
This is because despite the work they are doing; they get a salary at the end of the month. Also, the salary is not judged or edited depending on the working hours of the employee even at times when there is a drop down in the number of hours being worked by the employees.
2) Flexibility Of Work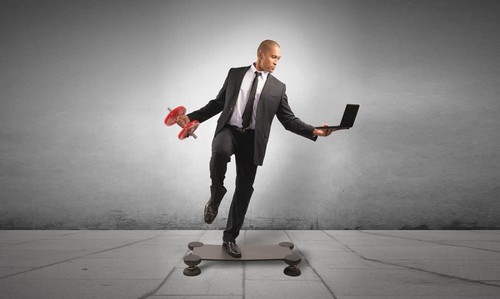 The best benefit of the exempt employees is that they have higher flexibility in their job profile. It has been mentioned before that the employees under the exemption are not paid for the number of hours they work but for the input they are putting in to complete the project.
This is the reason they are not paid hourly basis. It is not been counted that how much hours they are putting in to complete the task. The dedication and skills are calculated that makes the project successful.
At the end what matters is the result that is achieved from the work done. This is the reason such employees are benefitted with a number of extra facilities than the others. Also, such employees are provided with higher responsibilities and hence enjoying some extra facilities becomes one of the prime needs and rewards for them.
Some of the extra benefits apart from a handsome salary package of these employees are extended lunch breaks, or multiple tea breaks and so on. Also, at times the late coming to office is also considered, based on a number of circumstances. There are also at times when they stay back late to complete a task so that they can be free the next day for their personal work.
3) Lesser Timekeeping than Non-Exempt Employees
As per the FLSA, there are some record keeping laws for nonexempt workers regarding their work hours, but exempt employees are free from all such regulations.
Employers need not keep records of per day working hrs to decide their wages. They just need to have records upon which exempt wages are finalized.
Most of the exempt workers are not bound to punch time clocks or finish their weekly working sheets. They will be getting the same pay per month and their working time would not be tracked as properly as of non-exempt employees.
Conclusion
Having the right employment opportunity is something that everyone wishes to have.
But it is very much important to know about different options before you get into employment so that you can choose as per the benefits and your requirements. One of the options that you can come across is that of exempt employees.
A number of people talk about it to be one of the best employment options where the employees get paid with better security, limited deductions, fix salary and more flexibility.
Businesses also get a more loyal workforce that is dedicated to working hard to accomplish the business objectives in the most limited time possible.
Hence there are a number of employees today who look forward to going for such type of employment. The exempt employees are basically someone who takes care of higher responsibilities and of course, they are also provided with a number of benefits and facilities to keep them motivated and excited about their work.
Looking for a career opportunity? Have a detailed study of different options so that you can choose the right one for your case.
Want to know how beneficial the exempt employee framework would be for your business? Share your business details with us and our experts will assist you in the finalizing the best-suited one for you.
Liked this post? Check out the complete series on Human resources