Are you looking for the right ways of presenting your Knowledge, Skills, and Abilities for your next job interview? Then this post is personalized to you.
In this post, we will cover how KSAs (Knowledge, Skills, and Abilities) play a pivotal role in making a narrative about your qualifications, background, and experience about a particular job profile. So, without any further ado, let us get started-
What are Knowledge, Skills, and Abilities?
If you are searching for a new job or if you are in the HR department, you need to understand the KSA (Knowledge, Skills, and Abilities) framework.
Being a job seeker, you must know the difference between these three and how to present them before your recruiter.
While on the other hand, as a recruiter, you must understand on what grounds, under the KSA framework, you should judge a new candidate and how to recruit the best for your organization. So, let's understand every bit of it –
Basics of KSAs (Knowledge, Skills, and Abilities) Framework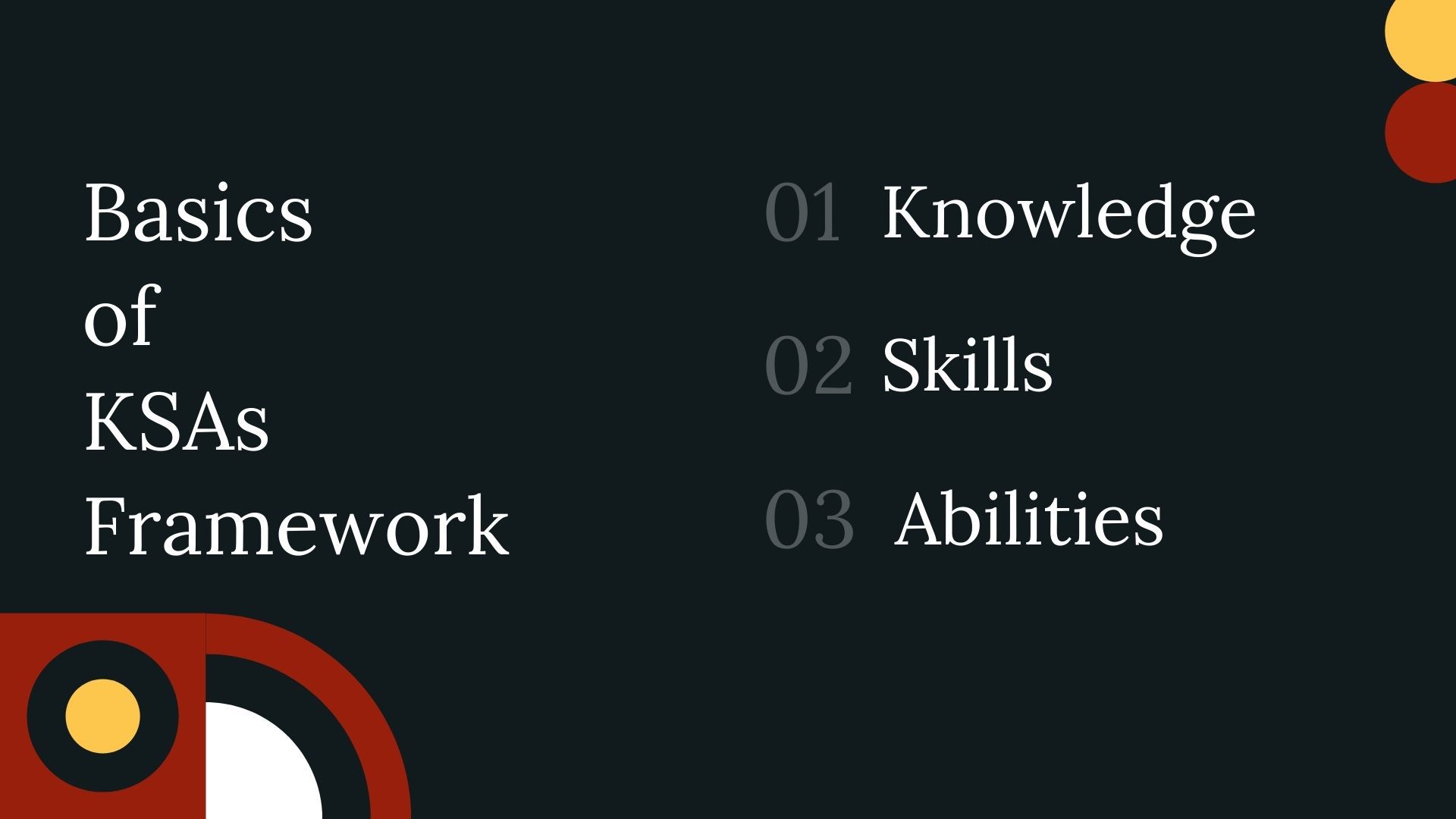 KSA framework helps in defining the merits of candidates on which they should be judged while recruiting in any organization.
As discussed above, KSA stands for Knowledge, Skills, and Abilities, but often people are confused among the three. A candidate prepares his/her application for the recruitment process by stating his/her knowledge, skills, and abilities.
On the primary level, knowledge talks about the mastery of facts along with the wide range of information about the associated subject matter.
Skills cover different aspects related to the expertise, proficiency, or competence in the related subject area.
And finally, abilities revolve around the demonstrated performance by using the knowledge and skills as per the requirements.
Let us now dive deeper into the world of Knowledge, Skills, and Abilities to understand their implementations-
Key Differences in Knowledge, Skills, and Abilities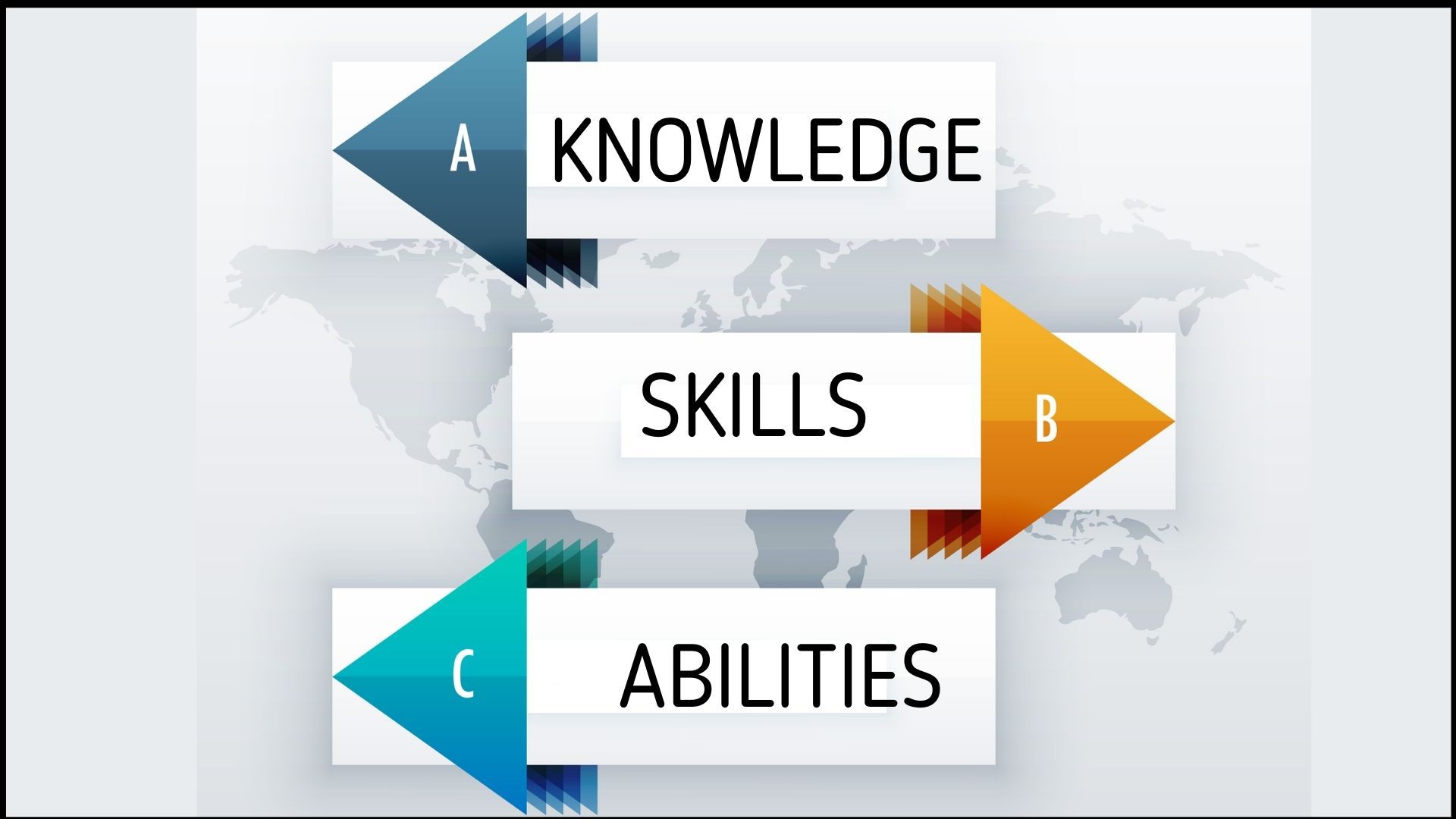 KSAs or Knowledge, Skills, and Abilities are the key attributes that are crucial for performing some specific job functions. Let us understand their implementations here and now-
1. Knowledge
Knowledge is the theoretical or practical (mild) understanding of any concept.
A person is said to be knowledgeable if he/she knows about something. However, this person holds no strong work-experience on that concept.
Any individual can have a proper understanding of any topic by going through several resources but holds no or mild work-experience on that topic.
For example –if a person knows about the functions of different parts of a motor engine, that doesn't necessarily mean that the person is a good motor engineer. Some of the key examples of knowledge are-
Knowledge of Government Regulations and Directives
Knowledge of industrial systems and procedures
Knowledge of finance, budget, and accounting practices
Knowledge of Medical or Engineering practices
Knowledge of environmental compliance laws and regulations
Knowledge of Administrative, Leadership, and Managerial practices
2. Skills
Once you start applying your knowledge in practical terms, you gain proficiency over time.
This proficiency that you develop by getting hands-on experience is known as skill. A person may not have any prior knowledge about the topic, but if he/she works on that concept continuously, he/she may develop proficiency on it.
For example –once the person holding knowledge on a motor engine start applying, that becomes proficient over time. Now this person will become a good motor engineer over time.
Let us have a look upon some of the instances talking about skills required in different jobs-
Skills related to keyboard data entry and typing
Skills associated with motor vehicle operation
Having good skills in computer software proficiency
Skills of repairing electronic items or PCs
Skills in carpentry and plumbing sorts of jobs
Skills in speaking a second language
3. Abilities
Suppose you are also not able to distinguish between your skills and abilities, then you are not the only one. There is a lot of confusion between the two, and often the two are considered the same. However, there is a serious gap between the two. Your inner traits and talents are known as your ability.
You may have a different approach to solving any problem than someone else. This inner trait or talent that you apply while solving a problem is known as ability. For example –you are a brilliant orator by nature, while there are people who practice a lot to become a good orator.
Ability to organize and plan work (observed at work)
Ability to analyze situations, problems, and programs
Ability to communicate orally and in writing in an effective fashion
Ability to coach, lead, consult and mentor others
So, this was the basic difference between the three terms. Let's understand more about the KSA framework –
How do KSAs or Knowledge, Skills, and Abilities Test help Hiring Process?
KSA is beneficial in the recruitment process for both the recruiter as well as the applicant.
It helps the applicant better explain their knowledge, skills, and abilities to the recruiter.
Most of the KSA are prepared in essay or narrative form, which indeed helps to emphasize these metrics. This isn't possible through the resume, where things are to be mentioned concisely.
Being an applicant, you can strengthen your chances of getting the job through the KSA framework. If any of your KSA elements match the job requirement, then you have a strong chance of getting that job.
Being a recruiter, you get to analyze the applicant better through a KSA framework. You now have so many grounds where you can judge the applicant and figure out their suitability in the organization. Indeed, it will take time, but you can better judge the applicants.
Drawbacks of KSAs or Knowledge, Skills, and Abilities Test in Recruiting
Yes, there are a few drawbacks of KSA as well; a few of them are as follows –
The recruitment process is time-consuming and sometimes gets extremely frustrating. It sometimes gets challenging to shortlist applicants based on the KSA.
The descriptions mentioned in the application are often too large and sometimes unnecessary. This eats up a lot of time while screening the applications.
There are so many confusions relating to the terms under the KSA framework, like abilities v/s skills. This creates difficulty in making the final call over the application.
Due to these drawbacks, organizations often ask the applicants to prepare the KSA in brief.
How to prepare your KSAs or Knowledge, Skills, and Ability Test?
Since we know the importance of KSAs in the job application, we must know how to prepare it for our maximum benefit. Follow this stepwise guide to prepare your KSAs
Before preparing your KSAs for any job application, go through the instructions mentioned in the job advertisement. You must know what the recruiter seeks from you and answer the questions according to the role in the organization.
Now note down the points that you are going to mention in your KSA. Prepare a rough draft and cross-check for all the points once again.
Start writing down the things in the first person ("I," "Me," "Mine"). Don't exaggerate things and try to keep every detail as short as possible. It is suggested to prepare each section in 150-300 words. Mention your responsibilities in the previous project and how your KSAs have helped you.
Review your KSAs before the final submission. Ensure there are no grammar or language errors. Get reviews from others as well to get better feedback. If there are any errors, fix them. Keep checking it again and again unless you find it impeccable.
Now, you are good to go with your KSAs. You can submit it for the relevant job application.
Drafting effective KSAs is extremely important to ensure a strong claim on your application. One of the key things to note is – your KSAs should be written briefly and concisely.
If you make it too long and include unnecessary information, it will eventually frustrate the recruiter. Don't make things complex for yourself as well as the recruiter by creating an unnecessary long KSA.
Final Thoughts!
So, this was all about KSA, aka Knowledge, Skills, and Abilities. Well prepared KSAs will help you in getting the job that you have applied for.
The Knowledge, Skills, and Abilities tests are considered highly influential in finding out the best-suited candidates who comprise the right set of skills for any specific jobs.
What is your take on Knowledge, Skills, and Abilities tests in checking the competency of a candidate for a specific job profile? Tell us in the comment section below.
Liked this post? Check out the complete series on Human resources