In this article, we are going to discuss one of the most controversial topics which are the difference between equality and equity. The difference between equality and equity can be based on different areas such as health, education, opportunities, sports, etc.
There is a large number of people who mistake equality and equity as one and the same thing, but in reality, there is a huge difference between both of them. Equality means the equal distribution of resources to everyone and on the other hand, equity means the fair and just distribution of resources to all the people which in a way represents partiality.
Let us take an example of a classroom full of students. The students in the class are going for practical science class. Suddenly, one student exclaims, "That is not fair! why do they get to go first! I want to go first, too!" you must have noticed it or might felt it many times.
That doesn't mean that teachers are unfair. But because students are taught equality is an equal distribution of resources among everyone. Because since childhood, people are entertained with the mentality of fairness such as "All of you will get two candies each" or "I will ride a bike for twenty minutes, and then you will ride a bike for twenty minutes."
There are some people who question the idea of "sharing is caring" and over-simplistic expectations of fairness. Treating everyone in exactly the same way is not fairness. Equal treatment should eliminate differences among people and it should promote privilege. Let us talk about this concept in detail.
1) Everyone is not the same; therefore, fairness and success differ for everyone
Equality and equity are two strategies which can be used in an effort to produce fairness. The meaning of equity is to provide everything they need to become successful to everyone. Whereas, the meaning of equality is to treat everyone in the same way regardless of their differences.
The aim behind equality is to promote fairness but it is effective only when everyone starts on the same level and from the same place and they require some kind of help. On the other hand, equity looks unfair in nature, as it moves everyone towards success by "leveling the playing field".
But not everyone begins at the same place and not everyone has similar requirements. Take the example of a classroom. It is made of different learners. There are students in the classroom with different learning abilities like auditory, visual or tactile, etc. it is obvious that auditory and visual learners will process information in a different style.
If all the information is taught by lecturing then obliviously students with auditory abilities will take advantage. As everyone is different, hence, we should accept differences uniquely and there is dire need to redesign basic expectations of success and fairness. There is always a debate on equality between genders. That does not necessarily mean that everyone should become the same.
The aim of equality is not to reach a genderless state. The meaning of equality is that man and woman should be presented with the same opportunities despite differences between them. It is important to recognize all difference as unique, rather than establishing one definition of success.
By having one definition of success, we eliminate the differences that we have. But we should not forget that our differences are not difficulties.
2) There is a need to engage in equitable practices
Working on to fix systematic obstacles will require more efforts and more hard work. but hard work will always pay off. Differences can't be blamed rather we should look at systematic obstacles. You can't assess a fish's success by assessing her ability to climb a tree.
Therefore, it is unfair to have the same question paper for everyone to assess their abilities. A teacher should re-examine the classroom system to attain success. The system in the classroom must change and teachers should about every student and assist them to learn better and recognize their differences and use their differences to become successful in life.
The "differentiated instructions" are only required in the classroom, but it should also require to be implemented in real life. it is important to recognize the needs of the individual and should modify our actions to meet those needs.
In the next section, you will learn about the definition of equity and equality and key differences between both of them.
Definition of Equality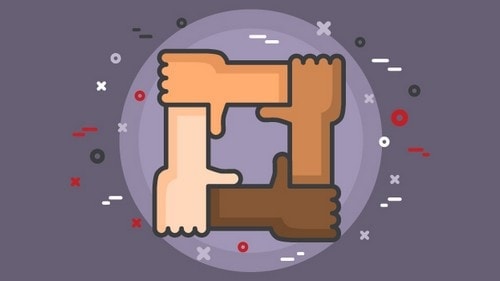 The term equality can be defined as treating every person in the same way without regarding their requirements and needs. In other words, we can say that it is a state of getting similar value or quantity or status.
According to equality, each and every person is given the same responsibilities and rights regardless of their individual differences. Equality is preached quite often in demographic societies. Its purpose is to give equal opportunities to everyone and avoid discrimination.
Equality can be provided between rich and poor, men and women, people from different race and color, etc. The main idea behind equality is that all people of society are presented with same opportunities and are given equal treatment in the society and no discrimination is made between them on the basis of sex, race, caste, creed, disability, nationality, religion, age, etc.
Definition of Equity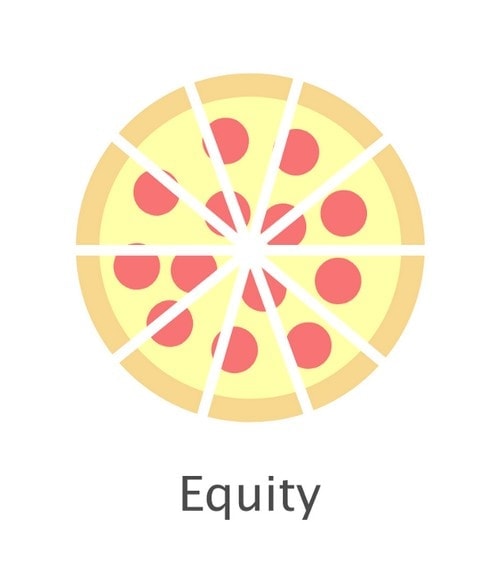 The term equity can be referred to as a system of fairness and justice where people are given even-handed treatment. The needs and requirements of all members of this system are regarded and taken into account and given treatment accordingly.
Fairness is desired for everyone in every situation. Even if it is the allocation of benefits or burdens. People should be treated fairly yet differently on the basis of their different circumstances. Equity desire to provide equal opportunities to everyone to help them to obtain their higher self. In this way, equity ensures that all individuals are given access to resources that they need to get to similar opportunities.
Key differences between Equality and Equity
| Equality | Equity |
| --- | --- |
| Equality means treating everyone equally regardless of their differences and circumstances. | Equity means being impartial and even-handed with everyone and giving respect to individual differences. |
| It refers to even distribution | IT refers to fair distribution. |
| Equality means "end". | Equity means "means". |
| Equality recognizes everyone in same way. | Equity recognizes individual differences and treats people by keeping their individual differences in mind. |
| Equality provides same and equal things to everyone. | Equity Provides people according to their needs and requirements. |
Conclusion
Equity can only be achieved by treated people by keeping their differences and circumstances in mind. on the other hand, equality is good in those circumstances when the initial point of everyone is the same.
Liked this post? Check out the complete series on Human resources