Do you want to optimize the performance of your employees? Then you need to engage your employees in a result-oriented manner which means you need to communicate with employees in the right manner.
In this post, we will pay heed upon the importance of communicating with employees and how contemporary businesses can do that to lead in the age of cut-throat competition.
So, without any further ado, let us get started right away-
Introduction to Employee Communication
A business is driven by the passion for making some products or services available to the clients. There are various stakeholders in the industry. –And they are- clients, employers, and employees.
Any business is made successful only with the excellent harmony and coordination among the employees. These can be facilitated by smooth communication.
Communication can be defined as the exchange of information among a set of people.
There are several media of communications like writing, speaking, emails and many more.
When you communicate with employees, you enable them to know what the business expects from them. – And this empowers them to work up to their full potential in the most enthusiastic and goal-oriented manner.
Communication with employees is the base behind employee engagement, employee retaining, and performance optimization.
Why Businesses should Communicate with Employees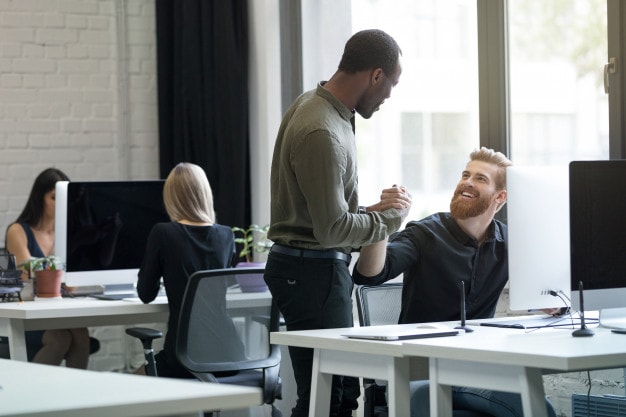 In the words of Paul J. Meyer, the pioneer of the self-improvement industry-
"Communication – the human connection – is the key to personal and career success."
So, communication is imperative for any good and successful business.
It helps eliminate the causes of misunderstandings or misinterpretations. It promotes the productivity of the employees and adds a sense of positivity to the overall work atmosphere. Establishing excellent communication is an asset to a good leader.
It resides in human nature to feel the need for efficient communication. Globalization has accelerated the spread of companies all over the world.
Communication can be of many types like real-time, virtual and digital. Real-time communication can be in the form of talking and face-to-face conversations.
A virtual interface can be online discussions, video calls, and voice calls. The digital communication can be through emails and messages.
What if you do not Communicate with Employees?
Communication is essential and an integral part of any work culture.
A violation in communication can lead to some consequences resulting from mild misunderstandings to severe concerns. Some of those consequences are listed below-
When businesses do not communicate with employees, it can lead to disputes among the employees or in employee-employer relationships.
Not communicating with employees can hurt the growth and development of the company.
No communication with employees can cause unpleasant consequences in interpersonal relations leading to unnecessary awkwardness and brawls or fights.
Communication breaches can also lead to a loss in revenue and difficulty in raising funds for the working of the company.
If an incident of communication breach reaches the media, it can cause negative publicity. It may lead to a drop in reputation and reasonable opinion in the public eye.
10 Ways to Communicate with Employees
Excellent communication is the heart of the smooth business. There are some essential tips that can be followed for seamless communication.
1. Create the need and culture for excellent communication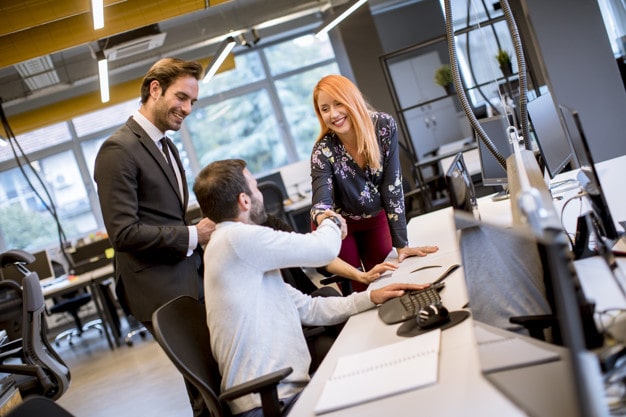 The need for smooth communication should be imbibed in the employees at the right time. There should be a transparent work culture enabling free communication.
The importance and necessity of excellent communication should be explained to the employees. They should know the ways for effective communication and how it is to be carried out.
There should be a proper channel of communication in the workplace that gives opportunities to each and everyone to communicate their share of thoughts.
When a company has a culture of employee communication, it has better chances of growth.
2. Chalk out a plan and utilize an internal system for smooth communication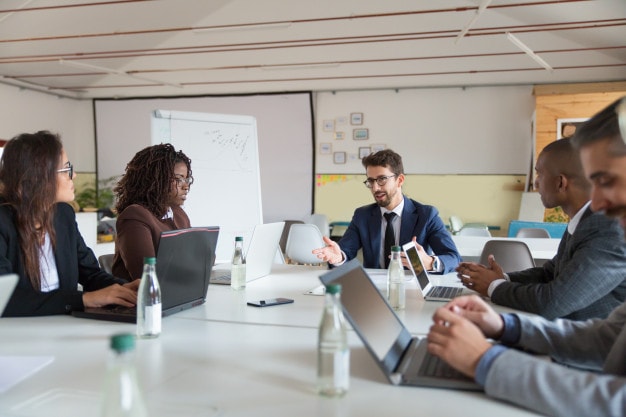 Make a plan for establishing excellent communication among the employees.
The plan should encapsulate the need for communication, the ways to communicate and the platforms available for discussion in the company. The hierarchy of administration and the norms of contact should be specified in this plan.
It should be clear to every employee working at the different levels of the organization.
Communication mechanisms should be established in such a manner that both introvert and extrovert employees can communicate without any hesitation. Important information should also be communicated to all the relevant employees in a hassle-free way.
3. Listen to your employees
The leaders need to listen to their employees.
Every opinion has to be bestowed upon with equal importance, and it should be heard out.
The employees might be more exposed to the real situations that the team is facing and sometimes they can provide better solutions.
When authorities listen to their workforces and respond constructively, their workforce feels more secure, motivated and open.
4. Conduct open meetings and discussions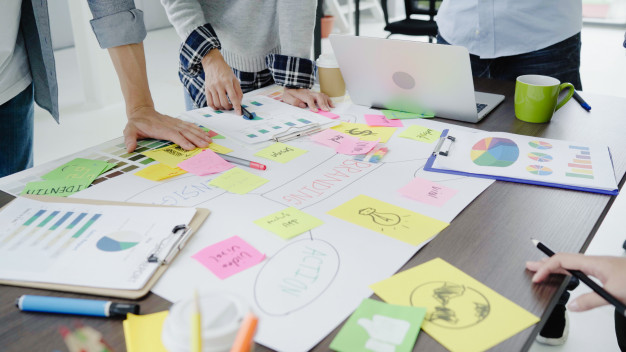 Open meetings are those in which the analyses are conducted in a free-flowing manner.
There are not many restrictions on the talks happening in these open meetings.
They facilitate effective communication and deliver passion and heartfelt emotions towards a specific topic.
It also enables employees to go through the perspectives of other employees that help them in shaping their thoughts with better coordination.
5. Digital communication
In this age of new technologies emerging, there are several platforms available for digital communications.
Emails are one of the most popular and most accessible media for sharing information. Also, there are many messaging apps and video or voice calling apps available. One can chat on these apps individually or by creating groups of the concerned people.
The company can build an internal network for sharing information by assigning individual access addresses to all the employees.
6. One-on-one discussion offering a personal touch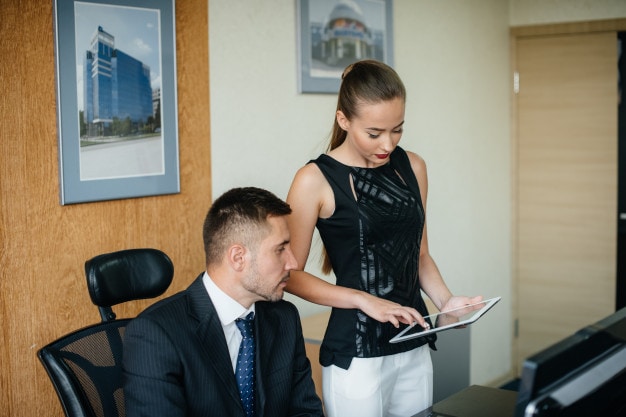 Sometimes, there is a need for a personal touch to the conversations.
This creates an atmosphere of comfort and genuineness among the employees. When someone sets aside all the work and pays full attention to what the person in the front of you has to say, it makes the person comfortable and open to more discussions.
Also, eye contact is very crucial in one-on-one discussions.
So, when you communicate with employees by offering some sorts of personal touch, you empower your workforce to be more loyal. It will increase the employee retention rate of your company.
7. Answer email and queries promptly
When someone approaches you with a question or a doubt, it is your responsibility to solve it within the least time.
The emails should be answered quickly. The language used should be correct and polite.
The statements in an email or a message should be short, straight and formal. But, they should also not be dry and lack comfort.
Your employees must know that their doubts, queries, complaints, and suggestions are being read, understood and responded by the management.
8. Use the correct body language and gestures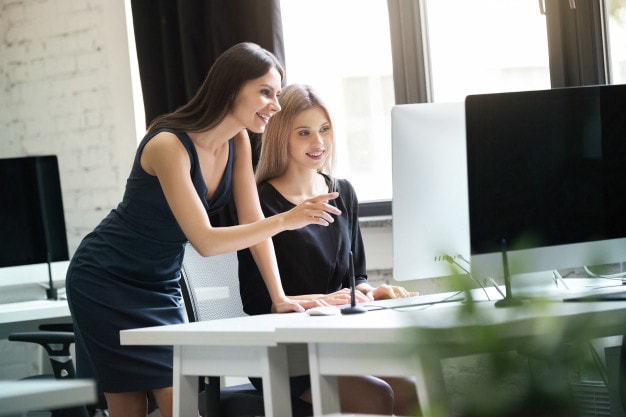 Body language is a vital part of communication.
It indicates your confidence and seriousness that you have towards the topic of discussion. In addition to this, the gestures you use also play a key role.
Gestures have different meanings in different languages and cultures.
So, you should know the correct meanings of the gestures according to your surroundings.
9. Be articulate and avoid miscommunications
You need to be precise and concise while communicating with your fellow employees.
Mumbling or use of improper language may lead to miscommunications or misinterpretations. These can harm the healthy atmosphere of the team. It may cause a backlash in delivering the work goals and carrying out the tasks properly and meticulously.
The most crucial factor behind communicating with employees is ensuring a constructive environment where the workforce feels positive and valued. Right articulation and avoid miscommunication will, for sure help you in providing this.
10. Be appreciative of your employees' success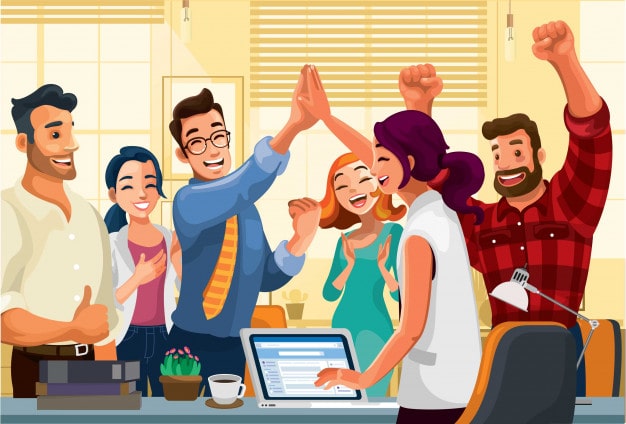 The team which celebrates together stays together. Hence, the leader should appreciate and admire the achievements of the employees.
When the team leader reprimands someone for delaying the tasks or committing mistakes and errors, it is his/her responsibility to admire those who work well.
Communicate with Employees Wrap Up!
Communication is a crucial concept when it comes to managing a company or a business.
A business is built on a strong foundation of good and responsible employees. Only smooth communication can facilitate the growth of a market in the right manner.
So, for ensuring success for your business, it is inevitable that you come up with the right strategies to communicate with employees.
Do you have some channels for employee communication?
What according to you, are the essential benefits of communicating with employees? Share your views with us in the comments below.
Liked this post? Check out the complete series on Human resources