Work experience is among those essential eligibility criteria that you must comply with while applying for any job.
Most of the companies these days seek experienced candidates to join the organization. You are required to hold a certain amount of experience in the relevant field to be eligible for the applied post.
Experience requirement varies according to the different roles in the organization. A significant role in the company requires you to have more exceptional experience in the same position. Experience is one of the critical factors that play an essential role in deciding your fate in the selection procedure. Let us understand it deeply and have a look at why organizations are so concerned about it –
Why does work experience matter?
This might not be a difficult thing to understand – if you hold a work-experience in any domain, that means you are familiar with its functioning and various factors. Being aware of the functioning is always advantageous when you work for a similar organization. This directly impacts the efficiency of the organization.
Internships are also a type of work experience; this is why students are advised to go for internships before they sit in a job interview.
If you hold work-experience, you are not just familiar with the technicalities of the domain, but you also get aware of various other factors like – relationships, communication, stress-management within an organization, and so on. Employers these days seek these skills in the candidates.
There are different levels of work experience which you can obtain, let's look at them –
Different work-experience levels
There are two types of working individuals depending upon their expertise – one who holds a strong grip on the domain, while others may not be that strong. Depending upon these criteria, there are 4-levels of work experience that you may gain –
1. Entry-level
As the name suggests, you enter into the working culture after you finish off your school/college. You are new to the environment and just started your career after finishing off your studies.
Here you will learn every small bit of your domain that will be required later in growing your career.
2. Intermediate level

Once you pass the entry-level, you enter into the next stage.  Here you can apply for associate-level jobs after you hold entry-level experience in the industry. Being an intermediate level employee, you won't need continuous monitoring by your supervisor while working.
Here you mainly gain the leadership skills that are required for more responsible roles within the organization.
3. Mid-level
At this stage, you will most likely be at a managerial position where your role will be to look after a department in the organization.
You will be responsible for the functioning of that department, and you will be reporting to higher authorities. Your overall responsibility increases as you reach this stage.
4. Senior or executive level

This is the last stage of your work-experience; here, you will be setting goals for the entire organization; you will be framing its policies, and so on.
To get to this level, you will have to gain plenty of experience at the managerial level. You will have to prove your skills to obtain executive level within an organization.
How to get work experience?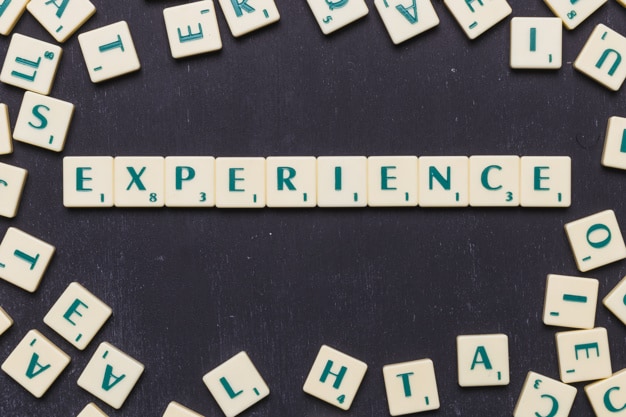 College internships are one of the best ways to gain work experience in the starting phase of your career. Most of the colleges these days hold tie-ups with employers that seek freshers in their organization.
Internships are not only helpful in adding another line in your resume, but a successful internship can lead to getting a job under the same organization without any selection procedure.
More than 8 out of 10 college students, on average, seek internships as they approach the last semesters of their graduation. Better the internships, the higher are the chances of getting a proper placement. Sometimes organizations offer high pay-out for interns as well, so you can expect an excellent salary even if you are an intern in the organization.
Now, you have got the work-experience and let us see how to describe it in your resume to increase your chances of securing a good job –
Describing Work Experience in resume
It is essential to describe the experience correctly in your resume to secure the job that you are applying for. You need to understand that you have to make an excellent first impression on your employer/interviewer. Follow these tips while describing your experience in the resume –
Put your experiences in the reverse order, i.e., put the most recent ones at the top.
Use shorter sentences/phrases to describe your responsibilities.
Add numbers if possible (like increasing the sales from 16% to 34%).
Avoid long-descriptions as much as possible. Keep it short and straightforward.
Be confident when you are asked to explain your work-experience in previous organizations.
Let us learn how to search for relevant jobs as per your work-experience –
How to Search for relevant jobs?
Before applying for any job of any experience level, it is essential to have an insight on your professionalism. You must know where you stand, what skills you hold, and what roles you can manage in the industry. Once you are clear with these things, it becomes easier to search for relevant jobs.
The next step is selecting a company that matches your experience level. Meanwhile, you should also check for qualifications. It often happens that organizations prefer skills over experience.
Even if you are not experienced enough but match all the skills required, you may get the job. Match your qualifications and experience both with the requirement posted and prioritize qualifications.
Check for different roles in the organization – you may not be suitable for one rather some other roles of similar type. If the managerial role is out of your expertise, applies for an intermediate level – you may soon be promoted in the organization.
So, this is how you should search for jobs depending upon your experience level and qualifications.
Notable benefits of Work Experience
Empowers you to develop excellent transferrable skills such as communication and leadership
Enables you to test things out before fully committing to any specific role
Optimizes your chances to be more employable
Enables you to get the best-suited full-time job
Introduces you to the world of work that you enjoy
Enables you to broaden your network
Enable students with an opportunity to relate their school studies with a workplace
Helps students to understand the gap between what industry demands what academia offers
Lets you learn a lot more than your lecture hall
Adds value to your CV
Helps you be in a better position in your job interviews
Gives you an understanding about what you like and what you do not like when it comes to right career choice, growth and ambition
Lets you know your strength and weakness
Enables you to impress an employer with useful life-skills and practical knowledge
Final words!
Work-experience matters a lot in the modern-day corporate world; hence one should always seek this. Even if you are in college, you should be open to internships to gain some corporate experience that will help you fetch jobs after your studies.
Do you want to know about the right career choice as per your work experience? Then share your details with the M91 team, and they will guide you in the process.
Liked this post? Check out the complete series on Human resources