Most of the employers have gone through a difficult hiring procedure that has later turned out to haunt them. It seemed as if they had found the right fit for their company but later came to know about certain things which were simply not acceptable. It is at this point in time the employer realizes the benefit of undertaking a background check on employees.
Greater the authority, maximum is the risk. A background check is simply a safeguard against a bad decision that costs time, effort, safety and money of an organization. It is essential planning for overall security and can eventually assure a better and safe workplace.
1) Safe work environment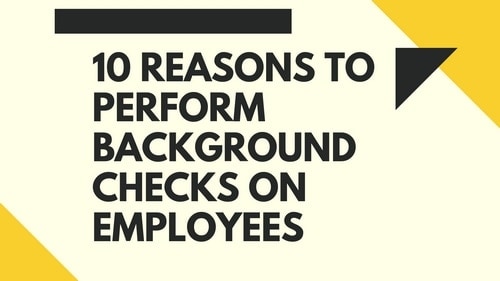 The first and foremost thing an employer makes sure is that he is offering a safer workplace to all his employees. One of the main reasons to perform background checks on employees is because you have a commitment towards your staff and your customers so you need to fulfill it by ensuring security measures in place.
You do not know when an applicant can turn out to be dangerous or of criminal nature and cannot take the risk of hiring such a person. What if you hire a supposedly sexual predator and some incident occurs later on. How are you going to face it as it is your organization that has vouched for him? Before hiring an employee better to run a background check for your peace of mind and your organization's safety. Be safe than sorry.
2) It keeps a place drug-free
 Drugs are a menace in society but to our despair, nearly 10% -20% of the employees have been found using it in some capacity or other. It is better to put a safeguard at the onset so that it does not take a hold in your company. Every employer must insist on a drug-free workplace for the betterment of his own organization.
It is one of the main reasons to perform a background check on employees. On finding something disturbing you can ask for a pre-employment check that will reveal his truth. Possession and distribution of drugs are both disastrous hence do not hire anyone that has been slapped with either charge. Show a zero tolerance for such actions and maintain the anti-drug policy in your company.
3) It highlights the criminal history
One reason to perform background checks on employees is to know about any criminal record and convictions in his past. Most of the employees submit a genuine application but you never know when a bad apple has stepped inside your organization. A background check will wave an instant red flag and make you aware of the danger.
If some inconsistency has occurred you can ask for a more detailed version of the check. Sometimes the charges are minor or circumstantial and do not have any relevance to the job. Make up your mind whether it affects your organization at a later date. If the background checks reveal an untrustworthy, unreliable and dangerous person do not think twice simply say no.
4) It might show other infraction
Criminal history is a major reason why you should not hire a person but besides this, there are several other information which can also prove damning.
One reason to perform background checks on employees is to know about other information that can have a relevance to the job. Does the employee have any credit history that will have a direct effect on his work productivity and efficiency while working in your organization is an important question that needs to be addressed? Debt, missed payments can affect his mental condition and it is up to the company to decide whether his qualifications demand that you ignore it and give him a chance or do not hire him.
5) It gives a true picture of the applicant
A new recruiter comes prepared with a pleasing personality and sunny disposition to charm his interviewer. How can you determine the truth from the falsehood? Sometimes an individual can easily dodge important information and write according to the job requirements. He may leave out some relevant info that you need to know.
It is one of the reasons to perform background checks on employees. It is much better having more information rather than knowing nothing about him. Getting a true picture of the applicant will help you in coming to a decision.
6) Verifying resume
One reason to perform background checks on employees is to verify the information on the resume. Besides employment history, it is important to verify all the documents and certificates that he has submitted with his resume.
Educational information, as well as professional certificates, matters a great deal and it is better to authenticate every document to remove any doubts from your mindset. It is important to confirm the honesty of a person for your peace of mind and for the betterment of your organization before you hire that individual.
7) Fulfils due diligence and helps in avoiding liability
A background check reveals important information about the applicant. Some might have relevance to the job application and others none. It is up to the employer to determine which one can have a direct or indirect impact on the organization. Supposedly you have hired an accountant and you did not go for a background check.
He was very qualified with a good record and excellent recommendation. After coming in this firm the company suddenly starts showing some small discrepancies in accounts and you try to ignore them at the onset but later on go for an investigation without telling anyone. The recent recruit is the culprit and you could easily have known about it if you had organized a background check. Due diligence helps in avoiding liability and thus is necessary.
8) Highlights dishonesty
How do you know that whatever an interviewee has written is valid? He might have embellished his achievements, forged his certificates, made up work history or changed any other important information to increase his suitability.
The pre-employment background check must include verification of all information like calling previous employer, co-workers, and friends to know the truth. It is better to be safe than sorry. Any untruths and inconsistency in records will easily come out in the first check itself. You cannot hire anyone who is dishonest at the beginning itself as a leopard will never change his spots.
9) Lessens the risk factor
Every employer is going for initial background checks nowadays to separate the dishonest ones from the genuine ones at the onset. It is the patterns that will ensure you of the truth and help you in coming to a decision. Hiring the wrong person can leave your organization vulnerable and open to any lawsuit.
Suppose a new hire already has a history of any wrongdoing then with a background check you have easily lessened the risk factor by turning him down from your eligibility list. Sorting out the good from the bad is important for the company.
10) Helps you in ensuring that you have made the right choice
Trust is a vital aspect of any organization. How can a relationship flourish between an employer and employee without any trust and professional bonding? One reason to perform background checks on employees is that it helps to dodge simple and common worries effectively and give you an inner peace.
A screening process is expensive and stressful and as an important part of the hiring team, you have to make an effort to review all the applications and his papers effectively. It is better to be sure before hiring a new recruit rather than regretting your decision later on. A complete background check will ensure that you have made the right choice that will prove fruitful for the company.
Liked this post? Check out the complete series on Human resources