Can you imagine an organization without any employees? No chance. Who is going to implement the vision of an entrepreneur into reality? Every business entity needs talented individuals that will help in taking the company forward. It is very important to motivate your employees so that their participation is no longer just functional. The happy and valued workforce is equal to a flourishing and productive workplace.
Make sure that your employees are committed, enthusiastic and involved and this can happen when they feel valued and their efforts are appreciated. Employee engagement has a direct effect on the revenue, growth, and performance of a company.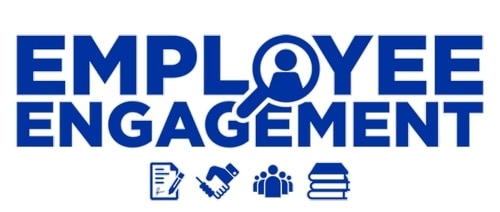 1) Give them the right tools
Right kind of infrastructure is not a luxury but a necessity of any business organization. If you are interested to improve employee engagement then the first thing that you can do is to provide the necessary tools to complete their tasks successfully.
No doubt, we are living in a techno-savvy world where technology has taken up several workings but ensure that every worker is able to handle the change successfully. Do not make their life difficult with lots of protocols simply ensure that the right equipment is handed over and they have to know how to operate and handle them efficiently.
2) Implement training and development programs
It is necessary to start training programs for the overall development of your employees. It will be an immense help to the workers as they will be able to nurture the required skills at their workplace without spending extra money on it. When a worker starts feeling that the company is looking after his future then his level of engagement also increases.
In order to improve employee engagement, it is essential to offer them a path that will encourage personal and professional growth to the maximum. Rotate jobs, cross train, coaching in particular skills and counselling services are some options that the top brass can easily explore.
3) Value and appreciate your employees
You want to improve employee engagement than simply appreciate their efforts and skills. Make them feel valued and show your appreciation via recognition and rewards. Nowadays paycheck is not enough. It is for the services rendered but it does not reflect the appreciation of an organization. You need to acknowledge his efforts in a public platform as well as praise him personally.
The recognition and awards may include monetary benefits, bonus, special gifts, a certificate or simply a few praiseworthy words. It is a great motivational factor and encourages the said employee as well as others to work hard so that they can achieve it once again.
4) Provide flexibility
Accept and encourage flexible hours amongst your workforce if you want to improve employee engagement. Punctuality is appreciated but does not limit it within a frame to bind your employees. Some of them might be facing genuine problems that will not permit them to arrive at a particular time. Be understanding and flexible.
Give them the option of arriving late and make up the timing after hours. If someone has a problem that is not allowing him to attend office for a very long time period then give him the choice of working from home. Options of flexible hours show that your employer is concerned for you and it will encourage better work performance from the staff.
5) Individual attention
If you need to describe your workforce then the words multigenerational and multiethnic comes to mind. It includes people from several places with different nationalities and set of ideas. It is the responsibility of an organization to combine the human resources in a single entity and make them feel whole.
Every employee is an integral part of a company. He knows it, the boss knows it, but is he made to feel the same. One simple way to improve employee engagement is by giving him individual attention and making him feel special and cherished. Employers can easily do so with a few kind words of praise to acknowledge his services.
6) Listen attentively to employees
A good entrepreneur will always listen attentively to his employees. Leaders need to pay attention to what is happening in their office and is every one of his employee happy. A workforce that is unhappy will spread the negativity to every department and this will have a direct impact on the growth and productivity of a company.
Encourage meetings where everyone can air their grievances. Listen and understand and then implement the necessary steps. Encourage feedback and surveys from employees so that you can pinpoint and address the problems. If you want to improve employee engagement then make sure that your employees know that you are listening attentively to them and working in accordance.
7) Happy office environment
Happiness will encourage a relaxed atmosphere. One of the surest ways to improve employee engagement is to create a soothing ambience that will be reflected in the attitude of every employee at a later date. Going to work every day is routine and seems boring. There is nothing new to look at. The same old boring day is what everyone feels.
You as an employer can make a few changes every month that will seem new and encouraging to the employees. The first thing that affects the mindset of a worker is the colour and surroundings. Do not make it boring instead give it a bit of colour especially on one wall and add some plants to cheer up the place. Make sure the workplace is an extension of happy feelings so that it gets reciprocated via the employee's attitude.
8) Encourage breaks
Working continuously 24*7 is exhausting. Promote meaningful breaks to improve employee engagement. When you see someone working on a hard project support him to take a few minutes to break in-between. This will help him to relax and regroup. Chilling with a co-worker or taking a tea/coffee break is a worthwhile investment.
It is better that you prompt your employees to take advantage of the holidays due to them. Going for a weekend with family members will help them to relax and rejuvenate. Encourage co-workers to go on short holidays or weekends together to create a feeling of harmony and personal bond. Meaningful breaks will go a long way in bringing a sense of calm and happiness in the workplace. The happy atmosphere will result in productive work.
9) Be social
To improve employee engagement create opportunities for their participation in social events. Organize events that will allow everyone to meet on a personal basis for developing harmony and cordial relationship. Social events are great for bringing people together and fostering personal atmosphere between them.  An employer can hire a team that will look after such events.
It can take the form of weekly gatherings or if not possible organize get together in a fortnight or in a month at least so that everyone can chill and enjoy. When employees are part of a group in the social atmosphere they can mix and understand their colleagues better and it fosters closer connections between them. It also encourages them to meet after office hours by themselves over drinks or lunch/dinner. This breaks the barrier between them and encourages a feeling of harmony which is carried forward to their workplace.
10) Community services
Encouraging employees to take part in community services is a great way to improve employee engagement. Community services encourage a feeling of selflessness amongst the employees. When you work together with like-minded people for the betterment of society it gives you inner peace and a sense of accomplishment.
Even a small effort is appreciated and that feeling of doing something good helps the employee in embracing others more fully. Finding a new purpose makes employees better human beings. It is not for personal gain but becomes their personal goal.
The above were all the ways that you can improve Employee Engagement in your organization and make them feel a part of the company. Such engagement motivates the employee and creates equity for the company by making employees their assets.
Liked this post? Check out the complete series on Human resources