PowerPoint is one of the oldest entrants in the market as it was initially released in the year 1987. Within three months it was acquired by Microsoft and since then has been an integral part of its organization and an important component of Microsoft Office Suite.  
MS PowerPoint is a software program that has become the choice of every individual who needs to create and design a presentation. Its core features include the ability to make images and slides, premade templates, and document management.
Although PowerPoint has been declared as the undisputed leader as it was the go-to tool for business entities and students, people have started looking for alternatives to suit their needs.
People are on the look-out for new versions that will help them to prepare customized and engaging presentations that will be a visual treat for the eyes. With the advent of free and less costly apps, people are no longer willing to shed so many bucks on the proprietary software.
Moreover, PowerPoint has many features that you may not need. Hence why not go through your requirements and make a purchase decision factoring the usability, features offered, and total cost. Several free versions with the latest features are also available online hence go through them before coming to a decision.
Table of Contents
Canva
Visme
Google Slides
Renderforest
Prezi
Haiku Deck
Slidebean
Keynote
Emaze
Zoho Show
1) Canva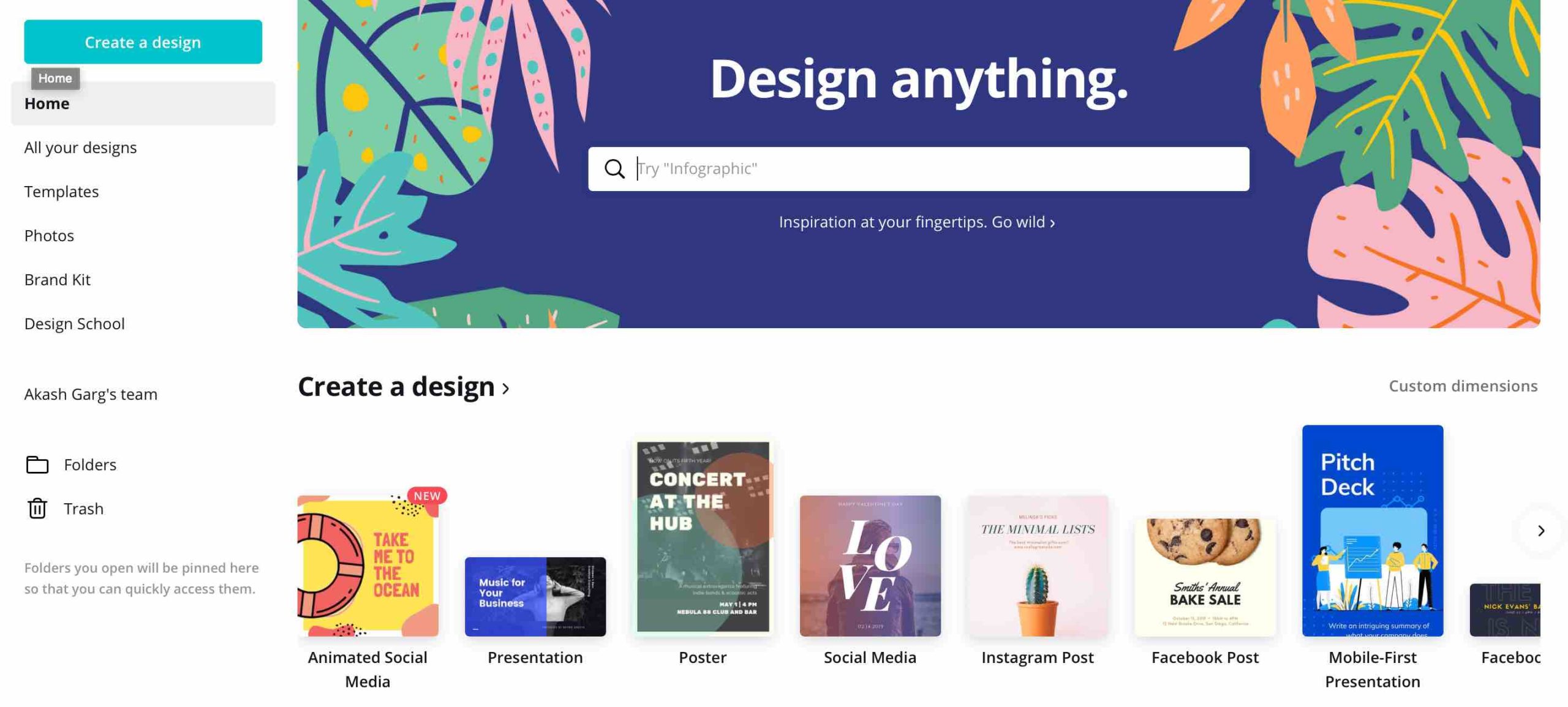 Canva is associated with a graphic designing industry that deals in print and web media graphics and design. It was founded in the year 2012 by its founder Melanie Perkins and has set up headquarters base at Sydney in Australia.
It offers access to millions of fonts, photographs, and graphics via a drag-and-drop format. Canva has been able to create a mark of its own, and by the year 2017 had an estimated two lakh, ninety-four thousand paying customers in its account.
If you are looking for the top ten alternatives of PowerPoint and that to a free version, then you have reached your destination by choosing Canva.
It has more than eight thousand free templates so that beginners and professionals can create visually perfect slides. The templates can be customized according to the preference of the user, and once the presentation is completed, you can save it in PDF format or as an image.
It is easy-to-use software, and with its vast collection of ready layouts, high-resolution images and friendly designs allow users to prepare infographics, brochures, e-books, letterheads and presentations with equal ease.
Canva has posted a video tutorial on its site that proves an immense help in understanding and speeding up the process. It also has two paid subscription plans that have additional features like unlimited storage and photo folders that are not included in the free version.
2) Visme

Visme offers amazing tools to its users to prepare stunning and eye-catching visual formats that are a delight to watch. It deals with visual content, product demos, reports, resumes, infographics, and presentations.
It gives entrée to content assets that include more than six thousand charts and icons, thousands of vector icons, and millions of images for free to create customized design area.
Visme is a cloud-based software that has gained the trust of more than two million educators, communicators, and marketers from an estimated one hundred countries.
If you are looking for the top ten alternatives of PowerPoint, then you can opt for Visme. It has a basic free plan along with several subscription plans meant for educational institutions, business entities, and individuals.
An important feature drag-and-drop dashboard helps to create quick and fast presentations. Its user-friendly interface, professionally-designed layouts, and HD background help beginners to prepare interactive presentations with the help of ready templates, stock photos, and clip art.
Color palettes and custom fonts give the presentation a specific branding that is admired by everyone. Visme allows users to share and publish content anywhere by sharing URL and present it offline by downloading it as PDF, image, or HTML5.
3) Google Slides

Google Slides, as the name suggests, has been developed by Google LLC. It was initially released in the year 2006 and is written in JavaScript. Google Slides is a part of Office Suite, web-based software that is offered free on Google Drive by Google.
This presentation program is available as a web application, as a desktop application on ChromeOS of Google and mobile app for BlackBerry, Windows, iOS, and Android.
If you are looking for the top ten alternatives of PowerPoint, then Google Drive is a worthy choice. If the user has a Gmail account, then the software is free for use.
Professionals can buy G Suite at a very low and reasonable monthly plan of $5 if they need customized email and advanced protection for data security.
It offers real-time collaboration, easy integration, perceptive interface, and in-built features that enable working simultaneously with several collaborators to review edit and create presentations.
Google Drive includes version control function to recover previous ones and track any changes across all the documents. The user can add Google Photos and YouTube videos as it is integrated with G Suite.
4) Renderforest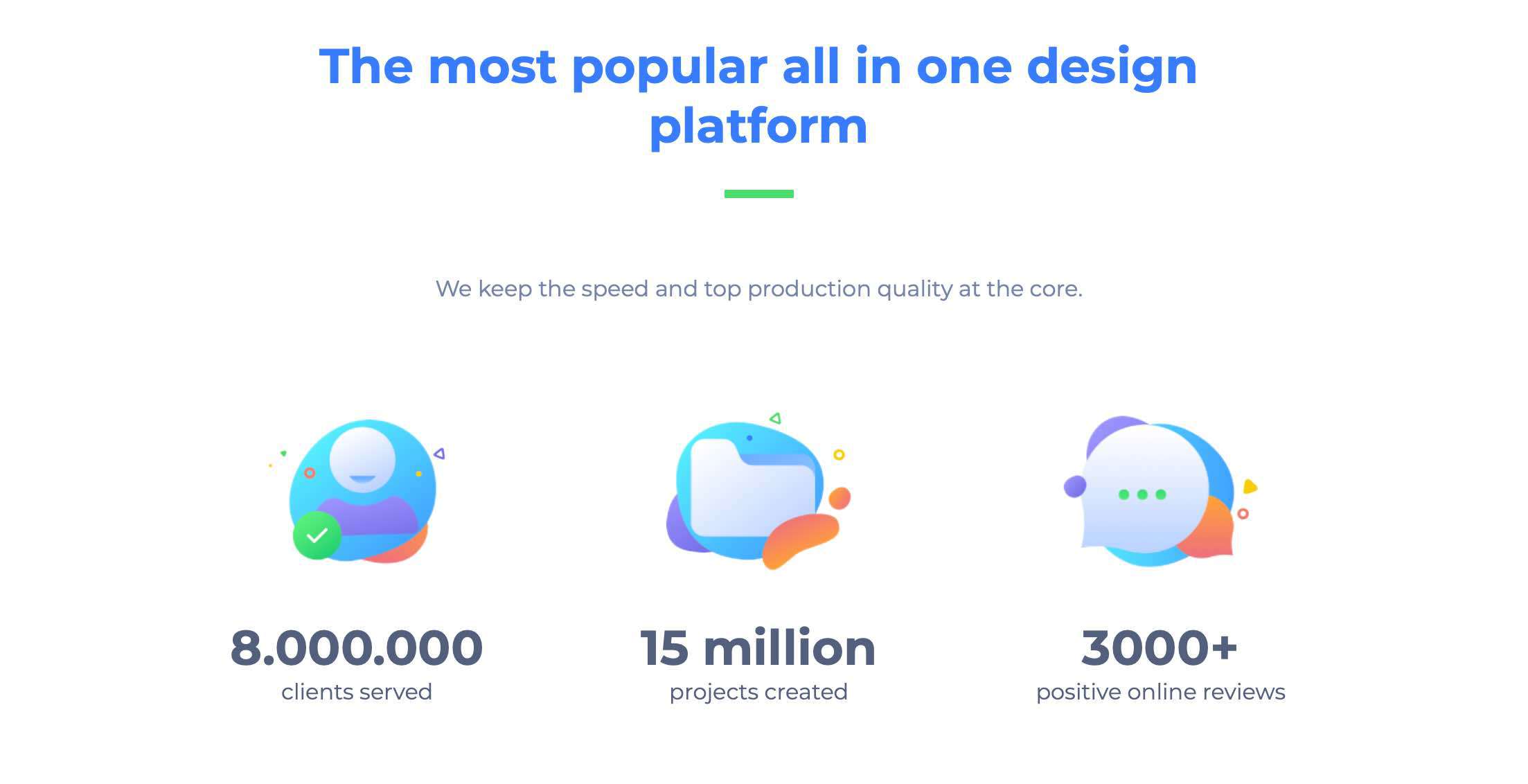 Renderforest is associated with video presentation as it deals in creating videos in just minutes. It includes animations, videos for YouTube, promotional videos, kinetic typography, travel slideshows, infographics, and corporate presentations.
With an estimated three million users, more than five million videos and two lakh monthly sign-ups Renderforest is on its way to top and is fast becoming a favorite amongst its users.
 Renderforest has an extensive catalog of templates from which you can choose the one you prefer and start editing on the internet. With the help of cloud storage, intuitive features, easy-to-use methods, HD quality, and integrated tools, the user can play with text, color palette, and upload desired videos and images.
Users are allowed to publish directly on YouTube and Facebook, download the video, and share the link on social networks. Video tutorials are available on the site to offer help to novices. If you are looking for the top ten alternatives of PowerPoint, you can choose Renderforest.
It has a basic free plan to create unlimited presentations along with pay-per-export and subscription-based plans that have additional features like music tracks, higher video quality, and storage space more than 500 MB.
5) Prezi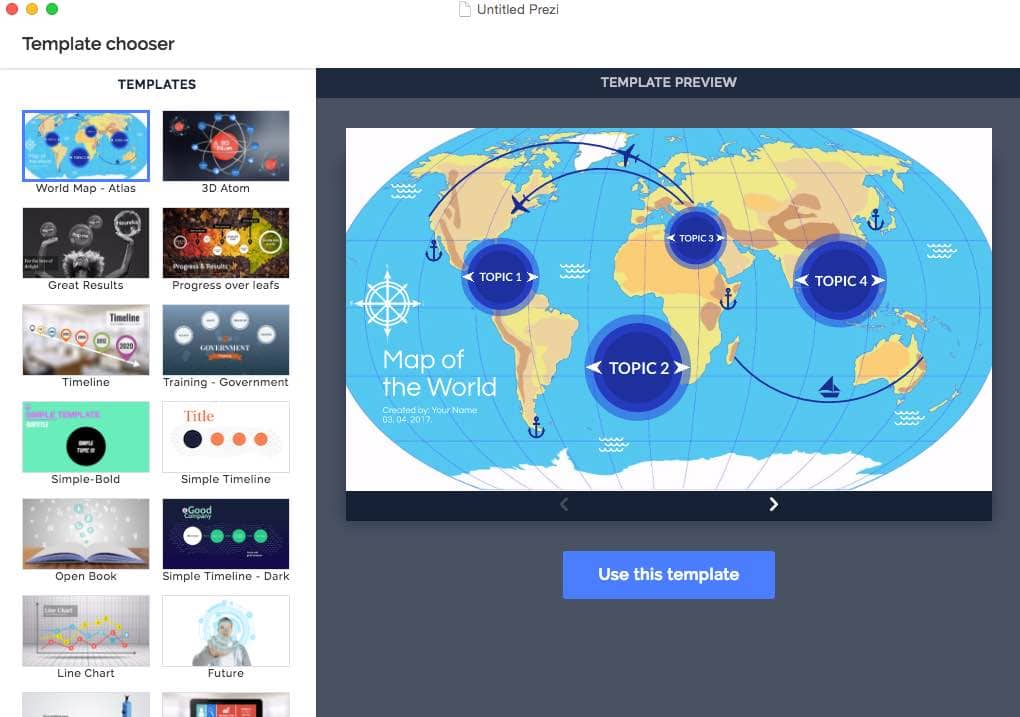 Prezi is associated with software dealing in collaboration and presentation. It was founded in the year 2009 and has set up headquarters based in Hungary. Available in nine languages Prezi Inc owns this company.
This cloud-based interactive device is proving a fantastic designing tool that allows its users to create visually appealing presentations.
By the year 2018, April, the company had one hundred million users who had created an estimated three hundred and twenty-five million presentations that were viewed three and a half billion times.
What a feat and if you are looking for the top ten alternatives of PowerPoint, you cannot choose a more apt company. The basic plan of Prezi is without any cost for free that allows creating a presentation on the browser-based platform.
It also has subscription plans including tier 1 and tier 2 plan with $ 15 and $ 59 respectively on a monthly basis. You can also buy a customized plan if you are part of a large organization.
In PowerPoint user can view the slides one after another, but with Prezi, he has to zoom in and out of the slides. It comes in handy when you want to highlight an important point in the presentation.
With its latest version, Prezi has made it possible for ten people to collaborate in real-time. It has become a favorite of freelancers who can add comments to specify required changes.
6) Haiku Deck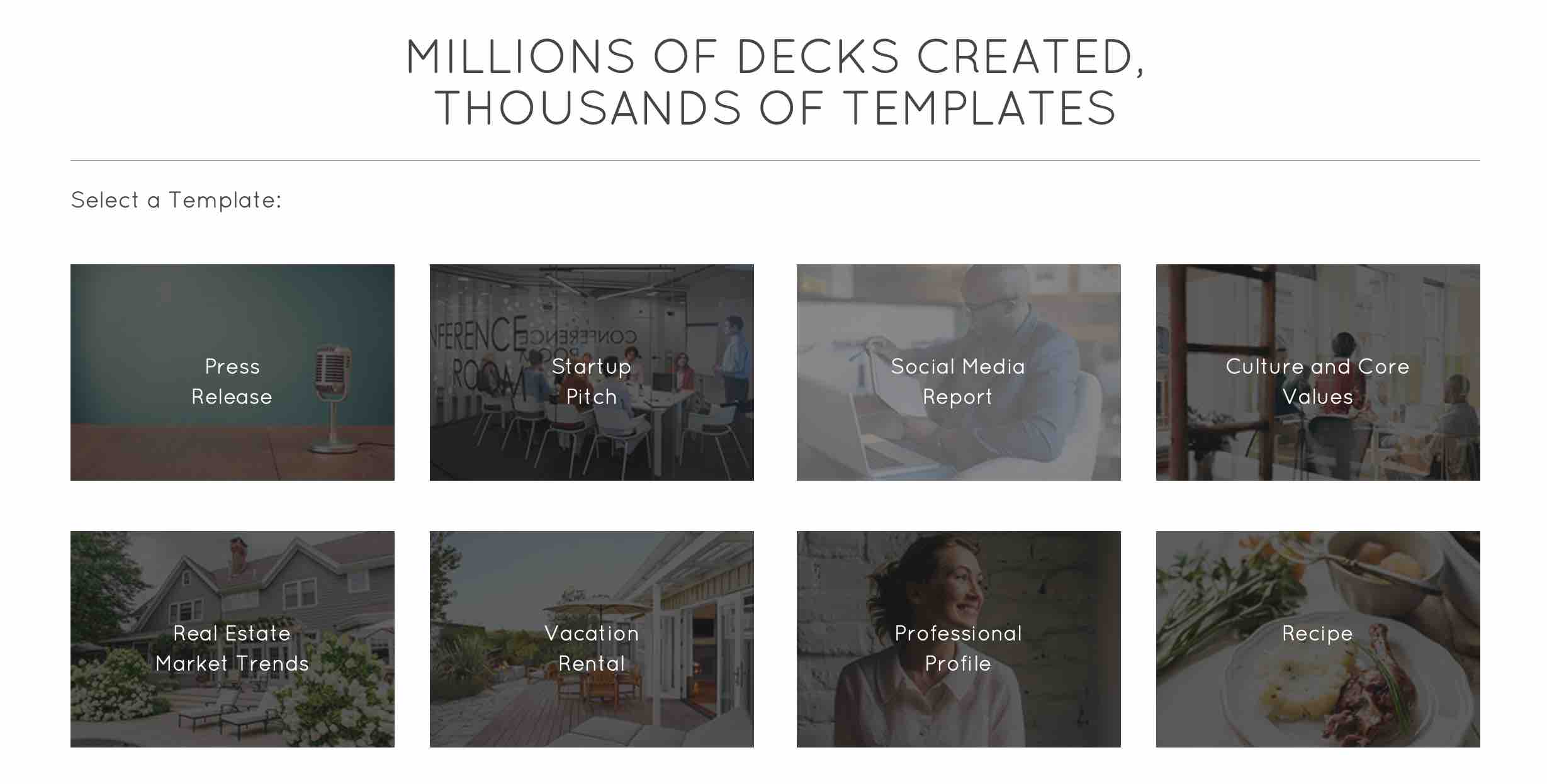 Haiku Deck is considered a free alternative that offers cloud-based solutions for creating beautiful presentations in the easiest of manners. It was founded in the year 2010 and has set up headquarters base at Seattle in the United States.
Haiku Deck offers its users thirty-five million photos and twenty-seven templates that have strong visuals and bold text. Users can create, edit, and access presentations from Chromebook, Mac, PC, iPad, and iPhone.
They can also export their presentations to Keynote, PowerPoint, and PDF, view slide galleries, insert text, insert new slides, select a master layout, and add full transcripts to the slides that have been published.
Haiku Deck is a good choice if you are looking for the top ten alternatives of PowerPoint. It has a free seven-day free trial, and its paid plan starts at $ 5 for a month and also has customization options.
Haiku Deck has launched an automated design feature Zuru that allows the user to create an outline and then builds an automatic presentation with the layout.
7) Slidebean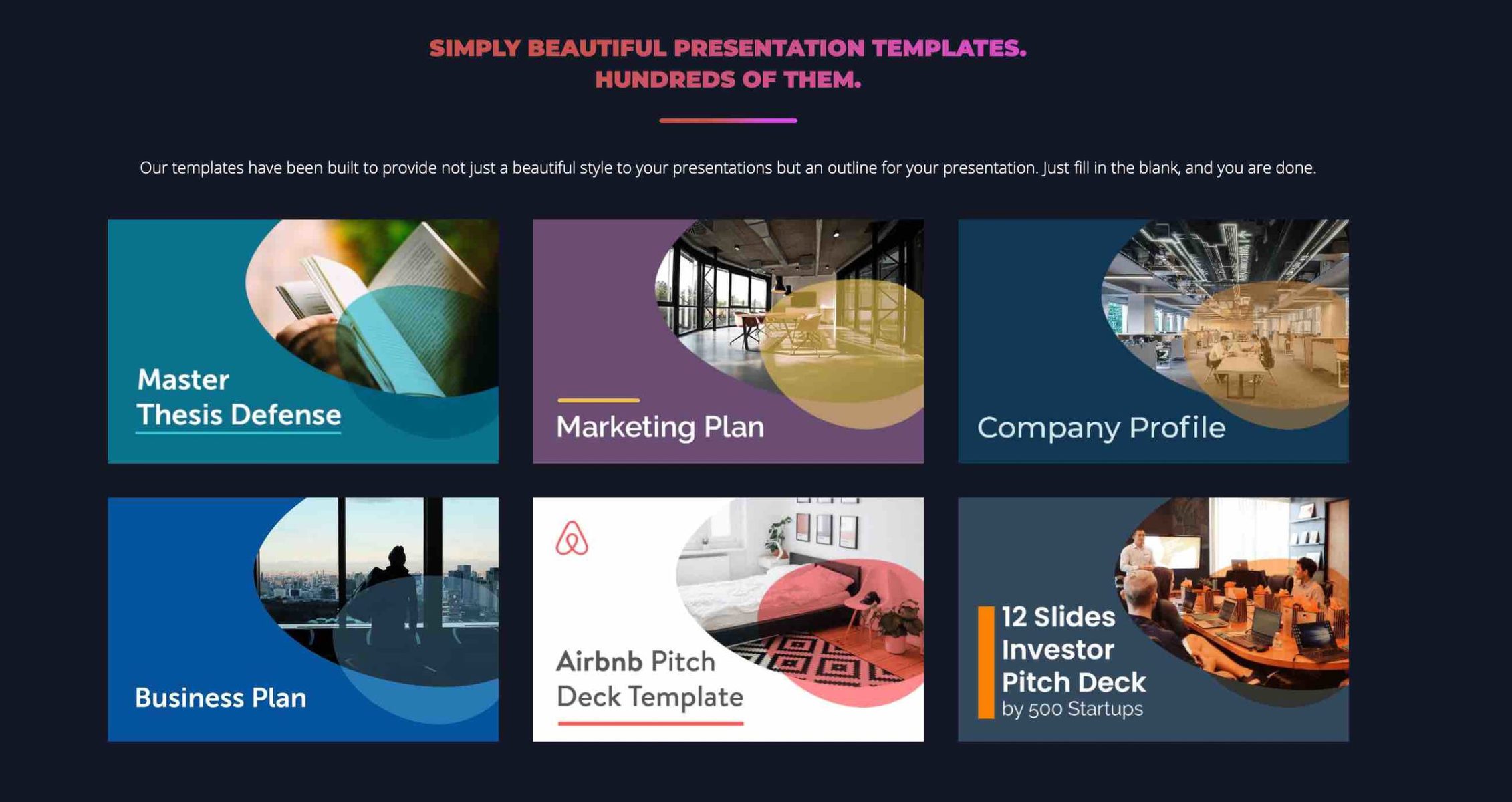 Slidebean helps to create professional slides with its designing tools that include premium fonts, design templates, and qualitative color palettes for freelancers, medium businesses, large organizations, and small entities.
The user has to enter the presentation in the content, and its easy-to-use interface completes the rest of the work automatically. Even if a person is a beginner with zero skills, he will be able to prepare impressive and beautiful designs.
If you are looking for the top ten alternatives of PowerPoint, then Slidebean is a good choice. It has most of the features that a presenter requires like charts, bullets, text, images, quotes, fill, tables, videos, photos, and icons to refine the overall presentation. 
Slidebean offers free trial along with three subscription plans Premium, Essential, and Corporate to choose from. Slidebean is a cloud-based solution that is embedded with websites with HTML script without extra installation or plugin.
The software shows compatibility with most operating systems, and hence, the presentations can be shifted to PPT and PDF formats. It is available in the English language and supports devices on Web-based, Mac, Linux and Windows.
8) Keynote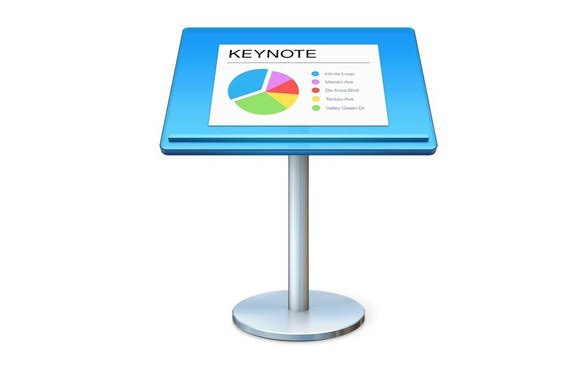 Keynote was initially released in the year 2003 by its developer Apple Inc as part of the productivity suite iWork.  This software is a presentation application, and its latest version 8 for Mac was released in the world in the year 2018, April. Keynote supports the operating system iOS and is available in thirty-three languages.
Keynote is a powerful tool that helps the user to create memorable and eye-catching presentations. It has an intuitive interface and sophisticated features that include thirty templates and designs for objects and text.
The user can edit and view the presentations from both iPhone and iPad. Collaborating and sharing is very easy on keynote because of its high-end features.
Keynote is a good choice if you are looking for the top ten alternatives of PowerPoint. The presentations can be saved as PowerPoint files and can be exported as PPTX and PDF.  
The cloud-based software is available for free with new Mac devices but has to be purchased for other devices.
9) Emaze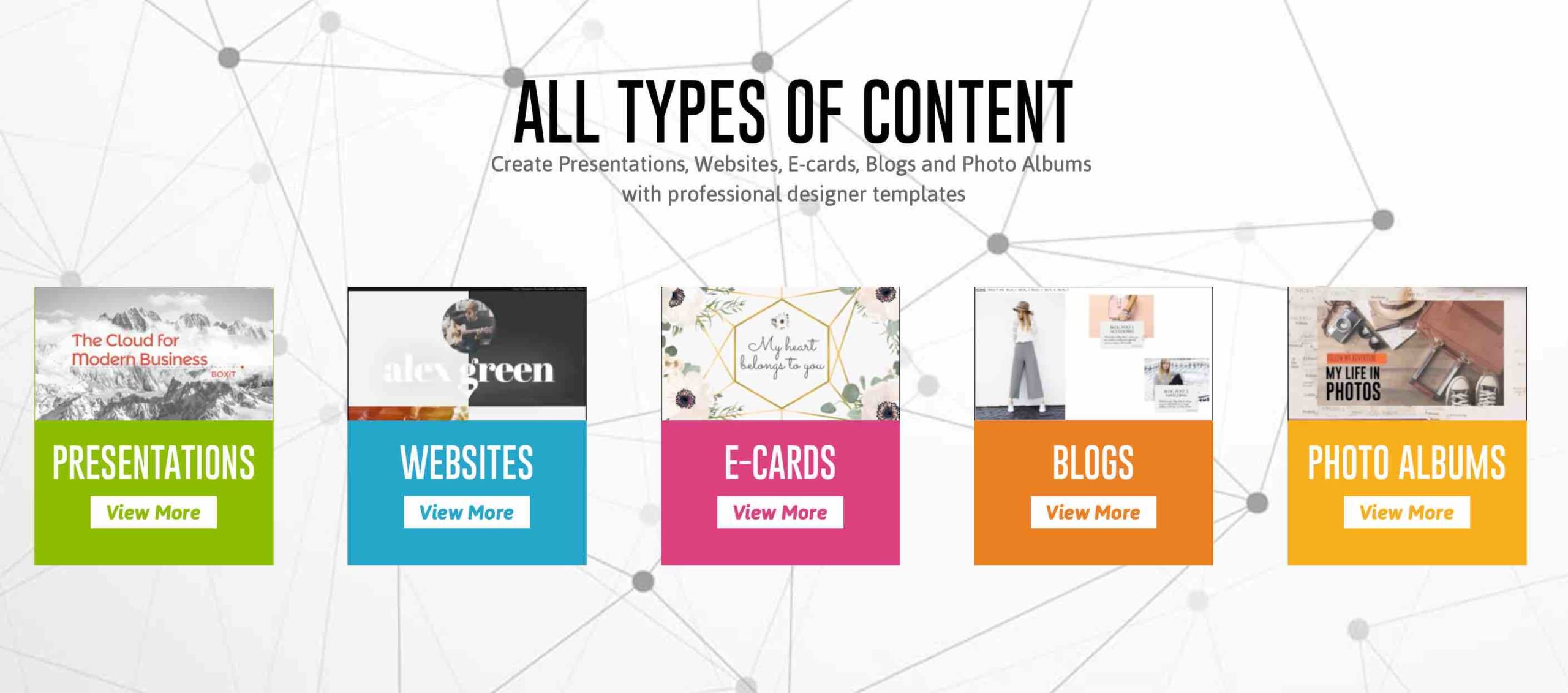 Emaze is a presentation tool that is simple and easy-to-use. It uses HTML5; hence, it is compatible with every device and browser, including tablets and Chromebook. Emaze can easily create photo albums, blogs, e-cards, and websites besides presentations.
If you are looking for the top ten alternatives of PowerPoint, then choose Emaze as it can prepare presentations within a few minutes. It has a free option, and you can upgrade it to paid subscription plans that include Pro plan and Business plan.
 Emaze offers its users specially designed 3D and 2D templates and access to a video presentation from anywhere on the internet. Just feed the content and graphics on the templates, and you can see some amazing creations.
With the help of this cloud-based software, the user can share his presentation with anyone and anywhere by using the automated-translation device. Editing and viewing are also possible from all devices, including smartphones, PCs, laptops, and tablets.
10) Zoho Show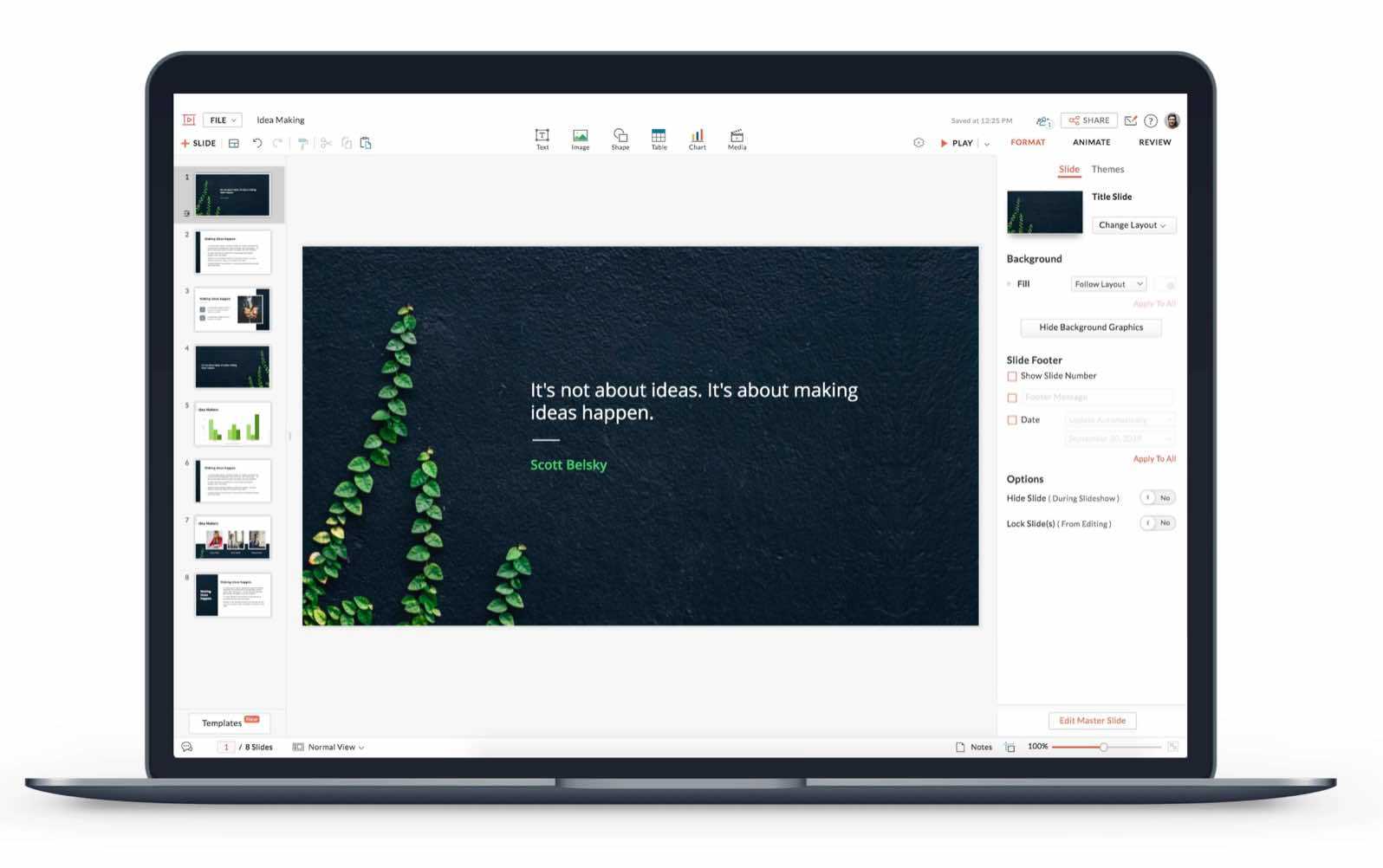 Zoho Show is a presentation tool and an integral part of an application suite that is online-based. This software allows accessing and creating presentations from all the devices and browsers that are connected via the internet. 
This traditional app has tools on the right, slides on the left, and then slide on which you are working is placed in the center.
The user can take the help of a standard layout to add new slides, moving images, and text around them and keep the style in tandem with the theme.
Users can take the help of collaborative tools so that others can edit on your content and add the comment to the sidebar. When your presentation is ready, the user can share a link with the slides so that others can download a copy themselves.
Zoho Show has several tools that can apply transitions and animations in the presentations. The cloud-based software helps the user to publish presentations on blogs and websites. 
He can broadcast the slideshow to his team from any place. You can import various file types, including PPTX and PPT. Its precise functionality makes it safe to use while editing from a PowerPoint file.
If you are looking for the top ten alternatives of PowerPoint, then one important choice is Zoho Show. It has a free option plan along with several paid plans that are reasonably priced.
The software is created for educators, students, and business users. Zoho show has applications and tools that help to automate, connect, and manage content.
Conclusion
PowerPoint has a wide range of features that help to create some striking and significant presentations, but with time, the slides have started looking generic and tedious.
With several new technologies available in the market, people have started looking for fresh themes, better features, clean designs, fewer issues so that they can create a dynamic presentation.
Why opt for a paid version that is so costly when free and less costly apps are readily available in the market. Next time you need to prepare a presentation to opt for free services and then others that are reasonably priced so that you can get the best possible options at a minimum price.