An aromatic beverage, tea, is made by pouring hot water on a cultivated shrub, Camellia sameness. Tea contains various health benefits. Tea contains antioxidants, helps in reducing weight, protect your bones, and boost the immune system and so on. It is also considered as refreshment after a hectic day.
There are numerous types of tea available in the market like Black Teas (Earl Grey, Assam, Darjeeling, Ceylon and English Breakfast Tea), White Tea (White Peony, Silver Needle and Tribute Eyebrow), Green Tea and Herbal Tea. Tea can be in different forms like Loose Leaf Teas or Tea Bags, Blended and Unblended Teas.
The leading exporters of fragrant beverages in the world are China (2.037 billion USD), Sri Lanka (1.329 billion USD), Kenya (1.224 billion USD) and India (692.07 million USD). On the other hand, the leading importers of tea in the worldwide market are Pakistan (589.76 million USD), United States (473.83 USD) and United Kingdom (348.69 USD).
The following are the Top tea brands in the world in 2023
1. The Republic of Tea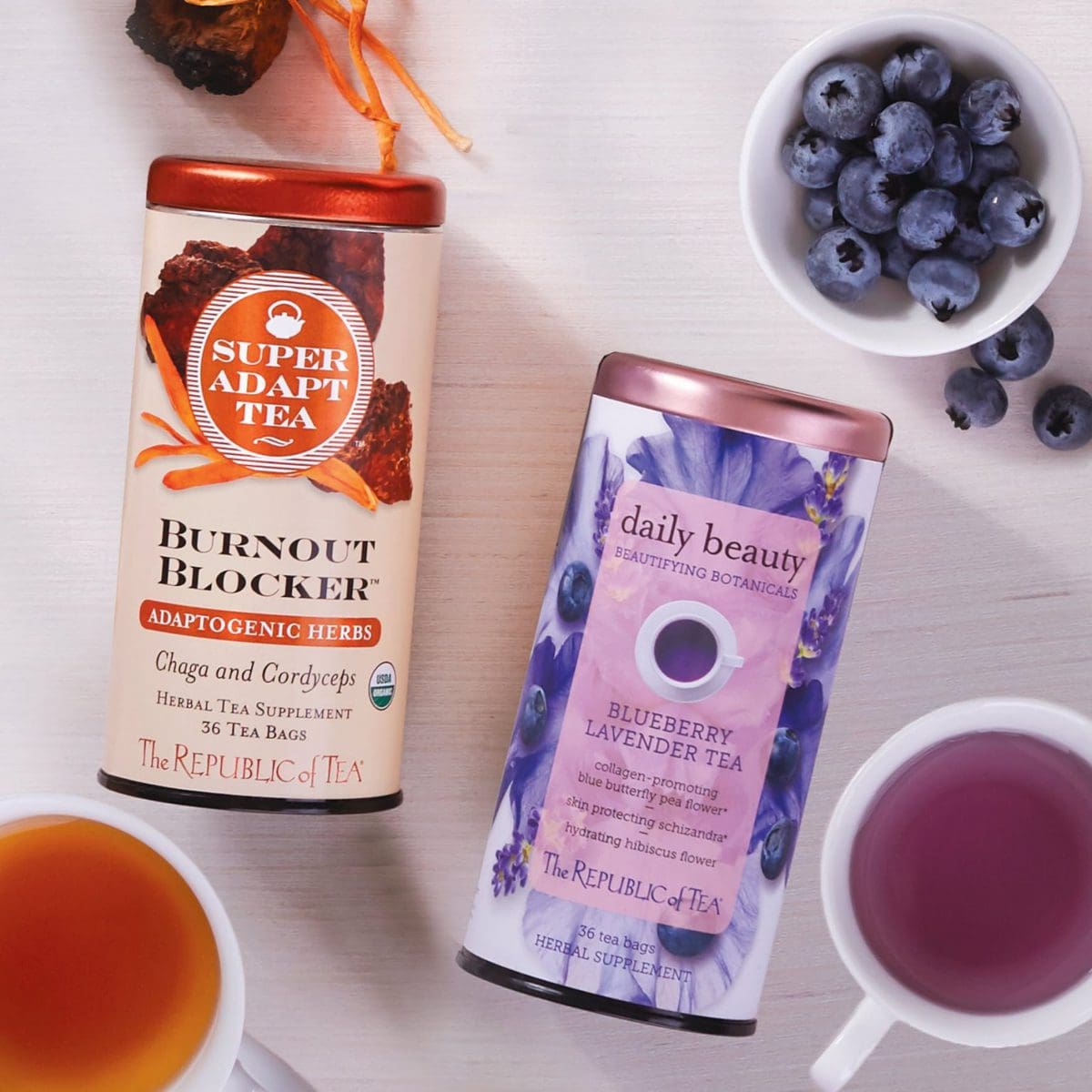 Origin Country: United States of America
Founder: Mel Ziegler, Bill Rosenzweig and Patricia Ziegler
Owner: Ron Rubin
Founded: 1992
Headquarters: Larkspur, US
Potential valuation: 125 million USD
The Republic of Tea is a private company that manufactures and markets 350+ varieties of different teas like white tea, green tea, rooibos red tea and tea seed oil in North America. Both the tea bags and loose teas are packaged in cylindrical tins. The portfolio includes decaffeinated blends, unbleached tea bags and whole leaf teas. It was one of the first companies to offer varieties such as rooibos red tea, white tea, and tea seed oil to American consumers.
The Republic of Tea is known for its sustainable efforts. It sources teas from biodynamic farms which takes additional care of livestock and plant growth. The tea brand is the manufacturer of Sonoma Teas, made from dried grape skins.
Product portfolio:
THE REPUBLIC OF TEA HONEY GINSENG GREEN TEA
THE REPUBLIC OF TEA GOOD HOPE VANILLA RED TEA
THE REPUBLIC OF TEA WHITE EMPEROR TEA
2. Yogi Tea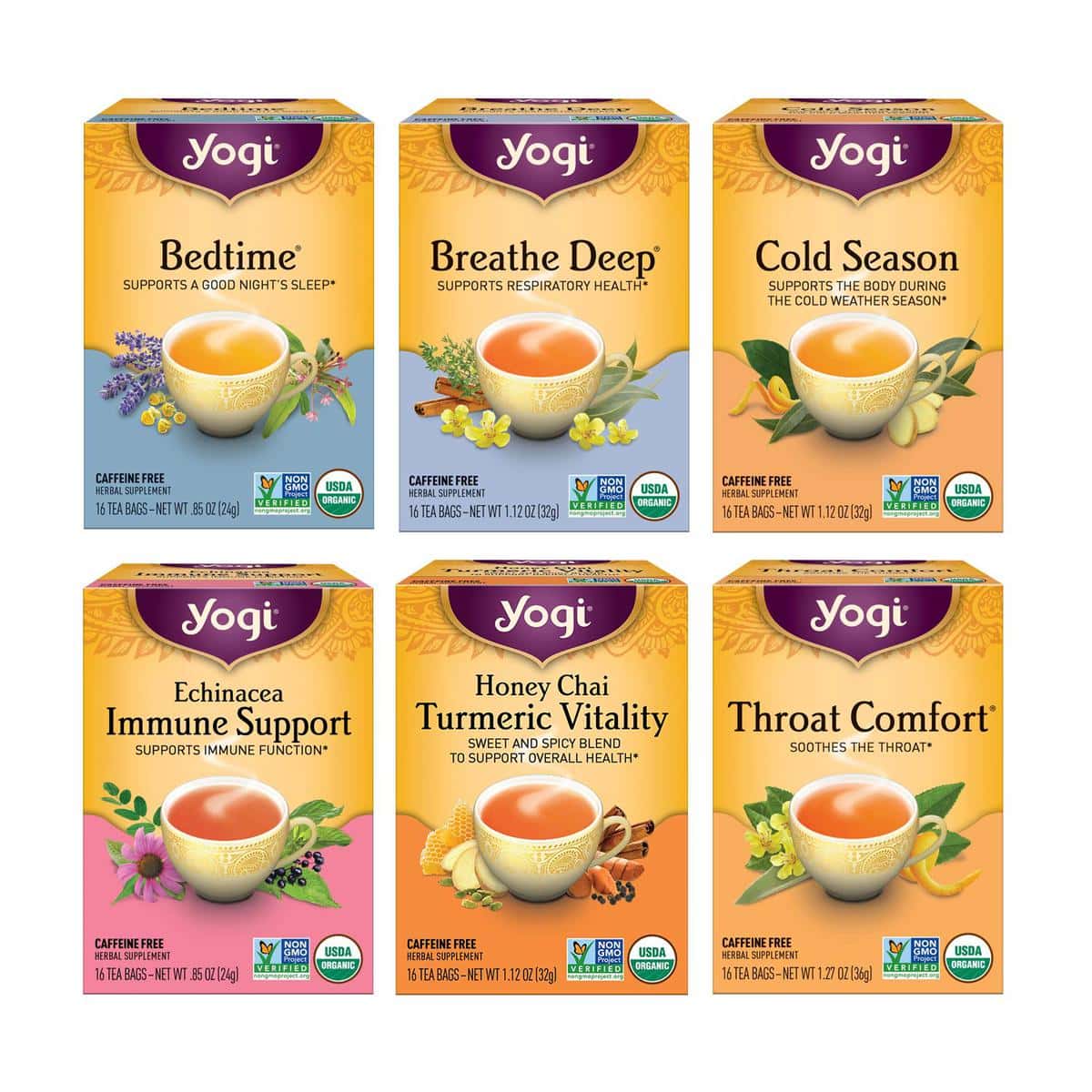 Founder: Yogi Bhajan
Founded: 1984
Headquarters: Portland and Eugene, US and Hamburg, Germany
North American Operations: East-West Tea Company
European Operations: Yogi Tea GmbH
Yogi Tea is a Private multinational company associated with the beverage industry. Its product portfolio includes herbal infusions and teas of numerous varieties like black tea, green tea and organic herbal tea.
Yogi Tea is inspired by the ancient philosophy of Ayurveda, which emphasizes the importance of balance and harmony in the body and mind. The teas are made with quality organic ingredients and are committed to creating naturally delicious, high-quality teas. The spices and botanicals are sourced from South Asia and India. All the ingredients used by the tea brand are organic without any trace of artificial ingredients. The brand markets tea blends made from 140 spices for every situation like energy booster, stress relief, better sleep and detox.
Product portfolio:
YOGI SUPER ANTIOXIDANT GREEN TEA
YOGI TEA SWEET TANGERINE POSITIVE ENERGY
YOGI TEA EGYPTIAN LICORICE MINT
3. Jade Leaf Matcha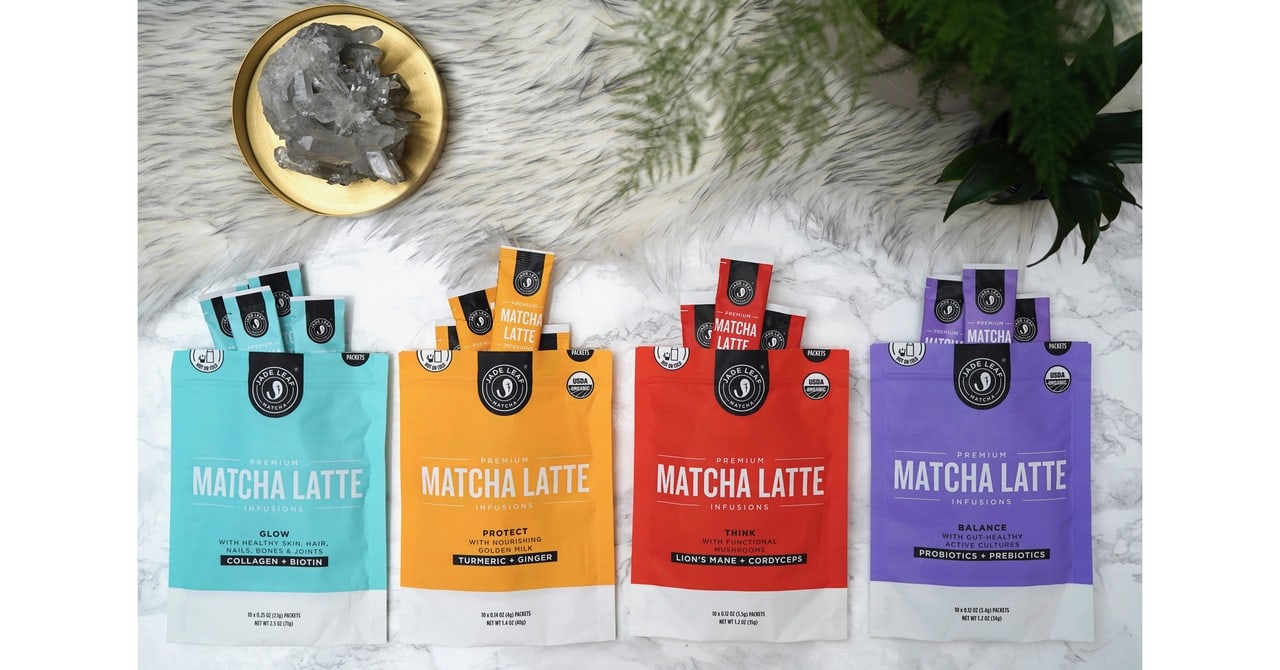 Founder: Mark and Will
Founded: 2014
Jade Leaf Matcha is one of the best tea brands in the world that specializes in matcha, Japanese green tea powder. These are sourced from Kizuna Tea Collective, closely-knit family-run farms, which use both traditional and new methods to cultivate the best matcha leaves. The raw plant is transformed into ready-to-brew powder in Uji, Japan.
Jade Leaf Matcha has gained immense popularity because of its delicious taste, authentic flavours, fresh quality and energizing effects. All the products are 100% organic and USDA certified and does not contain any form of additives. The tea powder has beneficial nutrients and antioxidants that help in weight loss, metabolism, heart health and a peaceful mind.
Product portfolio:
JADE LEAF ORGANIC MATCHA GREEN TEA POWDER
JADE LEAF CEREMONIAL MATCHA
JADE LEAF HARVEST CULINARY GRADE
4. Harney & Sons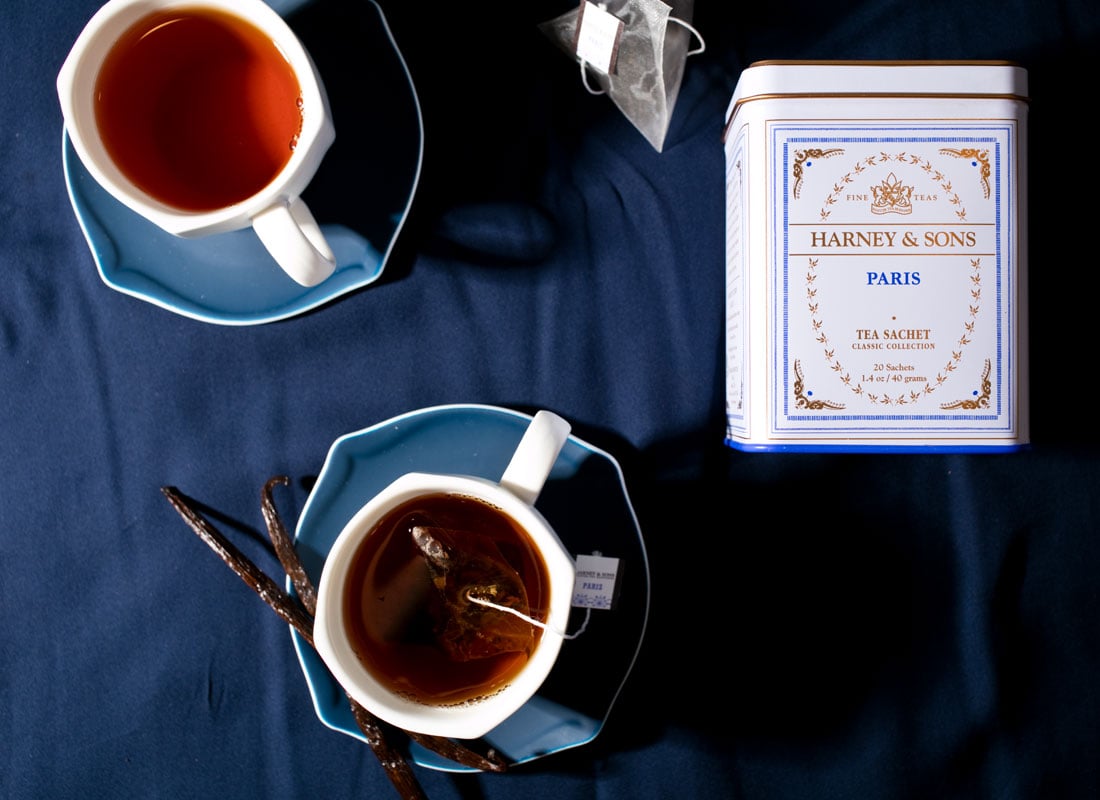 Origin Country: United States of America
Founder: John Harney
Founded: 1983 in Salisbury, Connecticut, New York
Current Head: Mike Harney
Headquarters: Millerton, New York, US
Annual Sales: 30 million USD
Employees: 150
Imports: Million pounds of tea every year
Product Prices: 2 dollars to 500 dollars for every pound
Harney & Sons is a tea company that was founded in 1983 by John Harney. They are known for providing high-quality teas from around the world.
Harney & Sons have been in the beverage business for the last three generations producing and blending artisanal teas that feature both exotic and classic flavours. It is one of the best tea brands with 300+ blends in its product portfolio including a new hemp range, several matchas, loose leaf teas and herbal teas. Most of its products are organic and certified Kosher.
The teas are available in standard tea bags and tetrahedral silken sachets for selected blends. The company sells its products to speciality shops, hotels and restaurants like Four Seasons Hotels, Barnes & Noble cafes, and Hotel Affinia.
Product portfolio:
HARNEY & SONS CLASSIC HOT CINNAMON SPICE BLACK TEA
HARNEY & SONS VICTORIAN LONDON FOG
HARNEY & SONS ORGANIC GREEN WITH COCONUT FRESH BREW ICED TEA
5. VAHDAM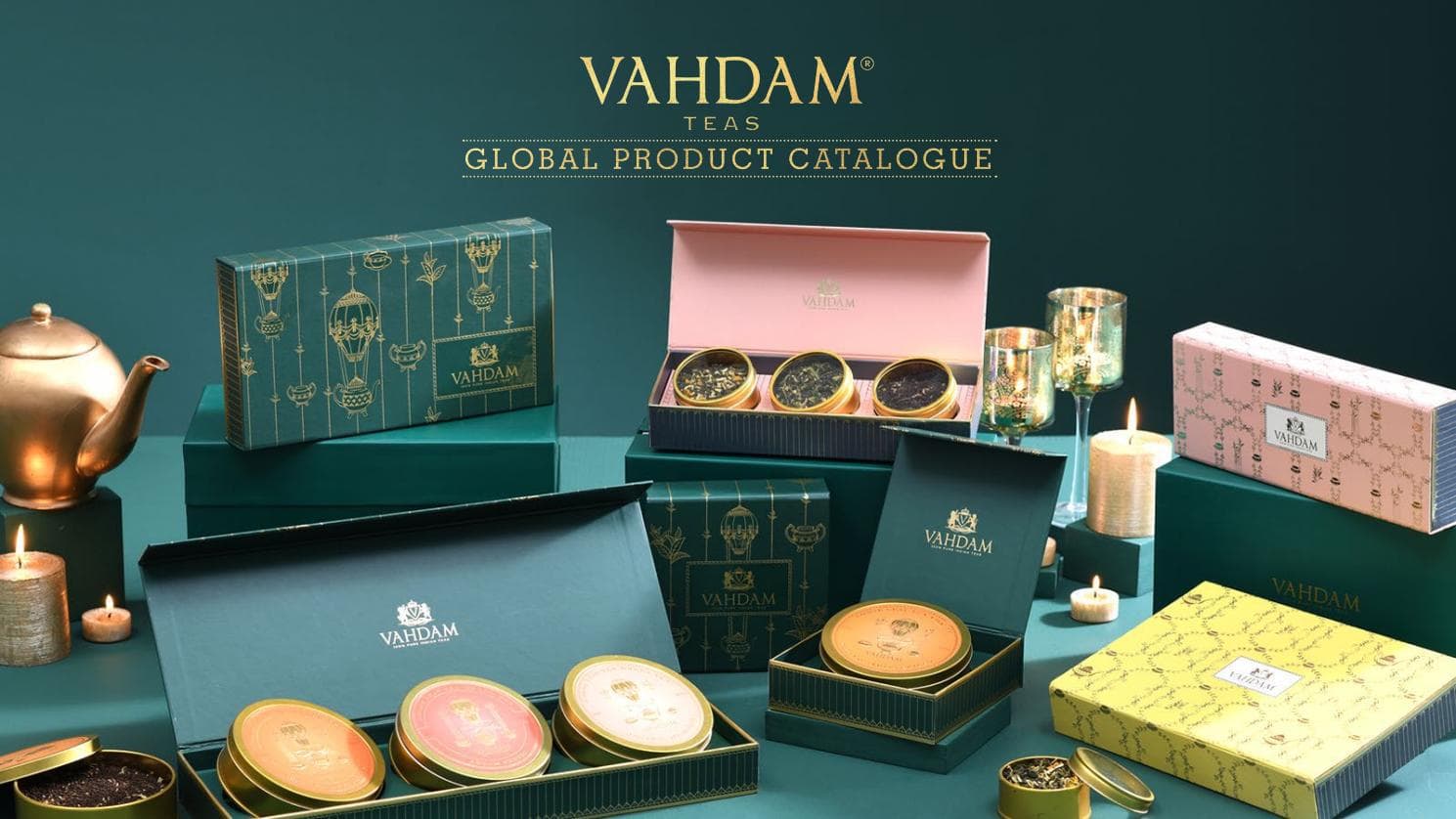 Origin Country: India
Founder: Bala Sarda
Founded: 2014
Headquarters: Delhi, India
Market: 86 countries
VAHDAM is an ethical D2C business model that was created to eliminate the middlemen and benefit the farmers who are involved in the tea manufacturing process. The blends are composed of herbs and leaves handpicked in India to make it one of the best tea brands in the world.
VAHDAM is a brand that sells tea and spices. VAHDAM is a certified plastic and carbon-neutral brand.
VAHDAM puts the onus on quality and taste and supplies some of the best speciality and organic teas. It is one of the best tea brands with a product portfolio that includes several varieties like oolong tea, herbal teas, white tea, green tea, chai, black teas, Darjeeling tea, Assam tea, single-origin estate, turmeric teas and iced tea.
Product portfolio:
VAHDAM EARL GREY CITRUS BLACK TEA
VAHDAM ORGANIC TURMERIC WELLNESS DETOX
VAHDAM IMPERIAL HIMALAYAN WHITE TEA LOOSE LEAF
6. Twinings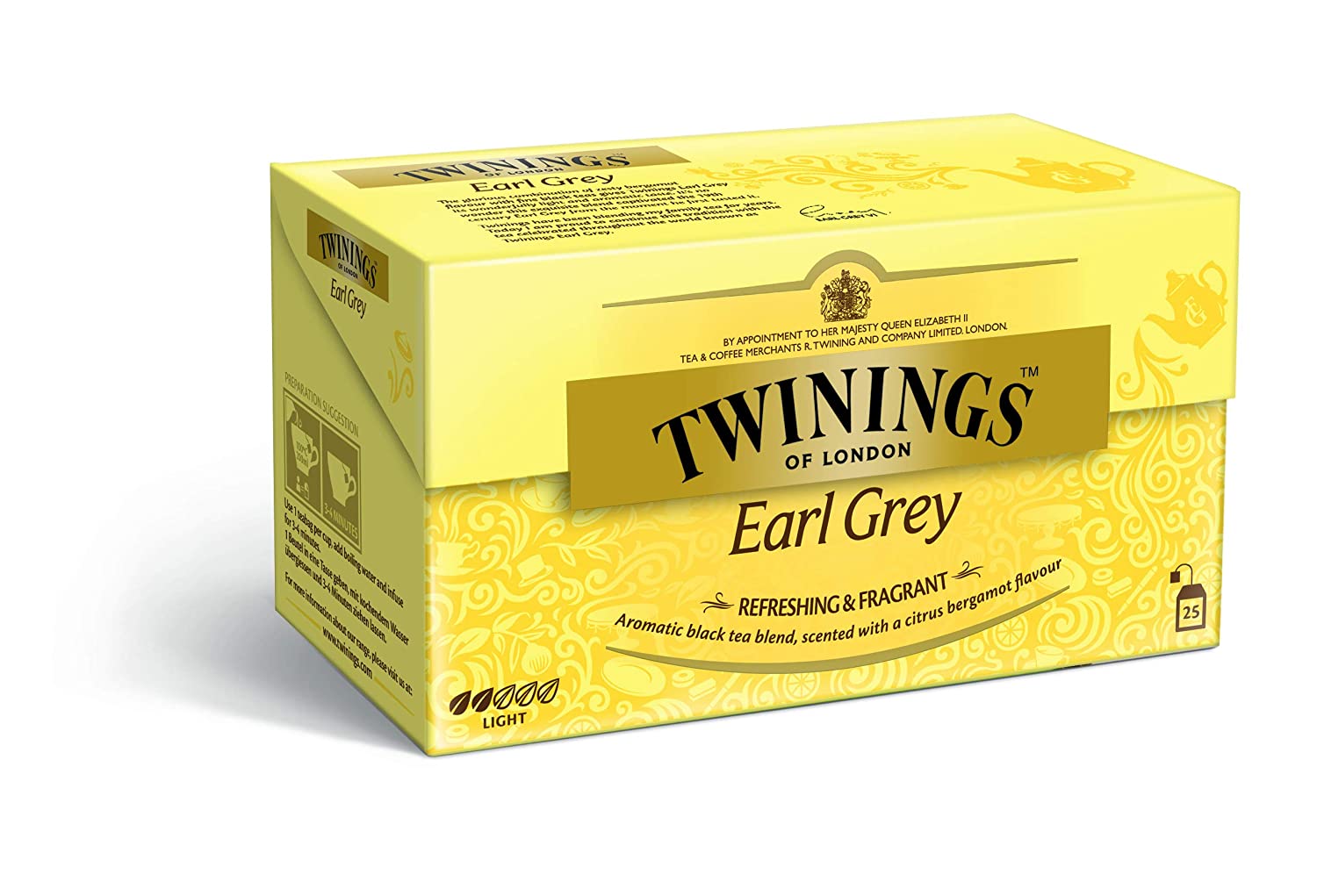 Origin Country: United Kingdom
Founder: Thomas Twining
Founded: 1706
Owner: Associated British Foods
Twinings is a British marketer of tea and other beverages, including coffee, hot chocolate, and malt drinks. The brand has a rich history of over 300 years and is known for its depth of flavors and expertise in tea blending. Twinings offers a wide variety of teas, including black tea, green tea, herbal teas, and fruit-based cold infusions. They also provide a range of other products such as coffee, hot chocolate, and malt drinks. Twinings is owned by Associated British Foods and holds the world's oldest continually used company logo.
Twinings is an English brand associated with several non-alcoholic beverages like tea, coffee, malt drinks and hot chocolate. The tea brand is most popular because of its high-quality premium tea that is sourced from Assam, Malawi and Kenya. They offer over 200 teas from around the world and have featured collections of their best-selling products
If you are looking for a softer taste or a full-bodied flavour in a cup of tea or a product that is both complex and balanced then look no further than Twinings as it has numerous varieties in its portfolio like herbal, green, black teas and fruit-based cold infusions that will meet all the specific needs of a tea lover
Product portfolio:
TWININGS OF LONDON ENGLISH BREAKFAST BLACK TEA BAGS
TWININGS CHINA OOLONG TEA
TWININGS GREEN TEA
7. Yorkshire Tea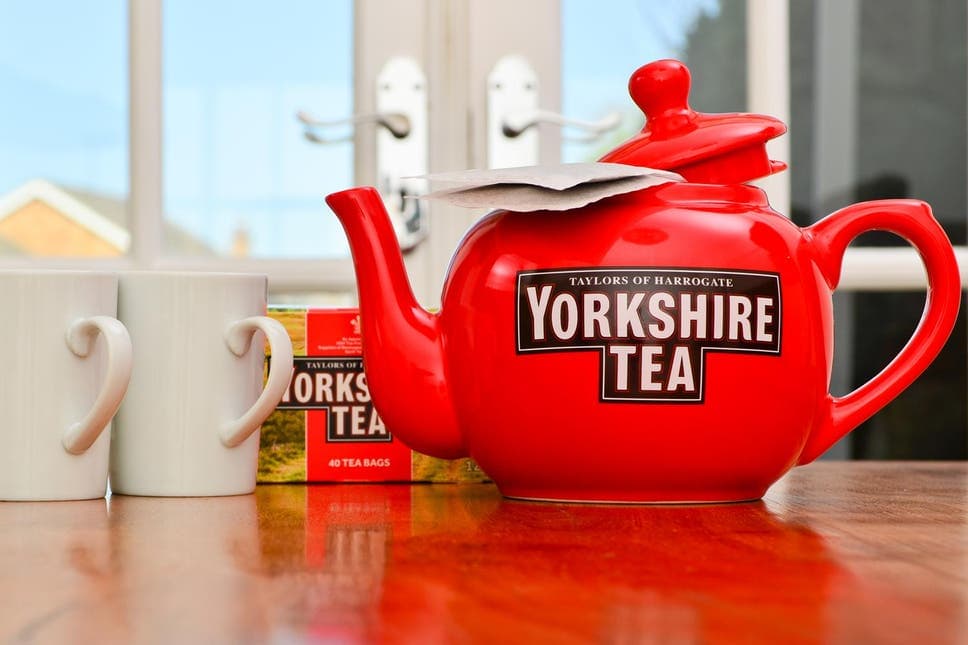 Origin Country: United Kingdom
Founder: Charles Edward Taylor
Owner: Bettys & Taylors Group
Producer: Taylors of Harrogate
Founded: 1977 in Harrogate
Yorkshire Tea is a black tea blend that has been produced by the Bettys & Taylors Group since 1977. It is the most popular traditional black tea brand sold in the UK. The tea is made by Taylors of Harrogate, a British family business that was founded in 1886 and is known for its commitment to fairness, flavor, and quality.
Yorkshire Tea uses varieties of tea grown in India, Sri Lanka, and Kenya, which are blended to create eight different blends, including Yorkshire Tea, Yorkshire Decaf, Yorkshire Gold, and Breakfast Brew. In recent years, they have also introduced unique flavors such as Biscuit Brew and Toast and Jam Brew
Yorkshire Tea is the most popular brand in the UK offering top quality products to its consumers. The brand sources its tea from India, Kenya and Sri Lanka to create eight primary blends. Betty's acquired Taylor's and renamed it Taylors of Harrogate who now produce its products.
Yorkshire Tea brand is the recipient of a Royal Warrant by the Prince of Wales in 2009. Currently, it is the largest tea selling brand in the UK occupying 28% of the black tea market.
Product portfolio:
YORKSHIRE GOLD
YORKSHIRE BREAKFAST BREW
YORKSHIRE BISCUIT BREW
8. Dilmah Tea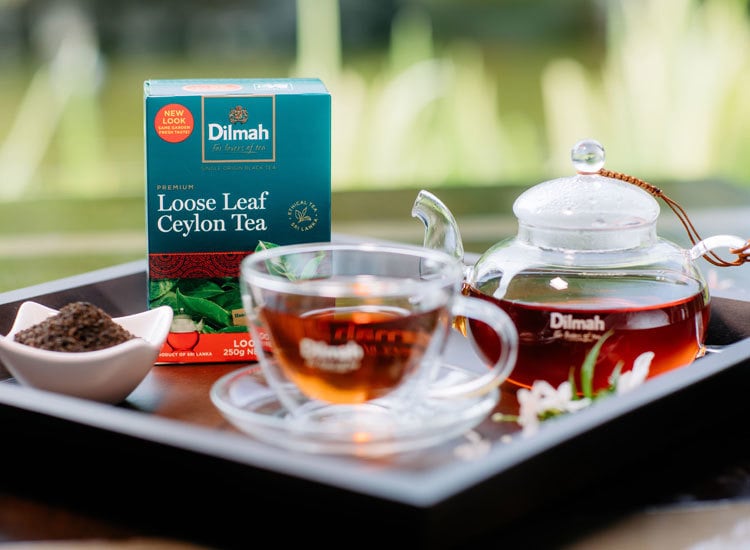 Origin Country: Sri Lanka
Founder: Merrill J Fernando
Founded: 1988
Headquarters: Peliyagoda, Sri Lanka
Market: 100 countries
Dilmah was one of the first companies which conducted all its operations from picking, packing and perfecting at its source of origin the Ratnapura region of Sri Lanka. This is the reason why it boasts of a distinct flavour, delicate aroma and unique freshness. Dilmah is available in over 100 countries, including the United States, the United Kingdom, Canada, and Australia. The company offers a variety of tea products, including single-origin tea, loose leaf tea, and tea bags.
Dilmah is committed to authenticity and quality in tea, and it pioneered the concept of single-origin tea in 1988.
The product portfolio of Dilmah includes varieties like green tea, flavoured tea and Ceylon tea. The ethical tea brand makes sure that all its packaging profits fund the MJF Charitable Foundation which works for social justice and Dilmah Conservation which works for wildlife and environmental conservation
Product portfolio:
DILMAH PREMIUM CEYLON TEA
DILMAH GOURMET TEA
DILMAH NATURAL INFUSIONS
9. Numi Organic Tea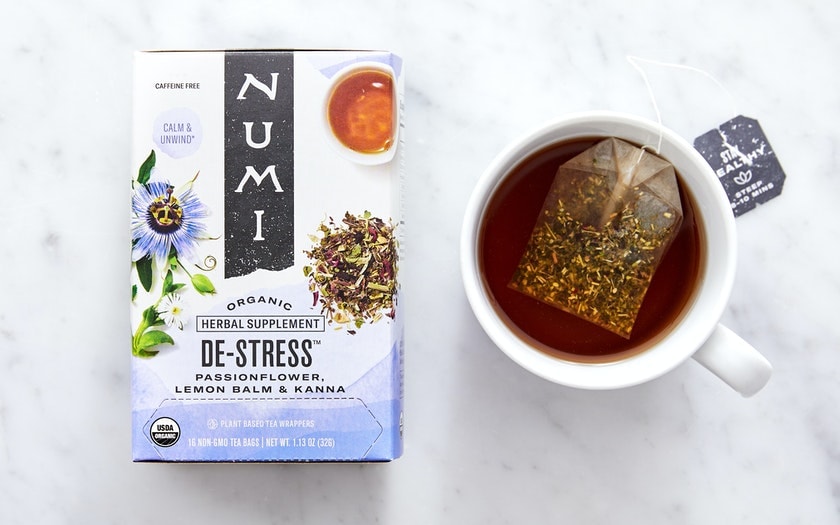 Origin Country: US
Founder: Siblings Ahmed Rahim and Reem Hassani
Founded: 1999
Headquarters: Oakland, California
Numi Organic Tea is a privately owned triple bottom line social enterprise based in Oakland, California. The company was founded in 1999 by brother and sister, Ahmed and Reem Rahim. Numi is known for its assortment of organic and fair trade certified teas and herbal "teasans". They offer a variety of tea products, including green tea, black tea, herbal tea, and more.
The siblings have made sure to maintain ethical standards and use rare and exotic natural ingredients to achieve refined, smooth and rich tea blends.
NUMI has gained international recognition for its herbal teasans, USDA certified organic and fair trade certified teas. Its product kit includes loose leaf teas, bagged tea, gift items and iced tea in varieties like oolong, white, black, green, herbal and pu-erh along with flowering tea. Numi is also a Climate Neutral certified brand and is committed to reducing carbon emissions
Product portfolio:
NUMI MOROCCAN MINT
NUMI DANCING LEAVES
NUMI AGED EARL GREY
10. Traditional Medicinals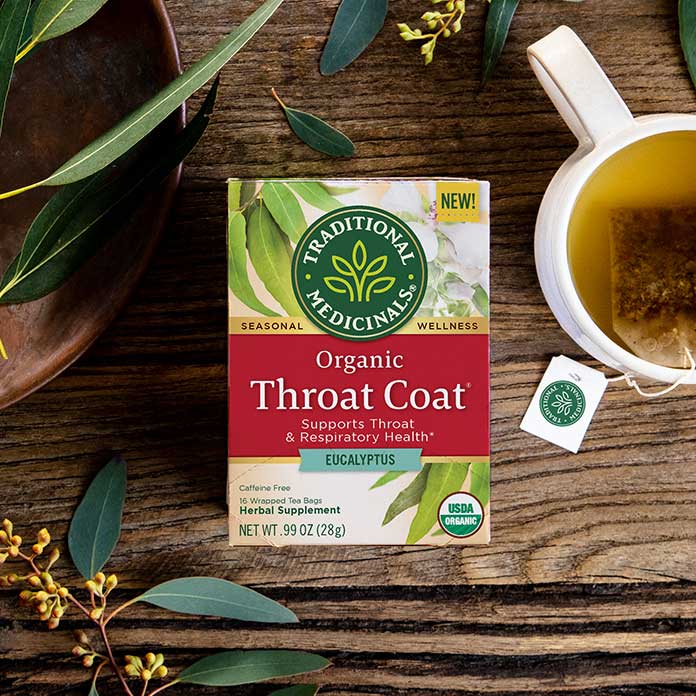 Founder: Rosemary Gladstar and Drake Sadler
Founded: 1974
Traditional Medicinals is an independent company that has been passionate about connecting people with the power of plants since 1974. They specialize in herbal tea and believe that the quality of their teas is a direct result of their commitment to farmers.
Traditional Medicinals is one of the best tea brands with an onus on sustainable business practices, environmental balance and ingredient purity. The privately-held company is famous all over the world for wellness-centric teas that facilitate natural herbal remedies to their loyal customers
Traditional Medicinals offers a diversified line of teas with high-quality herbal blends. It uses organic herbs and ingredients that are Non-GMO Project verified. The brand has a variety of teas for several problems like Breathe Easy for respiratory health and Smooth Move meant for a healthy digestion process.
Product portfolio
TRADITIONAL MEDICINALS CHAMOMILE AND LAVENDER BLEND
TRADITIONAL MEDICINALS EVERYDAY DETOX
TRADITIONAL MEDICINALS HEMP + HERB MENTAL FOCUS
11. Teeccino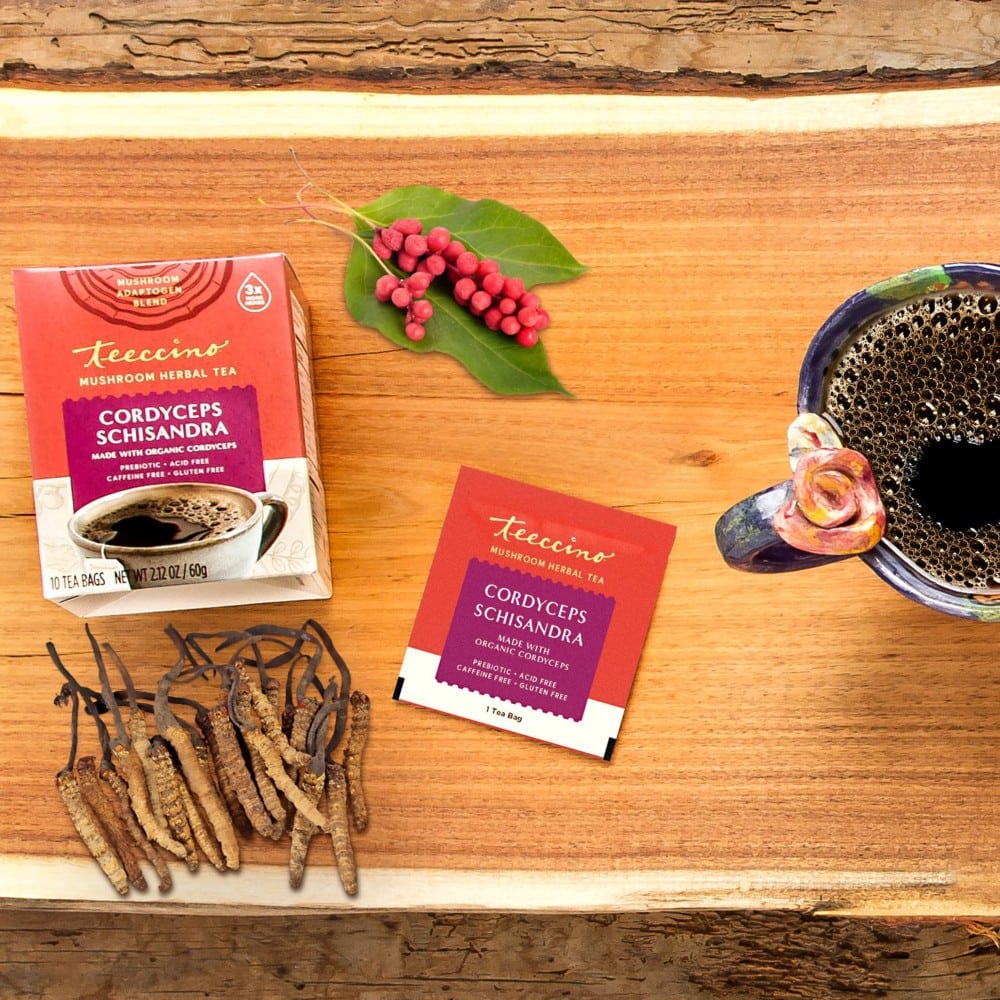 Origin Country: United States of America
Founder: Caroline MacDougall
Founded: 1993
Teeccino is a brand that offers a variety of caffeine-free and acid-free herbal coffees and teas. Their products are made from a blend of organic herbs like chicory, carob, dandelion, and ramón seeds that are roasted and ground to brew like coffee or steep like tea. Teeccino is a great alternative to coffee for those who want to avoid caffeine or are looking for a healthier option. It comes in a variety of flavors, including Java, French Roast, Hazelnut, and Vanilla Nut
Teeccino is a herbal brand associated with the beverage industry. It deals in both herbal tea and coffee and also has a wide range of flavoured teas, roasted herbal teas, coffee alternatives and 35 gluten-free and organic blends in its portfolio.
The rich herbal teas include blends of organic herbs and natural ingredients, nuts and fruits. The brand is widely popular as all its products boast of health benefits and delicious taste
Product portfolio:
TEECCINO DANDELION TEA – COCONUT
TEECCINO LEMON BALM PREBIOTIC SUPER-BOOST HERBAL
TEATEECCINO MACADAMIA NUT PREBIOTIC SUPERBOOST HERBAL TEA
12. TWG Tea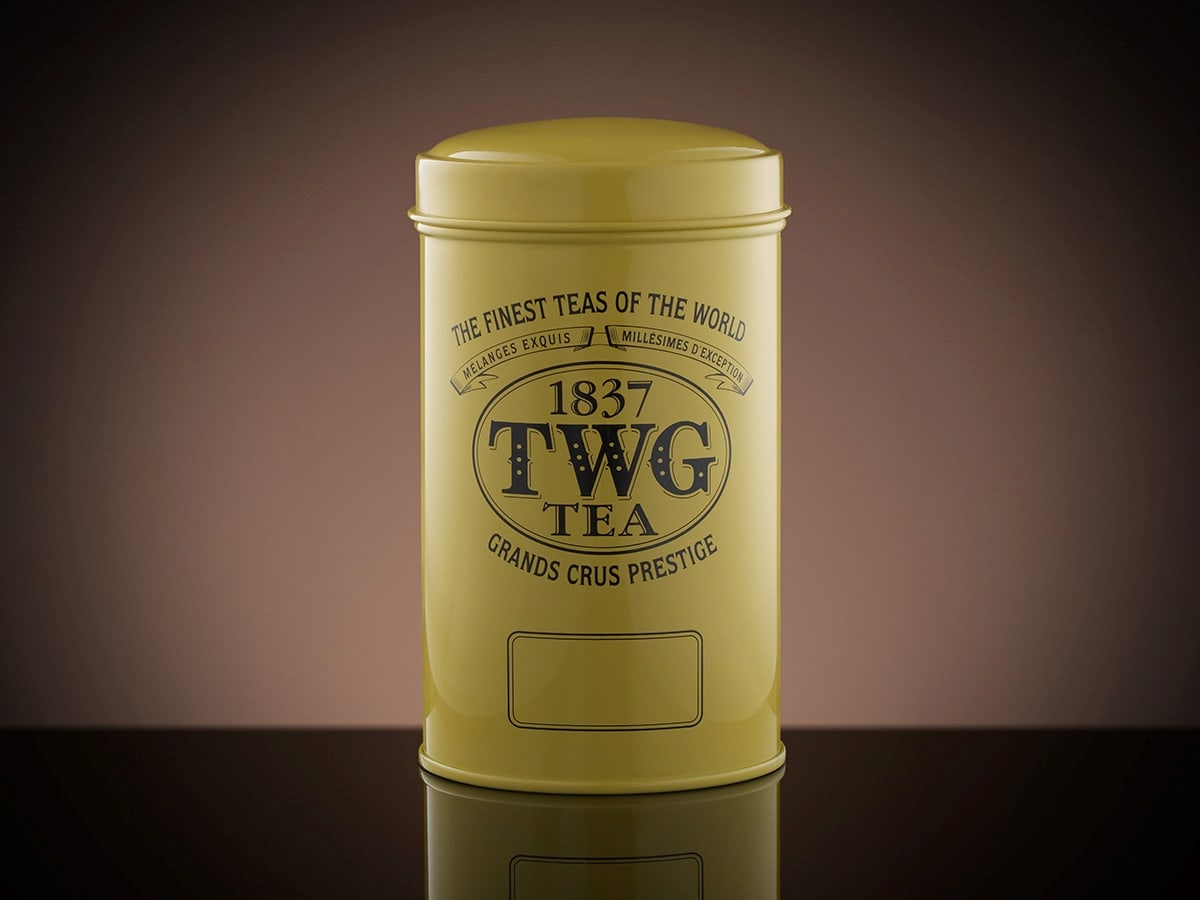 Origin Country: Singapore
Founder: Manoj M Murjani and Taha Bou Qdib
Owners: Osim International, Paris Investments, The Wellness Group
Founded: 2007
Headquarters: Singapore
TWG Tea is a Singaporean luxury teahouse chain and a namesake brand of artisanal tea. It was established in 2008 as a subsidiary of the Singaporean lifestyle company, The Wellness Group. The company sells over 1,000 blends of tea in its more than 70 boutiques and salons in Asia, Europe, the Middle East, and North America. It also distributes its tea to international retailers. TWG Tea has expanded rapidly in the 2000s, with salons and boutiques in many countries like UAE, UK, USA, China and more.
TWG Tea offers over 800 varieties of loose leaf teas and accessories. The company sources tea from 47 tea-producing locales throughout the world. They sell a variety of tea blends, including black tea, green tea, white tea, oolong tea, and herbal tea. The company also offers tea-related products such as teapots, tea cups, and tea accessories.
TWG Tea is a luxury chain of teahouses and an artisanal tea brand that has a reputation for premium products all over the world. Its extensive product line includes exclusive single-estate tea blends with classy looking packaging that is as attractive as its delicious product line.
TWG Tea Company sells 800 varieties of tea sourced from different parts of the world. These are classified by colour like black, green, yellow, white and red. Besides tea, the brand also offers exquisite tea accessories and tea-infused savouries and sweets
Product portfolio:
TWG TEA 1837, CLASSIC TEA SELECTION
TWG TEA SILVER MOON
TWG TEA GOLD YIN ZHEN
13. Tea Forte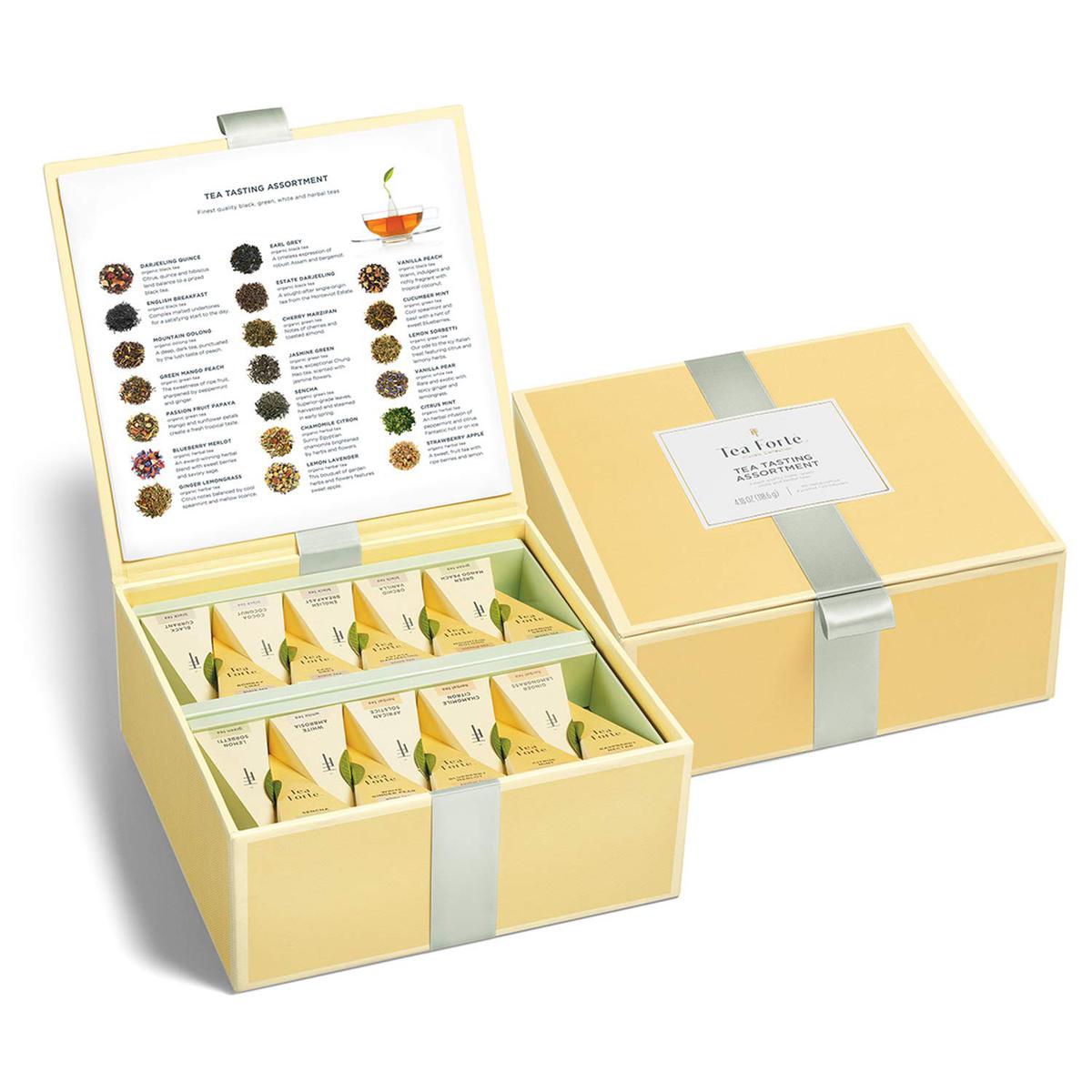 Origin Country: United States of America
Founder: Peter Hewitt
Founded: 2003
Headquarters: Maynard, MA, US
Tea Forte Inc. is a private company associated with the beverage industry. The high-end premium brand is inspired by the Japanese tea ceremony and has decided to enrich all its customers with a similar experience. The brand stands out in the crowd because of its unique packaging in elongated pyramidal-shaped silk tea bags which is a hit with the customers.
The Company offers hand-crafted artisanal teas sourced from the farms that use rare and fine natural ingredients. Each flavour is unique and promises perfection. The products are meant for high-end customers and are sold at hotels, spas, restaurants and gift shops.
Product portfolio:
TEA FORTE CAFE CUP
KATI CUP CHERRY BLOSSOMS
TEA FORTE TEA TASTING ASSORTMENT
14. Smith Teamaker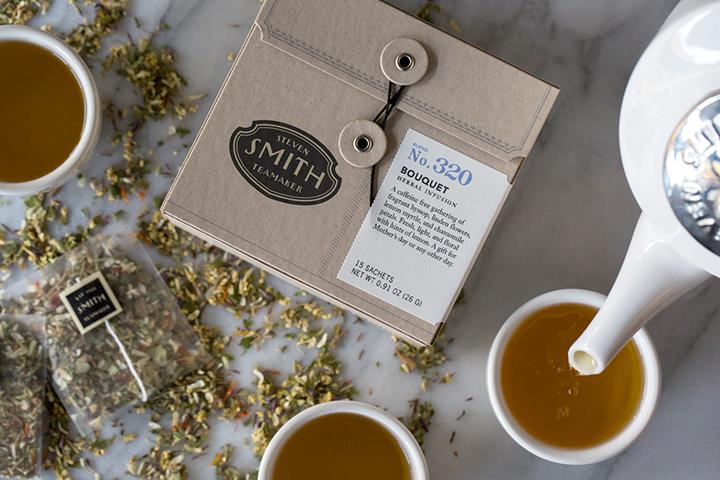 Origin Country: Portland, Oregon
Founder: Steven Dean Smith
CEO: Darren R Marshall
Founded: 2009
Smith Teamaker is known for small-batch blends that undergo vigorous tasting to create some of the finest teas in the world
The product line is a perfect example of quality and has curated teas with a combination of different aromas and complex flavours. It includes white tea, green tea, full leaf black tea and herbal infusions and blends that are packaged in loose form as well as individual sachets and ready-to-drink tea beverages.
Product portfolio:
SMITH TEAMAKER WHITE PETAL TEA
SMITH TEAMAKER LORD BERGAMOT
SMITH TEAMAKER BREAKFAST IN THE WOODS
15. DavidsTea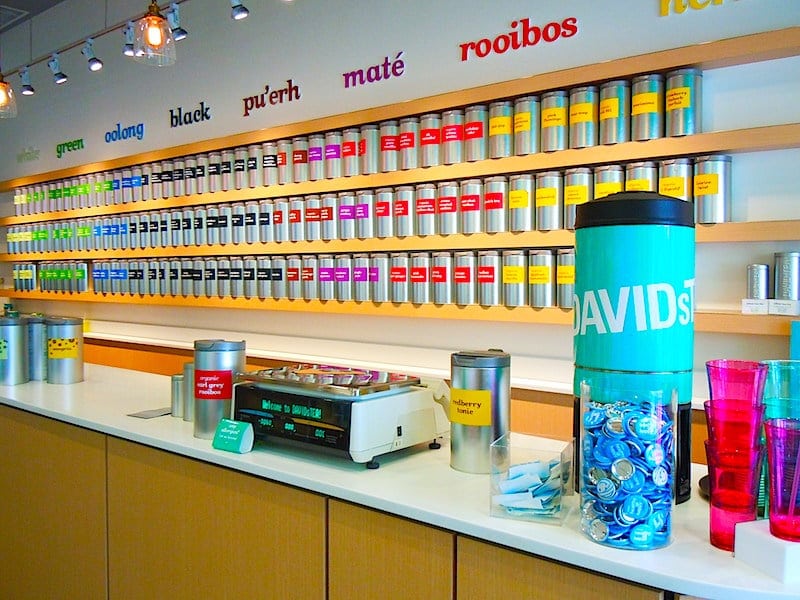 Origin Country: Canada
Founder: David Segal and Herschel Segal
Founded: 2008 in Montreal, Quebec
Headquarters: Mount-Royal Quebec, Canada
Area Served: The United States of America and Canada
DavidsTea is a publicly traded company and the largest speciality tea retailer in Canada. Currently, the company has put its onus on wholesale and e-commerce business and has closed all its retail outlets because of the pandemic
The brand offers a unique combination of flavours and offers products in eye-catching canisters. The ingredients are ethically sourced and manufactured. The product portfolio includes varieties like herbal tea, mate, pu-erh, oolong tea, rooibos, matcha, white tea, black tea, green tea and herbal tea.
Product portfolio:
DAVIDSTEA COCO MANGO CHAI LOOSE LEAF TEA
DAVIDSTEA COCONUT OOLONG
DAVIDSTEA BLOOD ORANGE EARL GREY ORGANIC
Some of the other Top Tea Brands across the world which have not found a place above are
RISHI TEA AND BOTANICALS
TIELKA
TAZO TEA
TETLEY TEA
PUKKA HERBAL TEA
STASH
GOOD EARTH
Tea is a beverage that is perfect for every occasion and every time like morning, evening and night. You can drink it hot, lukewarm or chilled as per individual preference. A tea break often includes masala chai from India or English breakfast tea from England or traditional Oolong tea from China. A cup of tea is soothing and welcoming and a preferred beverage all over the world.
Liked this post? Check out the complete series on Lists