Fish is considered a gift of nature because it is available in vast quantities and that too almost everywhere. You will be able to find one or another variant of a fish in both salt and fresh water.
Several of them are cherished by enthusiasts who love one variety or another in their diet. Several individuals and groups love to create amazing aquariums for the fishes they acquire.
They find true happiness in watching the rarest, exotic, and beautiful fishes swimming in the aquarium daily.
Cost of a fish is generally determined in terms of its uniqueness or rarity. Some of them are beautiful with distinct features, which makes them one-off and prize catch.
Fishes are available in every size and color. Some look exotic, some a bit dull, whereas some are known for their intelligence. Yes, you heard it right there are variants like Platinum Arowana, who are known for their intelligence.
Fishes which are kept in the aquarium have their own needs and diet. The owner has to supply special food to the amazing creatures so that they remain happy and satisfied in their surroundings.
Are you interested in the most expensive fish in the world? It will cost astronomical prices and set you back thousands of dollars. Enthusiasts who are passionate about their fishes think of it as a worthy expense and a bargain.
#1 Platinum Arowana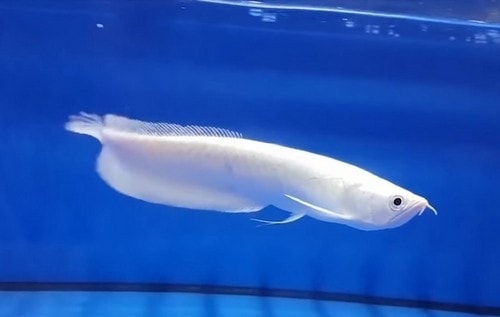 Platinum Arowana is believed to bring luck and prosperity to the owner by neutralizing negative effects by its presence.
In Asia, people are convinced that this rare and exotic fish will help them in gaining further wealth. This is why it has an extraordinary price tag of 400,000 dollars.
It is one of the most expensive fish in the world. It is much sought-after in the aquarium sector because it is one of the most beautiful creatures to grace the earth and is also considered intelligent by the experts.
As the name suggests, the fish has a platinum coating and metallic gold-like scales which makes it look exotic. This is due to a genetic mutation.
Platinum Arowana is considered an endangered species and is very rare. They are sold with a certificate after the fish has been embedded with a microchip.
This is a precaution as well as a maneuver to keep a record of its daily activities. The fish cannot breed easily, and this is the reason for its rarity.
It is of a good size and grows large enough. It needs 250-gallon fish tank as it grows up to 3 feet in length. Platinum Arowana must be kept in clean and fresh water at all times, and hence you need to change the water at regular intervals.
The stunning aquatic animal is a carnivore and requires a diet comprising of small fishes, crustaceans, insects, and snails. Yes, its maintenance cost is a bit high, but a person who is willing to spend a huge amount for owning it will surely not worry about the additional expenses.
#2 Freshwater Polka Dot Stingray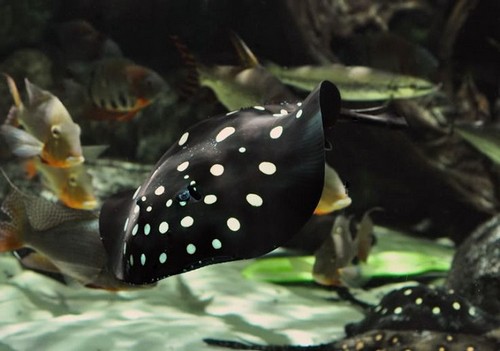 Freshwater Polka Dot Stingray is not an ordinary fish but a stunning one that is also considered exceptional. With a price tag of 100,000 dollars, it is one of the most expensive fish in the world and also a collector's dream item.
In appearance, the Polka Dot Stingray has a dark black body with white polka dots as per its name. This aquarium fish is found in Xingu River in Brazil and is also popularly called Xingu River Ray.
The fish has a unique habit. During the daytime, it stays buried into the sand, and at night it goes on a hunting trip. The cycle is constant and a habit.
The females are larger than the males and grow up to an 18-inch diameter. The magnificent creature needs at least a 500-gallon aquarium for its upkeep.
They are very energetic and active by nature and because of high metabolic rate needs to be fed twice a day. Its diet consists of freshwater crabs and snails as well as aquatic invertebrates and fish.
The Polka Dot Stingray gives birth to nearly seven to eight specimens at one go. Both male and female fish have protruding eyes with very sharp and good eyesight.
#3 Peppermint Angelfish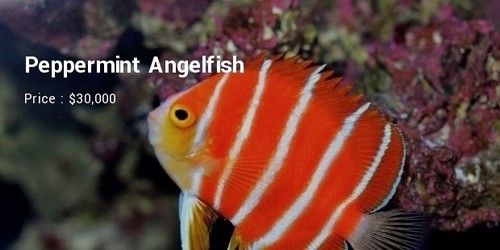 Peppermint Angelfish has been given different price tags over the years. One of them is 30,000 dollars, and it makes it one of the most expensive fish in the world.
A specimen is available for public viewing in Honolulu at Waikiki Aquarium. The aquarium was offered a higher amount than 30,000 dollars for selling the fish, but it refused.
Peppermint Angelfish is found in the tropical reefs around the Rarotonga and Cook Islands at a depth of 170 – 400 feet. The fish is shy by nature and generally hides behind the reef cliffs and rocks.
It is a rare breed renowned for its beauty and is so named because its appearance is just like peppermint candy. The bright orange body boasts of white stripes making it look memorable and stunning.
It grows to 2.5 to 2.7 inches in length and needs 125-gallon fish tank or aquarium for its habitat.  One of the most expensive fish Peppermint Angelfish requires a balanced diet that includes meaty and plant-based food items.
#4 Masked Angelfish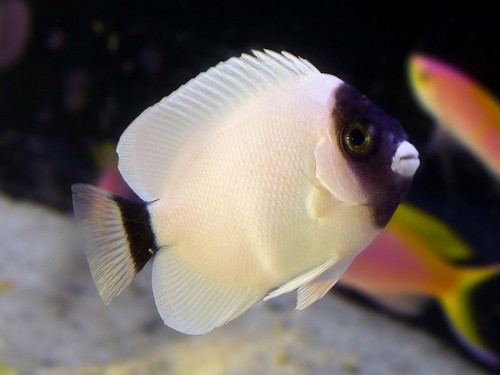 Masked Angelfish is a prize catch for both collectors and enthusiasts because of its rarity and physical appearance. At 20,000 dollars of price tag, it is also one of the most expensive fish in the world.
You will be able to find this rare beauty in the North-western Hawaiian Islands, where it is strictly forbidden to collect them. Masked Angelfish was discovered in the year 1972 and since then has gained immense popularity. It grows to 8 inches length.
You will be surprised to know that the fish changes its gender throughout its life term. It starts its life as females and ends up as males.
The fish is so rare that it is possible to collect only one or two specimens in a year. The appearance of Masked Angelfish is simply dazzling. It impresses viewers with its masked figure and monochrome look.
A fully-grown female fish has an all-white body that looks like marble, black mask, black tail, and yellow pelvic fins. The male of the species keeps the black tail fin, but the other parts like face and edge of pelvic and dorsal fins turn to a yellow-orange color.
#5 Bladefin Basslet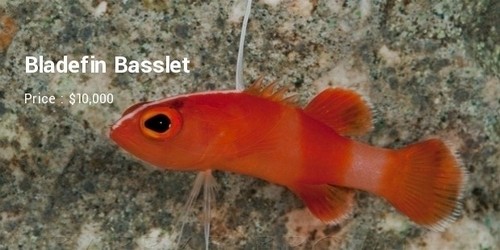 It is not easy to catch a Bladefin Basslet because the only way to do so is by using a submersible. At 10,000 dollars, it surely is one of the most expensive fish in the world.
It has supposedly been sold at a higher rate several times although the reports have not been verified. The rare fish is a reef fish with a unique look.
It lives at a depth of 500 feet and was collected in Curacao for the first time with the help of a submersible. You will be able to find Bladefin Basslet in the Caribbean.
The Bladefin Basslet is considered very small as it is only 1.5 inches in length. It has to be kept in a fish tank of 50 gallons as they need lots of space to swim around.
The appeal of this small-sized fish is in its blend of red markings on its white body coloring. The white fin looks like a blade. The difficulty in acquiring it and its rare mix of coloring is the reason why it has joined the club of one of the most expensive fish.
It is carnivores by nature and needs live food diet of crustaceans and shrimp. If you want to make the fish feel warm and secure, try to create crevices and caves in the fish tank as it will make them comfortable and happy.
#6 Golden Basslet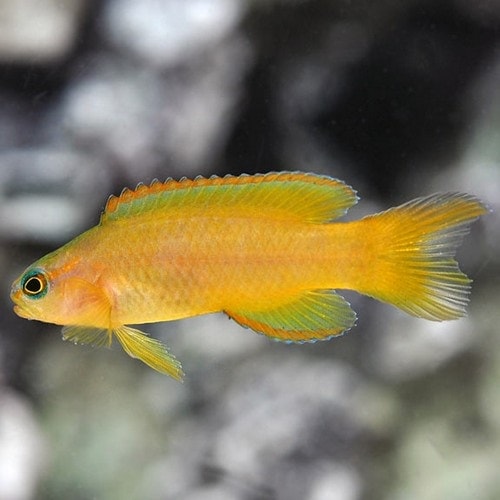 Golden Basslet is one of the prettiest of the lot amongst the most expensive fish list.  It can be caught with the help of a submersible as the fish lives in a depth of 450 to 800 feet.
It generally hides even from its siblings and is very difficult to find. The fish was first discovered in the year 1860, but it made its first aquarium appearance in the year 2011.
With a price tag of 8,000 dollars, Golden Basslet is one of the most expensive fish in the world. It has a vibrant appearance hence its name.
It has a reticulated honeycomb pattern that is distinct and can be observed from far away. The males are more aggressive than females and love to swim. The diet of the most expensive fish includes brine shrimp, squid, and frozen or fresh marine fish finely chopped.
#7 Clarion Angelfish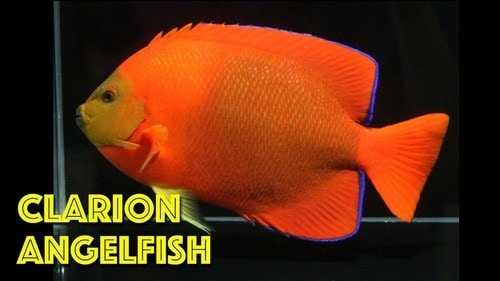 With a price tag of 7,000 dollars, Clarion Angelfish has entered the list of most expensive fish in the world. It is the native fish of Mexico, and most of them are found in a reef habitat spread over an area of fifty square kilometers at Revillagigedo Islands. Clarion Angelfish has been classified as vulnerable and is considered a species that is in danger of extinction.
The most expensive fish is 7.9 inches in length and beautiful in appearance. The multicolored creature is of medium size and has an orange shade across its body and bluish glow on the rear edges.
The children have blue bars on the sides, which gradually disappear. Clarion Angelfish are active during day time and slow at night. Their diet includes algae, sponges, tunicates, and small invertebrates.
#8 Neptune Grouper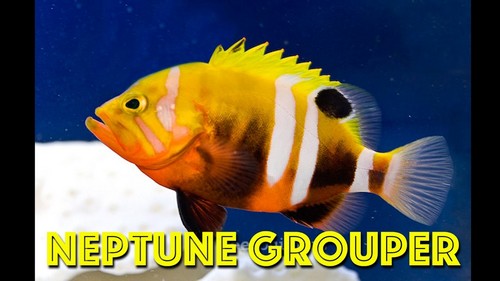 At 6,000 dollars, Neptune Grouper is one of the most expensive fish in the world. They live at a depth of 260 to 800 feet and are very difficult to catch. An incredible fact about this fish is that it is pricey only when alive because after it dies, it is sold a just 50 dollars.
Neptune Grouper has a yellow shaded body with white stripes across the tail and mid-body. The eyes have a distinct blue color of the deep shade.
There are pink-colored stripes of light shade on the head whereas the belly is orange with black spots on the lower fin. With age, the yellow shade becomes bright pink on the whole body. They are carnivore by nature and eat squid, scallops, and shrimp.
#9 Wrought Iron Butterflyfish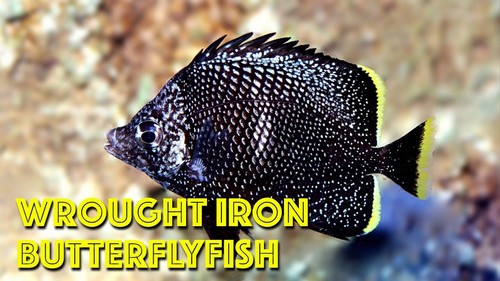 At a price tag of 3,800 dollars Wrought, Iron Butterflyfish has gained entry inside the list of most expensive fish in the world. It is very pretty in appearance because the scale patterns on its body resembling wrought iron looks beautiful and contrasts with the tail and the back end which is bright yellow in color.
The Wrought Iron Butterflyfish is 6 – 7 inches in length. It is friendly by nature and loves playing in groups of 3 or 5. The diet includes algae-based items and meaty food. The most expensive fish is picky about the water it lives in. You need to keep it clean if you want your fish to be happy.
#10 Candy Basslet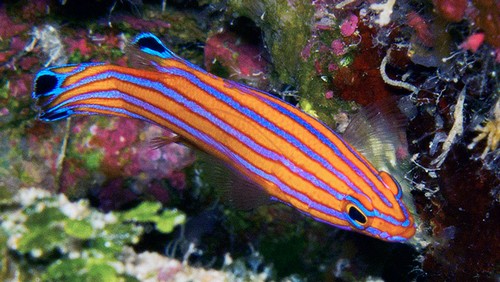 If you are looking for the most beautiful fish, then look no further than Candy Basslet because it has a unique coloring, The red and lavender lines on the orange body looks amazing. With a price of 2,000 dollars, it has become of the most expensive fish.
One of the most expensive fish Candy Basslet is just 2 ½ inch in length and lives in the tropical Atlantic Ocean. Its diet includes crab clam, squid and brine shrimp.
Fish is a very common species that is found in almost every part of the world in one variety or another.
Are you interested in fishes because you love eating them or because it makes you happy looking at them? You will be able to find fishes from very reasonable to expensive ones. But some of them have managed to break all records because only a rich fish lover will be able to spend astronomical figures on a particular fish.