The yacht is a status symbol that is synonymous with excessive wealth and opulence. It is no doubt an extravagance which is commissioned by the richest for their pleasure. There is simply nothing basic about a yacht because even the simplest one is often tagged in millions.
These are designed by the finest minds and are often laden with comforts that we cannot even think of. A yacht is a luxury that is envied by one and all.
The most luxurious yacht in the world is beautiful creations that are built with the help of advanced technology. These belong to very prosperous families like royalties, billionaires, and celebrities because it is not possible for an average person to afford the exorbitant price tags.
The yacht is often built as per the specific requirements of the owners, and some of them are said to be equipped with luxuries like saunas, concert halls, theatres, swimming pool, helipad, proper casinos, etc.
They are decked with expensive materials and artwork as part of interior decorations that take millions of dollars.
#1. History Supreme – $4.8 Billion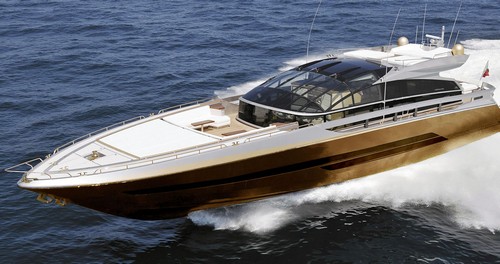 The honor for the most luxurious yacht in the world goes to History Supreme as it has been tagged at a price of a cool 4.5 billion US dollars. It was designed by the renowned designer of several luxury items, Stuart Hughes. The owner of the vessel is supposedly a Malaysian businessman of immense wealth.
History Supreme is a luxury yacht of one hundred feet that took three years of hard labor to complete. One hundred thousand kg of platinum and solid gold is used in creating this luxury liner. The expensive metals adorn the yacht from the base to the dining area, staircase, anchor, rails, and deck.
The master bedroom is to be seen to believe as it is the best feature of this superyacht. 24-karat gold Aquavista Panoramic Wall Aquarium of sixty-eight kg is in the master suite.
You will also find a special liquor bottle with 18.5-carat diamond onboard and a wall feature that has been specially created from meteorite rocks.
There is a statue made from Tyrannosaurus Rex bones in the master bedroom along with an iPhone made in five hundred cut-diamonds.
An 8-carat diamond and a 7.4-carat pink diamond are two interchangeable diamonds that are fitted on the home button of the iPhone to take extravagance to new heights. No doubt it is the most luxurious yacht in the world with such opulence.
#2. Eclipse – $1.5 Billion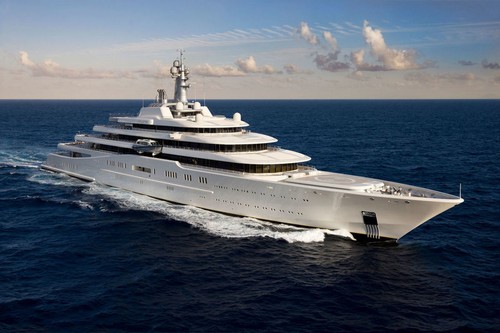 At a price tag of 1.5 billion US dollars, Eclipse is one of the most luxurious yachts in the world. It is owned by Roman Abramovich, the Russian billionaire and was built by the renowned yacht makers Blohm and Voss of Hamburg.
The most luxurious yacht Eclipse is five hundred and thirty-six feet long and is the second largest in terms of the longest yacht in the world. It takes a crew of nearly seventy to maintain the yacht in its current form.
The immense size boasts of incredible extravagance and includes facilities like hot tubs, two pools for swimming, twenty-four cabins that are for guests, two helipads, a disco hall, a mini-submarine, and three launch boats.
The best part that needs a special mention is that the vessel is fitted with a missile defense system and an intruder detection system to stop unknown intruders from creating any mischief.
The bridge and the bedroom are further fitted with bullet-proof windows and armor plating. The yacht is also equipped with an anti-paparazzi shield of lasers that sweeps the area and prohibits photographers from taking any snaps by shining a light on their camera.
Eclipse is not just a simple yacht but a vessel that people only can dream about.
#3. Streets of Monaco – $1.1 Billion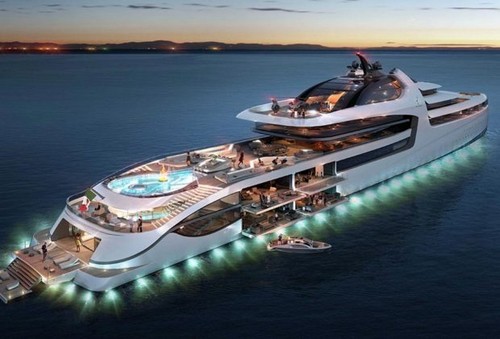 At 1.1 billion US dollars Streets of Monaco is one of the most luxurious yachts in the world. The credit for its exteriors goes to Opulent Yacht and the interiors to Filthy Rich Boaters.
The 500 feet in length vessel is often described as floating city as you will find miniatures of several landmarks from the city of Monaco in it like Ca Rascasse and Monte Carlo Casino.
The most luxurious yacht has a luxurious suite that is spread over three floors and includes balconies, living room, office, private elevator, and sundecks with Jacuzzi. Other important features include seven guest suites, dressing rooms, bathrooms, barbeque facility, helicopter, submarine, a mini waterfall, and a cafe bar to provide an underwater view.
#4. Admiral X Force 145 – $1 Billion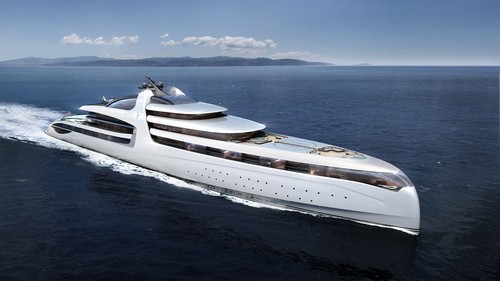 At a price tag of a neat 1 billion US dollars, Admiral X Force 145 is one of the most expensive yachts in the world. It is four hundred and fifty-six feet in length and has all the luxuries of a luxury palace.
Admiral X Force 145 has several staterooms where you will find crystal chandeliers. The interior has been crafted with exquisite materials and fine marbles. Other important facilities include two helipads, a bi-level swimming pool, and two cinema halls.
#5. Double Century – $770 Million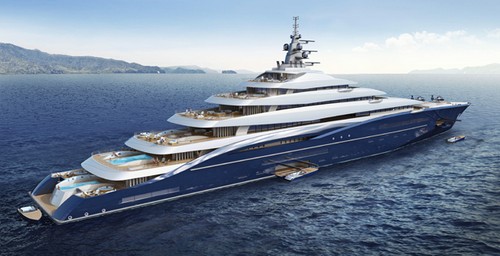 Double century is one of the most luxurious yachts in the world and has been tagged at 770 million US dollars. The vessel boats of a crew that includes one hundred members for its operation and maintenance.
The most luxurious yacht Double Century is eighty-eight feet tall and measures six hundred and fifty-six feet in length. It has nine decks and is equipped with numerous guest suits to housing at least fifty guests, swimming pools, a theatre that accommodates one hundred and twenty-six seating arrangement and two helipads so that it feels luxury at its best.
#6. Azzam – $600 Million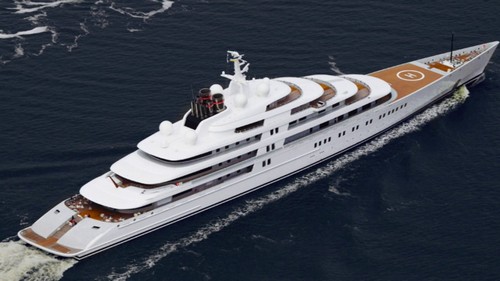 At a price tag of 650 US million dollars, Azzam is one of the most luxurious yachts in the world. It belongs to Sheikh Khalifa bin Zayed al-Nayan who is the Emir of Abu Dhabi and President of United Arab Emirates.
It is a luxury yacht and was built by one of the most popular names in this business Lurssen Yachts. The credit for the interiors goes to French origin Christophe Leoni.
Azzam is a luxury vehicle and hence is equipped with items that are out of this world. Little is known about its interiors as the owners have prevented any information leaks. The yacht boasts a size of five hundred and ninety feet and is one of the longest floating vessels in modern times.
Are you aware that it has a speed of thirty-five mph or thirty-knots and with twin diesel engines and twin gas turbines it is one of the fastest in business?
#7. Topaz – $527 Million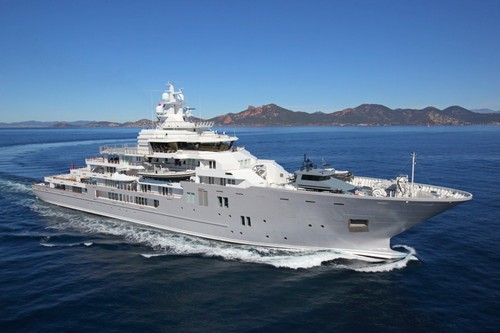 Topaz is another floating vessel from Lurssen Yacht that has gained entry inside the list of a most luxurious yacht in the world at a price tag of 527 million US dollars.
It was built in the year 2012, May in Germany and the credit for its exterior and interior designing goes to Tim Heywood and Terrance Disdale Design respectively. The owner of this awesome vessel is Deputy Prime Minister of United Arab Emirates, Shaikh Mansour.
Topaz is four hundred and eighty-two feet in length with 11.589 gross tonnages and 70.5 beam length. The vessel is equipped with 2-diesel generator, emergency back-up generator, twin-Pielstick engine, 7990 hp, service speed of 22.9 knots and a maximum speed of 25.5 knots.
The interior is as magnificent as the exterior. You will find a Jacuzzi on the deck along with facilities like in-built swimming pool, fully air-conditioned system, double helipad, gym, underwater lights, conference room, and cinema hall.
#8. Dubai – $400 Million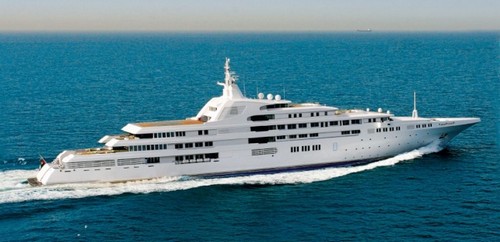 Prince Jefri Bolkiah of Brunei commissioned one of the most luxurious yachts in nearly 1996.
The project was handled by Lurssen Shipyards and Blohm and Voss of Hamburg. It was later acquired for His Highness Sheik Mohammed Rashid al-Maktoum by Platinum Yachts in the year 2006.
The bold-colored interior was extravagance and decadence at his height. At a price tag of 350 million US dollars, it was one of the most luxurious yachts in the world and in fact deserved every penny.
The vessel is five hundred thirty-one feet in length and has several Jacuzzis for its guests, swimming pool, circular staircase, handmade tiling, social area, lounge, guest suites, glass steps, spacious deck, owner's deck, helipad and a crew area to accommodate nearly one hundred and fifteen people.
#9. Serene – $330 Million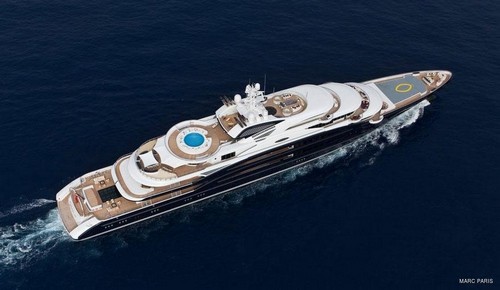 Serene was a customized vessel built by Fincantieri in the year 2011 for Yuri Shefler, Vodka tycoon from Russia.
Currently, this Italian superyacht is owned by Mohammed bin Salman and at 330 million US dollars is one of the most luxurious yachts in the world. This exterior and interior of this megayacht are designed by Espen Oeino and Reymond Langton Design respectively. The vessel is handled by a crew of fifty-two members.
Also known as Floating Palace, Serene is a lavish treat as it has a stylish body, state-of-the-art features and is made via advanced technology. One of the largest superyachts and the most luxurious yacht is 439.4 feet in length with 8321 tonnages and 60.844 feet beam.
Its super cool facilities include in-built swimming pools, twin helipads, submarine, steam room, snow room, spa pools, play areas, viewing room to watch underwater life, piano room, cinema hall, beauty center, dance floor, conference room, and multiple decks to view the beautiful and scenic beauty.
#10. Super-yacht – $300 Million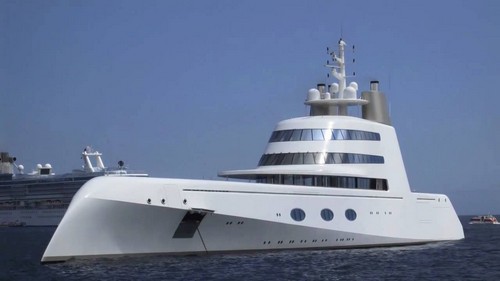 Superyacht A is said to have an original design that is unique and spectacular. At a price tag of 323 million US dollars, it is one of the most luxurious yachts in the world.
The yacht is owned by Russian billionaire Andrey Melnichenko and his wife Aleksandra, and the credit for its superb designing goes to Blohm and Voss of Hamburg.
The interior of this most expensive boat Superyacht A extends over twenty-four thousand square feet, and it houses a bedroom of twenty-five hundred feet for the owner. Other important facilities included in this spectacular vessel are six guest suites, disco, French crystal tableware, glassware and furniture, helicopter hangar, three swimming pools, and a speed boat.
The yacht is served by nearly forty-two crew members and can accommodate fourteen guests.
#11 Radiant – $286 Million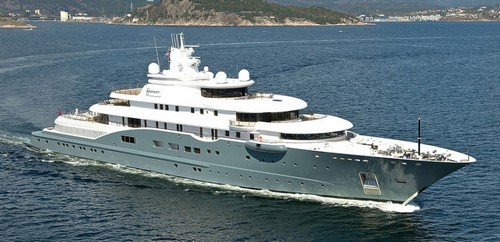 At 320 million US dollars Radiant is one of the most luxurios yachts in the world.  The owner of this amazing vessel is Abdulla Al Futtaim, the Emirate millionaire. The yacht was built in the year 2009 by Lurssen Yachts. She houses forty-four crew members and twenty guests.
Radiant is a luxury vessel 110 ms long, the tonnage of 5027 tons and 16 its beam. Other specifications include 8715 hp, fuel capacity of 96000 gallons and a maximum speed of 21 knots.
The features of this magnificent beast include deck Jacuzzi, gym, air-condition, movie theatre, swimming pool and platform, massage room, helipad, beach club, and a helicopter. The most important feature of this beauty is that it is equipped with powerful water cannon for defense against any kind of attack.
#12. Al Said – $300 Million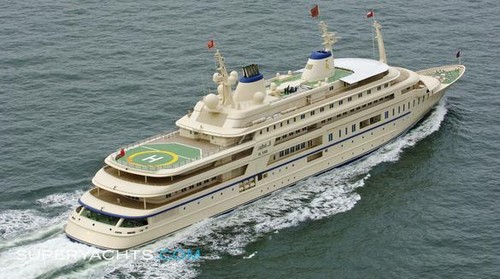 Al Said has a price tag of 300 million US dollars and is one of the most expensive yachts in the world.
It was built by one of the most popular and finest yacht builders in the world Lurssen Yachts. This luxury vessel is owned by and also named after the Sultan of Orman, Qaboos bin Said Al Said.
Al Said was constructed in the year 2007-8 and is said to house seventy guests and is served by a crew of one hundred and fifty-four members. It is 508.53 feet in length and has a displacement of 15850 tons. The maximum speed covered by the vessel is 47kmph, and it can accommodate a 50-piece orchestra in its superbly built concert hall.
#13. Pelorus – $300 Million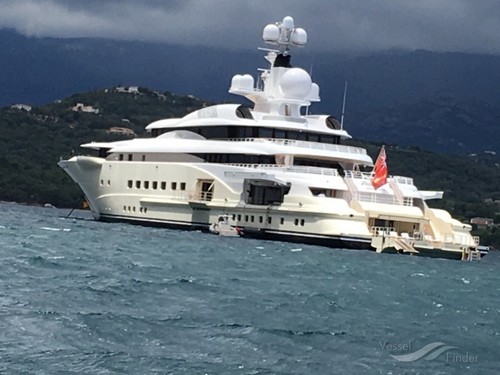 Pelorus at a tag of 300 million US dollars is a superyacht and is owned by the chairman of Prudential Enterprises. It was built by Lurssen Yachts in Germany and was launched in the year 2003.
The designer is popular yacht designer Tim Heywood. The yacht was later modified by one of its owners Roman Abramovich, and he chose to do so by appointing Blohm and Voss for the task.
The most luxurious yacht is also one of the longest at 115 mths long with 5517 tonnages and 17.2 mths beams. Other important specifications include 12v 26 engines, 5500 horsepower and a top speed of 19 knots. Pelorus is equipped with jet skies, two helipads, and landing boat.
After modifications, it also included an additional helipad, new zero-speed stabilizers, stern, mast, and upgraded exhaust system. The yacht is manned by a crew of forty-six members throughout the year.
#14. Dilbar – $256 Million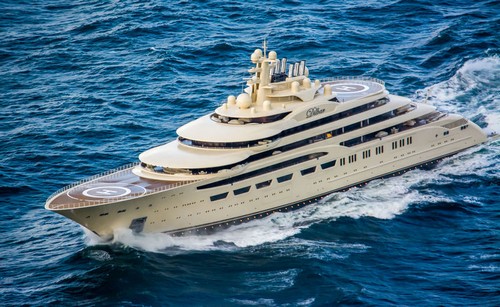 Dilbar has been crafted by none other than Lurssen Shipyards from Germany. It was built for Alisher Usmanov, the Russian billionaire. At 256 million US dollars, it is one of the most luxurious yachts in the world. The amazing yacht can house forty guests and is served by eighty crew members.
The yacht enjoys aluminum superstructure and can go for a maximum speed of 42 kmph. Its other features include one of the largest swimming pools that you will find on a yacht, two helipads and a three thousand eight hundred square meters living space.
The yacht is a recreational vessel used as a means of private pleasure, but there is nothing simple about it. With time the concept of creating and owning a yacht has not changed much because people always associate it with wealth and prosperity and are determined to go the extra mile to showcase their prosperous living through a magnificent and luxury yacht.
It is quite normal for wealthy people to invest in a yacht that they deem beautiful. The incredible feats of engineering are often described as work of art because they are equipped with every conceivable luxury.
The excessiveness has reached new heights as people are creating the largest, fastest, and most luxurious yacht that is often lavish, elegant, and extravagant by nature.
Thank you for reading our article about most expensive motor yacht and superyacht :)