The human race has come a long way from the horses to cycles, automobiles, aeroplanes, helicopters but one thing that has remained constant is people's love for a good bicycle. Yes, you have heard it right. The young generation is becoming more and more aware of the need to save our planet and have taken to riding on a bicycle at times instead of automobiles that run on petrol or diesel.
The best thing about a bicycle is that it is a vehicle that is powered by humans and not any fuel. Initially, the vehicle was intended for use by two people but now it can be ridden by more.
In the mid-nineteenth century, it was Pierre Michaux, the French engineer, who introduced this revolutionary invention in the world. The first vehicle actually belonged to Baron Karl von Drais of Germany. Currently, the bicycle industry in the world is valued at an estimated 45 billion dollars with an expected high rise in the figures in the near future.
The bicycle has always been considered a vehicle that an average person will be able to buy easily. The reasonable prices are a huge plus point but are you aware that there are several such vehicles that have been sold at exorbitant prices and are considered very expensive. Precious materials, exclusive designs, and auctions at special occasions have helped them to enter the expensive list quite easily.
Ardent lovers can only drool over such expensive items and worship them from afar. Let's take a look at some of them and understand why the world is willing to shed such an extraordinary amount for them.
Most Expensive Bicycles
#1 Butterfly Trek Madone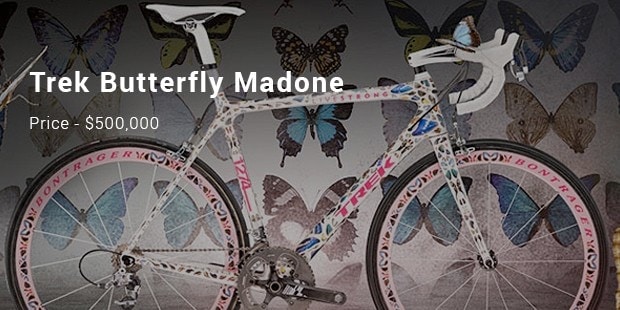 If you are looking for the most expensive bicycle in the world than the honor surely goes to Butterfly Trek Madone. It was sold for a cool 500,000 dollars at cancer benefitting charity auction at Sotheby's held for Livestrong Foundation. The bike was all the rage because it was ridden in Tour de France in the year 2009 by world-famous cyclist Lance Armstrong.
Real wings of butterfly were placed on the rim and concrete frame of the bicycle hence its name Butterfly.
Butterfly Trek Madone is a unique bicycle with an extraordinary design that was conceptualized by designer Damien Hirst. He made this most expensive bike especially for Lance Armstrong to celebrate the fact that he had survived cancer and was returning to the cycling tour once again.
This mountain bike was created to give a high-end performance in the cycling circuit.
#2 24k Gold Extreme Mountain Bike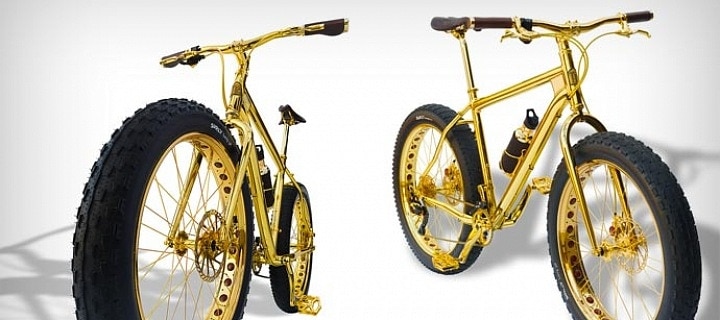 24k Gold Extreme Mountain Bike is one of the most expensive bicycles from The House of Solid Gold. It offers this mountain bike at an extraordinary amount of just 500,000 dollars. The manufacturer has decided to make only thirteen customized bicycles in accordance with the particular needs, wishes, and desires of its customer.
24k Gold Extreme Mountain Bike is considered an outrageous product as it is made from pure gold of 24k. With the help of advanced strategies, all the parts were coated in electroplating procedure and it took seven hundred and fifty hours to finish it. A logo bearing "THSG" is encrypted on the bicycle and the custom image is adorned with five hundred and six hundred golden sapphires and black diamond respectively.
This most expensive bike also comes with a gold-plated bottle for water and a saddle made with alligator skin.
#3 Trek Yoshimoto Nara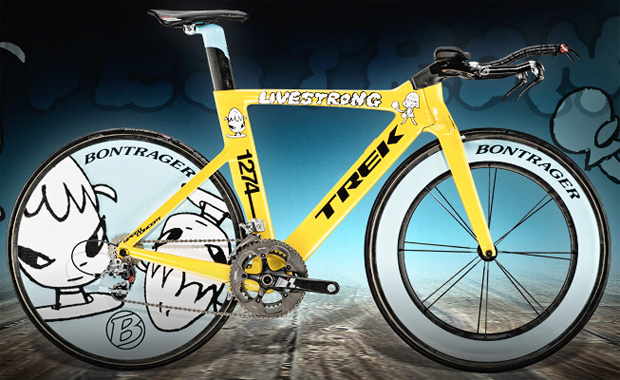 When Trek and Japanese artist Yoshimoto Nara decided to collaborate for a project you can expect something unique. The final product was a bicycle that had speed, quality, high-end performance, and the best design. This speedster is pure inspiration and works like magic. The carbon-fiber bicycle was created to honor Lance Armstrong's triumph over cancer and the cyclist rode this bicycle in one of the races of Tour de France.
Trek Yoshimoto Nara was sold at an extraordinary amount of 200,000 dollars at Sotheby's auction to make it to the list of most expensive bikes in the world. Images of cartoons, flying UFOs and Livestrong logo are printed on this lightweight bicycle to make it look attractive and beautiful.
#4 Kaws – Trek Madone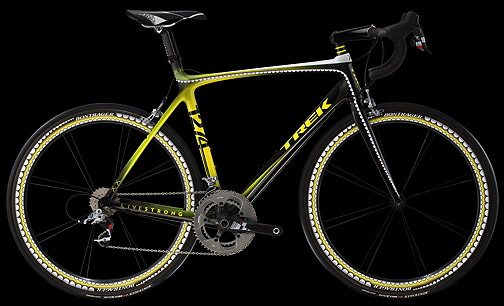 Trek Madone is one of the most prominent names in the bicycle arena that have created some high-profile products for professionals. The company has tied up with several sports companies so as to design some amazing stuff that you cannot even think of. There is a "chomper" teeth design on the wheel rims and frame of this special edition stunning bike.
Kaws- Trek Madone was used in the year 2009 at Vuelta Leon y Castilla Race by none other than Lance Armstrong. It was actually created as a part of Armstrong's daily cycling routine. The comfortable yellow and green colored most expensive bike occupies a prominent position in the most expensive bicycle list as it was sold for a cool 160,000 dollars at a charity auction at Sotheby's that benefitted the cancer society.
#5 Aurumania Crystal Edition Gold Bikes
Have you heard of luxury bicycles if not then have a peek at Aurumania Crystal Edition Gold Bikes? Only ten bicycles were released of this limited edition by French origin company Aurumania to make them in-demand products. It entered the most expensive bicycle list easily after being sold at a staggering amount of 114,000 dollars. This is one of the bicycles that have fetched such a high amount not because of its association with a celebrity but due to its own worth.
Guaranteeing high performance this luxury bicycle is actually a mountain bike that has been designed to conquer the tricky terrain in a comfortable manner. 24k gold has been used to create the frame and spokes whereas the crossbar is adorned with precious metals and six hundred Swarovski crystals.  The saddles and grip of this mountain bike are made of qualitative leather and at the front is a leather badge with its limited edition number. The seats of the most expensive bike are also made from leather to give a comfortable seating arrangement to the rider. Aurumania Crystal Edition Gold Bikes come with a guarantee of ten years.
#6 Trek Madone 7 – Diamond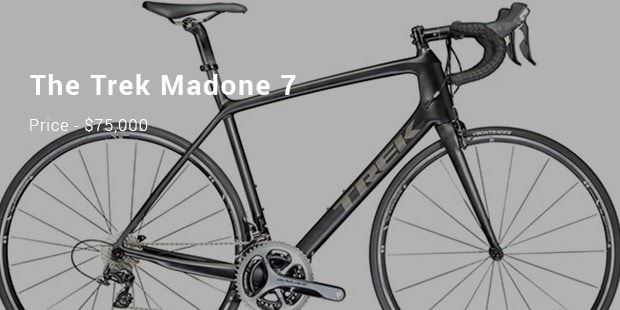 Famous names like Lenny Futura, Trek Bikes, Nike and Alan Friedman collaborated together to create an exceptional product especially to be used for professional cycling. The goal was actually to design something unique and distinctive that would suit every condition.
Trek Madone 7 – Diamond was made for Lance Armstrong and he did justice to the product by winning his 7th Tour de France with it. This is why the bike sold at an extraordinary amount of 75,000 dollars. It is one of the most expensive bicycles to be sold in the world at the annual Lance Armstrong Foundation Gala auction in New York in the year 2005. A diamond 7 emblem made with stunning real diamonds is integrated into a spoke pattern on the bicycle. It is also adorned with a 14-karat white and yellow gold Diamond 7 plaque studded with a total of seven yellow Gemesis diamonds of one carat each.
#7 Rare Tiffany & Co. Silver Mounted Lady's Bike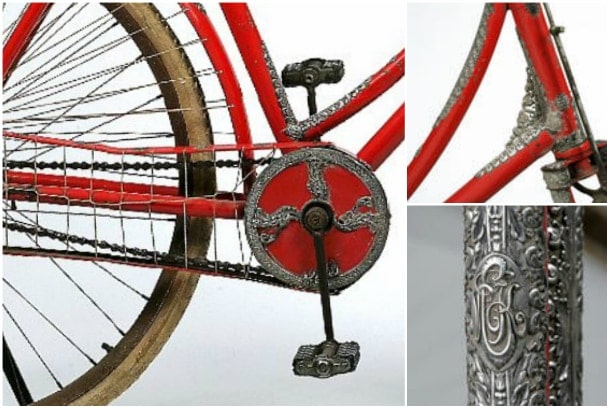 Rare Tiffany & Co. Silver Mounted Lady's Bike was made in the year 1890 by the famous jewelers Tiffany & Co. It was restored in the year 2008 and then auctioned off by Bonhams at New York. It is acknowledged as a classic by bicycle enthusiasts in the world.
Rare Tiffany & Co. Silver Mounted Lady's Bike as the name suggests is for females and has a Tiffany monogram, skirt guard and carved ivory grips. This is a silver bicycle with a price tag of 70,000 dollars making it one of the most expensive bicycles of its times.
#8 Chrome Hearts X Cervelo Mountain Bike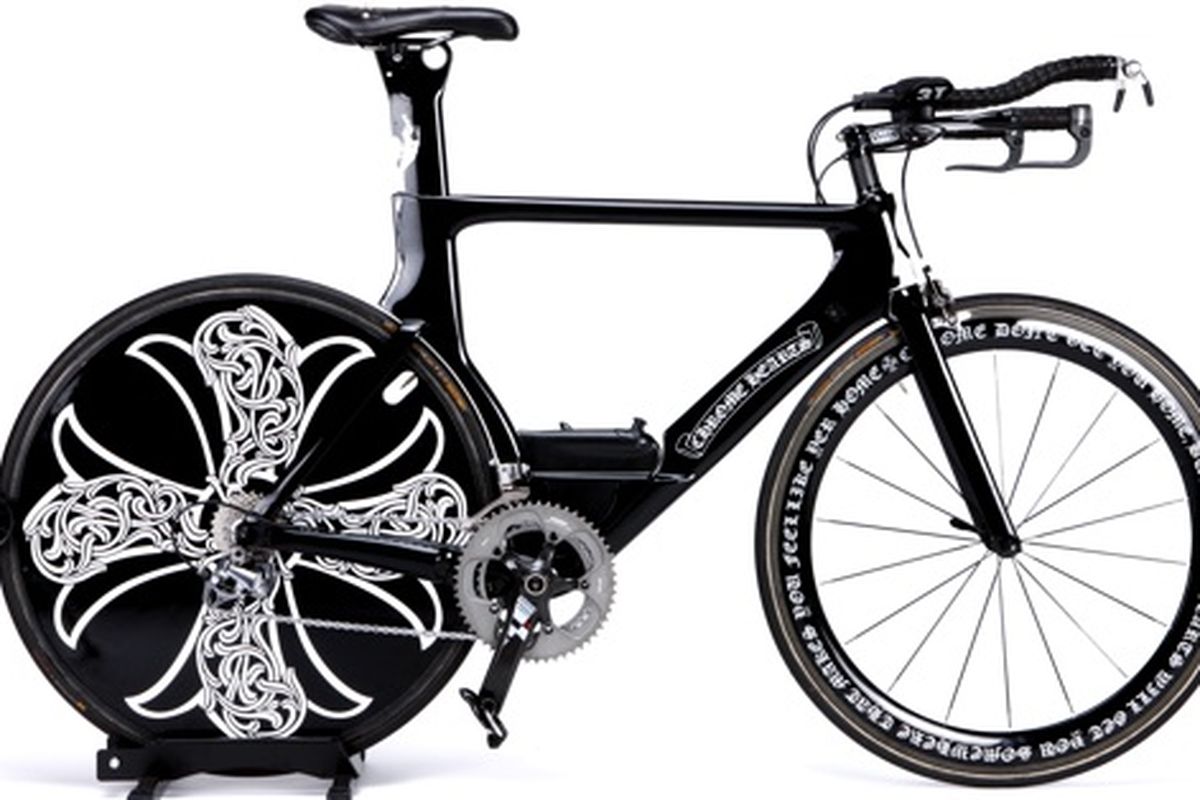 Collaboration between renowned racing bike makers Cervelo and luxury brand of motorcycle accessories Chrome Hearts has managed to create a unique product Chrome Hearts X Cervelo Mountain Bike. It occupies a strong position in the most expensive bicycle list as it was sold at an amazing price tag of 60,000 dollars. Stunning design, luxurious settings, and workhorse efficiency along with artwork finishing have contributed heavily towards its lavish price range.
The racing mountain bike is one of the best in terms of speed, luxury, velocity, and bling. Use of rhinestones, precious metals, silver cross, CH motif plugs, and qualitative leather seats has made it an exclusive product that is in high demand.
#9 Montane Luxury Gold Collection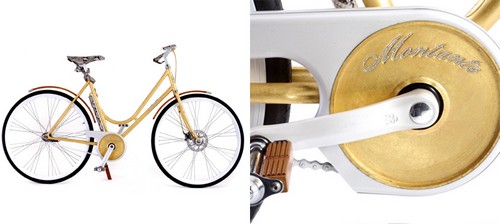 Sold at 46,000 dollars Montane Luxury Gold Collection occupies a position in the coveted most expensive bicycle list. The bike is considered worthy of its price tag because it has a covering of gold leaf along with one thousand beautiful Swarovski stones that were used to embellish its frame. High qualitative seats filled with soft feather makes for a comfortable seating arrangement.
Montane is a world-renowned name and has been known for its performance bikes. It has created this beautiful, impressive and most expensive bike, especially for females. Road brakes, chain lock, hand-sewn leather grips, and world-class design have increased its value in the eyes of the customers.
#10 eRockit Electric Assist Bicycle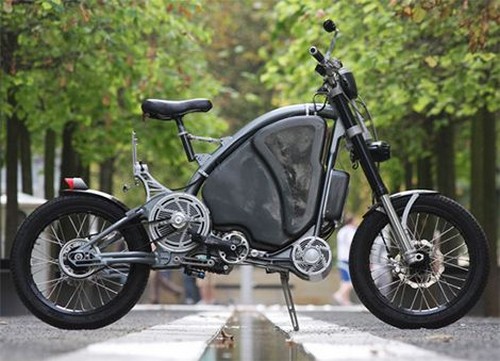 Rockit Electric Assist Bicycle is a hybrid as it seems like an amalgamation of a motorcycle and a bicycle. It was the creation of Stefan Gulas, a German innovator and has a motor-on-board that drives 81 miles in an hour. The battery of the bike supposedly will last for nearly ten years. The concept behind the creation of this most expensive bicycle was to meet the demands of wealthy bikers who were not interested in peddling all the way.
Sold for an amount of 44,000 dollars eRockit Electric Assist Bicycle occupies one of the top positions in the most expensive bicycle in the world list. The human-hybrid bike weighs one hundred kilos hence is no lightweight. Moreover, it does not have an acceleration pedal or separate handle. This is a modern bike for people who want to buy a comfortable piece.
#11 Litespeed Blade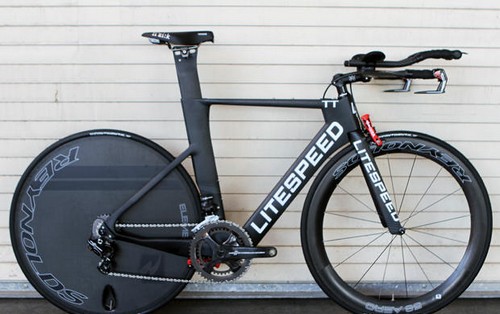 Litespeed Blade was designed for excessive speed and high performance. It is a collaboration between Merlin and Litespeed and was marketed by Eddy Merckx, prominent bike brand. The innovative bike was used by none other than the renowned Lance Armstrong. It has the distinction of being one of the most expensive bicycles in the world because of its price tag at 40,788 dollars.
Litespeed Blade is made from titanium alloy and carbon fiber for durability and lightness respectively. Advanced spokes, chain, knife-edged backbone, high-grade WRAP technology, and comfortable seats have helped it in creating a demand for this exclusive product.
#12 Factor Aston Martin One – 77 Cycle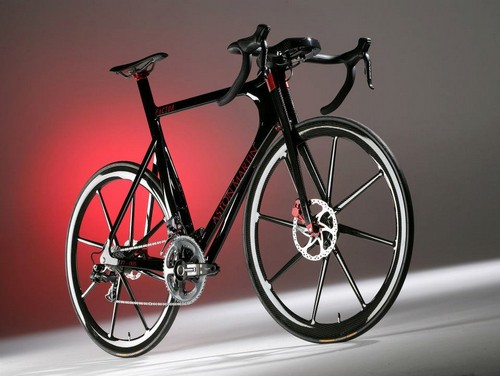 Aston Martin collaborated with Factor Bikes to come up with a desirable and technologically sound product. Factor Aston Martin One – 77 Cycle is considered most expensive bicycles till date because of its tag of 39,000 dollars.
Factor Aston Martin One – 77 Cycle is one of the most advanced road bicycles of its times. Technologically it is very sound and the carbon-fiber frame completes the picture by making it lightweight, durable and long-lasting. It has embedded LED lights along with with an electronic display, high-tech computerized system and an array of sensors. They are custom-made with a limited edition that includes seventy-seven bicycles.
#13 Bicyclettes de Luxe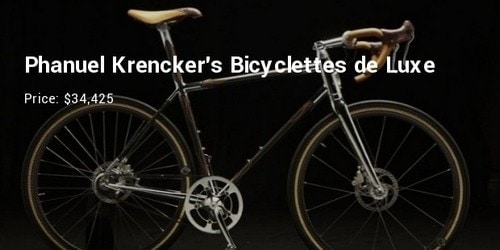 Bicyclettes de Luxe is one of the most expensive bicycles in the world as it is sold at a price value of 34,425 dollars. The first product was created by world-famous bicycle maker Phanuel Krencker. He collaborated with other designers for creating a better brake system.
Innovative designs have made Bicyclettes de Luxe very popular in the market. It was unveiled at the North American Handmade Bicycle Show. The most expensive bicycles have been made from carbon fiber and chrome for durability.

BERU Factor 001 is a creation of BERU, a British engineering firm. It has a tag of 30,000 dollars thus making it to the most expensive bicycle of the world list. This is a limited edition and the company will be producing only a few hundred units.
BERU Factor 001 is a smart road bike with a touchscreen facility that keeps an eagle eye and monitors the user's biometric data. The frame is made of carbon fiber and brakes of carbon-ceramic. This high-performance ultimate bike is customized in accordance with the measurements and specifications of the customer.
#15 KGS Tier 3 Custom Bike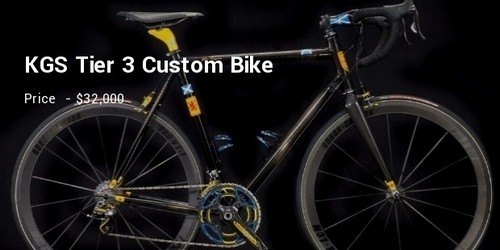 KGS Tier 3 Custom Bike is created by Kevin Saunders, a bike maker based in Texas, United States. It is a luxury model priced at 30,000 dollars thus entering the list of the most expensive bicycle in the world.
This high-end and luxury item is customized in accordance with the specifications provided by the customer and hence is considered a perfect fit.
The bicycle has played an important role as it is used for competitive sports, traveling or for recreational purposes. It is also a good form of exercise. Are you aware that Amsterdam is a city where 63% of the population use a bicycle as their means of transport? This is because the bicycle does not emit any harmful fumes that will cause pollution and harm nature and our surroundings.
But if you have opted for an expensive bicycle then precious metals like gold, silver or any other must have been used in its making. It assuredly raises the amount and makes them expensive items that are desired by one and all.