Toothpaste is one of the important few products that a person requires throughout his life. The person uses it ever since he/she started to brush. Over the years, toothpaste brand have grown in vast numbers and can be seen in many supermarkets. Availability of many brands makes the selection process a bit difficult. Toothpaste is available that can fight cavities and other dentist issues.
Through this article, let us discuss top toothpaste brands.
1) Colgate Brand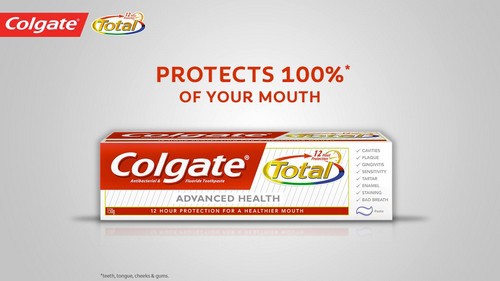 An American worldwide company, Colgate is a popular brand of personal care. It produces and distributes various products related to oral hygiene like toothbrushes, toothpaste, dental floss, and mouthwashes. Founded in the year 1873, Colgate is a brand that is seen in almost every household.
Their products are sold in almost 200 countries and it is a $15.6 billion company. The company mainly focuses on products that improve the life of the customers. The company has about 38,000 employees working worldwide who bring up this brand for a continuous improvement.
It deals with many products related to oral hygiene care. It also produces special products for kids. The toothpowder and mouthwash of this brand is a very common product acknowledged by many people. The toothpaste consists of abrasive materials like fluoride that helps in scrubbing the plaque from the teeth and also polishes the surface by removing stains. It has various products of toothpaste like Colgate Advanced Fresh Gel, Colgate Total Advanced Whitening, Colgate Total Advanced Clean, Colgate Regular, and many more. Due to their unique strategy of marketing, Colgate is considered as one of the top toothpaste brand.
2) Sensodyne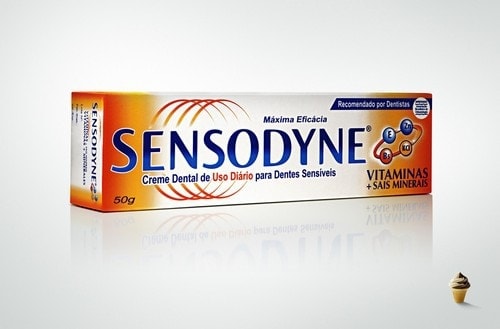 Sensodyne is a popular brand of toothpaste and mouthwash founded in the year 1961. It is owned by GlaxoSmithKline and targets sensitive teeth. It is a #1 dentist recommended and bestselling brand for sensitive teeth. This brand is available worldwide.
The toothpaste of Sensodyne helps to release the pain caused out of sensitive teeth and also provides long hours of protection to the teeth. The toothpaste has fluoride which offers instant relief to ongoing issues related to sensitive teeth and cavity. The various products produced by Sensodyne are Sensodyne Whitening, Sensodyne Rapid Relief, Sensodyne Deep Clean and many more.
The company has various distribution channels like retail, wholesale and franchise distribution for selling the products of Sensodyne. Their products are marketed for its complete package for sensitivity. They basically cover three main areas of oral care like essential, advanced, and specialist care.  As this company focuses more on sensitive teeth, Sensodyne is considered as one of the top toothpaste brand.
3) Crest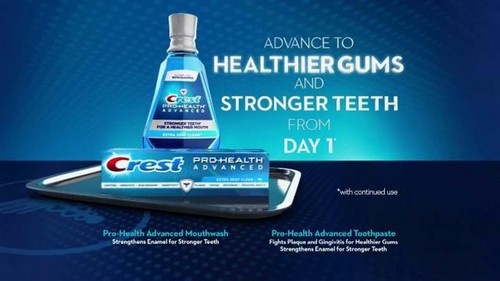 The crest is a brand of hygiene and toothpaste products that is owned by P&G and American multinational company. It is one of the oldest brands of toothpaste in the world. The products of Crest are sold across the globe.
It is popular for its innovations in the dental care sector since 1955, the best year this brand came into existence.
The various products of Crest focus on helping the users to keep their mouth healthy and clean. Some of their products are Crest Pro-Health, Crest Gum Detoxify, Crest Complete and many more. They even have dental products for kids. The various products of Crest cater to all the needs of a dental health product and they have a strong financial position. Since the formation of its brand, this company has received many achievements.
This brand offers various products for different target audiences. It uses a penetration pricing strategy where it offers fewer prices. As the products of Crest focuses on mouth hygiene, Crest is regarded as one of the top toothpaste brand.
4) Aquafresh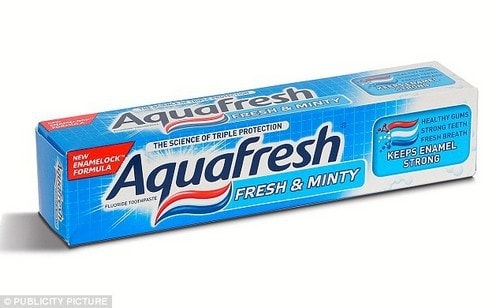 Developed during the year 1973, the Aquafresh brand is a popular brand of oral care. Its toothpaste is used worldwide for maintaining healthy, protected and clean teeth. These products as used by many people as part of their daily routine. It provides freshness as a major benefit to the customers.
Most people look for fresh breath and good tastes, which is the main feature of this brand. Aquafresh is the first stripped toothpaste in the oral care domain. It offers freshness to the customers which are a major benefit of this product. Its product range includes toothbrushes, toothpaste, mouthwash, and on-the-move oral care products.
Their main goal is to be one of the best and innovative healthcare companies. The company's strategy is to bring distinguished, high-quality and related healthcare products to meet the dental requirements of the people. Due to their oral care brand, Aquafresh is considered one of the top toothpaste brand.
5) Arm and Hammer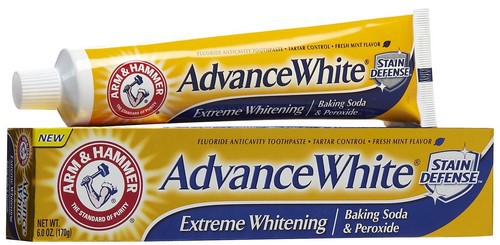 Arm and Hammer is an American manufacturer of household products. It was established in the year 1867 in the United States. The company was mainly into the production of baking soda products. Over the years it started to produce products which last oral health benefits.
It produces various products related to adult toothbrushes, kid's toothbrushes, replacement brush heads, and toothpaste. Their wide range of adult toothbrush fights against cavities and plague. The kid's toothbrush is designed in such a way that it creates fun in brushing for the kids. Their main focus on production is oral hygiene. This product is available worldwide. Due to their great quality of the product, Arm and Hammer is considered one of the top toothpaste brand.
6) Close up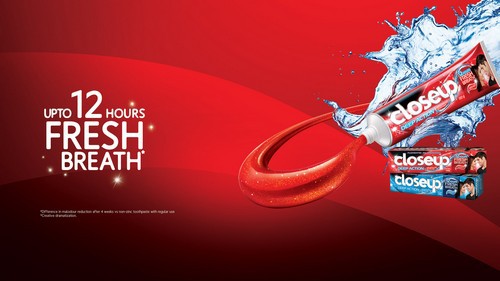 Close is a well-known brand of toothpaste that is established in the year 1967. This brand is owned by Unilever. It has a wide array of the brand of toothpaste that is marketed by Unilever. Close up is a topmost brand of Unilever. It is considered the first gel toothpaste in the world. It is well-known for the freshness felt in the toothpaste.
The unique feature is its gel quality which provides a prolonged fresh breath. The products of this company have reached many people worldwide. In India, it has a wide reach in rural and urban areas. It has a good distribution policy that takes its products across the globe. The products of close up are available in many sizes. The promotions of this brand are very stylish and many prominent stars have been attached in to recommend this brand. It has been a market leader of toothpaste for over three decades. Due to their popularity, close up is considered as one of the top toothpaste brand.
7) Pepsodent

Pepsodent is a popular American brand of toothpaste and toothbrush owned by Unilever. It was introduced in the year 1915. This company is among the top in the oral care industry. It is known for its mint flavor in the toothpaste.
For the production of their toothpaste, it makes use of pepsin, which is a digestive agent responsible to break and digest the deposit of food on the teeth. Pepsodent toothpaste protects teeth against cavities and from germs. By doing so, it provides a fresh breath of the mouth, strong teeth, and healthy gums. It is easily reached to the customers worldwide.
It is a known brand that is recognized by the World Dental Association. It is a great option for sensitive teeth. It has a wide range of products available in the market. The company has a well-organized distribution channel because of which the products are easily reachable to the customers and are available at a very reasonable rate. Due to their presence worldwide and its partnership with the FDI World Dental Association, Pepsodentis considered as one of the top toothpaste brand.
8) Patanjali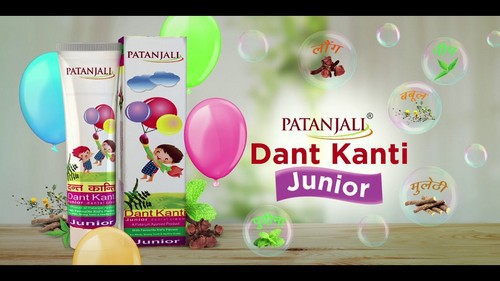 An Indian consumer goods company, Patanjali Ayurved Limited manufactures mineral and herbal products. It is introduced by Baba Ramdev and AcharyaBalkrishna during the year 2006. Over the years, Patanjali became the fastest growing FMCG Company in India and became popular within a short span of time.
This company produces various products which are in the category of natural health care, natural food products, Ayurveda medicine, herbal home care and natural food products. The products are prepared using the natural components of Ayurvedic and Herbal.
The various sectors where Patanjali products are produced are food, beverage, healthcare & medicine, personal care products, and cleaning agents. The products are priced at penetrative pricing in order to reach many customers. As Patanjali is a fastest growing company, it is considered as one of the top toothpaste brand.
9) Dabur red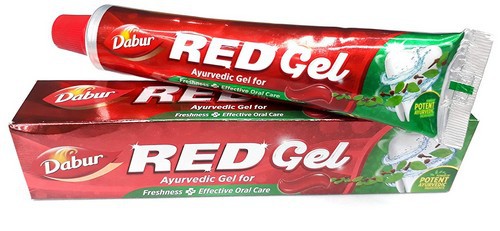 A leading fast moving consumer goods (FMCG) company, Dabur was founded in the year 1884 by Dr. S. K. Burman. The company produces various products that are Ayurvedic in nature. It is popular for its natural products, and all the products of Dabur are prepared using herbs. The products of Dabur are seen in many households.
It produces various products related to hair care, oral care, skin care, home care and food. The Dabur toothpaste is a famous product of dental care and its main feature is the existence of whitening agents. The presence of natural ingredients for whitening the teeth makes it popular. The company has a team of experts to monitor the changing perception in the market.  Based on the competitor's product, the company makes an evaluation of their products and determines the pricing strategy.  As the toothpaste has many features like strengthening the teeth, and gums, Dabur is considered as one of the top toothpaste brands.
10) Aim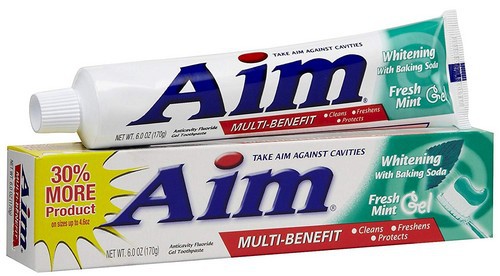 Aim toothpaste is a popular brand which is harmless for people more than two years of age. The toothpaste is available in paste or gel formula and in cinnamon and mint flavor. The cavity protection toothpaste contains an ingredient for active anti-cavity called Sodium Fluoride which is added at about 0.24 percent.
The products of Aim are targeted for daily use to ensure the prevention of cavities and to strengthen the enamel of teeth, fresh breath, and teeth whitening. It is designed to fight decay and plague. The unique formula of this toothpaste kills germs and bacteria which is the main cause of damage to teeth and gums. This brand has been acknowledged by the American Dental Association (ADA). As their main focus is oral care safety, Aim is considered as one of the top toothpaste brand.
11) Meswak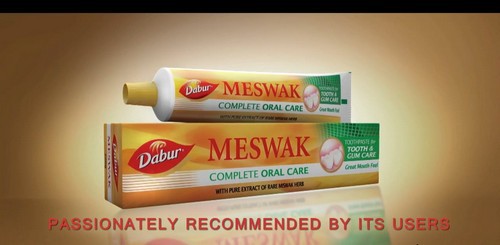 A popular toothpaste brand established in India, Meswak was founded in the year 1998 by Balsara Hygiene. The toothpaste is promoted as herbal toothpaste. During the year 2005, Meswak was sold to Dabur by Balsara along with its other brands.
This is herbal toothpaste that is formulated scientifically with the extract of Miswak plant SalvadoraPersica. The Meswak features of anti-bacterial and astringent help to prevent decaying of teeth, fight the plague and prevent gum diseases. The herb Miswak delivers the great benefit of oral care. The unique flavor of this toothpaste provides freshness and gives an overall oral care. It is available to the consumers through various channels. Due to their quality of the product, Meswak is considered as one of the top toothpaste brand.
Conclusion
Toothpaste industry has developed to a great extent in the Indian industry. The usage of toothpaste has grown due to every individual's lifestyle. There is a lot of competition in this industry and every company strives hard to produce the best brand with high-quality toothpaste. As all the toothpaste brand are easily available in the market and through online, it becomes easy for people to use it.