Wine lovers are increasing in the current generation. In the United States, the philosophy 'less is better' is followed and the sale of wine has been increased to about $10 per bottle. Wine users are highly influential in the global wine market and have a wide option of it. Over the past few years, many varieties of wine have come up. There are so many releases of wine brands that go unseen.
The following are the top wine brands across the globe.
1) Barefoot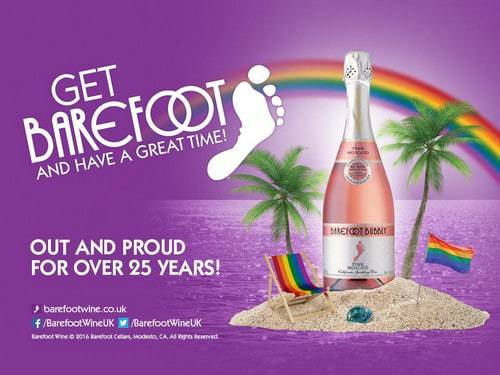 Barefoot, a well-known brand of wine has been retaining its crown as the world's best wine brands. Their sales remain steady on 22.5 million cases till last year. It is considered as the biggest selling wine brand in the world. It is owned by E&J Gallo. They make great wines that range from the sweet reds and refreshing whites to the delicious bubbly.
Barefoot believes that life is more fun when people spend time together. They focus on bringing people together with their wine and try to introduce new friends to wines. These wines are fun, approachable and flavorful.
The various wines that are available with Barefoot are Red, White, Pink, Bubbly, and Spritzer. They are available in various flavours like Berry, Citrus, Crisp, Refreshing, and Red Cherry. Their red wine comes in various variations like Sweet Red Blend, Rich Red Blend, Red Moscato, Pinot Noir, Merlot, Malbec, Cabernet Sauvignon, and Sangria. Their white wine comes with various types like Sauvignon Blanc, Riesling, Pinot Grigio, Moscato, and Chardonnay.
The pink wine comes with variations like White Zinfandel, Rose, and Pink Moscato. The Bubbly wine comes with types like Brut Rose Champagne, Pineapple, Peach, Berry, Sweet Red Champagne, Prosecco, Pinot Grigio Champagne, Pink Moscato Champagne, MoscatoSpumante Champagne, Extra Dry Champagne, and Brut Cuvee Champagne.
The Spritzer wine comes with types like Red Sangria Spritzer, Crisp White Spritzer, Rose Spritzer, Summer Red Spritzer, Moscato Spritzer, Summer Rose Spritzer, Moscato Spritzer Bottle, and Crisp White Bottle.
Due to their various available type and flavours, Barefoot is indeed one of the top wine brands in the world.
2) Concha Toro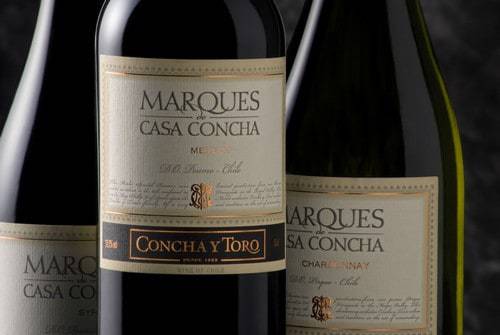 A famous Chilean wine brand, Concha Y Toro is the largest producer of wines from Latin America and is considered as one of the leaders in the wine market. It was founded in the year 1883 and is headquartered in Santiago, Chile. It is estimated that Concha Y Toro has produced a volume sales of about 16.3 million cases during the year 2016.
Having around 9,400 hectares under wine, the wines of this brand is sold in about 140 countries across the globe. This brand has been committed to providing quality wines ever since its origin. At present, this wine company is known for their modern approach to wine production.
Their wines can be seen in the category like Fine Wine, Premium Wine, and Varietal Wines. The Fine Wine collections are Don Melchor, Carmin de Peumo, Gravel, Amelia, Subercaseaux, Terrunyo, Marques de Casa Concha, Gran ReservaSerieRiberas and Late Harvest.
The various types of Premium wines are Leyenda, Reserva Privada, Trio, Devil's collection and Casillero Del Diablo. The varietal wines come with the types like Sunrise, Frontera, and Frontera Specialties. As these wines are available in various forms, Concha Y Toro is considered as one of the top wine brands in the world.
3) Gallo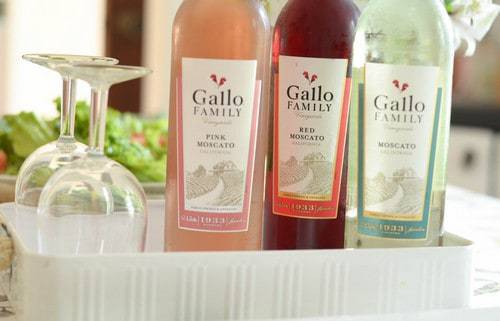 Also considered as one of the top wine brands, Gallo is established in the year 1933 and headquartered in California, United States. It is the largest exporter of wines in California. It has acquired about 1,300 acres of vineyard in Atlas Peak and has planted about 600 acres of vines which boosts its wine production. The vineyard also supplies grapes to about 90 wineries who are large-scale producers.
Right from the days of wine production, Gallo has always focused on producing high-quality wines. It takes great care for each and every step starting from growing of grapes and process of winemaking. Due to this, Gallo is able to deliver high-quality wines and other alcoholic beverages. Gallo is known worldwide for their grape growing and also winemaking. Their wines are distributed across 90 countries across the globe.
Their process of winemaking is carried on by their highly skilled winemakers. They craft wines taken from high-quality fruit that is picked from the vineyard. They spend a lot of time in vineyard monitoring the development of grape and also determine the feasible time to harvest the grapes. They also ensure that they arrive at the colour, quality, and taste. The winemakers produce about 90 brands of wines for all the occasions.
Due to their various brands and quality are seen in the wine, Gallo is considered as one of the top wine brands in the world.
4) Changyu
The oldest wine brand, Changyu is a Chinese wine brand. Changyu is established in the year 1892 in Yantai city. Being in the wine industry for about 125 years, this wine brand is considered as one of the largest wine production in China.
It is estimated to have a sales volume of about 15 million cases during the year 2017. To their credit, Changyu celebrated the launch of their new product, 'Crown Jewel' during the year 2017. This new product has a five-strong range that is produced from 250 hectares.
The various products of Changyu are Changyu Noble Dragon, Changyu Golden Icewine Valley, Changyu Dry Red Wine, and Changyu Swill Zen. Changyu has various wine productions units located in many parts of China. Chateau Changyu Castel is having about 135 hectares of the vineyard. Chateau Changyu AFIP is the new model of Changyu.
The Golden Icewine Valley has about 5,000 hectares of ice wine vineyard which is at an altitude of 380 meters. Due to their various available production units and brands in their wine, Changyu is regarded as one of the top wine brands in the world.
5) Yellow Tail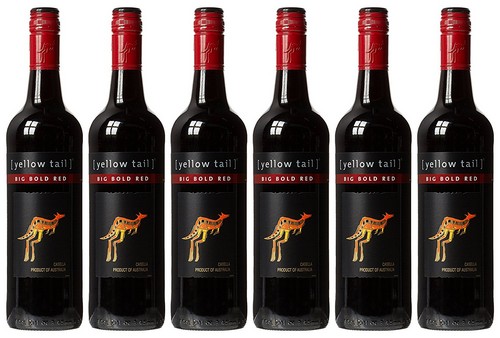 A popular Australian wine brand is a new brand of wine that was developed in the year 2000. Their wines are exported to other countries and it became the widely used wines in the United States. Their winery has a production capacity of about 300 million litres.
Their various brands of wine available are Prosecco, Rose, Chardonnay, Sauvignon Blanc, Pinot Grigio, Semillon Sauvignon blanc, Moscato, Sauvignon Blanc, Riesling, Unoaked Chardonnay, Zingy Zesty White, Cool Crisp White,pink Moscato, Shiraz, Cabernet Sauvignon, Jammy Red Roo, Merlot, Malbec, Pinot Noir, Shiraz Grenache, Shiraz Cabernet, Sweet Red Roo, Cabernet Merlot, Big Bold Red, Bubbles, Pink Bubbles, Moscato Bubbles, Red Moscato Bubbles, Sangria, and Sangria Blanco. The company constantly innovate various interesting recipes to enjoy the wine and it also involves shaking some cocktails.
Due to their various products and interesting recipes of wine, Yellow Tail is regarded as one of the top wine brands.
6) Sutter Home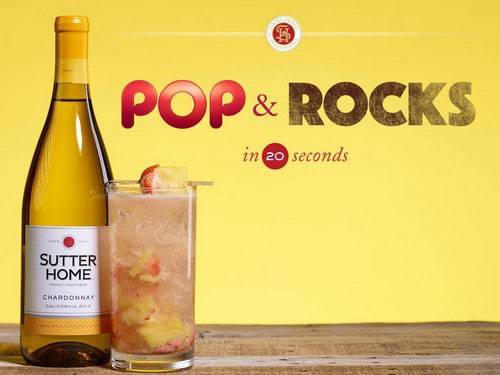 Considered as one of the largest wine company in the United States, Sutter home was established in the year 1970. Their estate is known for their wine production which is located in St. Helena, California. It currently produces about 20 million cases per year and has a good amount of sales.
It various varieties of wines produced by Sutter Home are White Zinfandel, Gewürztraminer, Chardonnay, White Merlot,Merlot, Chenin Blanc, Sauvignon Blanc, Moscato, Cabernet Sauvignon, Pinot noir, Pinot Grigio, Zinfandel, Pink Moscato, Bubbly Moscato, Sweet Red, Bubbly Pink Moscato, Sweet White, and the new Sangria
At present, Sutter Home is considered as the fifth largest wine production company in the United States. The entire process of winemaking, packaging process, shipping, and warehousing are taken care in their facilities located in Napa County.
Due to their various products and winemaking process, Sutter Home is considered as one of the top wine brands in the world.
7) Robert Mondavi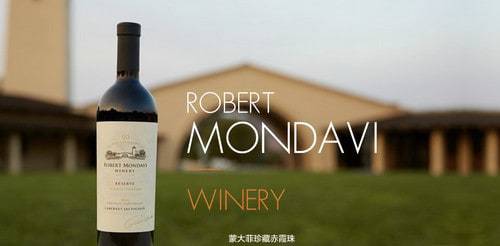 Located in California, Robert Mondavi is a leading vineyard operator. With the mix of technical and marketing in their wine products, Robert Mondavi wines have become popular across the world. It was established in the year 1966 with the vision to create the world's high-quality wines.
The company's winemaking and winegrowing teams strive to produce wines of great density and with a rich fruit flavour. The company has their vineyard To Kalon Vineyard which is in the heart of Napa Valley which is considered as the home for Robert Mondavi winery. This vineyard is located in Oakville, California which is the known for producing the finest wines in the world. Their other wineries are Stag's Leap and Carneros.
Robert Mondavi's wine production includes new techniques and technology in the wine production. Their wines are available in many brands that cater to the requirement of the consumers. Few of their brands are Cabernet, Chardonnay, Fume Blanc, Merlot, Pinot Noir, Red Blends, Dessert Wines, Rose, Sauvignon Blanc and many more. Due to their various brands and their high-quality wines, Robert Mondavi is regarded as one of the top wine brands in the world. 
8) Hardys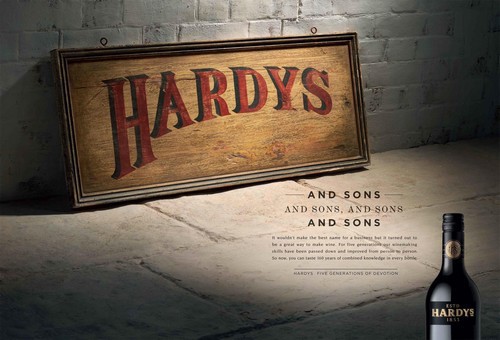 Also regarded as one of the top wine brands in the world, Hardys is in wine production since 1853. Since then, Hardys have produced an outstanding range of wines. Thomas Hardy, the founder of this brand had purchased the Tintara winery in McLaren Vale, Adelaide.
Over these years, there are about 19 different main winemakers who work in the Tintary winery. All the winemakers have played an important role in the success of this brand. This brand is sold in across 150 countries.
This brand is known for its quality wines and has made a history of being the first Australian wines to receive two Gold medals at the International Wine Shows during the year 1882 and 1889. Their few brands are Rare Forcefields, Eileen Hardy, Crest, HRB, Tintara, William Hardy, Stamp, Sir James, White Wine, Chardonnay, Rose, Riesling, Merlot and many more.
Hardys grows a wide range of grape varieties from cool to warm climate. The wines of Hardys are produced with fruit flavours, innovation and a balance of taste. Due to their wine taste, Hardys is regarded as one of the top wine brands in the world.
9) Beringer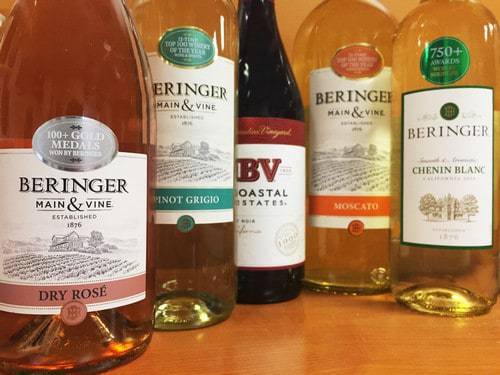 A large winery, Beringer is established in the year 1876 and is headquartered in California. It is the oldest winery being operated in Napa Valley. It is the longest operating wine and one of the finest producers of wine in Napa Valley.  It has about 1,600 acres farm for their wine production. This brand had sales of about 7.5 million during the year 2016. Their wine production is estimated around 190,000 cases annually.
The vineyards of Beringer are carefully cultivated based on its soil, climate and the terrain characteristics. Their vineyards for their wine production are Bale Lane Vineyard, Bancroft Ranch Vineyard, Big Ranch Vineyard, Chabot Vineyard, Gamble Ranch Vineyard, Lampyridae Vineyard, and Marston Ranch Vineyard. Their various collections are Private Reserve, Single Vineyard, Distinction Series, Winery Exclusives and many more. Due to their various available brands, Beringer is considered as one of the top wine brands globally.
10) Great Wall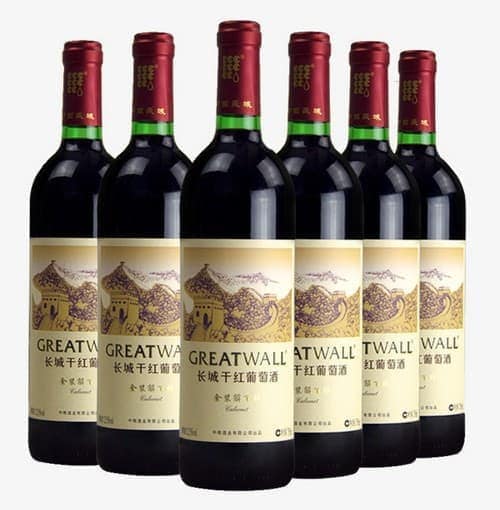 A famous Chinese wine brand, Great Wall is a unit of the state-owned COFCO group and established in the year 1983. The main office of this company is located at the foot of the Great Wall of China besides the Guanting Lake. The company is estimated to have about 74.8 hectares of vineyard that are mostly seen in Shandong.
Almost 10 varieties of grapes are grown in their vineyard. It is known for their modern winemaking process to produce high-quality wines. The winemaking equipment is imported from other countries like Germany, Italy, and France.
It makes red, rose, white, sparkling, sweet and fortified wines and sells their products in across 20 countries. It also offers dry wine, half dry wine, sweet and half sweet wine, sparkling wine, distilled wine, and fortified wines. Due to their various products, Great Wall is considered as one of the top wine brands in the world.
Conclusion
The wine industry is all about manufacturing, utilizing the capacity, sales increase, and market recognition. In order to achieve their goals, the wine industry should focus on providing high-quality wines to their customers. It should suit the requirement of the consumers on all occasions.