Tequila has exploded in terms of popularity in the beverage industry. According to recent market research, the sales figures are seeing a huge surge which has resulted in unprecedented investment in the flourishing market for tequila brands.
Tequila has gone through an evolution period since its humble beginnings. Currently, this beverage from Mexico is made from blue Weber Agave; it is aged, charcoal filtered and distilled liquor with a unique flavor.
1) Don Julio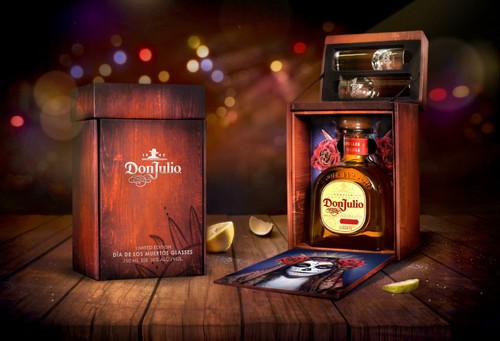 Don Julio is described as a complex, rich, smooth and wonderful tequila with a typical flavor that is to be savored and admired. The brand witnessed an astonishing growth of nearly 44% and posted its sales figures at 1.3 million cases at the end of the fiscal year 2017.
Don Julio was introduced in the year 1942 by its namesake Don Julio but presently it is sold by its parent company Diageo. It is associated with distilled beverage industry as it deals in tequila with a product portfolio that includes several variants like Don Julio Real Extra Anejo, Don Julio 1942 Anejo, Don Julio Reposado and Don Julio Blanco.
Don Julio tequila brand has the distinction of being 8th largest in terms of volume and largest in terms of value in the world. It is the first premium quality luxury tequila brand in the world.
2) Siete Leguas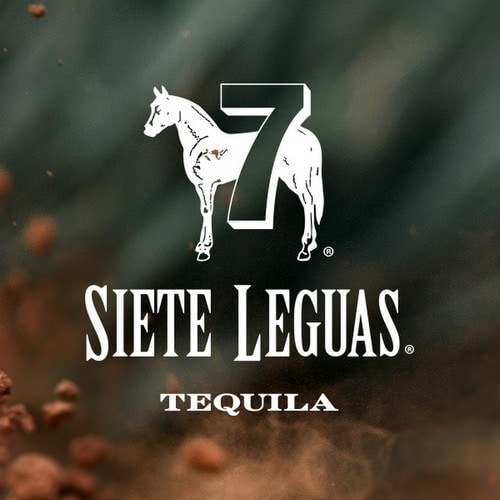 Siete Leguas literary means seven leagues and actually is spicy, smooth, complex, evenly balanced and extraordinary tequila. Its amazing product portfolio includes Siete Leguas Blanco Tequila, Siete Leguas D'Antano Extra Anejo Tequila, and Siete Leguas Anejo Tequila.
Don Ignacio Gonzalez Vargas named the tequila brand as Siete Leguas. It is one of the iconic tequila brands made at the oldest distillery in Mexico with traditional methods. The product has found its way successfully in international markets like the United States, and the United Kingdom.
Siete Leguas is a family owned and operated brand that manufactures its beverage at two of its distilleries at Centenario and La Vencedora. It is a clear spirit made from pure blue Weber agave and is bottled immediately after the process of distillation. Its aroma is intensely full with earthy tones and rich palate.
3) Calle 23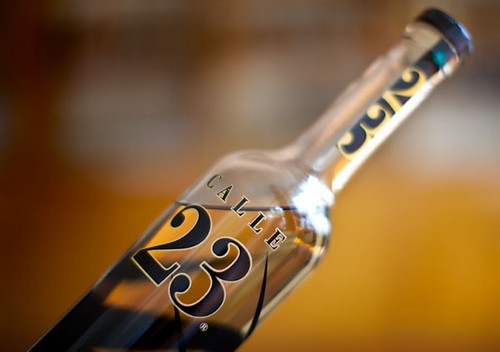 Calle 23 is often described as a masterpiece. It is one of the most accepted tequila brands and was introduced by Sophie Decobecq, a French origin biochemist with a passion for creating something worthwhile in the beverage industry.
Calle 23 was introduced in the year 2009 and has been the recipient of several awards and recognition in such a short interval of time. It received Double Gold at 2008 San Francisco Spirits Competition for Calle 23 Anejo. It has also been awarded Gold Medal for Calle23 Reposado and a Bronze for Calle 23 Blanco.
Calle 23 is double-distilled highland tequila made at Jalisco. Its portfolio includes Calle 23 Blanco, which is crystal clear and has a clean palate and sweet notes, Calle 23 Reposado, which is lively and robust with buttery agave finish and Calle 23 Anejo with a rich palate.
4) Ocho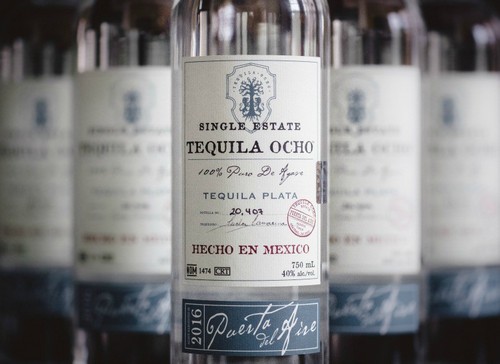 Ocho is a revolutionary product that has adopted the old and unique ways of terroir harvesting. All its tequilas are delivered in vintages and are named after the estates where the harvesting of agaves has taken place.
The product portfolio includes Ocho Anejo Tequila, Ocho Reposado Tequila, Ocho Blanco Tequila, Ocho Single Barrel Anejo and Ocho Curado Tequila. All the products have a distinctive aroma and flavor different from the other as it represents the characteristics of the estate and soil where its agaves have grown.
Ocho is a partnership between Tomas Estes and Camarena that has resulted in one of the finest tequila produced in the beverage industry. Both partners along with their products have been the recipient of several awards and recognition for their services in the brewing industry. Carlos Camarena, the master distiller was awarded "The Distiller of the Year" award in the year 2005 at San Francisco World Spirits Competition.
5) Tapatio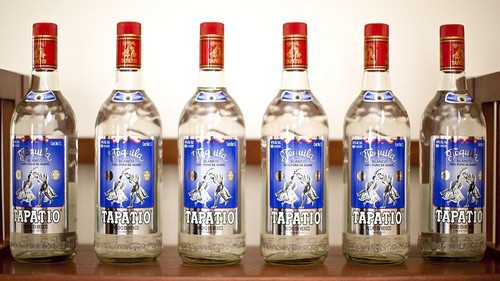 Tapatio is a high-profile brand that enjoys an amazing reputation for authenticity, integrity, and quality that has taken it far and wide to different countries and made it a force to reckon with in tequila industry.
Tapatio tequila is manufactured at La Altena Distillery in Jalisco and is a partnership between Marko Karakasevic, owner of Charbay Winery & Distillery in Napa and Carlos Camarena, the master distiller.
Tapatio is a double distilled beverage that is fermented and distilled with help of traditional methods and aged in ex-bourbon barrels to retain the natural character and flavor of the drink. Some of the popular tequilas of this full-bodied and spicy Tapatio are Tequila Tapatio Anejo, Tequila Tapatio Blanco, Tequila Tapatio Reposado and Tapatio Excelencia Gran Reserva.
6) Patron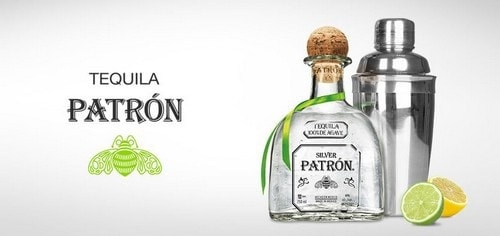 Patron is a sophisticated and premium brand that has been a regular in the top five lists in terms of sales as the brand posted its figures at 2.6 million cases for the end of the fiscal year 2017.
Patron is associated with beverage industry as it deals in manufacturing of tequila. It was introduced in the year 1989 and was manufactured by The Patron Spirits Company. Since January 2018, it is now owned by Bacardi, which acquired it at a cool 5.1 billion US dollars.
Each bottle of Patron is hand-labeled and diligently inspected by several hands to make it one of the ultra-premium brands in the tequila industry. Some of its popular products and variants are Patron Anejo Tequila, Patron Silver, Patron Reposado and Patron Citronge Orange Liqueur.
7) Cabeza

Cabeza is the full-bodied highland tequila that is lighter on the finish and has a honeyed earthiness with a complex aroma about it.
Cabeza is manufactured in El Ranchito Distillery in Arandas at Jalisco by the Vivanco family.  This highland tequila brand is a product line from 86 CO, a partnership between some friends.
Unique methods, high quality of ingredients, detailed steps, double-distillation and use of copper tanks for fermentation have resulted in a perfect balance of fresh flavors and smooth taste. Some of its popular products are Tequila Cabeza, Cabeza Tequila Blanco, and Cabeza Tequila Silver.
8) Jose Cuervo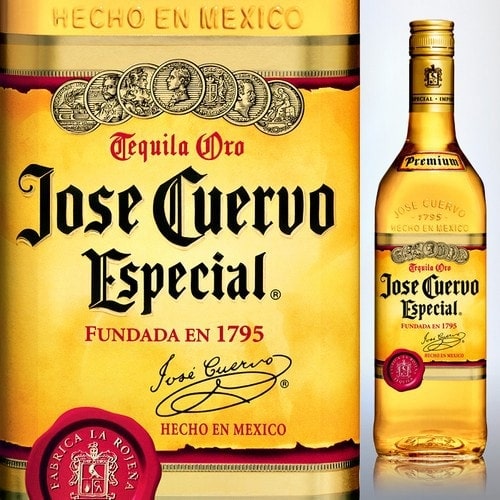 Jose Cuervo is the largest selling tequila brand in the world and has shown an extraordinary growth in recent times. At the end of the fiscal year 2017, the high-profile brand posted its sales figures at 9.5 million cases and now occupies an estimated 35.1% of the total market share.
Jose Cuervo was introduced in the year 1795 and was a family owned and operated business, run by Beckmann family. Currently, it is manufactured at La Rojena distillery in Jalisco and is distributed in the United States by Proximo Spirits.
Jose Cuervo product portfolio includes Jose Cuervo Cinge, Jose Cuervo Especial Gold, Jose Cuervo Especial Silver, Jose Cuervo Black, and Jose Cuervo Platino. It was awarded its first gold medal for quality in the year 1889 and since then has received several other awards like Double Gold Medal in 2012 at San Francisco World Spirits Competition.
9) Herradura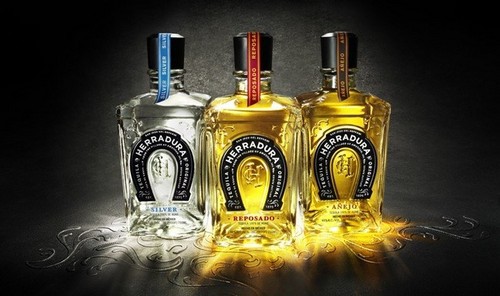 Herradura is often described as the truest producers and manufacturers of tequila in the world. The products are made from 100% agave and are barrel-aged and handcrafted to create some of the finest beverages in the industry.
Herradura is a distiller of tequila in Amatitan at Jalisco. The tequila brand is associated with manufacturing as well as distillation process of tequila and was founded in the year 1870 by its founder Felix Lopez. Currently, the brand operates under its parent company Brown-Forman Corporation.
Herradura is available in countries like Australia, El Salvador, United States, and Mexico. Its product portfolio includes Herradura Ultra Tequila Anejo, Herradura Tequila Reposado, and Herradura Tequila Silver. Herradura brand has adopted a promotional marketing strategy to increase its brand awareness. In the year 2008 at the Kentucky Derby, it was promoted as the "Official Tequila" of the event.
10) El Jimador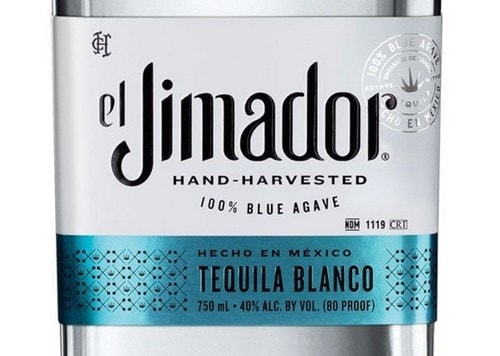 El Jimador has witnessed strong growth because of its promotional policies and good quality products. The tequila brand posted its sales figures at 1.2 million cases at the end of the fiscal year 2017.
In the month of November 2017, it launched limited-edition bottle designs for two of its expressions Reposado and Blanco that contributed towards further sales and brand awareness. El Jimador has the privilege of being the topmost selling brand of tequila in Mexico. It is made by Herradura Group at its distillery in Jalisco.
El Jimador is estate-bottled and 100% natural with no extra coloring or fillers and hence has been able to create a distinctive name for itself in the spirit industry. Some of its popular items in product portfolio are El Jimador Reposado Tequila, El Jimador Silver Tequila, El Jimador Anejo Tequila, and El Jimador Blanco Tequila.
11) Espolon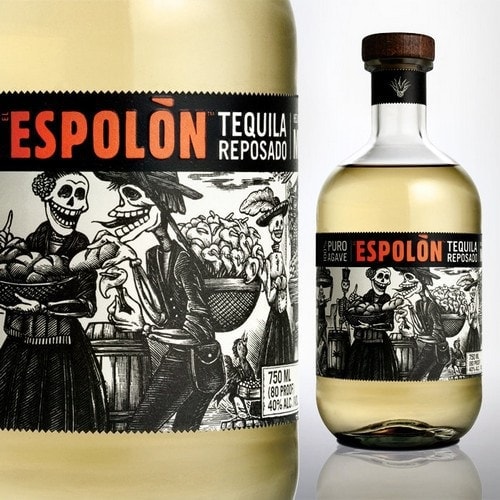 Tequila El Espolon was introduced in the year 1998 by its creator Cirilo Oropeza. It is a subsidiary brand of its parent company Campari America, which has the distinction of being the sixth-largest company of spirits in the United States. The tequila is manufactured at San Nicolas Distillery in Jalisco.
The popular tequila brands key markets are the United States of America and Mexico. Espolon is a super-premium tequila that is handcrafted and made from 100% blue agave. The current product portfolio of the brand includes Espolon Blanco Silver, Espolon Reposado Gold, and Espolon Anejo.
Espolon has been the recipient of several awards and recognition at several award ceremonies. Espolon Blanco and Espolon Reposado both were awarded bronze medals at International Wine and Spirit Competition in the year 2016. Espolon Anejo was awarded the silver medal at International Wine and Spirit Competition in the year 2015 and gold in the same year at San Francisco World Spirits Competition.
12) Casa Noble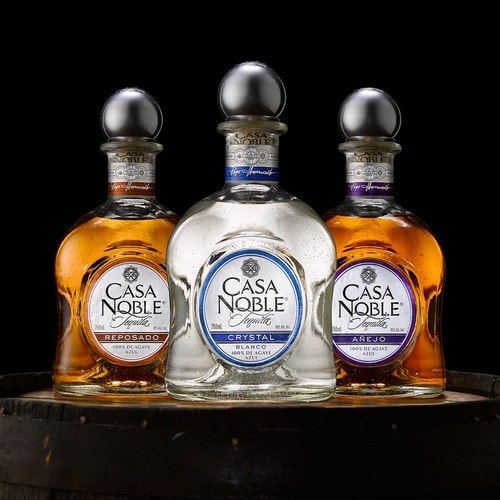 Casa Noble is known for its lowlands tequila which is handcrafted and has a rich taste. This premium tequila brand is made from estate grown 100% blue agave that is triple distilled and naturally fermented. Two of its products Casa Noble Anejo and Casa Noble Reposado are aged with help of white French oak.
Casa Noble was introduced in the year 1776 and was produced by Casa Noble Tequila Company. It is manufactured at Cofradia distillery. In the United States, its distribution is handled by Constellation Brands Inc.
Casa Noble is one of the most recognized tequila brands of Mexico and has been awarded double-gold medal at San Francisco World Spirit Competition in the years 2007 and in 2009 for its product Casa Noble Anejo.  Academia Mexicana del awarded it the Best Tequila in Mexico award. In the year 2011, Casa Noble Anejo received a silver medal and Casa Noble Reposado bronze medal with Casa Noble Blanco receiving the gold medal award.
13) Tres Agaves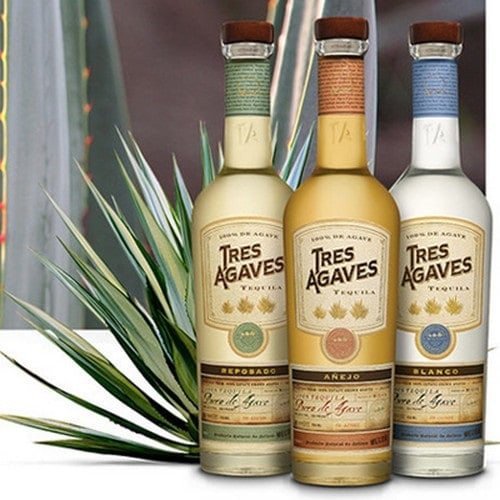 Tres Agaves is a premium tequila brand introduced to the consumer market in the year 2008. It is manufactured in family-owned El Llano distillery at Tequila town situated in Jalisco. The brand has been recognized for its superior quality with several awards and recognition. Tres Agaves Anejo received Chairman's Trophy in the year 2010 at Ultimate Spirits Challenge.
Tres Agaves Tequila is estate-bottled and is made from 100% blue agave. It has a full-bodied and smooth taste and this is so because it has been made by old-school traditional methods.
Its product portfolio includes Tres Agaves Anejo, Tres Agaves Reposado and Tres Agaves Blanco. It also serves alcohol-free mixer items like Tres Agaves Organic Bloody Mary Mix, Tres Agaves Cocktail-Ready Agave Nectar and Tres Agaves Organic Margarita Mix.
14) Lunazul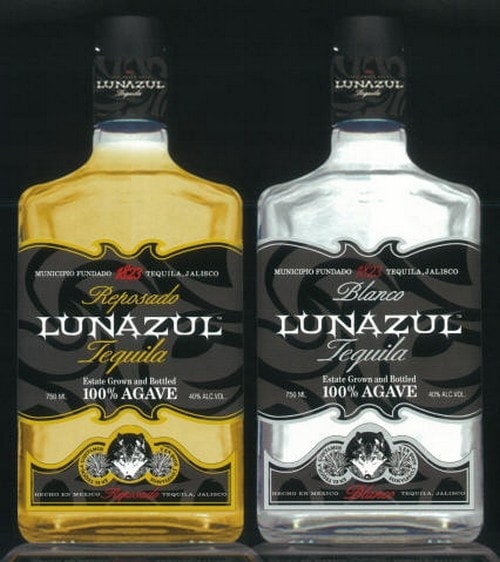 Lunazul is one of the smoothest tequila in the world as it is made from 100% blue agave and classic techniques and best ingredients. Some of the popular products of Lanazul brand are Lunazul Primero, Lunazul Anejo, Lunazul Reposado and Lunazul Blanco.
Lunazul was introduced in the consumer markets in the year 2002 by its manufacturer Tierra de Agaves. This first-class tequila is bottled, distilled and grown on a single estate at Jalisco and its distribution rights are handled by Heaven Hill Distilleries.
Lunazul actively participates in philanthropic and charitable activities. It has entered into a partnership with a non-profit organization NATURALIA that works towards promoting ecosystem and wildlife conservation in Mexico.
15) Cruz Tequila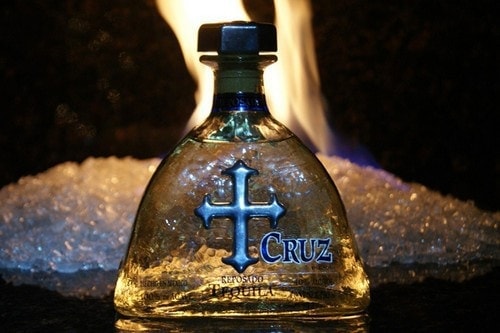 Cruz Tequila is ultra-premium tequila with a very different taste because of the all-natural distillation process. It is sipping tequila exceptional, and versatile with the lighter nose. The product portfolio of this high-quality brand includes Cruz Tequila Anejo, Cruz Tequila Reposado and Cruz Tequila Silver.
Cruz Tequila as the name suggests is a tequila brand manufactured in the highlands. It was founded in the year 2005 and currently operates via headquarters based at Scottsdale in Arizona. In North America, its product distribution is handled by Trinchero Family Estates.
The brand has received several awards and accolades for its quality and products like gold medal and silver medal at San Francisco International Spirits Competition in the year 2009 and 2008 respectively for Cruz Tequila Reposado. Cruz Tequila received the bronze medal for Packaging Design at San Francisco International Spirits Championship in the year 2008.