Expectations have reached a high as everyone believes that technological advances must yield better and higher business productivity. In a professional environment, time is of the essence as there are deadlines to meet and projects to complete.  How many hours can you work in a day is not as important as how many hours are you efficiently utilizing for the benefit of the organization.
Quality is on any day more important than quantity so work smarter rather than increasing the number of hours. When you start managing time and adopting effective strategies to increase the productivity of your business, then you can see the difference in a very less amount of time.
1) Promote open communication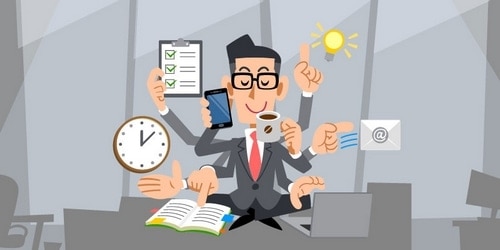 In order to encourage a work culture that is dependent on open communication, a company needs to have an open-door-policy for each and every one of its employees. When you have the freedom to express your thoughts fearlessly to others you are in an organization that is promoting direct communication to improve business productivity.
It is very important that every department as well as employee encourage collaboration and works toward implementing face-to-face communication as well as other communication tools to their advantage. Emails, phone calls, messages, and Skype calls are some means through which we can easily make a contact for voicing concerns, asking and delivering information and giving feedback.
2) Encourage feedback
Every one of us is opinionated and is ready to express ourselves at the drop of a hat. So encourage this habit and ask for feedback from employees to improve business productivity. It is best that an organization takes the stand and asks for questionnaires to be filled and feedback to be written by every employee as mandatory.
This will help the company to embrace both negative and positive aspects of its organization's skills as they come to know the actual feelings and mindset of its employees. It is actually a good outlet that works in an informative manner because the top brass becomes aware of its inefficiencies and has the option of working towards an improvement in workplace conditions.
3) Limit interruptions
Constant interruptions make it very difficult to complete a task in time. In order to improve business productivity, we must remove as many probable distractions as we can. Sometimes we become so busy with extra-curricular activities like meetings, events, and conferences that we fail to realize that there is a time for everything and this was not the right time for it.
All the extra activities should be scheduled for weekends and the weekdays are for maintaining focus and giving 100% to the business to increase its efficiency and productivity. We are least bothered by small distractions like calls, emails, and messages but let me tell you they consume at least one-fourth of our actual time and result in unproductive work. It is better to remove such devices from our vicinity so that we can concentrate on the job at hand more effectively.
4) Streamlining social media efforts
Social media has gained immense popularity in recent times and its recognition is far above any other medium present in the global arena. Kids, teenagers, adults, and elderly people are all involved in its portals one way or other every day.
Social media has a very strong community and one way to improve business productivity is to use it for its own advantage. Create a team specifically to handle interactions, updates, promotional policies via Facebook, Twitter, YouTube, and Instagram and company website. Excess of everything is bad; hence keep it to a required and acceptable level. Do not push it down the throats by continuous activity as it can cause media fatigue amongst its users.
5) Review your existing set-up
You created a start-up with a definite set of guidelines but with time it has become a different ball game. You need to incorporate some changes so that you can meet the expectations of the present scenario. Remember your vision and overall objective and now think from the point of a potential investor. You will be able to realize the areas where you need to work to gain a favorable impression. In order to improve business productivity draw a process that will review your existing set-up and add goals and value to the newer one.
6) Set achievable goals
Encourage supervisors and team leaders of your company to spend a little personal time in their department with their employees. It is necessary if you want to gauge the overall performance and productivity factor of every employee, department and also the organization.
When every supervisor or head compare their notes they will be easily able to know about the areas of deficiency that needs immediate action. Set up achievable goals for every department and make them responsible for attaining it in a definite time frame. The healthy competition between each team to achieve their target will prompt all employees to give their best and motivate them to work towards improving business productivity of their company.
7) Company activities and events
Work and only work will create a boring feeling in the workplace which would lead to a stagnant atmosphere. A happy workplace is a necessity for improving business productivity and in order to achieve it, we need something extra as a booster.
Set up different activities on a monthly basis so that every employee can let his hair down, mingle, relax and enjoy in an informal setting. These pleasure breaks will help everyone to unwind and gain better perspective via mingling and interacting with each other. Company activities and events are great ways to improve business productivity as it helps every employee to rejuvenate and regroup once again.
8) Use technology to your advantage
Advancement and development in science and technology have reached new heights and this has allowed most of the industries to gain better momentum. In order to improve business productivity, you need to increase your market share.
This will be possible if you use web-based technologies to your company's advantage. Business-related software solutions, spreadsheets, and customized applications are some important tools that can reduce overall costs and increase efficiency to a greater degree. Productivity is also dependent on speed and if you are using antiquated computers it is the time for an overhaul so that your employees can work with the latest equipment and software.
9) Know about your competition
Keep your friends close but your enemies closer is a famous proverb and very true. A good entrepreneur is one that is aware of the happenings of its own organization but a brilliant boss is one that also keeps an eagle eye on the comings and goings of his competitors. Create a team that will keep its focus on rival companies in the market and will gain knowledge about any new products and services that they are going to launch and any new ideas about their promotional and marketing activities. This will help to keep your organization on its toes and achieve better productivity as competition is healthy for a business.
10) Implement an improvement approach
You cannot become stagnant as business is all about changes, risks, and decisions. Improving business productivity and efficiency is an ongoing process that needs continuous revamp at periodic intervals to meet the realistic demands of the industry.
We need to make and follow improvement plans for a short duration so that they can be evaluated at a later period and new changes can be incorporated once again. Know and assess best practices in your related industry and develop a viable plan that will suit your organization and will help you to improve business productivity. You can hire an external team that can tell you about your strengths and weakness from an objective point-of-view. This will help you to tackle your priorities by taking positive and gradual steps.
Liked this post? Check out the complete series on Business