Gone are the days when businesses were just on papers and business functions requiring no technology. We are living in an era where the world is driven by technology. In the modern-day market, due to extreme competition, only those businesses survive who are incorporating technology. Leveraging technology in business is all about using technology for the growth of the business.
Undoubtedly, technology can take any business to sky-heights in the modern-day market. Not only it increases the efficiency of the business, but it also reduces the expenditure by a considerable margin and saves a lot of time.
Businesses have noticed exponential growth in their return after incorporating technology into their functions. It can draw the fine line between a struggling business and a stable business.
Technology has become an essential factor for modern-day businesses. From the customer's point of view, technology helps in enhancing the customer experience, which eventually helps the business.
Let's get in deeper and understand the essence of leveraging technology for the businesses –
Why is Technology Leverage important for businesses?
Take a few seconds and imagine anything randomly – there are high chances that there is a relevant website/app to whatever you have imagined.
This is how technology is assisting us in our day to day tasks. It is not difficult for us to understand the application of technology for businesses. Not only technology saves a lot of time in regular business functions, but also it makes the process more comfortable than ever.
To understand the essence of leveraging technology for businesses, you can think of several examples like data analysis, marketing, customer support, and so on.
All these functions of any business have become efficient and easy due to the leverage of technology. Let's understand these examples in detail –
A few examples of Leveraging Technology for businesses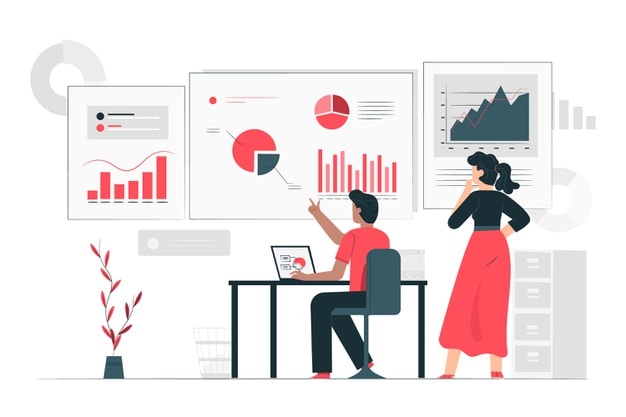 1. Data analysis

No one can deny its importance for businesses of any type and size. Unless and until you have a proper analysis of the humungous data around you, you can't predict anything about the market trend and your business' position in the market.
You must know who your audience is and what are their interests and opinion to prepare a suitable product for them.
Data analysts, as well as different data analysis software, are the result of the incorporation of technology in the businesses. The efficiency of the businesses increases due to proper data analysis backed by technology.
2. Marketing

Marketing is the backbone of any business. The business can't survive without proper marketing. The efficiency of digital marketing is known to all. You can reach a vast number of audiences around the globe through digital marketing.
You can target your audience in multiple ways and get them through the sales funnel successfully.
There were days when marketing was just about printing pamphlets and distributing them door to door for brand's marketing. People these days hardly prefer reading hard copies to aware themselves of any brand or product.
People prefer digital sources for these purposes. Digital marketing is all about this. It not only increases the reach of the brands but also helps the audience in getting familiar with the brand easily.
Technology has undoubtedly made marketing more useful than ever. Moreover, it saves a lot of time and effort.
3. Customer support

Customer support is a critical business function that can decide the fate of the entire business. Better you connect with your customers post-sale; stronger will be the trust in-between.
Retaining customers is as important as generating new customers. If your customer support is weak, you can't retain your old customers. Technology has helped a lot in making this process easier and efficient for businesses.
Social media, along with Artificial Intelligence (AI), is helping businesses in providing better customer support.
Undoubtedly there are a lot more other examples that you can think of to understand the essence of leveraging technology for businesses. Let's understand the role of technology in small and medium scale businesses –
4. SMBs and leveraging technology

With digitalization, people have changed the way they interacted with each other. This has made all businesses shift their functions to the digital medium to match the market trend. Small scale businesses grow slowly; hence it is more critical for them to leverage technology for their growth.
As the expectations of customers from the businesses are rising day by day, small scale businesses need to cope with those. Moreover, people are changing the way they used to work for the organizations. Remote work is getting popular, and people are praising it. With this becoming a trend, it has become essential for small businesses to incorporate technology.
Leveraging technology in businesses saves a lot of time so that SMBs can focus on other essential areas to grow their business. Innovation in the modern-day world is directly/indirectly related to technology, and SMBs can survive in the market with innovation.
There are different other areas which require the leverage of technology in SMBs to enhance the efficiency and match the market trend. Like –chatbots. Chatbots help businesses in automating customer support by making bots to answer regular queries.
SMBs need to think about the future, which will be driven entirely by technology. SMBs will be able to survive by incorporating technology into their functions. Moreover, the rising expectations of customers are another factor that they should look for.
Let's understand how businesses can correctly leverage technology to get the maximum out of it –
Doing it right

Technology, when incorporated correctly, can be boon for any business; otherwise, it can increase unnecessary expenditures. It is essential to know what your business requires before incorporating any technology.
1. Consult with an expert

Before implementing the technology, you must know what your goals are and then consult with an IT expert for incorporating any new technology. The IT team within the organization should be aware of your IT strategies.
It is essential to assess the vision multiple times and discuss it with the expert before moving forward. Once you are transparent with it, stick to it throughout the process.
2. Don't hurry

We understand that time is precious, but doing things in a hurry can be disastrous. Take your time to think before doing anything innovative with your business. Plan well and then implement it with perfection.
You can't expect perfection if you are doing things without proper planning. Set up a team and strategize for your technology enhancement. You must prepare a roadmap as well to ensure everything falls at the right place and time.
When the implementation occurs on a pre-set roadmap, chances of success are high. Hence, take your time to strategize well.
3. Monitor

Keep an eye on your business after you have implemented the new strategy. If anything goes wrong, fix it then and there. Claiming that your plan is perfect is foolish, there are chances that there might be loopholes that are not visible in the beginning.
You can set up a monitoring team to keep an eye on your implementation and look for any shortcomings.
Final Thoughts!
So, this was all about leveraging technology.
Its essence can never be neglected, and all the businesses should incorporate technology in their functions according to the requirement to get maximum growth.
How important do you consider leveraging technology for optimizing reach, channelization, and ROI of businesses? Share your views in the comment section below.
Liked this post? Check out these detailed articles on
Topic of Business
Alternatively, check out the Marketing91 Academy, which provides you access to 10+ marketing courses and 100s of Case studies.