Definition
Intermodal transportation is defined as a method or system where multiple modes of transportation are used to transport passengers as well as freight. This can be through trucks, railways, ships, and aircraft via land, water or air.
Meaning
In the case of freight, the cargo is packed in special containers, which is transported to its designated place via multiple modes without removing the cargo from the container it has been packed in.
In the case of passengers, the principle is the same and people have to use different and more than one mode to reach their designated place. Intermodal transportation is considered an economical and practical way of transport from the shipper to the consignee for freight and from one place to another for passengers.
The containers that are used for intermodal transportation are specially created. These are large rectangular boxes that can be secured to specialized trailers. They are standardized containers with durability its main feature. This is so that it can be easily transferred between different modes without the fear of damage.
Types of intermodal transportation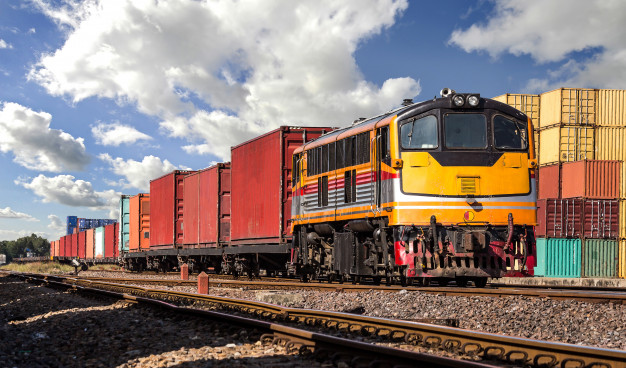 There are two types of intermodal transport and these are as follows-
COFC – Container on flatcar or COFC as it is popularly known is an inexpensive and effective method for intermodal shipping because four containers can be loaded on to a well-car simultaneously
TOFC – Trailer-On-Flatcar or TOFC is a type of intermodal transportation method where the over-the-road or OTR trailer is placed on the well-car directly.
Both the COFC and TOFC have proved useful in intermodal transportation as it has been able to cut down on manual labor. This has saved time, effort, as well as money for the shippers as the intermodal concept, has used both types to its advantage.
Advantages of intermodal transportation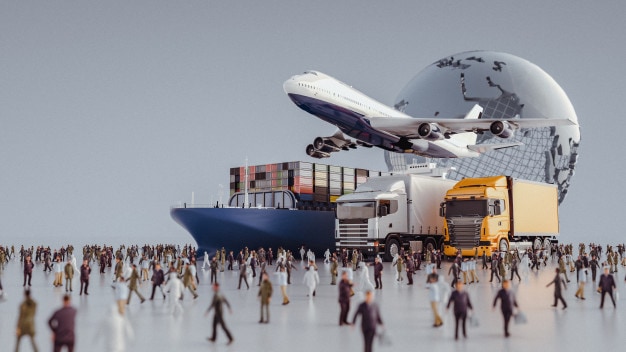 Fast transport – One of the advantages of intermodal transportation is in selecting a unit load that is ideal for that specific product. This reduces costs as well as the time needed for loading and unloading and in issuing documentation. Using railways and ferries eliminates unnecessary stops like queue or jams and results in fast transportation movement
Lower costs – It is possible to minimize transportation expenses by transporting freight via intermodal transportation. Using railway and truck services is a significant saving because railways use the least amount of diesel than any other mode of transport and can move four hundred and fifty miles on one gallon of fuel. The primary reason why long over-hauls have been considered expensive is because of the cost of fuel but it is the trains that can help in balancing the spending and easing the impact. In intermodal transportation, the shipping is in containers that do not require individual handling. Moreover, they easily fit into every mode and are easy to switch making them useful. This assists in lowering the expenses because the effort to move the shipment from one to another way is very less.
Consistent capacity – Intermodal transportation is rapidly becoming a favorite amongst its users. It offers reliable capacity when and where it is needed, and this factor has worked for its advantage. The rail and truck transport mode are not as expensive as other modes and the companies are now preferring intermodal transportation because of its reasonable price and the quality that does not need bending backwards to meet the demands of driver shortage and accommodating carriers at any cost.
Double-stacked railcars – Double-stacked railcars have played an essential role in increasing the shipment volumes because one container can be placed on the top of another intermodal container. Now the vertical space on the railcar can be utilized fully and this has lead to an increase in shipping capabilities
Quality and safe service – The most significant advantage of using intermodal transportation is its quality service. It provides one of the fastest services that guarantee secure and reliable dispatch of cargo. Trains travel on a fixed track and the chance of an accident or any mishap is considerably low. This means fewer restrictions on unloading and loading which speeds up the shipping process.
Environmentally friendly – The most significant advantage of intermodal transportation is in reducing the carbon footprint. It is a proven fact that moving one ton of cargo one mile via railways will minimize carbon-di-oxide and carbon monoxide emissions by nearly 83% which is a huge difference. Railways is an environmental-friendly transport option if an organization is looking at transport modes to reduce its overall carbon footprint
Convenience – Technological advancements have made intermodal transportation reliable and efficient. The capacity is available when needed, and the containers have track and trace capabilities that make things convenient for the users. Shippers do not have to stay in the dark hoping that their shipment made it because visibility has become the same as shipping OTR. The intermodal transportation has made things easy and accurate thus convenient.
Flexibility – The intermodal transportation method provides flexibility in the movement of freight. The more effective your plan is handled, the more you can save
Warehousing – The container used in intermodal transportation is its warehouse. It offers the cargo its protection and has become one of the significant benefits related to this method of moving cargo
Disadvantages of intermodal transportation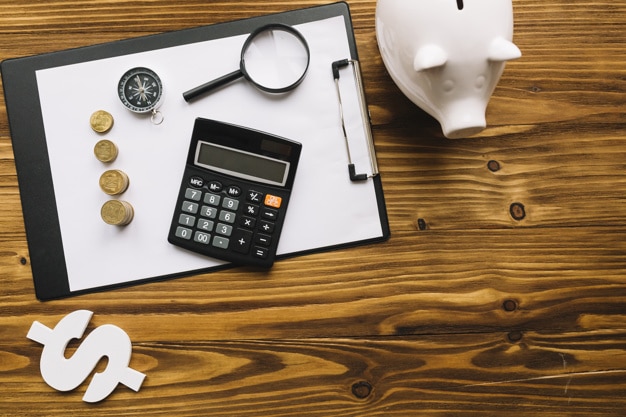 Using several types of transport can result in high costs if the whole process is not handled effectively.
Intermodal transportation does not provide the user with the best speed option. The cargo has to be shifted multiple times, and this slows down its progress. Moreover, some of the modes of transport might be very slow compared with others and some tracks might not offer the direct route. There is waiting in depots for a new carrier to arrive or to unload cargo. All these factors can result in loss of time and speed and can lead to the slow movement of freight via intermodal transportation
The intermodal transportation method depends on various modes of transit. If there is a disruption in even one link, the whole process is affected severely. The chance of the operations crumbling down or chain-breaking becomes very high. Equipment failure and bad weather are common problems that can disrupt services very easily. This is why there is low overall reliability on the intermodal transportation by the users whose preference is on a reliable and speedy transit mode of transportation.
The cargo has to be continuously shifted around as it reaches its designated post through numerous handlings. The possibility of damage is more significant in it but the organization can quickly mitigate the risk by taking preventive measures. This additional precaution means extra expenses and is in direct contrast with the benefits it tries to project involving cost and energy efficiency.
One of the disadvantages of intermodal transportation is its high infrastructure costs. The containers have no doubt reduced the cost of transporting goods but handling them is no easy feat. The shippers need heavy-duty equipment and crane to manipulate large boxes, and this might not be available at every transportation terminal. The handling infrastructure and equipment ( warehousing facilities, rail access, inland road, giant cranes etc.) are an essential part of intermodal transportation that need capital investment
Everyone knows the benefit of automation and are pushing for it. But this means capital intensiveness of intermodal terminals that is not easy and possible at every juncture
Concerns have been raised in the use of container which can be misused during illicit trade of goods, weapons and drugs.
It is easy to forcefully open or carries away load unit carrying high-value goods between the final destination and the terminal. As per the data that has been uncovered, nearly fifteen hundred containers are lost at sea only in the water transport mode. The figures will become quite high if you take into account the various other ways that are used in intermodal transportation.
The containers used in intermodal transportation require ample terminal space for storage. There are other issues like draft issues at the port and this implies that several intermodal terminals had to be relocated to the urban periphery.
Is intermodal transportation the right choice for your freight?
Intermodal transportation is the right choice for your freight when
If the weight of your finished goods is less than 25 tons, then it is considered apt for intermodal transportation
The cargo that is considered having intermediate value is the right choice for intermodal transport. People or business entities generally opt for a direct method for high-value cargo
If a company is looking for a safe passage without any wear and tear to the cargo, then intermodal transportation is the right choice for it. The fact is that the shipments do not leave the container in which it is packed. The distance between the shipping origin and the designated destination is covered in the container itself. This container has to undergo movement but as it is braced for it because of its durable nature, there is no lasting harm or defect to it.
This form of transportation is best for a long-distance haul. When you need to move freight for more than three hundred miles or longer within a day, then it is the best choice to make
If your cargo flow is continuous and regular and to the same destination, then intermodal transportation is the right choice for you.
If an organization is looking for means to minimize its company's carbon footprint, then intermodal transportation is the right choice for you
Liked this post? Check out the complete series on Business