The number of startups in the United States is the highest globally, reaching 75,056. However, it is worth noting that only 40% of these startups manage to achieve profitability. Startup marketing strategies can be the difference between success and failure in the competitive startup space.
To stand out among the thousands of other startups, entrepreneurs need to have a well-thought-out marketing plan that capitalizes on various channels such as digital marketing, content marketing, influencer marketing, and social media marketing.
How to Develop a Startup Marketing Strategy?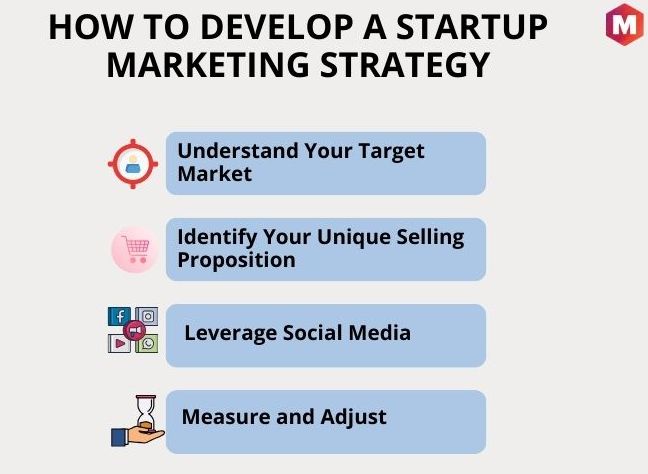 Developing an effective startup marketing strategy requires a thorough understanding of your target audience and the competitive landscape.
This includes knowing your customers' needs, preferences, and behavior, as well as identifying the strengths and weaknesses of your competitors. A comprehensive market analysis can provide invaluable insights to shape your strategy.
Your marketing efforts should be multifaceted, leveraging a variety of channels to reach your audience. A balanced mix of traditional and digital marketing can maximize visibility and engagement. Here are some key points to consider:
Understand Your Target Market: Identify who your customers are, what they want, and how they behave. Use this information to tailor your messaging and marketing tactics.
Identify Your Unique Selling Proposition (USP): Understand what sets your product or service apart from the competition and communicate this clearly in your marketing messages.
Leverage Social Media: Use platforms like Facebook, Instagram, and LinkedIn to reach and engage your audience. Social media marketing can be a cost-effective way to create awareness and build customer relationships.
Measure and Adjust: Regularly monitor the performance of your marketing activities and adjust your strategy as needed. This will ensure you're effectively utilizing your resources and achieving your marketing goals.
21 Startup Marketing Strategies for 2023
1) Have SMART Goals
Running a startup is an exciting journey filled with challenges and opportunities. SMART stands for Specific, Measurable, Attainable, Relevant, and Time-bound. Start by asking yourself questions such as "What is the goal of this marketing campaign?" and "How will I measure success?" Having clear objectives in place will help you make more informed decisions.
Some of the examples of Smart goals can be:
Increase website traffic by 10% in the next 6 months.
Generate 1000 leads within 3 months.
Convert 20% of leads into paying customers in the next 2 months.
2) Establish the groundwork for Startup Marketing Strategies
Before you jump headfirst into marketing your startup, make sure you have the basics in place. For an effective marketing strategy, you need to make sure that you have a website up and running, with good content and easy navigation.
Conducting market research and doing business branding are also important steps for you to understand your target audience and build brand loyalty among them. Don't forget to create a solid customer base by engaging with existing customers, as well as finding new ones through referrals and other tactics.
Some of the key steps that you need to perform here are:
Conduct market research
Define your target audience
Develop a brand voice and strategy
Create an online presence
Build customer loyalty and referrals
3) Utilize the power of Referral Marketing Strategies
Referral marketing is a powerful tool in your marketing arsenal. It involves leveraging existing customers to bring in new ones and can be done through incentives like discounts or freebies. Make sure you identify the right channels to promote your referral program, such as email, social media, and offline mediums.
You should also track the performance of your referral program by tracking customer actions such as visits, purchases, leads generated, and downloads. This will help you make informed decisions about which channels are working best for your startup and what kind of incentives could be included to motivate referrals. A few key points to remember while using referral marketing are:
Identify the right target customer group
Offer incentives and rewards for referrals
Track the performance of the referral program efficiently
Make it easy to refer your business with a great user experience
4) Leverage Content Marketing
Content marketing is an effective method to attract and engage your target audience. By delivering high-quality, relevant, and valuable information, you can educate potential customers about your products or services, establishing your brand as a thought leader in your industry. This approach not only helps in driving traffic to your website but also builds trust and credibility with your audience. As a key digital marketing strategy, you can optimize your presence and get new customers by using the following steps:
Create engaging and informative blog posts
Develop infographics and visual content
Host webinars or podcasts
Publish whitepapers or eBooks
Share case studies or success stories
5) Harness the Power of Various Social Media Platforms
Social media platforms are a game-changer for startups. These platforms present a vast opportunity to interact with your audience, gain insights about their preferences, and promote your products or services. Leveraging social media enables startups to reach out to a larger audience and create a strong online presence, enhancing brand visibility and recognition. As a solid marketing strategy, social media marketing should be used to:
Regularly post engaging content on your social media channels
Run targeted social media ads
Use hashtags to increase visibility
Engage with your audience through polls, comments, or direct messages
Collaborate with influencers in your niche
6) Implement Search Engine Optimization (SEO)
SEO is the process of improving your website's visibility on search engines. Effective SEO strategies can help your startup gain higher rankings on search engine result pages (SERPs), resulting in increased website traffic and potential leads. SEO is a long-term strategy and requires constant monitoring and optimization. Successful SEO is one of the most crucial startup marketing ideas and for this, you need to:
Use relevant keywords in your content
Improve your website's loading speed
Create a mobile-friendly website
Build high-quality backlinks
Optimize your website's meta tags and descriptions
Track site performance by measuring key performance indicators
7) Email Marketing
Email marketing remains one of the most effective digital marketing strategies for startups. It allows you to directly communicate with your audience, providing them with timely and relevant information. With personalized messages, you can nurture your leads and convert them into loyal customers. From sharing different business news to updating about new products and other updates, an email marketing strategy can be quite useful. For this, you just need to follow these steps:
Build an email list through subscriptions on your website
Develop engaging email content
Personalize your email campaigns
Use email automation tools
Measure and optimize your email marketing efforts
8) Participate in Industry Events, Trade Shows and Webinars
Participating in industry events and webinars not only helps in networking but also in showcasing your innovative products and services. It serves as a platform to connect with industry leaders, potential partners, and customers. These events also provide you with insights about the latest industry trends and advancements. As a startup's marketing strategy, you can use it by going through the steps below:
Attend industry-specific events and trade shows
Participate in webinars and virtual conferences
Sponsor or host events
Network with industry experts and potential customers
Stay updated with industry trends
9) Use Affiliate Marketing
Affiliate marketing is a marketing strategy based on performance, where you collaborate with affiliates such as bloggers and influencers to promote your product or service. In return, you provide them with a commission for every sale or lead they generate. This strategy can help startups extend their reach and drive more sales. As a marketing channel, an affiliate program can be used effectively by using the steps given below:
Identify potential affiliates in your industry
Offer competitive commission rates
Provide your affiliates with promotional materials
Track and evaluate your affiliate program's performance
Regularly communicate with your affiliates
10) Collaborate with other Startups
Collaboration with other startups can be a game-changer for your business. By partnering with like-minded ventures, you not only gain access to their customer base but also unlock new opportunities for growth and innovation.
This strategic alliance enables you to pool resources, share expertise, and leverage each other's strengths, effectively expanding your reach and achieving mutual success. Together, you can create a powerful network that propels your businesses to new heights.
Collaborations can take many forms, including cross-promotion, product bundles, guest blogging, social media takeovers, and more. Some of the key steps you need to follow are:
Identify potential startup partners
Define clear terms of collaboration
Promote each other's products or services
Share each other's content on social media
Co-host events or webinars
11) Establish a Blog
Creating a well-crafted and engaging blog is not just a strategic method, but an effective way to connect with your target audience on a deeper level. By sharing valuable insights, industry knowledge, and expert opinions, you establish yourself as a thought leader in your niche.
Additionally, a blog gives your brand a unique voice, making it more relatable and humanizing your business. This personal touch resonates with your audience, fostering a sense of trust and loyalty. Moreover, through a blog, you have the opportunity to showcase your expertise, address common pain points, and provide practical solutions, further solidifying your position as a trusted resource. You can do this in the following ways:
Set up a blog on your website
Create valuable content relevant to your industry
Engage with your audience through comments
Use SEO techniques to drive traffic
Update your blog regularly
12) Feature in Renowned Publications
Getting featured in well-known and respected publications can significantly boost your brand's visibility and credibility. This increased exposure opens up doors to a wider audience, creating potential collaborations and valuable opportunities for your business.
By leveraging these strategic partnerships, you can further enhance your brand's reputation and unlock even more avenues for growth and success. To ensure this effectively, marketers need to:
Reach out to recognized publications
Craft a compelling story about your startup
Leverage your networks for connections
Respond to journalists' queries
Monitor your press coverage
13) Utilize Earned Media
Earned media, also known as organic media or publicity, refers to the valuable exposure that is gained through word-of-mouth, recommendations, or media coverage obtained from third-party sources.
This type of media is highly trusted by consumers and carries immense potential to significantly enhance your brand's reputation and visibility in the market. By leveraging the power of earned media, businesses can tap into the influence and credibility of unbiased sources, resulting in increased brand recognition, customer trust, and ultimately, long-term success. For this, you should:
Pitch interesting stories to the media
Leverage customer testimonials
Encourage user-generated content
Monitor your brand mentions
Show appreciation for positive coverage
14) Win Over Competitors' Customers
One effective way to sway users of competing products to switch to yours is by offering superior or unique features that cater to their specific needs. By thoroughly understanding not only your competitors' offerings but also your target customers' preferences and pain points, you can tailor your product to provide an exceptional experience that surpasses their expectations.
This strategic approach, grounded in a deep understanding of the market landscape, enables you to differentiate your offering and entice users to make the switch with confidence. For this, you need to use these steps:
Analyze your competitors' strengths and weaknesses
Understand what their customers value
Highlight your unique features
Offer incentives for switching
Provide exceptional customer service
15) Dedicate Your Product to a Social Cause
By aligning your product with a social cause, you have the opportunity to not only enhance your brand image but also attract customers who deeply resonate with the same values.
This powerful strategy allows you to establish a unique position in the market, setting yourself apart from competitors and showcasing your commitment to making a positive impact in the world. Key points to pay heed to are:
Select a cause relevant to your business
Donate a portion of sales to the cause
Promote the cause on your platforms
Collaborate with non-profits
Measure and share the impact
16) Implement Video Marketing
Videos are an incredibly effective and engaging way to showcase your product's unique features, benefits, and functionalities. By visually demonstrating how your product works and highlighting its key selling points, you can captivate your audience and effectively communicate the value it brings.
Moreover, videos have the power to evoke emotions, create a memorable experience, and establish a deeper connection with your viewers, ultimately leading to higher user engagement and conversion rates. You can use video marketing effectively in the following steps:
Create product demo videos
Share customer testimonial videos
Utilize live video features on social platforms
Promote videos on multiple channels
Measure video performance and engagement
17) Form Partnerships with Influencers
Partnering with influencers can be a game-changer for your brand. By partnering with these influential individuals, you can leverage their devoted audience and greatly broaden your impact.
Their ability to create authentic content that resonates with their audience will not only promote your product but also enhance your brand's credibility and trustworthiness. You can do this in the following steps:
Identify relevant influencers in your industry
Establish a fair compensation plan
Provide influencers with creative freedom
Track campaign performance
Maintain a good relationship with influencers
18) Run Paid Advertisements
Paid advertisements can be a highly effective strategy to reach specific audiences and generate traffic for your product. By leveraging targeted advertising platforms like Google Ads, you can tailor your messaging to resonate with your ideal customers, increasing the chances of driving meaningful engagement and conversions.
With their ability to deliver quick results, paid advertisements provide an excellent opportunity to enhance your brand visibility, expand your reach, and ultimately boost your business growth. To run paid ads, you need to:
Choose the right platforms for your ads
Target your ads based on customer demographics, interests, and behavior
Test different ad formats
Set an advertising and marketing budget and track ROI
Optimize ads based on performance
19) Organize a Flash Mob
Flash mobs are an unconventional and exciting way to attract attention to your brand. By organizing a group of people to perform a synchronized and unexpected dance or performance in a public space, you can create a memorable and shareable experience.
This unique form of guerrilla marketing can generate a buzz around your product or service, capturing the curiosity and interest of passersby. The element of surprise and the collective energy of the participants can create a viral moment that amplifies your brand message and reaches a wider audience through social media and word-of-mouth. Key steps to follow are:
Plan the flash mob concept
Organize a group of performers
Choose a high-traffic location
Promote the event on social media
Capture the event and share it online
20) Utilize Podcasts
Podcasts are growing in popularity as an effective marketing tool. By creating a podcast themed around your product or industry, you can reach a large and engaged audience who may not be familiar with your brand. This type of content offers an opportunity to showcase the people behind the brand and tell stories related to its mission and values.
But starting a podcast isn't as simple as it may seem. You'll need a clear vision for the show, an understanding of your target audience, and a plan for launching and promoting the podcast. Here are some tips to get you started:
Define the goals and structure of your podcast
Research potential platforms to host your show
Create interesting content that resonates with the audience
Use social media to promote and build an audience
Network with other podcasters in your industry
Incorporate feedback from listeners.
FAQs
1) What is a startup marketing strategy?
A startup marketing strategy is a planned approach by new businesses to promote their products or services, attract customers, and achieve growth. It involves using innovative and cost-effective tactics, like guerrilla marketing and podcasts, to reach and engage their target audience.
2) What tactics can I use for startup marketing?
There are many tactics that you could use for startup marketing. Some popular options include content creation and distribution, email campaigns, influencer marketing, guerrilla marketing, and podcasting. It's important to research each tactic and tailor your approach to best suit your target audience and budget.
3) What are startup marketing trends in 2023?
Some of the key trends you need to follow today are:
Personalization in marketing initiatives
Increased use of video content
Utilization of AI and machine learning for customer insights
Growth in voice search optimization
Emphasis on customer experience and journey
Rising importance of ethical and sustainable business practices in marketing
Wider adoption of augmented reality (AR) and virtual reality (VR) in marketing campaigns
Increased reliance on data analytics for decision-making
Greater emphasis on social media engagement and influencer marketing to build brand awareness
Continued growth of podcasting as a marketing tool.
Liked this post? Check out the complete series on Business