Having a business orientation is crucial for the success of any company. It involves creating and executing strategies, processes, and behaviors that will help the organization attain its goals. This approach enables the company to prioritize its tasks and allocate resources appropriately to achieve those objectives. By emphasizing a business-oriented mindset, an organization can focus on how its operations and offerings fit into the market and satisfy customers' needs.
What is Business Orientation?
Business orientation is about how a company plans and carries out its strategies to succeed. It aims to build and sustain an atmosphere that promotes happy customers, by focusing on the market and making a profit.
A business-oriented organization understands the market and customers well. They regularly survey existing customers and gather feedback from their existing customers to improve their products or services and meet their requirements. This approach helps the organization to stay competitive and accomplish its objectives.
Types of Business Orientation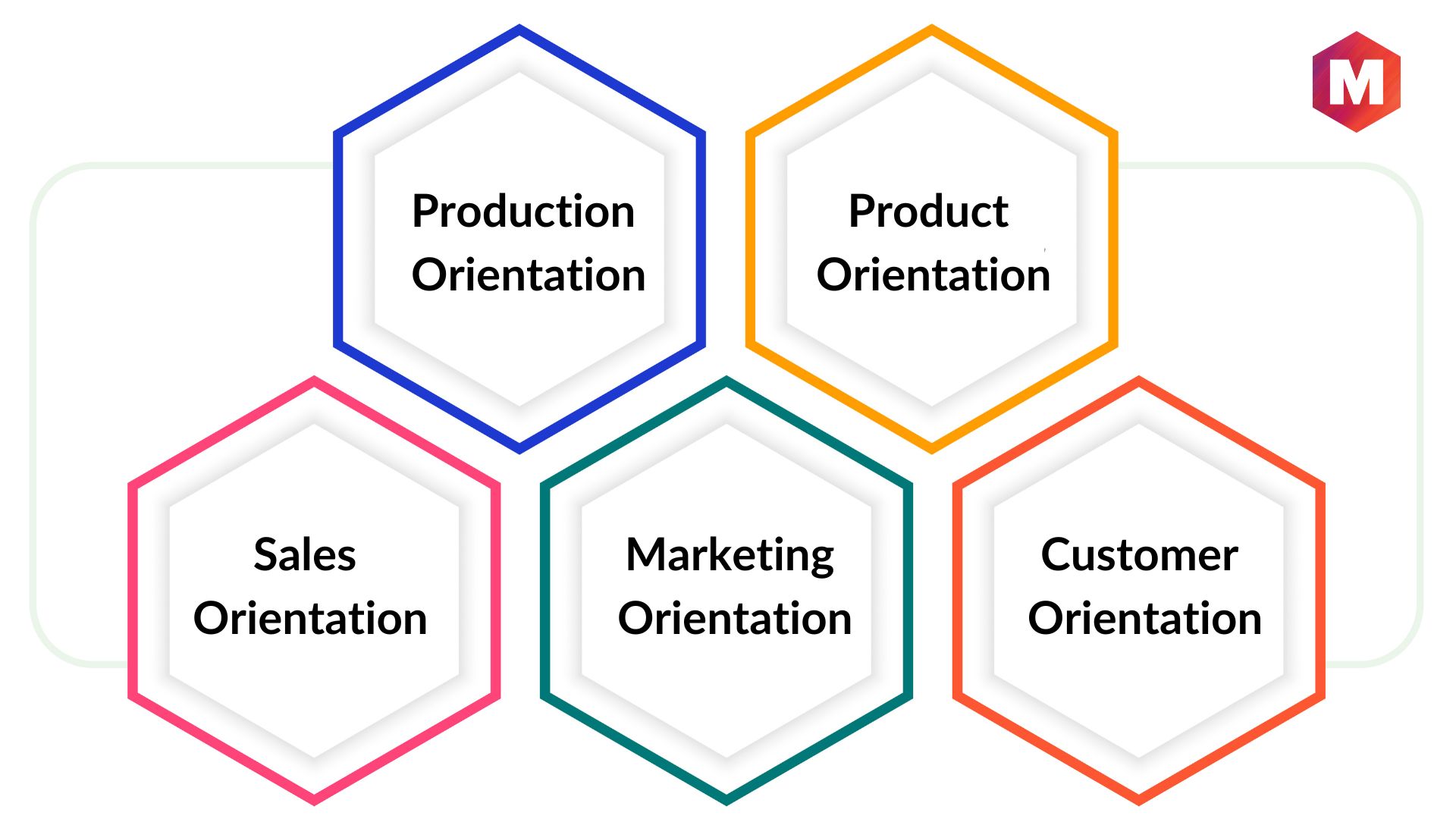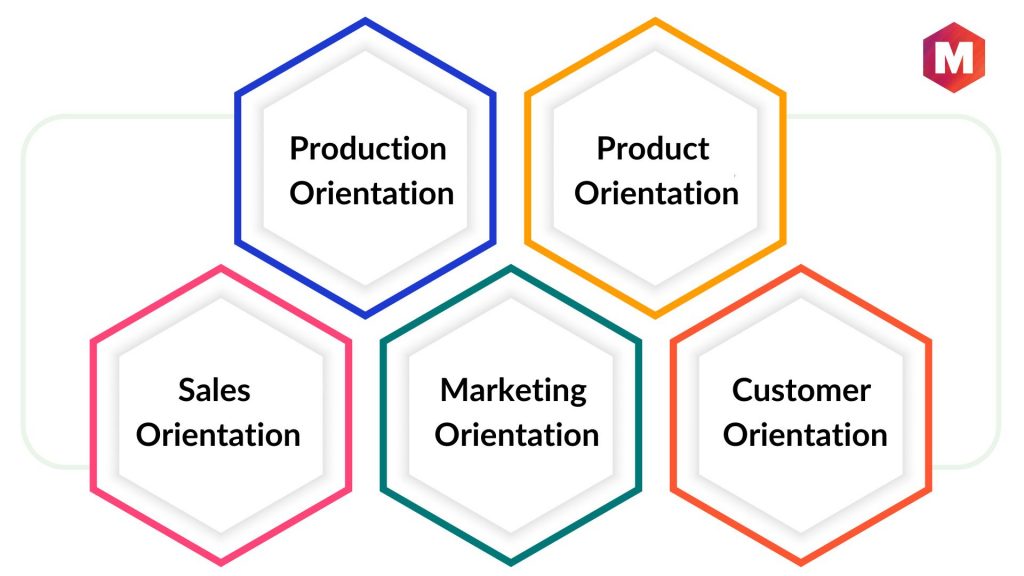 A business can adopt different orientations that align with its primary objectives. These can focus on specific stages of the workflow, such as manufacturing, marketing, or sales. The list below outlines six common orientations and examples of how businesses implement them –
1) Production Orientation
This orientation focuses on optimizing the production process and maximizing efficiency. Companies will look to reduce costs by streamlining processes and using technology, such as automation, to minimize human labor. A production-oriented company prioritizes its product pipeline and aims to streamline its manufacturing process to increase efficiency. By lowering the production costs, the company can better compete with other businesses that offer similar products.
How does production orientation work?
This type of company aims to minimize expenses. Production-oriented companies prioritize mass production to offer a product at a reasonable price, assuming that customers will purchase it even if it doesn't fully satisfy their desires and requirements.
When sales of a production orientation company decrease, their strategy is to improve productivity and reduce prices. This approach works well when there is more demand for the product than there is supply. For example, a company that produces large quantities of items such as clothing or electronics will try to keep production costs low by using automation and cutting labor costs.
Companies can adopt various strategies to establish a production orientation, such as reducing costs by changing their procurement methods for raw materials, like buying in bulk or switching vendors. To reduce expenses, businesses can focus on innovation by utilizing cost-effective materials to maintain the product's standards and incorporating automation to improve productivity.
2) Product Orientation
Product orientation focus is associated with the process of creating products that meet customer needs. Companies use various techniques and tools to understand what customers want, such as focus groups, surveys, customer data analysis, and existing product reviews. A product-oriented approach mainly emphasizes innovation. This means that companies can either improve existing products or develop new ones to address current issues.
How does product orientation work?
Product-oriented companies understand the needs of their customers and strive to create products that meet these requirements. They continuously analyze customer feedback and market trends to anticipate customer needs and create products accordingly.
The goal is to develop a product that satisfies customers, even if it doesn't fully meet their expectations. Product-oriented companies also focus on marketing and actively promoting their products to potential customers.
For example, Apple's product-oriented approach involves creating innovative and intuitive products that are attractive to buyers. Apple regularly analyses customer feedback and surveys its own products to determine what features should be improved or updated. This helps them continuously develop their products according to current customer needs.
3) Sales Orientation
Sales orientation focuses on selling existing products or services to customers. Companies that use this approach emphasize promotional activities, such as advertising and sales campaigns, to boost sales. This is done by creating attractive packages and discounts, as well as providing incentives for customers to purchase products or services.
How does Sales Orientation work?
Sales-oriented companies prioritize the short-term goal of boosting sales and tend to be less concerned with customer satisfaction. Companies often use aggressive promotional tactics to get customers to buy their products.
For example, Coca-Cola frequently runs promotional campaigns and offers discounts on its products. It also creates attractive packaging and uses eye-catching advertisements to attract customers. These promotional activities aim to increase sales and boost profits in the short term, even if it means sacrificing customer satisfaction.
4) Marketing Orientation
Marketing orientation emphasizes the needs of customers and focuses on creating customer value. Companies using this approach prioritize customer satisfaction above all else and focus on understanding the needs and wants of their customers. Marketing orientation and sales orientation share a focus on promoting products. The key distinction is that marketing orientation develops promotional tactics to acquire new customers. To successfully sell a product or service, it is crucial for a market oriented company to craft a marketing message that effectively informs and persuades potential customers.
How does marketing orientation work?
To create a product or service that satisfies the needs and wants of customers in the future, companies conduct research on potential demographics and demand. This is known as the marketing orientation process.
Companies design promotional campaigns that showcase their products or services, and they create unique strategies to reach their target market. Companies also use aggressive promotional tactics to get customers to buy their products.
For example, an e-commerce business may use customer segmentation to identify its target audience. It may then create ads tailored to that audience and develop a loyalty program to encourage repeat customers. It can use digital marketing practices to optimize reach, drive traffic and increase sales.
5) Customer Orientation
Customer orientation is a business strategy that places the needs of the customer as the top priority. This involves helping customers to achieve their objectives. It emphasizes customer retention and satisfaction by anticipating customer needs, responding to them quickly, and rewarding loyalty. Meeting new customers in new demographics and converting them is the sole purpose of this type of business orientation.
Customer-oriented businesses typically employ strategic planning, customer relations management (CRM) tactics, and other techniques to build relationships with their customers. To keep customers satisfied, companies must understand the needs and want of their customers, as well as build relationships with them. This allows companies to maintain customer loyalty and prevent customers from switching to competitors. Customers associate with companies whose business philosophy revolves around offering personalized services.
How does Customer Orientation work?
Customer orientation entails the process of understanding customer needs, finding ways to better serve them, and improving their satisfaction with a product or service. Companies can use customer segmentation to identify which demographic or income group is more likely to purchase their product. They can then tailor the marketing and promotional campaigns to reach that specific group of customers.
For example, a company may build relationships with customers by offering discounts, loyalty programs, or sending personalized emails to remind customers about the latest product or service. Additionally, it may provide customer service that exceeds expectations.
6) Competitor Orientation
Competitor orientation is a type of business strategy where companies focus on the performance of their competitors. This involves tracking and analyzing competitor strategies and tactics, as well as positioning their own products and services to be competitively better. Competitor orientation is a business approach that prioritizes surpassing rivals, rather than solely maximizing profits. Companies can use competitor orientation to gain insights into customer needs, identify potential opportunities, and find ways to differentiate their product from that of competitors. This involves evaluating a company's strengths and weaknesses and making direct comparisons with its competitors.
How does Competitor Orientation work?
Competitor orientation helps companies understand how their competitors are performing and identify areas of improvement. Companies that use competitor orientation as part of their business strategy regularly monitor the performance of competitors, analyze their pricing structures and product offerings, and make adjustments to their own products or services in response. By understanding their competitors' strengths and weaknesses, companies can also develop strategies to differentiate themselves from their competition.
For example, if Company ABC is focused on competitor orientation, it will track and analyze the performance of competitors (who offer the same or similar products) in order to gain insights into their strategies. If Company ABC discovers that its competitors have lower prices and better customer service, it will adjust its own pricing structure or find ways to improve customer service in order to gain an edge over the competition.
Methods that Help Business Orientation Work
Some of the methods that help business orientation work effectively –
Strategy planning
This involves carefully analyzing the product or service offerings of competitors, their pricing structures, and customer service policies. Companies can then compare these with their own products or services and identify areas of improvement. From market research, companies can then develop strategic plans that will help them remain competitive in the market.
Business culture
The term "business culture" encompasses the beliefs and behaviors that shape how a company and its management interact. Culture can be influenced by factors such as national traditions, economic trends, company size, industry, and products. Companies must create a business culture that recognizes the importance of market orientation and customer service.
Employee training
It is important for companies to train and educate their employees on the principles of business and market orientation. By training staff on consumer desires, competition analysis, cash flow, and business model analysis, companies can ensure that everyone is aware of the market changes and can act accordingly. The company provides employee training programs to improve the performance of workers in their roles. The programs can cover various topics such as orientation, technical and soft skills, onboarding, compliance, product knowledge, and leadership.
Data analysis
Data analysis is an important part of the business orientation process. Companies must understand customer feedback, preferences, and trends in order to create an effective advertising strategy. Companies must also analyze customer satisfaction surveys, sales data, and market trends in order to remain relevant and competitive. Data analysis helps companies identify new opportunities and create solutions to existing problems.
Examples of Business Orientations
Manufacturers
A manufacturer may begin with a production orientation to focus on creating products in abundance and at the lowest cost possible. However, it might switch to a marketing orientation if it finds that the customers are not as interested in its products.
It might change up the way it advertises or creates a campaign that highlights the cheap materials it uses to manufacture its product, while also emphasizing how it is different from its competitors.
Retailers
Retailers may begin with a customer orientation to understand what the customers are looking for and provide them with the best possible shopping experience. They might offer discounts during special occasions or launch loyalty programs to keep customers interested.
However, they also could switch to a competitive orientation by aggressively advertising their products in comparison to their rivals so that customers are more likely to come to them.
Schools
Schools often focus on a business orientation when they are first beginning. This involves setting and following educational goals, budgeting for resources, and working to solve existing problems.
However, they might use a customer orientation if they find that the student population is not as interested in their product. This could involve changing the way courses are taught in order to better meet consumer needs and increase market share. This will help make sure that students continue to return.
Identifying the best Business Orientation Types for you!
It is crucial to determine the most suitable orientation type for your industry and target market since every business is different. By analyzing your clients and competitors thoroughly, you can formulate a successful marketing plan.
To determine the most effective approach for your business, you should evaluate your market, review customer feedback, and compare your offerings to those of your competitors.
By gaining a better understanding of what is successful and what needs improvement, established businesses as well as startups can adjust their strategy accordingly. With a bit of research and analysis, you can identify the optimal business orientation for your company.
Liked this post? Check out the complete series on Business