Business etiquette are two simple words but with great deeper meaning. It involves essential behavior and subtle nuances that have the power to create a great impression and positive impact on the prospective client. Professional etiquettes demand that we treat everyone as equal regardless of gender as women do not expect differential treatment.
Everyone is equal amongst the colleagues is their thinking. The most important factor that can seal or break a deal is that one should always show due consideration and offer proper respect to the person sitting on the opposite chair in a secure and comfortable business environment.
1) Arrive on time
Punctuality is one of the important ingredients of basic etiquette and goes hand in hand with professional reliability. People who are not in time irritate the hell out of others. It is disrespectful and creates an unfavorable impression on the client.
One who honors time and arrives on the dot demonstrates the willingness to respect any commitment within the due period. Ingrain in yourself the habit of being prompt as it will take you a long way in achieving your goals and creating an approving impression amongst your associates. When you yourself are on time others will also follow suit and adopt the same habit resulting in a good working relationship.
2) Your clothes are important
Business meetings are all about long-lasting impressions and the most important fact is that the way you dress matters a lot. A person creates his first impression within the first few seconds only and proper attire tends to tilt the balance in your favor.
The dress code varies for every event in and outside the office. A good image can be projected firsthand by your physical appearance and my friend your appropriate outfit is hence the first step towards achieving your goal of attaining professional representation.
Never dress down and come in casual attire in any business meeting or office as it may signify your unprofessional attitude and lax behavior.  Pressed and clean apparel with proper polished footwear is a must in any professional environment. Do not go overboard with accessories as you are not going to a social function.  A wristwatch, wedding ring or small earrings are more than enough for your working place. In fact, clothing is one of the most important part of good business etiquette and goes a long way in making a presentation.
3) Be polite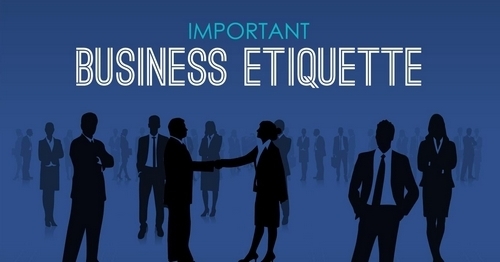 Be polite but firm is the mantra of a good leader. Impeccable behavior and a good conduct create a lasting impression on others and show your willingness to work amicably with peers, subordinates, as well as colleagues.
No need to be aggressive or crossing the line for the sake of showing your power or your stronghold over others when that work can easily be accomplished with few respectful words. Be considerate and polite so that you can promote a good work culture and profitability in your company. Acknowledging the contribution of others with a thank you or saying please are polite terms and gains respect amongst co-workers.
4) Don't gossip
Respect and gossip are like oil and water and does not mingle well. In any work surroundings, it is prudent to avoid office gossip as it may create adverse conditions from which you may find difficulty in extracting yourself.
The rumors are bound to spread and can cause damage to your professional image. Do not be a part of any office gossip as one time or other your name is bound to be revealed and may hinder your prospects in the office. If circumstances are not in your favor and by chance, you have become the subject of office gossip then it is better to avoid getting dragged in any explanations and let the situation resolve itself so that the petty gossip dies a natural death.
5) Have a great body language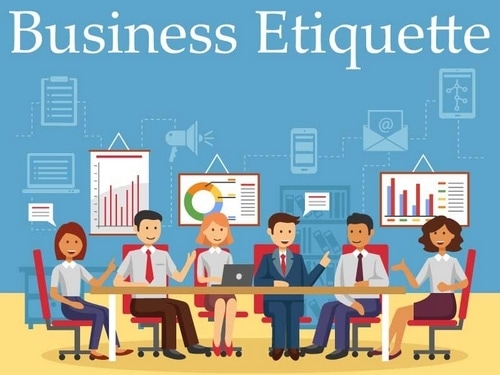 A good body language indicates nonverbal positive communication. It is an affirmation that you are the recipient of good vibes and are looking towards a great working relationship. A good posture signifies an association in the making whereas a simple and heartfelt smile can easily reduce stress.
Be confident and express your opinions with a firm tone and an approachable body language. This will improve your working relationship and you will be able to show yourself as a genuine person who is affable, warm and trustworthy. Fidgeting, moving your hands excessively, little or no eye contact, using your mobile or looking sideways repeatedly are parts of a wrong business etiquette and will portray a wrong impression and hence try to avoid them at all costs.
6) Listen to others
Sometimes listening is much more important than putting forward your own thoughts. It shows your interest in that topic and that increases your knowledge and perception towards the particular circumstances.
The tiny bit of information you have gained may help you to achieve better chances. Meetings and get-together are the best time for listening to others. People will perceive this action as your willingness to move collectively as well as forward with others. Demonstrating your ability to listen will always find favor amongst others and take you a step further towards achieving success. If you learn listening to others by having some patience yourself, then you will exhibit one of the best business etiquette amongst them all.
7) Avoid interruptions
Nobody likes interruptions while he/she is speaking. You may be tempted to offer your opinion at the drop of a hat but remember this is your working place not your home and your gesture will not be received constructively. Let the other party complete his sentence and then share your views. It is simply bad manners and bad business to interrupt someone else.
Expecting feedbacks during a meeting is expected but not rude interruptions. A good way to ensure that this does not happen repeatedly is to allow everyone to speak one by one or an individual can simply raise a hand slightly to convey his desirability to speak at that point of time. Make sure it is not a repeated occurrence.
8) Never use bad language
Respect can never be demanded as it is simply earned by your own behavior and attitude towards others. Yes, everyone is working in a cut-throat workplace where climbing the ladder of success matters but it does not give you the permission of using bad language or disrespecting others. Keep a firm curb on your language.
Vulgar language shows you in a negative light which can ultimately harm your career and can affect your business relationship with others adversely. Inconsiderate behavior, incivility, and rude language will set you apart from your colleagues and cause serious hindrances in your life. The best managers are those who are calm and composed even under pressure. Using bad language in itself is very bad business etiquette.
9) Introductions help
Introductions are a must in a working relationship and we must always introduce people who have not been formally introduced.  You should be aware that you must always introduce an individual of lower rank to a higher rank.
Never ever goof up by doing the opposite. While introductions are taking place make sure that everyone concerned is standing otherwise it may signify lack of respect or even ignorance towards basic etiquette rules. It is better to use full name while introducing yourself or a colleague.
Exceptions can be made when the name is too long and can prove a problem then some abbreviations are allowed like L. R. Manjula Iyer, instead of Laxman Raghunathan Manjula Iyer. Even if you forget the name of someone during introductions, then accept your mistake gracefully and simply move forward without lingering over it.
10) Behave outside office
It is necessary to treat everyone with respect and it should be reflected in your deeds. Make sure to show good manners even outside the office doors so that your colleagues remember and appreciate your gesture inside the office building.
A word of praise and your good conduct will go a long way in creating a fruitful atmosphere that will prove beneficial for everyone in the company. Every action has an equal and opposite reaction and hence your good attitude will improve any stressful environment and bring positivity, peace, and harmony amongst the employees.
Overall, above were the 10 Basic Business Etiquettes you should have. Hope these etiquettes help you in improving yourself.
Liked this post? Check out the complete series on Business