Founded in the year 2011, Big Basket Business Model revolves around Online Grocery Delivery Services that deliver grocery goods found in home essentials, convenience stores, and food supplies to its users.
The company is headquartered in Bangalore, and it is functional all across India.
Big Basket Business Model covers most of the prominent cities in India. Some of the most popular cities where Big Basket is functional are Hyderabad, Pune, Mumbai, Chennai, Delhi, Mysore, Noida, Coimbatore, Kolkata, Vijayawada-Guntur, Ahmedabad-Gandhinagar, Lucknow-Kanpur, Gurgaon, Visakhapatnam, Vadodara, Surat, Nagpur, Indore, Patna, and Chandigarh Tricity.
This post will take you deep into the business model of Big Basket, so you can understand how to start a business like Big Basket, what the USPs are of such businesses, and how Big Basket makes money. So, let us get started right away-
Introduction to the Business Model of Big Basket
Grocery shopping is quite a tedious task. Various points need to be considered before going to buy groceries.
Finding the right store, checking the quality standards of the products sold there, and comparing the prices of the products to find the best ones are some of the prominent things that need to do before picking up an item.
In addition to this, the hassle of shopping in open stores is pressure in itself.
But technology provides many solutions. Even to this problem, the internet has come with an easy way out. There is an online grocery delivery business model called Big Basket, which facilitates grocery shopping from the comforts of your home.
Channelization of the Big Basket Business Model works by purchasing farm products, vegetables, meats, and fruits, and then managing the stock of all these items in its warehouses. Let us dive deeper into some other vital traits of Big Basket Business Model-
About Big Basket Business
The stress of grocery shopping is an integral part of the story of every household. Tapping into this very arena, V S Sudhakar, Hari Menon, Vipul Parekh, Abhinay Choudhari, and V S Ramesh founded Big Basket. This company was founded in Bengaluru.
This troop had tried such a venture back in 1999 under the name Fabmart. This online store used to sell products like books, groceries, and toys. But, this store did not run well and had to be shut down.
In 2011, this group came together once again to form Big Basket. They worked hard and made sure that the venture succeeded. They targeted the young generation, which was highly techno-savvy. It helped them get a robust market.
Contemporary Significance of Big Basket Business Model
Big Basket has started flourishing in the last few years and provides services in 30 cities across the country and has more than 100 million customers. It processes more than 1 lakh of orders every day.
Big Basket is a proud seller of more than 18,000 products delivered every single day. The brand houses products coming from 1,000 different sellers and provides them with a platform to showcase and sell their products. Big Basket eliminates the role of go-betweens in the consumer-supplier chain. It saves a lot from the money of the customers.
The products manufactured by some of the best brands can be bought just within a few clicks. It has worked in favor of the working people who find hardly any time to go grocery shopping.
How Big Basket Makes Money?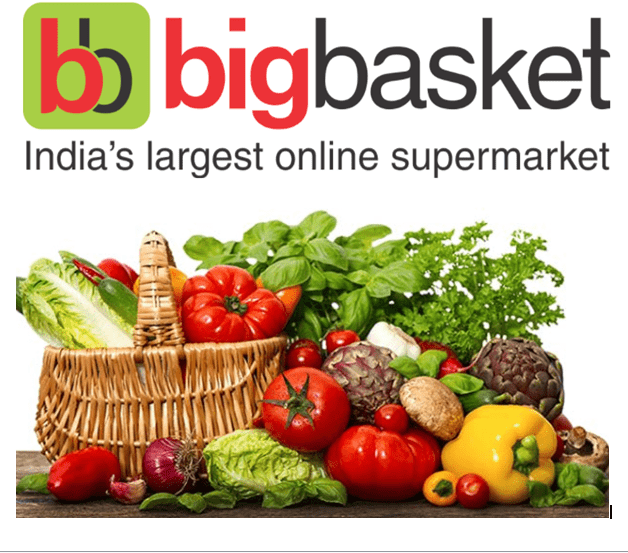 The business model of Big Basket has been curated in a way that ensures maximum profit to the company. Also, they take care that the hard-earned money of the customers is not wasted, and they get the right service at the right price.
Different revenue streams comprised of Big Basket Business Model include Merchandise Sale, Delivery Charges, Store Sales, Sponsored Content, and Sales Commission from local retailers, Feature listing, and Sponsored Content. Two models comprised by Big Basket Business Model for its revenue generations are-
1. Inventory model
This model helps them incur fewer losses on perishable items and gain more profits. Big Basket buys products from some of the best and largest brands of the country like P&G, HUL, and from mills and farmers as well.
The products are divided into two broad categories. One is of the perishable products, and the other is of the non-perishable products. The non-perishable products can be delivered in some time. But, the perishable ones need to be addressed before they get unusable.
Although the company wastes around 5% of their total revenue on perishables, it is not a very significant amount when compared to their overall profits. This model has brought in tremendous benefits for the company.
2. Hyper-local delivery
It is the second key point of the business model of Big Basket. Wherever grocery shopping is concerned, we all worry about the delivery. Several things can go wrong in the delivery of products.
There might be tampering done with the packets, and they may encounter other mishaps. Hence, Big Basket has come up with a delivery chain that promises the perfect delivery.
Big Basket has tied up with more than 1800 local stores. It ensures that the products get delivered well in time. It used to take a delivery charge of Rs. 30. It made huge profits for the company.
Since the tie-ups have proved to be very successful, they have introduced a new option called 'same-day delivery.' The user can expect the delivery on the very same day as the order was placed.
The warehousing techniques used are excellent. It takes care that even the perishable products last for a while until they are rightly delivered. Also, Big Basket has bridged the gap between farmers and consumers.
Strengths of the Big Basket Business Model
There are a few strong points about the business model of Big Basket that you can consider if you want to create a similar website.
1. User-friendly interface
Users do not like to surf websites that take a lot of effort and intricate work. Instead, they prefer websites that have a clear and easy interface.
In Big Basket, the functionalities of the website can be accessed very quickly, and it is easy to navigate through the options available. Users can place orders correctly, even in haste. It attracts more users to the website.
At Big Basket, they value each penny of the customer. Grocery is not luxury. It is an essential requirement. Hence, if they want the maximum number of customers, they understand that they have to sell the products at the right price.
Also, Big Basket introduces discounts and offers from time to time. They give advantages to new customers as well as old customers. It provides a better shopping experience for everyone.
3. Great customer service
Customer service is the soul of every business that deals directly with the customers. That is why Big Basket ensures that they provide excellent customer service at all times.
The delivery techniques which they have adopted work great for them. It ensures on-time delivery and maximum convenience. The management team and marketing team continuously work towards expanding the client base of the company.
Additionally, the grievance redressal cell also functions very well. The customers do not have face any inappropriate or impolite behavior from this staff. The company aims to resolve the issues without much delay.
Final Thoughts!
Big Basket is one of the most beautiful online stores for purchasing essentials and grocery items.
The business model, which is explained here, has given them tremendous profits.
Now on the concluding note, we hope the Big Basket Business Model would have inspired you in thinking in an innovative way to come up with a business model that can fulfill the current demands in the market.
How profitable do you consider the business model of Big Basket in your locality?
Liked this post? Check out the complete series on Business Models