Google's business model is a multinational internet-related product & service business model which includes their main product – a search engine, online advertising technologies, Google cloud computing, software, and hardware.
Founded in the year 1998, Google is a gigantic technology corporation from the USA. It is also understood that Google's business model is based upon hidden business models because, in this, users do not pay for the Google services and the main revenue comes from the paid media.
Brief History of Google
Larry Page and Sergey Brin founded Google when they were Ph.D. students at Stanford University in California. Its domain name www.google.com was registered on September 15, 1997, and Google as a company was incorporated on September 4, 1998.
In the beginning, Google was funded by an August 1998 investment of $100,000 from Andy Bechtolsheim who was the co-founder of Sun Microsystems. In addition to this, Google also received money from three other angel investors in 1998-
Amazon.com founder Jeff Bezos
Stanford University computer science professor David Cheriton
Entrepreneur Ram Shriram
After this, the few additional small investments occurred through the end of 1998 to early 1999 and then a new $25 million round of funding was announced on June 7, 1999, that also had the investors like venture capital firms Kleiner Perkins and Sequoia Capital.[
In the year 2015, Google was reorganized as a wholly-owned subsidiary of parent company Alphabet Inc which is actually created through a restructuring of Google. By replacing Larry Page, Sundar Pichai became the CEO of Google on October 24, 2015, while Larry Page became the CEO of Alphabet. But on December 3, 2019, Sundar Pichai was also appointed as the CEO of Alphabet.
Google Mission Statement
The mission statement of Google is to
Organize the world's information and make it universally accessible and useful.
What is Google Business Model Canvas?
For those who are regular users of the internet, Google is a site that is pretty common for sure. There is simply not a single speck of doubt about the fact that Google is the most important and popular site all over the world.
The company has managed to secure the top position in the list of the best sites in the world. Not just that it is one of the most popular search engines as well.
So, there is no doubt that a company like Google would have a very great business model. The business model of a company like Google would really be the inspiration and useful for the other companies who want to create a business strategy that Google did.
The Google model can appear to you somewhat complicated, which it is. Though, when broken down into main sections, the Google Inc. business model becomes clearer. Here are the different areas that are covered under Google Business Model Canvas-
1. Partners of Google Business Model
Users, advertisers, content producers, suppliers, distributors, the Open Handset Alliance, and original equipment manufacturers are among Google's key partners.
2. Key Activities of Google
Key activities include research and development for the creation of new technologies and features as well as the enhancement of current ones. Crawling, indexing, marketing, building ecosystems, improving searching, searching, matching, and presenting.
There is also a substantial amount of effort spent on the upkeep and management of enormous IT infrastructures, goods, and services. Aside from that, marketing, strategy, and relationships are being worked on as well by Google.
3. Google's key resources
They would include data centers, servers, and other IT infrastructure, IPs, and human resources. Patents, licenses, and proprietary content are examples of additional resources. Google has three important resources-
The index
The index is Google's database of all the material that is readily accessible to its spiders as they trawl the web. The faster and more consistently the index can be updated, the more accurate search results can be given.
Search algorithm
The algorithms (which are numerous) select which pages in the index should show in search results and what order. These are aimed towards various goals, including increasing user relevance and value, reducing low-quality results (keyword-stuffed sites or off-topic pages), and improving advertising performance.
The processing power
Finally, computational power provides all of this. Computing power, in my opinion, is a combination of physical assets, software assets, and the people who produce the software. Cables, data centers, and the Google VPN are examples of physical assets. The codebase and the websites are examples of software assets, whereas the code is created and optimized by people.
4. Value Proposition
The Company's goal is to provide value to its clients in the areas of internet search, advertising, operating systems and platforms, and enterprise. The mission statement's overriding idea is to organize the world's knowledge and make it widely accessible and valuable.
5. Channels
Google.com, Google affiliate websites, and Google Adwords are all ways to contact clients. Sales and support teams are two ways to reach advertisers and network members.
6. Customer Relationships
Sales and support services, as well as dedicated teams for bigger clients, are being used to develop customer relationships.
7. Segments for customers
Google has three major client segments-
Users who can organize information in meaningful ways using Google goods and services
Marketers who can show online and offline advertisements to customers at a low cost
Google Network Members and Other Content Providers who utilize the AdSense service
Other expanded categories may include mobile device users, manufacturers, and developers.
8. Cost Structure
Google's primary costs are IT infrastructure, personnel, R&D spending, and marketing charges. Hence, the general cost structure of Google includes-
Research and development
Traffic acquisition costs (TAC)
Sales and marketing
Data centers
General, administrative and legal operations
9. Revenue Streams
The Company's major revenue source is its ad-powered search engine. This might account for up to 95 percent of total revenue. Google Ads, Google Shopping, Google AdSense, Google AdMob, YouTube, etc are integral to the advertising revenue streams of Google.
In addition, Google Pixel (smartphone brand of Google), YouTube premium, and Google Cloud also help Google make money.
Google is also investing in other acquisitions like Waze, DoubleClick, Motorola Mobility, Looker, ITA Software, and Fitbit. Plus, some of their future investments incorporate different technological innovations such as Loon, Wing, Waymo, Verily, and Sidewalk Labs.
Industries covered by Google's Business Model
Different industries covered by Google's products and services are-
Internet
Computer software
Cloud computing
Advertising
Artificial intelligence
Computer hardware
Products, Services, Acquisitions, and Partnerships of Google
Google Search Engine
Google Docs, Google Sheets, and Google Slides
Gmail/Inbox, Google Calendar, Google Drive
Google All, Duo, and Hangouts for instant messaging
Google Translate for language translation
Google Maps, Waze, Google Earth, Street View for mapping and navigation
YouTube for video sharing and Google Keep for note-taking
Google Photos, Android mobile OS, Google Chrome Web Browser, Chrome Operating System
Nexus Devices, Google Pixel Smartphone, Google Smart Home Speaker, Google WiFi mesh wireless router
Google Daydream virtual reality headset
Google Fiber, Google Fi, and Google Station
To understand the Google business model, you need to go through different segments of the Google business model and dive deep into the products of those segments
Business Segments of Google Business Model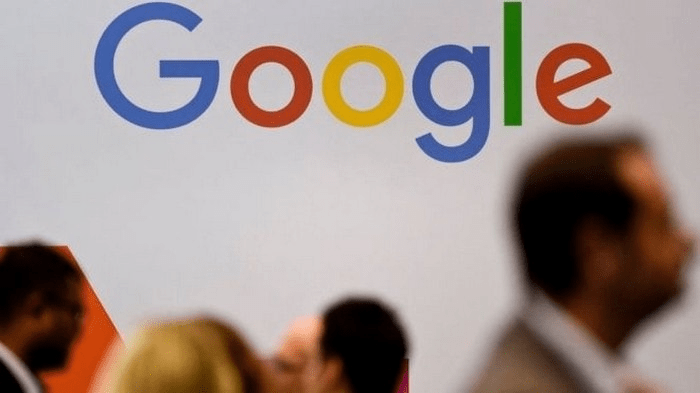 The channelization of the Google business model is associated with different segments. Now we will be going through those segments one by one:
1. Search Engine Segment
This is the most important segment of Google's business that also plays the most significant role in helping Google generate good revenues. Different product of this segment is-
Google Search
Google Books
Google Photos
Special Searches
2. Advertising Segment
Advertising is very significant in helping the business model Google generate good revenues. It lets businesses, marketers, and advertisers run ads on Google for which they pay Google a fixed amount. Some of the products that come in this segment are-
Google AdWords
Google Analytics
Google AdSense
Google Ad Mob
3. Enterprise Product Segment
Key products of this segment are-
Google Search Appliance
Google Apps
4. Productivity Tools Segment
Google also offers some of the most useful productivity tools to its consumers. Let us have a look upon those as well-
Gmail
Google Drive
Google Doc
Google Code
Google Calendar
5. Additional Products
Google News
Google Phones and Android OS
Google Fiber
Google Goggles
Google Chrome
Now, as you are well aware of the things that the business model Google channelizes for serving its customer base, the time has come to understand how Google makes money-
How does Google Make Money?
The search queries that are made on Google are increasing every single day, and there are more than 1 trillion of these searches that are done on the platform of Google every single day.
So, there is no doubt that it is one of the most amazing sites in the world that is used by more than 90% of the people who are using the internet in the best way.
Hence, we are going to have a little discussion about it for sure.
Let us see how Google Search helps Google in making money through the image below –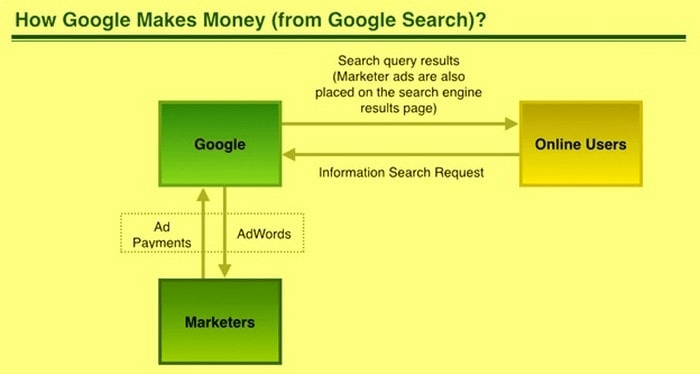 Users send a search request to Google, and then Google provides relevant results.
Now, marketers and businesses use this system to run their ads using AdWords by paying to Google, so their products and services can top the relevant search results as the answer/solution to the query of the user.
It is a fact that Google gets most of the money from the advertisements in the best way, so first; we will understand that-
1. Advertisements Help Google in Making Money
When it comes to the advertisements that are on Google most of the time, there is just one thing to say for sure. These help a lot when it comes to the generation of the revenue in the best way. However, for the advertisements, there are three different components which are a great help for sure.
Well, these are AdWords, AdMob, and AdSense. There is no doubt that without these three components, Google will not be able to advertise in the best way. Now there are different tasks for every single one of the components that are mentioned here-
Role of Google AdWords
For example, Google AdWords is something that can be considered as a targeted platform for advertisers out there who want to develop as well as launch certain campaigns on behalf of Google Engine in the best way.
The advertisements that will be allowed to display on the internet are selected with the help of Google AdWords. So, it can be said that it is one of the most important and amazing components for Google Advertisements in the best way.
Role of Google AdSense
Now when we come to AdSense, there is just one thing to say. This component is basically publisher-oriented, and it is a platform that can be used by publishers from all over the world who want to make some money by posting the advertisements that they have on their websites.
So, there is simply not a single speck of doubt about the fact that they will be able to be a part of the important Google Display Network in the best way. Now, who wouldn't want to be a part of it, right?
Role of Google AdMob
Now we come to the last one of the components, and it is known as AdMob. Well, this is one of the components which has the same properties as AdSense. However, there is some difference between these two options, and it is this that AdMob can be used for mobile platforms.
We are here to tell you that with the help of these two amazing components, there is simply no doubt that Google will be able to create amazing advertisements which are going to be the best help that it needs to generate the money.
2. Google Shopping Ads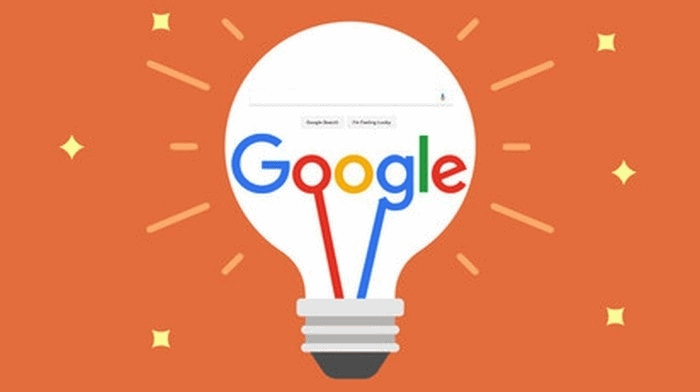 This is yet another component of the business model Google. There are so many different types of ads that Google has in the first place. So, we can say this without any form of doubt that people need to know about some of these ads so that they can have an idea about the fact that Google can make money with the help of these amazing ads for sure.
The search engine is something that uses the amazing Google Shopping ads in the best way. These are the ads that are pretty useful when it comes to picking out the amazing target customers and shoppers who will be impressed by the ad format that the Google Shopping ads have.
So, we can say this without a doubt that it is going to be the best thing for the Google Company for the generation of some revenue in the best way.
We are here to tell you that these shopping ads on Google are one of the major contributors to the amazing revenue that the company has got in the first place. Of course, there are some other options as well, but this is one of the primary factors for sure.
3. Revenue Generated from Google Maps
This is certainly one of the most important factors that contribute in a large way to the revenue that is generated by Google for sure. There are Google Maps which are used by the users who want to have some directions from one place to another.
There is a pretty large user base for the amazing Google maps, and it gets the amazing revenue from the API that has which is particularly used by the companies such as Trivago, Uber, Pokemon Go and so much more.
The product pricing that is paid by the users will be directed towards the company in the best way. Hence, it is certainly a fact that Google Maps is one of the biggest generators of revenue for Google Company. This is something that people always need to keep in mind for sure.
4. Revenue Generated From Google Translate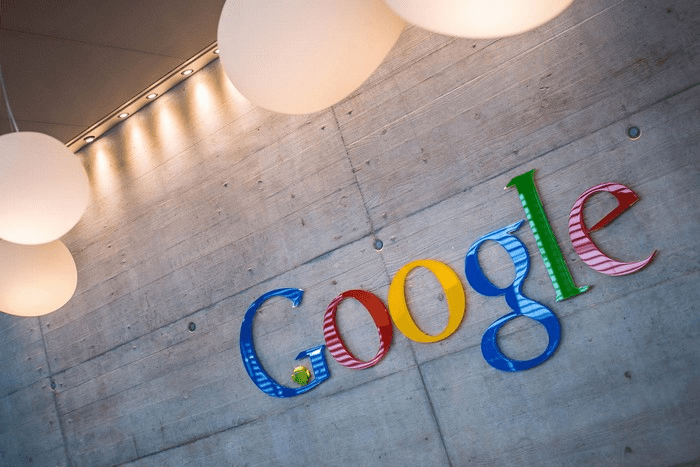 We talked a bit about Google Maps, and just like it, there are another one of the amazing applications which are known as Google Translate, and it is also another one of the free applications that users can use to translate pretty much anything.
Despite the application being free of cost, there is no doubt that it is an application that can make a lot of money for the Google Company.
The reason behind this is that the businesses and the amazing individuals are constantly using the Google Translate application and the API integration that it has can help it make money in the best way.
So, that is one of the most important things that people need to keep in mind about Google Translate for sure.
e. Revenue Generated from G Suite
Here is another option for the Google Company from which it can make a lot of money for sure. G Suite is something that can be considered as the amazing brand of cloud productivity in the best way.
There are collective and collaboration tools provided in the G Suite such as Docs, Hangouts, Gmail, Calendar, Drive, Sheets, Sites, and so much more in the most amazing way for sure. The brand would operate on a business model which is freemium for sure.
The user will be able to get a cloud space with is limited, and the features that are provided are pretty much free until and unless the user wants to upgrade and for that, he has to pay so that he can use it for his business in the best way. So, that is also one of the ways Google can make money.
Google Swot Analysis
Google's Strengths
Leadership: Google is the undisputed market leader in the internet search engine sector, and no competitor has emerged as a threat.
Value of brand-Google's brand value is one of the most well-known in the world, and according to Forbes, it is the second most valuable, trailing only Apple.
Technology advancement-Google's processing engine can handle over 40,000 inquiries per second or 3.5 billion per day.
Income: Google's massive revenue has secured one of the world's quickest growth rates, allowing the business to spend on innovation, new products, and acquisitions regularly.
Google's Weaknesses
Privacy rules: Google is regularly questioned about its internal practices regarding the concealment of information about its algorithms and other related issues.
Overdependence on advertising: More than 80% of Google's revenue comes from advertising, which might suffer from the competition and political/economic circumstances.
Boycotts: Major businesses have boycotted Google and YouTube because their advertisements appear alongside extreme content.
Google's Opportunities
Fitbit- Google has purchased Fitbit to access the burgeoning wearable (smartwatch and fitness band) industry. It can prove to be an extra source of income for it.
Cloud services: Although Google remains third in this sector and trails the leading two in terms of services supplied, the firm is investing in this area to improve it and diversify its income sources.
Google Meet: As a result of recent pandemics, Google has capitalized on the demand for remote work solutions.
Expansion: Emerging economies are receptive to cloud services and high-speed internet, so Google is going for it.
Revenue diversification: Google has companies to diversify its revenue away from reliance on advertising.
Google's Threats
Business share: The internet advertising market is seeing competition, particularly from Facebook and Amazon, stealing share away from Google in terms of online marketing.
Anti-encryption: Governments and child welfare organizations are advocating for the abolition of encryption technology to ensure that child exploiters online be exposed as soon as possible. The absence of user anonymity, on the other hand, may cause Google to lose clients.
Political strife: Google had planned to sell cloud services in China, but the idea was scrapped owing to geopolitical issues with the government. If this problem reoccurs in several nations, it may have an impact on worldwide operations.
Now, you've got a perfect analysis of Google's Business model. Let's move forward to learn about the key resources in the Google Business model canvas.
Wrapping it up!
In the end, we would like to say that the business model and the revenue model of the Google Company depend on a lot of factors for sure.
Apart from the options mentioned above, there are so many other ways with the help of which Google can make money in the best way such as Google Chrome, Google Play Store, and other important apps and methods.
Hence, there is no doubt that people need to know more and more about the Google business model for sure. So, we hope that this article is informative for you.
Having any queries about the business model Google? Feel free to ask us in the comments.
Liked this post? Check out these detailed articles on
Topic of Business Models
Alternatively, check out the Marketing91 Academy, which provides you access to 10+ marketing courses and 100s of Case studies.