Uber's business model is a multinational transportation network used for peer-to-peer ridesharing, ride-hailing, and bicycle-sharing. Founded by Travis Kalanick and Garrett Camp, Uber is an online cab booking service.
Uber allows customers to book and get a cab at their doorstep through the use of an app. It, primarily, works on a taxi aggregator model and a partnership model. As a two-sided marketplace, it connects drivers and riders via an interface and generates revenue by collecting fees from the platform's gross bookings.
In this post, we will learn about the Uber model of business and understand how it channelizes its business around the world. We will also be diving deep into the revenue generation mechanism of Uber to find out how the company makes money. So, let us get started right away –
What is Uber's Business Model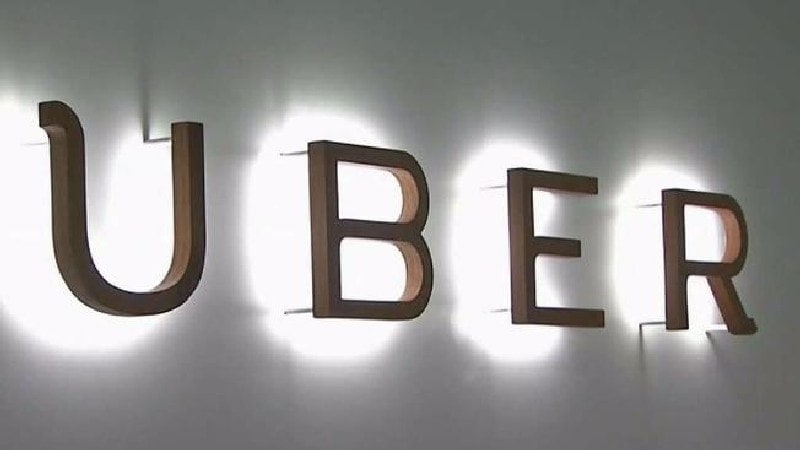 Uber is a platform business model that offers services like a vehicle for hire, couriers, food delivery (Uber Eats), package delivery, and freight transportation.
In the words of Dara Khosrowshahi, the CEO of Uber-
Uber started at a specific moment in the business world. When the "rise of smartphones, the advent of app stores, and the desire of on-demand work supercharged Uber's growth and created an entirely new standard of consumer convenience.
As one of the top-rated platform business models, Uber's channelization is based upon its five core principles-
Expanding access
Delivering reliability
Providing choice
Aligning needs
Being upfront
Some of the notable information about Uber are-
Founders – Garrett Camp, Oscar Salazar, Travis Kalanick
Founding Year – March 2009
Headquarters – San Francisco Bay Area, U.S.A
Total Funding – $24.2B (In 22 funding rounds as of Oct 2018, Crunchbase)
Major Investors – SoftBank Vision Fund, Tencent Holdings, Toyota Motor Corporation, and others.
Key Components of Uber Business Model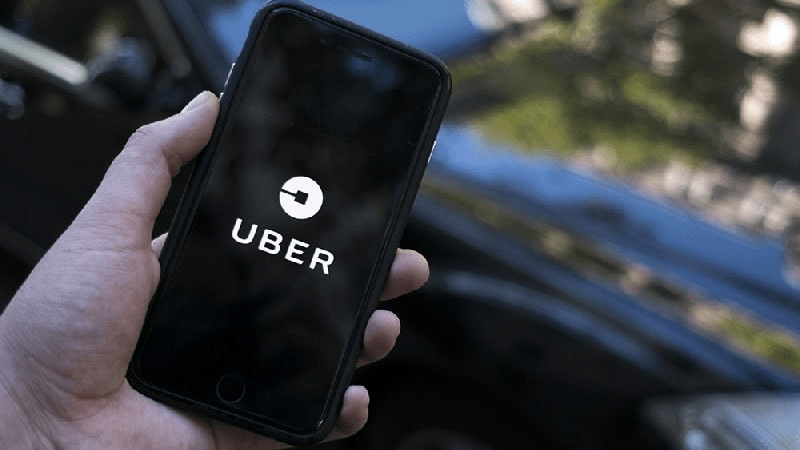 The business model Uber has three main components. Let us take a look at each of these components to get a better understanding of Uber's business model.
1. Passengers
The passenger is the initiator of the service. A passenger registers on the Uber app and books a cab whenever needed. In a customer-centric market, a passenger must feel relaxed and comfortable while using online cab services. It helps in customer retention and gaining loyalty.
2. Drivers
Drivers are one of the key partners in the business model canvas of Uber. Having a car and a registered driving license are the necessary perquisites to be eligible to be an Uber driver. A taxi driver is shortlisted after background verification. They get Uber phones to connect with the customers.
3. Payments
Passengers can use various modes to make payments such as credit cards, debit cards, cash, and online wallets. The total fare depends on factors such as car type, location, demand, peak hours, weather conditions, and distance.
Uber's Business Model Canvas
Let us have a look over all the key details around which Uber channelizes its activities and how does Uber make money-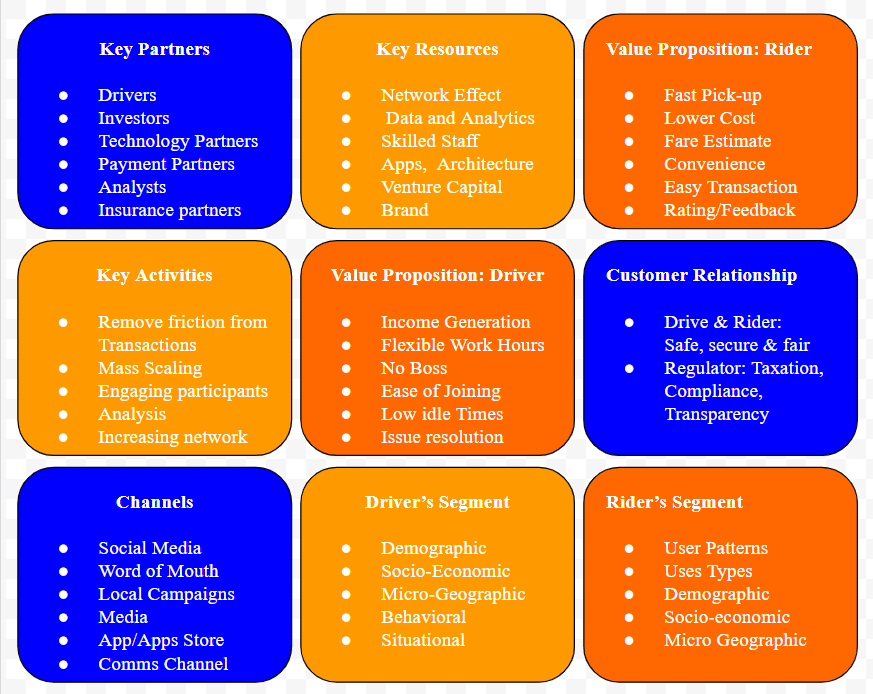 Uber's Value Propositions For Passengers
Ensures minimum waiting time
Offers prices lesser than normal fares of taxi
Offers cashless rides to its users
Enables users to see The ETA and track Cab on the map
Uber's Value Propositions For Drivers
Provides additional income opportunities
Offers simple to execute payment options
Ensures flexible working schedules and part-time work opportunities
Drivers also get paid to be online as well
Let us now understand different activities that are incorporated by Uber's business model-
Activities of Uber's Business Model
After all these years into the business, Uber is now considerably substantial. It provides service to many parts of the world. There are three fundamental tasks on which Uber has its focus-
Excellence in its operation,
New establishment and continuation of extension in more countries
Bring an improvement in the already existing value propositions and create fresh ones
From the viewpoint of a business model, these three tasks can get classified into a decrease in the search, cost of transaction and post-transaction, enhancement in the positive effects of the networks, and reduction in the negative ones.
Here are some instances of these activities-
1. Remove friction from all interactive sessions
It includes the showing of cost while searching, enhancing the pickup points (accuracy of location and spotlight), and other non-technological improvements.
2. Remove transaction costs and negative experiences
The safety need is a two-way process for both the driver and the rider. It is inclusive of rating and other measures.
3. Reduce the risk of safety
It includes a risk of negative couverture and increases the concern of regulatory.
4. Improving technical lead
An improvement in the proprietary technology is crucial.
5. Improving the App
It shall involve an enhancement of the application. The customers' feedback area shall also receive an improvement.
6. Engaging key participants
It is necessary to keep the participants engaged and boost up their ongoing participation. It involves promotions, notifications, and rewards.
7. Using surge pricing
A surge in the price can help maintain a balance between the driver and the passenger. This way, the waiting time for the passengers and the idle time for the drivers can reduce. It is a type of dynamic pricing.
8. Expansion
Expand to more cities and countries. The premium resources shall provide more growth.
9. Improving value proposition
The regular passengers shall get to enjoy cheaper rides through Uber Pool and Express Pool. This way, there is a continuous improvement in the value proposition.
10. Development of new products
Uber Eats and Uber Freight are two of the latest products. But there shall exist more products to enhance the Uber business canvass.
11. Adding complementary value propositions & reward programs
The addition of a complementary value proposition is one great idea. The loyalty and rewards program shall undergo some refining and development along with some add ons. Finally, they analyze the data to check that there is a balance between everything.
How Uber Ride Business Model Works
Working of Uber revolves around requesting a cab, matching, ride and payment, and rating. Below given steps channelize the working of Uber's business model-
After registering on the app, the passenger requests a cab. For requesting a taxi, a passenger has to enter the pickup and drop-off locations.
After entering the locations, the app shows the different types of cabs available nearby along with the estimated fare for each kind of booth.
After selecting the appropriate cab, the passenger chooses the method of payment and confirms the cab.
After the passenger confirms the cab, a signal goes to all the nearby drivers who have logged into their Uber apps. This signal is routed through the Uber servers.
After the driver accepts the request, the passenger receives the confirmation along with driver details. The passenger can contact the driver and track their location using the Uber app.
The ride starts when the driver picks up the passenger. It ends when the driver drops the passenger and takes the payment.
After the end of the ride, the passenger gets an option to rate the trip and give feedback. It is optional for the passenger but, the company needs the feedback to gain knowledge about customer experience and enhance it, if necessary.
Ride options offered by Uber
UberX: The basic Uber ride
Uber Comfort: New cars with extra legroom
Uber Pool: Shared rides
Bikes: On-demand electric bikes
Uber Auto: On-demand auto rickshaws
Uber Green: Electric vehicles
Uber Black: Luxury cars
Uber WAV: Wheelchair accessible vehicles
Scooters: Electric scooters
UberXL: Vehicles with a carrying capacity of up to 6 people
Uber Transit: Real-time public transport information
Uber Black SUV: Luxury SUVs with top-rated drivers
Uber Lux: Luxury vehicles with top-rated drivers.
Uber Flash: A specialized taxi system designed for HongKong
Uber Taxi: Local taxicabs partnered with Uber
Uber Air: Flying vehicles, etc.
Let us now have a look at the assets and resources that enable Uber to run its business-
Assets or Resources of Business Model Uber
1. Network Effects
The network effects form the most crucial part of the assets. The resources shall undergo proper building and development. It shall also get some nurturing time and again. If the relationship between the customer and the company radiates negativity, then the positive effects of the network also diminish. One of the essential things is the network effects between the driver and the passenger. Uber highlights the point in every briefing to the investors.
2. Users & Uber Drivers
An active list of drivers and users is also crucial for the successful channelization of Uber's business model. They help Uber in optimizing the market share.
3. Data Assets
It includes data that the user needs and other external data.
4. Technology and analytics
Analytical capabilities, newer technologies, algorithms, and many more form another crucial part of the asset.
5. Employees
The resources shall also include local staff, skilled engineers, and other staff.
6. Brand value
The brand itself is an asset on its own. It is presently ranking at 87 in the Interbrand Index with a brand value of $5.7b.
7. Digital Assets
Some of the resources for the digital platform include an application for the users, an application for the drivers, an application for the users of UberEats, two distinct UberEats app – one for the restaurants and another for Manager app, website (that stands at 1200 according to Alexa rank), and a stack for tech.
Channels for Awareness & Customer Acquisition
The primary awareness and customer acquisition may include some of the following ways.
1. Word of mouth
It is one of the traditional methods of awareness. People who are the initial users of the service can spread awareness about the same through word of mouth.
2. Free coverage of the media
Whenever Uber starts its service in a new country or city, it gets multiple backings without any expense. It can also get some negative coverage. But it does not stop users from availing of the service.
3. Campaigns
Uber provides free vouchers and offers when it initiates its service in a new city or country. The distribution can take place in public vehicles, parks, stations, discount offers or promo codes on the app, and many more.
4. Social media campaign
Social media platforms are beneficial because of the number of users and followers they have. It includes Facebook (22 million likes), LinkedIn (1.6 million followers), Twitter (1 million followers), Pinterest (450 thousand viewers per month), and YouTube with 400 thousand viewers.
5. Advertisement campaigns
Campaigns through advertisements on Google Ads and on other social media platforms.
6. App stores
App stores are another way to spread awareness—the availability on app stores along with ratings, ads, and features.
Daily Transaction Channels of Uber
The application is the primary source of all the daily transactions that take place at Uber. It is inclusive of the orders. Apart from that, it also includes issues, helps, and many more.
A user can sign-up using the website or App. It also helps in solving the mystery of joining through the app. It includes the joining procedure, the working of the application, any step that contributes towards the safety concern, and the collaborations of Uber with various cities and communities.
The help pages of Uber also provide the channels for daily transactions. The application helps in engaging its users through emails and notifications. In turn, it helps in stimulating the participation of the users. This way, it can promote special offers and promo codes and recover through inducing reminders.
The most active social platform is the official page of Uber on Facebook, which has twenty-two million likes. It reflects the relation between the users and Uber. The page gives an immediate response to all the queries.
Uber provides customer support channels with tiers. There is a team to support high-volume and issues regarding low-severity. It also has customer service with multiple tires for problems that have more severity. The salesforce acts and serves the CRM software of Uber.
Customer Segments of Uber Business Model
There are two segments of customers that are part of the Uber Business Model-
1. Users Uber
Uber users are-
Those who are not having a car
Those who do not prefer driving themselves to any function, event, or party
Those who wish to get treated in style or as a VIP
Those who look for cost-effective cab options
2. Drivers Uber
Uber drivers are-
Those who have a car and wish to earn money
Those who enjoy driving
Those who want to be called partners and not drivers
Uber can gain from both the sides of the driver and the passenger by segmenting them. The purpose gives clarity on which the basis of the distinction between micro-segmentation and market segmentation occurs for Uber.
Data segmentation has multiple uses. It includes focusing on users who have significant or personalized offers, enhancing the frequency of the usage, developing new products, and many more.
Here are some ways through which Uber can segment its customers and drivers by following the traditional techniques of segregation-
Rider Segmentation
Geographic-It depends on the geographical area. It includes the destination or the frequent destination that the rider uses, location of the home, tracking the user's location. Another way may include whether it is an urban localization or rural.
Demographic- It depends on the age and the age group, gender, life cycle, occupation, and physical stability or unstable.
Behavioral – It depends on the loyalty, personality, and status of the user.
Psychographic – It includes the social class of the rider.
Driver Segmentation
Here are some factors on which the drivers are segmented. It is as same as the passengers – geographic, demographic, behavioral (the working hours they prefer), occupation and education, pro-level (full-time or part-time driving with previous occupation detail), and offerings.
How does Uber make money?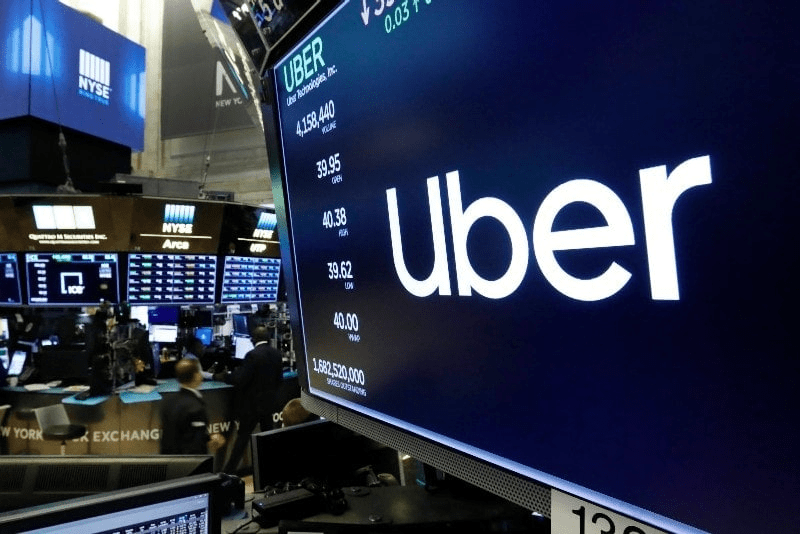 To understand how Uber makes money, we will look at Uber's revenue streams to earn money.
1. Uber Freight
Uber offers freight services to shippers who pay a pre-determined price to use these services. Car rides on per Km/mile basis pays a key role in helping Uber generate its money.
2. Uber Eats
This is an online food delivery service. It connects restaurants with potential customers. Customers can order food from nearby places and get it delivered to their doorstep.
Uber charges restaurants a commission to get the customers.
This commission depends on the value of the order. Uber also charges drivers who use its platform to deliver food. This charge depends on the delivery fee and the amount earned by the driver.
3. Promotional Partnerships
Uber has a vast customer base. This creates an opportunity for other brands to enter into a partnership with Uber to gain more customers.
Uber charges a commission from these brands to advertise their products and services. Uber, generally, collaborates for a campaign with these brands or displays their ads on the Uber app. These partnerships benefit all the parties involved.
Uber gets money, brands get new customers, and customers get several offers and benefits.
4. Commission
Uber's business model covers several cab services such as Uber Black, Uber rideshare, Uber taxi, Uber X, Uber SUV, etc.
Under each of these services, Uber charges a commission from the drivers for each ride. This commission is taken on the total fare charged for the trip.
The total fare charged for the ride depends on the base fare, whole time taken for the ride, distance, airport fee, demand, convenience fee, service tax, toll and parking fee, cancellation fee, fees paid for advanced booking, type of cab booked, and fare based on distance per kilometer. The rate of commission is 20%-25%.
Uber also uses techniques such as surge pricing to calculate the total fare for the ride.
Customers have to pay high prices in case of traffic congestion, bad weather, public holidays, or high demand.
Uber is transparent about this policy and informs the customers beforehand about the price surge.
This was all about the revenue model and Uber's business model. Some key data associated with the revenues of the Uber business model are-
Revenue US$11.27 billion (2018)
Operating income US$2.836 billion (2018)
Net income US$1.8 billion (2018)
Total assets US$23.988 billion (2018)
Total equity US$10.333 billion (2018)
Let us now find out the key takeaways from the business model canvas of Uber.
Uber's Potential Future Revenue Streams
Electric Scooters
Bike-Sharing
Autonomous Vehicles
Other key Outcomes of the Business Model Uber
Uber provides more than 1 million cab rides in a day even though it does not own any fleet of cabs. This shows the importance of the partners' network and how even a no/less ownership business model can work effectively.
Uber expanded on a step-by-step basis. It started with cab services and later took a step into other services. This was crucial for its success.
Uber treated its customers as the king. Initially, it offered discounted rides to gain more customers and was able to retain them with excellent customer service.
Uber treats its workforce respectfully and gives its drivers a significant part of the total fare.
Comparison between Uber services and Taxi services
Uber provides better services while comparing to taxi. It has other products in the pocket apart from riding services. It provides food delivery service as well. There is an app to book the ride. It also shows the estimated price for a particular ride. It has promo codes and offers in place time and again.
On the other hand, taxi provides riding service only. There is also no fixed price or rate for the ride. Taxi does not provide food delivery services. Apart from that, the taxi does not have any offers or promo codes.
A Final Word!
Uber is one of the biggest online cab service providers in the world. They have solved the problem with local taxis, adopted customers well, tapped growth opportunities, and used word of mouth advertising to gain and retain such a vast customer base.
All this has been paramount in the success of the business model canvas of Uber, and the fact that people, nowadays, hardly compare before choosing an application to book cabs is evidence of it.
Uber has been a game-changer as a taxi company as well as a business model and it has inspired many other startups around the world. It is successful and only going to grow bigger.
So, what do you think about Uber's business model? What is the most fascinating about the Uber business model according to you? Share your views with us in the comments.
Liked this post? Check out these detailed articles on
Topic of Business Models
Alternatively, check out the Marketing91 Academy, which provides you access to 10+ marketing courses and 100s of Case studies.