Business incubators are the programs, companies, or workspaces especially designed to help young startups or new ventures get access to all the resources and services of their needs under one roof. They help early-stage companies to innovate and grow by offering them professional services and resources of their needs.
A business incubator is an organization that offers a variety of services to help startup companies and individual business owners expand their businesses, from management training through office space to startup capital investment. Business incubators help young companies and startups overcome these challenges by fostering growth, expansion, and increasing efficiency through a dynamic approach. An incubator program generally provides mentorship, workspaces, education, investors, etc to startups or sole entrepreneurs.
What is a Business Incubator?
Definition: A business incubator is defined as a program or organization that assists and enables startups, early-stage companies, entrepreneurial ventures, or individual entrepreneurs to develop their businesses and channel economic growth by offering them a wide range of services and resources such as educational programs, management training, office spaces, venture capital financing, etc.
Private corporations, local authorities, and public institutions, such as universities and schools, frequently support business incubation programs. Their mission is to assist emerging firms in starting and growing by providing required assistance and financial and technical services.
Importance of Business Incubation Program
The incubator facility helps companies and startups to shape their ideas into fully-functional business models while operating at a lower cost during their early stages.
According to the National Business Incubation Association (NBIA)
Business incubators are a catalyst tool for either regional or national economic development.
All in all, incubated companies get a wide variety of support from incubators ranging from physical space and shared resources to providing mentorship and seed funding to become a successful business.
History of Business Incubation
Business incubation concepts began in the US in the year 1959, as Joseph L. Mancuso came up with the Batavia Industrial Center in Batavia, New York. Then the concept of incubation expanded in the U.S. in the 1980s led it to spread in UK and Europe with different forms such as innovation centers, technopolis/science parks, and pepinieres enterprises.
As per the U.S.-based International Business Innovation Association, more than 7,000 incubators are functional worldwide. While according to the European Commission 2002 estimation, there are approximately 900 incubation environments present in Western Europe.
Nowadays, the incubation environments are also being popular in developing countries, as interests in financial support from organizations such as UNIDO and the World Bank are gaining prevalence all around the world.
Types of Incubation Services
In general, the incubation program helps small businesses, new startups, etc in planning, launching, managing, and growing their businesses.
They will help a new business in turning their great idea into a great business plan, converting their business plan into a reality, managing day-to-day operations, and preparing for success by finding the right physical space, new funding, and customers for growing and expanding the business models.
Some of the most common incubation services offered by most incubators are-
Helping with business basics
Channelizing networking activities
Offering marketing assistance
Helping in market Research
Ensuring high-speed Internet access
Assisting in accounting/financial management
Enabling to get bank loans or loan funds, or guarantee programs, etc
Assisting with presentation skills
Networking with higher education resources
Connection with strategic partners
Connecting with angel investors or venture capital
Offering comprehensive business training programs
Assisting with advisory boards and mentors
Helping with management team identification
Training about business etiquette
Offering technology commercialization assistance
Assisting with regulatory compliance
Offering Intellectual property management, etc
Types of Business Incubators
Different types of business incubators are functional in specific industries or on the specific business models such as-
1. Virtual business incubator
These types of incubators are important for online businesses.
2. Kitchen incubator
Such types of incubators are associated with the food industry and related business models.
3. Public incubator
Such incubators are involved in focussing focused on the public good
4. Seed accelerator
These types of business incubators are focused on early startups
5. Corporate accelerator
These are understood as incubation programs of larger companies that work as seed accelerators
6. Medical Incubator
Such types of incubators are focused on medical devices and biomaterials or biotech startups
How Does a Business Incubator Work?
1. Forming a new cohort
Companies are chosen to become part of the new cohort in the incubator and have availability to all of the incubator's services and resources. They usually stay in the incubator for a few months to a couple of years. Entrepreneurs that remain in the incubator for more extended periods are more prevalent.
2. Mentoring and consulting services
Throughout the process, the company's management collaborates intensively with mentors and advisers to obtain the knowledge needed to effectively communicate the company's ideas to potential consumers and investors. At the same time, the incubator's team assists the businesses in establishing operational procedures.
3. The admissions procedure is extensive
Business incubator facilities are not open to all businesses. Potential applicants must compete in a rigorous and thorough admissions procedure. Even though each incubator sets its own admissions rules and design, the application form and in-person screenings are frequently part of the admissions process.
Incubator Benefits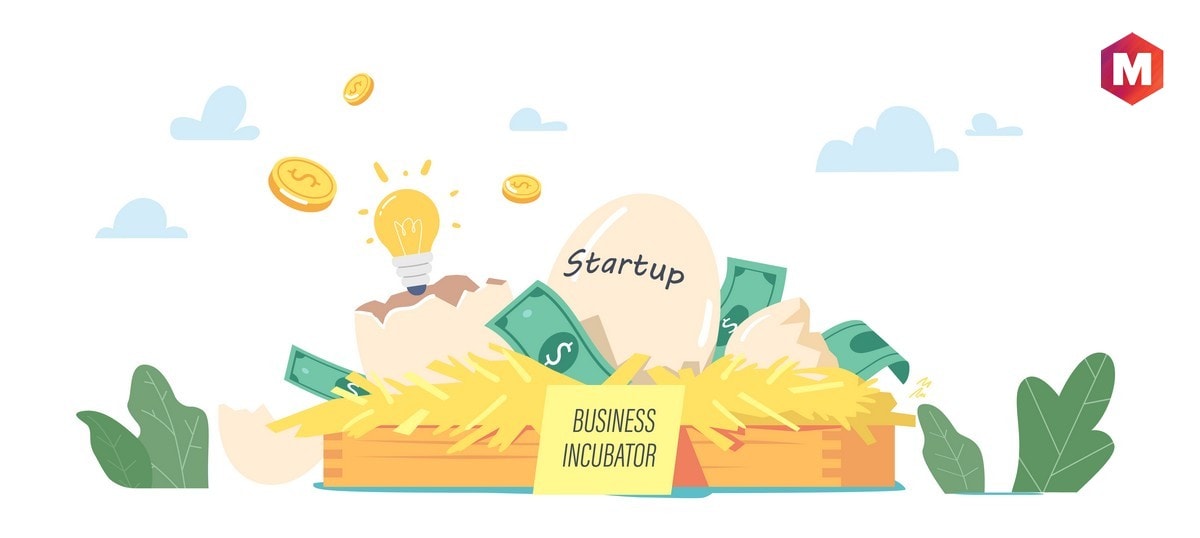 Incubators provide the following benefits
Consider an incubator that could provide your company with perks such as workplace and services, mentoring, knowledge, impact, and occasionally funding to assist your company to grow.
It is certain that investors have faith in the incubator's ability to invest in the right companies and help them grow into successful enterprises. Having joined an incubator like this can offer you an edge when looking for funding.
An incubator's planned atmosphere and curriculum can assist a budding firm stay on track and expanding correctly.
Incubators may offer workshops and roundtable discussions as part of their company development activities. Incubators provide access to industry experts and advisors which would otherwise be unavailable.
In specific incubators, startups may access office necessities such as the internet, administrative help, and manufacturing equipment. Office services differ from one course to the next.
Your incubator must give you a free or low-cost workspace then, and you may save costs while you expand.
Disadvantage of Incubator
1. Rigid schedule
Incubators might take away from the demands of operating a business for some businesses. Training, seminars, and social events are frequently required as courses. While this knowledge may be disturbing to some, it may be highly beneficial to others that need it.
2. Time commitment
When it comes to Incubators, they move at a slower speed than accelerators and pre-accelerators, which offer planned, time-bound plans. They're ideal for businesses that require more time to develop.
3. Limited access
Incubators are selective to varying degrees. The programs with a better reputation attract more candidates and are thus more challenging to get into. At the most prestigious universities, the application procedure might be lengthy.
Examples of Business Incubators
Ever since the 1950s, business incubators have flourished. They've developed into a variety of shapes and sizes since then. Incubators come in various shapes and sizes, but they all have the same goal: to promote development.
While looking for incubator programs, you can come across the following types:
1. For-profit property development ventures
Larger companies build a slew of incubators for various reasons. These programs can serve as a source of capital and a tool to fund subsidiaries, create technologies, and form alliances.
2. Venture capital firms
Numerous venture capital companies construct incubators as an opportunity to make money. These incubators may take equity stakes in firms or provide money later on in the program.
3. Academic institutions
Many business incubators were operated by universities or have links to higher education institutions. Some programs cater to university students, while others welcome groups of fledgling businesses.
4. Nonprofit development corporations
Incubators are used by both nonprofit and government organizations to promote economic development. These programs may allow firms that are dedicated to the public good.
How to Choose a Business Incubator
Finding an incubator for any startup is a vast choice — particularly if you'll be giving up a significant amount of time and stock in exchange for the incubator's resources and experience. Before you pick a program, here are some features to watch for in a business incubator:
1. Track Record of the Incubator
How have comparable startups fared with the incubator's assistance? If at all feasible, reach out to graduates to get their feedback on the experience. On company websites, several incubators showcase graduating companies.
2. Location of the Incubator
Joining an incubator is similar to enrolling in a college program, as previously said. You'll need to be on campus–that is, near to the incubator–because you'll be attending class multiple times a week, if not every day. If you can't figure out the best fit closer enough yet to home, this may require shifting to be nearer to an incubator.
3. Privileges of Using an Incubator
Examine the incubator's services to evaluate whether they meet your requirements. Learn about the company's resources and services. Examine the mentors and advisers at the incubator to see whether their experience, talents, and networks are a good fit for your company.
4. Cost of an incubator
What is the cost of using the workspace and equipment? What are the financing conditions, or what proportion of equity would happen the incubator take, if applicable? Make sure the price corresponds to the amount of sacrifice you're prepared to make.
5. Curriculum for the Incubator
Several incubators have stringent training requirements and timetables. Examine the curriculum to ensure that it provides the skills you'll need to thrive in your business. Ensure that you can handle everything while still running your business.
Role of Incubators in Raising Investment Capital
Incubators are recognized for giving investors seed money in return for equity. For entrepreneurs seeking investment cash, an incubator may be a valuable resource. An incubator can aid in three different ways:
1. Direct solicitation
Angel investors, venture capitalists, and other investors are frequently approached directly by incubators. These programs, as well as their instructors, may connect your team with these crucial financing sources.
2. Pitch practicing
With the help of incubator coaches, you'll improve the overall business plan and make it more appealing to investors. They'll figure out and show you how to make a strong pitch and employ business techniques that investors value. You'll emerge from an incubator with a viable business.
3. Cost Savings
Usually, incubators offer low-cost workspaces as well as access to mentors. These methods can help a fledgling business retain money, which can be used as an investment.
Incubators vs. Accelerators
Many individuals confuse the words "incubator" with that of "accelerator," even though the two programs usually have different aims and timelines.
Incubators differ in purpose, but the majority exist to assist a founder or team in determining whether or not a company plan is viable and then setting them up for success. A few incubators have a limit on how long a firm may stay in the facility, although one to two years is common. Some incubators require business equity investment, while others merely charge a fee to use the space and access the various services provided.
Accelerators, but on the other side, are three- to four-month-long, fast-paced, related to the objectives. Many accelerators are competitive, have a limited number of participants, and may offer a financial injection upfront or upon completion of a goal. The majority of businesses think that using an accelerator would help them accelerate their growth.
How Does the Application Process Work?
In comparison to startup accelerators, it is frequently less competitive. To enroll in a business incubator, one must first register and be accepted into the program. Like accelerators and pre-accelerators, every business incubator has its application procedure. There are generally a few phases to the application procedure:
1. Apply
Respond to questions about yourself or your organization on an application form. A business model and a summary of your last business activity are required by certain incubators.
2. Interview
Interviews are often brief and meant to allow the interviewer to discover your background fast. It's generally just a quick video call.
3. Make a decision
The amount of time it takes to receive a notice might vary. In general, the time it takes for an incubator to reach an acceptance decision is quite short, usually only a few weeks. If you want to apply for financial help after you've been admitted, you can do so after you've been accepted.
Conclusion!
On the concluding note, it is clear that business incubators are like launching pads for startups or new businesses.
They help early-stage companies have the access to the resources they need to function, grow, and sustain.
How important do you consider business incubators for businesses around the world?
Liked this post? Check out the complete series on Business