A contract, whether written or oral, is intended to satisfy a promise – and when it is broken, breach of contract occurs. At these times, non-breaching party/parties can seek legal solutions.
Breach of contract is one of the main reasons behind different lawsuits for the damages in the courts around the world, regardless of how great the intentions and relations of the associated parties when going into a lawful contract, there are always chances of unanticipated situations putting things off track.
If such situations keep one of the members from satisfying his part of the contract deal, it might be viewed as a breach of contract. This post will take you deep into the world of contract breaking and help you understand what a breach of contract, its types, remedies, and other key idiosyncrasies are. So, let us get started right away-
What is a Breach of Contract?
At the time when individuals, people, parties, or organizations neglect or fail to play out a specific term of a contractual agreement without an authentic and legal reason, it is a Breach of Contract.
Different ways are there when contract breaking may occur like the inability of an associated party in finishing a job, inability to deliver products as guaranteed, not paying on time, crossing the deadline,  sharing confidential information, or any intentional or unintentional activity which shows that they won't do their share of work as per the contractual agreement.
Such contract breaching can happen one time, or it may comprise a series of breaches; and it occurs, the harmed party can file a lawsuit.
Here, you need to understand that solutions for these breaches are not intended to punish the breaching member. Instead, legal remedies of contract breaching are intended to put the harmed party (non-breaching party) into a similar position they would be in if the contract was not breached.
Let us now understand when breaching of contract may occur-
When does a Breach of Contract occur?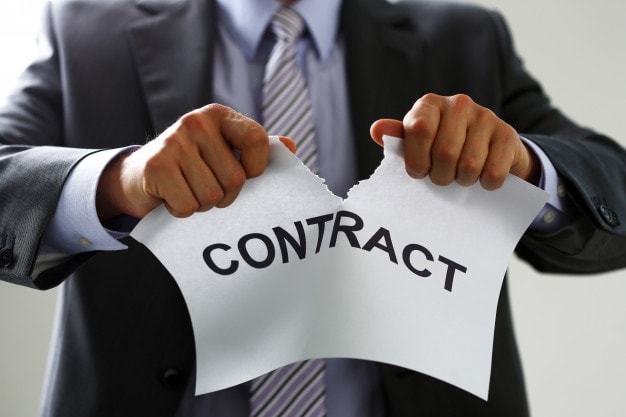 A business contract includes different legal commitments or obligations which have to be fulfilled by all the associated parties.
Contingent upon the particular terms of the contractual agreement, breaching may occur when any party neglects or fails to perform on schedule, doesn't act as per the terms of the contract, or doesn't do their share of activities at all.
For the most part, both written and oral contractual agreements are lawfully enforceable, so parties should even take caution while making handshake agreements as well.
However, it's consistently considered right and useful to settle for the written agreements of your contract with a hard copy, so it can ensure that the terms and subtleties of the contract are understood equivalently by all the associated members.
After all, breach of contract occurs at the time of failure in fulfilling the responsibility or duties as per signed terms of a contract. Some of the instances when contract breaching might occur are-
One party or more than one party doesn't proceed as promised in the contract
Any party or parties do something that makes it unthinkable for the other members to play out their obligations of the contract
Any party or parties clarify that the person won't play out the obligations of the contract
4 Types of Breach of Contract 
1. Material Breach of Contract 
This type of contract breaching occurs when any of the associated members get essentially lesser advantage or an altogether unexpected outcome in comparison to what was determined in the contractual agreement.
2. Minor Breach of Contract 
This type of Breach of Contract is also called an Immaterial Breach of Contract or Partial Breach of Contract. It alludes to circumstances where the other party eventually got the deliverable of the contractual agreement, yet the breaching part neglected to satisfy some piece of their commitments.
3. Anticipatory Breach of Contract 
In this type of contract breaching, the real breach has not yet happened, yet any of the associated parties have shown that they won't satisfy their commitments under the contract terms. So, anticipating that show, one of the members won't be intended to deliver or won't have the option to complete their duties.
4. Actual Breach of Contract 
This type of breach of contract is associated with breaching that has already happened. This means that the breaching party has either denied fulfilling their commitments by the due date or has played out their obligations, not entirely or inappropriately.
At the point when a contract breaching occurs, there are a few sorts of remedies the other party may opt for. These incorporate compensatory harms to address direct financial losses coming from the breaching of the contract along with consequential misfortunes, which are indirect losses that are the consequence of the breaching.
Different Remedies of Breach of Contract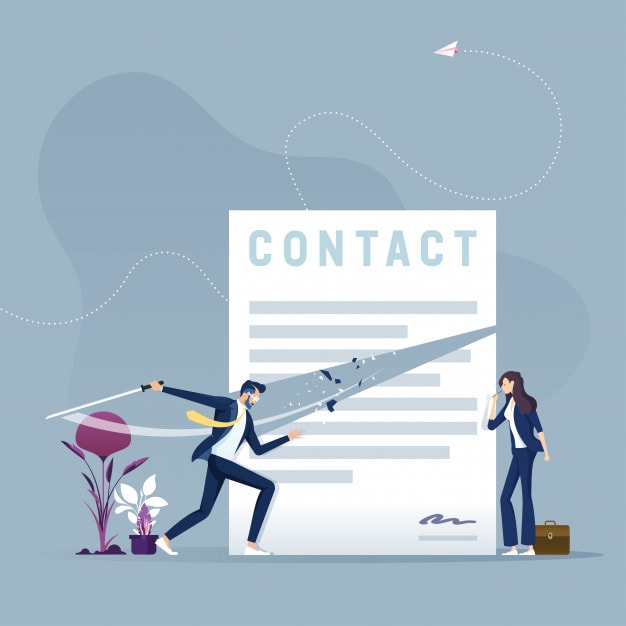 1. Consequential Damages 
In this remedy, the breaching party pays the non-breaching party a sum that takes the non-breaching party back to a similar position they would have been in if the contractual agreement was not breached.
2. Punitive Damages
In this, the breaching party makes a payment to the other party as a punishment for breaching the contractual agreements.
3. Liquidated Damages 
This type of remedy is included as a feature of the contractual agreement itself. It specifies that on the off chance that one party breaches the contract terms, then the breaching party must pay a predefined sum of the money.
4. Nominal Damages
In this, a minimal sum of the money is given if the non-breaching party wins the case however endures just negligible monetary losses.
Final Thoughts!
Business contracts are one of the most critical components of the business world, as they ensure that people, enterprises, organizations, and other types of associated parties stay faithful to their commitments or obligations and fulfill them.
Contracts are a thought upheld by the confidence, and then that confidence is upheld by the legal system.
In case of breach of contract, a non-breaching party can sue the breaching party with a lawsuit. But, here, you need to understand that lawsuits are not just the only option for solving contract disputes. Associated parties can agree to opt for a mediator review of the dispute or try binding arbitration of contract breaching.
And if filing a lawsuit is the only option left, a non-breaching party must discuss with a business litigation lawyer who can adeptly review your business contract.
That was all about the breach of contract.
What are your thoughts about business contracts and their breaching? Did you find the remedies shared in the post helpful?
Have you ever faced a breach of contract circumstance? Share your experience with us in the comment section below.
Liked this post? Check out the complete series on Business