The conversation isn't about proving a point: true conversation is about going on a journey with the people you are speaking with – Ricky Maye
Never has such true words been spoken as a good conversation is incomparable as well as stimulating. It is referred to as a prominent place for the meeting of minds and can touch any and every topic to satisfy all the involved parties. Speaking the right words at the right time in the right place is an art that everyone is not capable of.
The conversation is a gradual process that helps to build relationships, but what about the beginning. Starting a conversation when you do not know a person or even when you are acquainted with a person is a bit difficult.
For an extrovert, the conversation can be easy, whereas for an introvert starting, it is a headache, and finding the right words to keep the momentum going is a challenge.
How to start a conversation?
Are you looking for some ways to start a conversation efficiently? Well, do not worry as we are here to help you with this task. Just follow the points below and voila you will be able to see a marked difference in yourself within a reasonable period.
1. Introduce yourself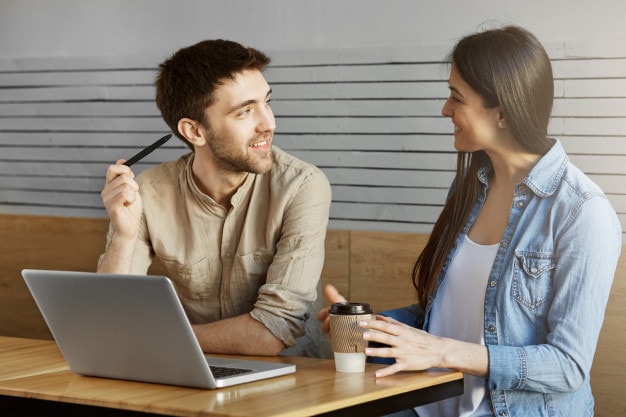 The first thing that a person must do when talking to someone he has not been introduced to previously is to introduce himself. It is one of the most straightforward ways to show an interest and start a conversation.
You have to start somewhere and why not through this overture. If you both are part of the same organization, it can prove an ice-breaker, and then you can take the conversation forward by putting forth follow-up questions.
2. Practice conversing
If an individual can converse fluently, it is considered one of the best soft skills and is in high demand in organizations. He looks approachable and can develop a network of friends quite easily.
Practice conversing if you are looking for ways to start a conversation. This will boost your confidence, and you will be able to talk freely in any given situation with everyone.
3. The conversation belongs to both of you
Some people have a bad habit of hogging all the limelight, and they are the ones who believe in only talking and not listening or letting other people speak. If you are looking for ways to start a conversation, then remember that a conversation belongs to two or more people, and it is essential that both speak.
If it is one-sided, then it will not be a conversation. Make sure that you have your say by speaking about something you saw or did that will look interesting to other people and let others also speak at interim periods.
4. Be casual
Do not try too hard as it is often reflected through your anxious posture, desperate body language, and loud words. If you are looking for ways to start a conversation, then stop trying too hard on being interesting.
The trick to start an interesting conversation is to look and act casual. Be interested in the other person and ask him pointed questions so that he can open up and talk.
5. Ask for information
If you are looking for ways to start a conversation, then ask for information. You can move smoothly towards the person you want to converse with and after saying hello, how are you, can ask for any relevant information that can give you leeway for further talks.
It is a great conversation starter and is considered a natural way to build a good rapport. It does not matter that you are aware of the information or not; make sure that you portray the right expression in front of others.
6. Ask about a situation
There are numerous situations in our daily routine that we can use to start a conversation with anyone. For instance, strike up a discussion if you are standing in a queue, and the line is huge or while sitting in a public vehicle near someone you find interesting.
Do not ask a direct question as it will look rude instead keep it impersonal and related to that situation.
7. Keep it mundane
If you are looking for ways to start a conversation, then keep it general and mundane. You do not have to keep up an interesting conversation that is funny or informative every time.
Most conversations are mundane and do not need an extra boost to maintain the flow. It is ok as small talk is also an integral part of a conversation.
8. Ask follow-up questions
Once you start a conversation, it is equally important to keep the momentum going. This can be possible only if you ask follow-up questions. Remember, these types of questions can open new and interesting topics and are often an essential part of talks.
It might look superficial in the beginning, but it allows you to dig deep and know more about the related topic or the mindset of the person speaking.
9. Pay a compliment
Every one of us likes to hear something good about ourselves. If you are looking for ways to start a conversation, then pay a compliment to the person you want to converse with. It is the right approach that has the capability of opening the doors for further talks.
You can pick something about the person you genuinely like, or she is wearing, for instance, a beautiful dress or a hair cut or a handbag. A compliment can boost their confidence and make them happy.
Moreover, it will be a starting point that will have several lead-up questions to keep the conversation going.
10. Say something positive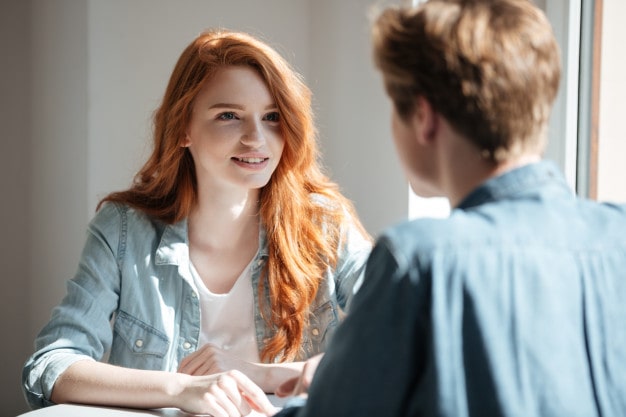 No one likes to hear negative thoughts or talk to someone who has only pessimistic things to say. If you are looking for ways to start a conversation, then say positive things. If you are at an event, speak about it or the speaker, and engage in a conversation.
If he works in the same organization, you can talk about the last seminar you attended and speak deferentially about it. Remember to say good things so that you send positive vibes and people like your thought-process.
11. Offer help
If you want to talk with someone and see him in distress, then you can offer to assist him. Seize this opportunity to your advantage if you are looking for ways to start a conversation. Inquire politely what the matter is and how you can help him.
This genuine concern will help you to earn his trust, break the barriers of awkwardness and start a fruitful conversation
12. Ask for help
If you want to talk desperately with someone you can ask for help. It is a direct approach, no doubt, but useful in desperate situations. If you are looking for ways to start a conversation, then tell the other person your problem and ask for help.
Helping someone brings forth a good feeling and especially if the person is in a position to do so. This conversation can continue and be the start of a long-lasting friendship.
13. Mention a shared experience
If you are looking for ways to start a conversation, then talk about a shared experience or something common to both of you. If you had both gone to an event and something happened there, then you can talk about it.
For instance, the speaker at the event both of them attended could not continue with his speech because he had misplaced the middle sheet and could not remember the words.
Seeing his dilemma, the public started booing, and it created a hilarious situation with him fumbling and trying to remember and the public passing side comments. As both of you were part of that event, it will make the talks more relaxed and smooth as both of you can relate to it easily.
14. Ask an opinion
If you are looking for ways to start a conversation, then you can ask an opinion about someone or something so that the conversation can continue. It also reflects positively on you as it shows that you trust that person's opinion and are asking for it.
Choose a topic that has relevance to both of you so that the other person can relate and offer his viewpoint. This is one of the perfect ways to start and continue a conversation
15. Show an interest
Showing an interest in someone or his work can be a great conversation starter, especially if you are looking for ways to start a conversation. If you know about his activities, you can talk about one that he is interested in.
For example, if the person is part of a riding club, you can talk about the horses or ask him questions related to that topic so that it will perk his interest, and this can help to continue with the conversation.
Showing genuine interest is no doubt a conversation opener, but it will also help you to know about the topic more if you are interested in it.
16. Praise the other person
A vital way to start a conversation is to praise the person you wish to talk to.
Say something good about him, his smile, his hobby, his dedication, or his work. This will be a help in holding the conversation a bit longer especially if you want to earn brownie points and remain in his good books
17. Share things about yourself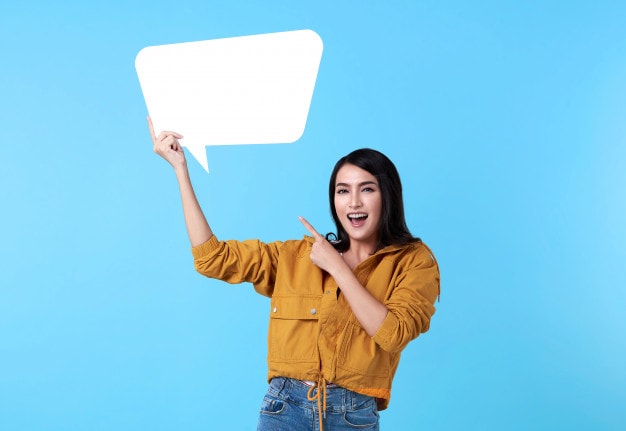 If you are looking for ways to start and maintain a conversation, then start sharing things about yourself. Asking questions can become tedious after a time, and it is essential to shift to another topic so that the flow of the conversation remains fluent and smooth.
One of the best ways at such times is to talk a little about yourself that can help everyone to relate with you. Keep the conversation going by telling a bit about you and asking about others. These back and forth talks will maintain the flow effectively.
18. Use open-ended questions
One of the best ways to keep the flow of a conversation going is by using open-ended questions in the conversation. These types of questions are a blessing as people cannot directly answer yes or no.
They will have to continue with the flow and elaborate on the matter. For instance, if someone asks whether you have eaten your lunch, your answer will be either yes or no. This is a close-ended question, and there is no scope or need to elaborate on the matter.
Whereas, if you rephrase it as an open-ended question and ask what was the lunch like, then the person at the other end will have to mention that he could not eat it as he was busy and that is why cannot offer any details about it or the lunch was very good with lots of options in dishes or tasted good if he had eaten it.
19. Talk about the weather
If everything fails, then there is still the talk about the weather. One of the safest and popular ways to start a conversation is by talking about the weather. Seriously there are so many related topics that you can keep it going for a good time.
For instance, if it was hot, you can start a conversation about how hot the day was and how it was affecting everyone, or if it was raining hard, then how would everyone reach home on time.
By that time, the initial awkwardness will be lost, and you can safely move on to other interesting topics that you might discover in the course of your conversation.
Conclusion
A good conversation runs smoothly and has the capability of exchanging and engaging in new thoughts. It is an excellent skill to have that can take you a long way and bring you out of difficult situations with ease. This is why every person is looking for ways to initiate a good conversation.
Liked this post? Check out the complete series on Personal Development