Planning is an essential element for the success of any business establishment. Most of the renowned businesses that have been able to succeed in their respective industries have always ensured that they lay down all fundamental planning features and implement them accordingly. It is also essential to understand the major features of planning that would make it possible for the organisation to thrive and grow and at the same time meet its goals and objectives.
Here are 6 Features of Planning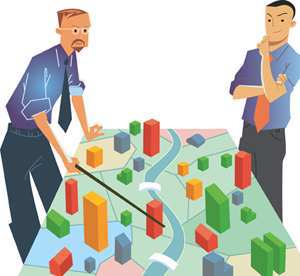 1) Planning is pervasive
It should be noted that job planning is a function that is carried out by managers at different levels of the organisation. Therefore, we can categorically state that planning is an all-pervasive since it is a significant component that every manager has to ensure that they carry out appropriately. For instance, every manager irrespective of their level of management has to make sure that they plan all their activities about the business respectively and accordingly.
2) Planning is futuristic
This primarily means that is future-oriented in the sense that it focuses majorly on the prospective outcomes which is an important feature of planning. When planning, you need to ensure that you predict on the possibilities for the future by which the organisation has to operate on. Possible changes in legal framework revolving around social, economic and technological aspects need to consider since the essence of planning is ensuring that future elements are put in mind for attaining the set objectives.
3) Planning incorporates decision making
Ordinarily, there are usually more alternatives when it comes to selecting an ideal course of action for a particular purpose. But it should be understood that not all of these available options can be suitable for the business. And thus planning is used in selecting the best and at the same time rejecting those regarded as inappropriate. It thus demonstrates how planning is crucial when it comes to decision making in various elements that need to be undertaken within an organisation.
4) Planning is an essential function of management
Planning is considered as the key component of the Directorate before any other functions like staffing, organising, controlling and directing. It just means that without proper planning there is the likelihood of dysfunction in the entire management. Mostly, planning the foundation of all other functions in an organisation hence helps in providing direction for all the other functions. Planning is the aspect that helps in establishing other functions and implementing them for a desirable outcome.
5) Planning is continuous
Planning is a process that always takes place in any business unit set-up. There is no point of time when planning stops or is interrupted hence regarded as a constant process. The reason behind this is because, in most occasions, plans are usually prepared to suit a particular course, purpose and period. Therefore, upon expiry or achievement of the particular course, there is a need for having prepared another plan for seamlessness.
The other reason is that there are instances when discrepancies may occur hence necessitating the need for revising the initially drawn plan to suit the prevailing situation. Planning is also continuous because the business environment is always dynamic hence need for ensuring that you remain cognizant of any imminent change and act on it immediately.
6) Planning is a process rather than behaviour
Planning encompasses some elements that need to be taken care of for the business operations to be successful. It is an aspect that has to follow the concrete steps accordingly within the particular period because failure to do so may lead catastrophe in the system. It is this process that therefore determines the ensuing course of action that has to be undertaken in ensuring that executing is all-in-one. Planning should never be regarded as behaviour because it is its process that defines the actions to be carried out as a way of implementation.
Liked this post? Check out the complete series on Management