What is Demand Planning?
Demand planning is a process that helps to forecast the demand for a service or a product so that it can be produced much more efficiently. This future need of a product can be either internal for instance the material needed to manufacture product lines or external like an order from the customer. The goal of the demand planning team is to anticipate demand and ensure that the company can meet it without bearing unnecessary expenses.
Demand planning is one of the most important steps in the supply chain planning which in itself is a vital element of supply chain management. Most companies may have a proper demand planning management team that includes people like sales managers, production managers, finance managers, marketing manager, demand planning analyst and demand planner.
Importance of Demand Planning
The process of effective demand planning is considered important for companies because of the following reasons
1. Customer satisfaction and customer loyalty
If an organization fails to keep up with the demand for a product it means that it does not have the necessary inventory levels to keep its customers satisfied. This can lead to lost customers but when your statistical forecasting is to the point the company will be able to meet product demands of the consumer and this will result in customer satisfaction and customer loyalty.
2. Minimize the bullwhip effect
The process of demand planning help in statistical forecasting and effective communication amongst the demand planners of the supply chain management. This will result in minimizing fluctuations and thus minimizing the bullwhip effect
3. Makes the organization proactive
Effective planning puts a company in the driver's seat as it can avoid last-minute surprises. Thus accurate forecast by the demand planners make the organization proactive as it can easily meet customers demand
4. More gains and better revenues
With help of demand planning the companies can stay ahead of the market and make last-minute adjustments to suit sudden market needs. There are no stock-outs, unhappy customers, unhappy managers, warehouses full of unused inventory and a huge chunk of wasted capital. The importance of demand planning is that a company with available information and data can avoid these scenarios easily. This anticipated demand forecasting leads to more gains and better revenues
5. Better negotiation with suppliers
The demand planning process is considered important for companies as it offers various negotiation opportunities with suppliers based on terms as well as pricing
6. Reduced waste
Due to effective demand planning processes, the business companies will be able to maintain their inventory levels as per the need of the hour. There is no longer a need to manufacture or keep unnecessary products in stock. This will reduce the waste of products and ensure better operations.
Elements of Demand Planning
The elements of demand planning processes are
Statistical analysis of inventory, sales etc.
Moulding the information and data to forecast future demand
Data collection from sources that can influence or predict consumer demand for a product
Collaboration with salespeople, manufacturers and suppliers for collecting information on events that may impact the customer demand like promotions
These elements of demand planning strategies incorporate the following demand planning processes
1. Replenishment planning
In the replenishment planning processes, the demand planners make sure that the inventory levels are at the right locations and in the right quantities to meet current and future demands
2. Trade promotion management
Trade promotion management helps an organization to gain competitive advantage through stronger connections with retailers and coordinated promotion activities. The marketing activities of trade promotion demand planners include creating in-store demand through giveaway coupons and discounts and adjust promotions and campaigns without delay.
3. Product portfolio management
Product portfolio management helps a company to manage every aspect of the product lifecycle from the introduction of new product in the market to its end-life. The product portfolio demand planners use best practices, latest techniques like machine learning, artificial intelligence and real-time forecast models to fit the new products into the existing portfolio and ensure optimization of product mix, maximum profitability and boost in global market share.
4. Statistical forecasting
Demand planning needs accurate forecasts to avoid both scenarios overstock and stock-outs. The statistical forecasting processes take the help of the new statistical algorithm to create supply chain planning forecasts for anticipated demand. The demand planners can choose the best model with planning software and decide which one will ensure accurate demand forecasting.
Key Steps in the Demand Planning Process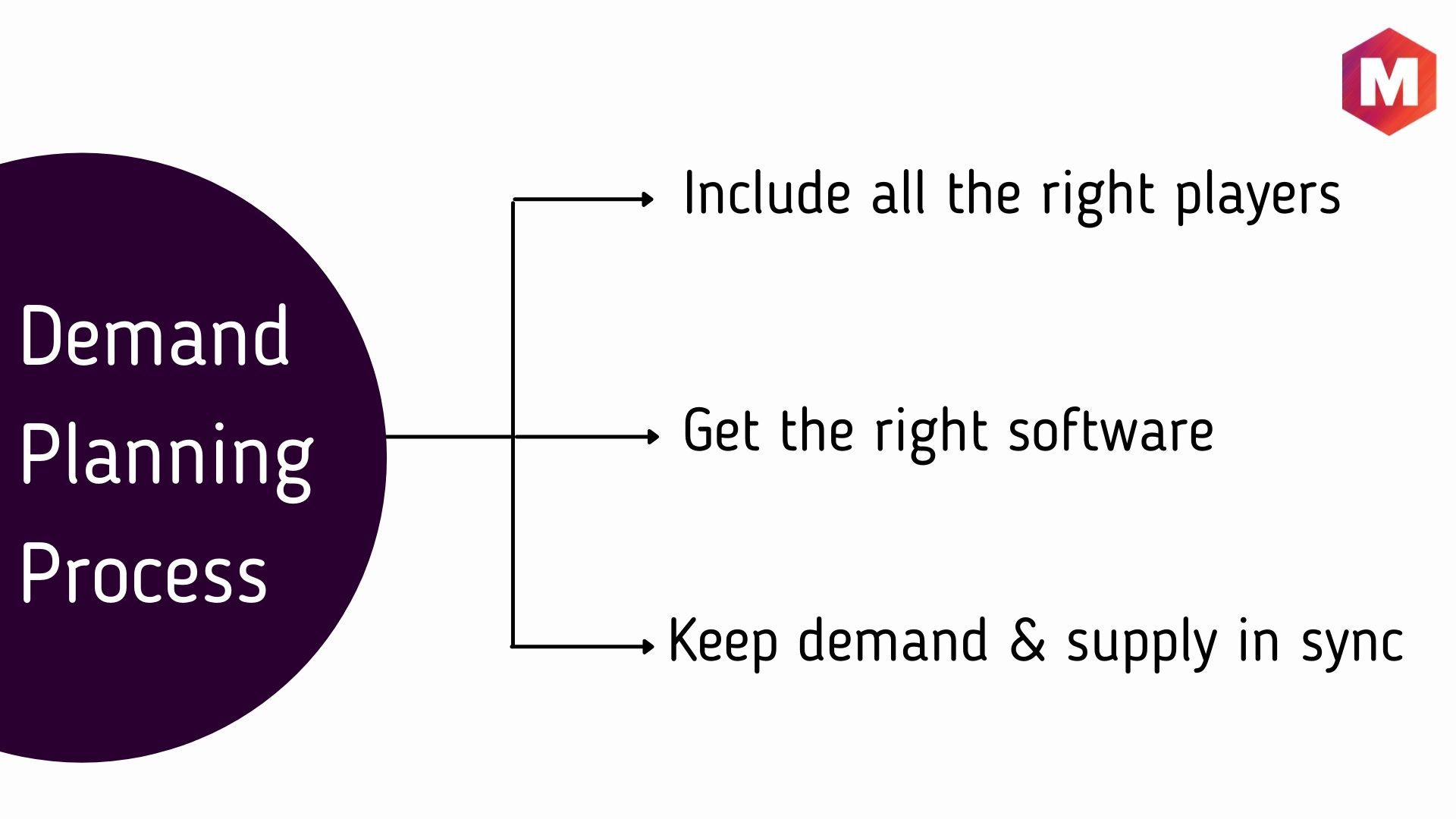 Key demand planning steps in the planning process are as follows
1. Include all the right players
Include all the key players if you are interested in creating a successful demand planning process for sales and marketing that will highlight growth opportunities. It includes collaborations with finance, sales and operations, sales and marketing, supply chain, operations planning etc. that have an impact on supply and demand.
2. Get the right software
Planners while planning demand strategy must use advanced machine learning and artificial intelligence technology to get the latest real-time forecast accuracy. Customized planning tools with high-end software allows a company to process large data sets involving several years.
3. Keep demand and supply in sync
When data or information is analyzed repeatedly over time only then it can accomplish effective demand planning. Demand planners keep on monitoring the difference between actual sales and forecasts to know what changes should be made for forecasts accuracy.
Demand Planning vs. Demand Forecasting
Demand planning and forecasting are often considered the same sides of the coin as both terms are used for the demand management process.
They are also different from each other in some respect. The demand planning is considered a process whereas accurate forecasts occur because of an effective demand planning process. Demand planning is an important business planning function of sales and operations planning whereas accuracy forecasts are essential to demand planning
Demand planning tells where a company is headed and how to automate and adjust operations accordingly whereas accurate forecasts create successful demand plans that help a company to meet future demand targets easily.
Future of Demand Planning
The demand planning is undergoing radical changes for its betterment. Its future seems very bright because of the availability of real-time data through machine learning blockchain technology, mobile devices and cloud-based tools. The advanced technological tools have helped demand planners to share information, react to the available data and make changes in supply and demand quickly.
There is a continuous drive towards digital transformation in business processes by connecting supply chain members from one end(manufacturer) to another (consumer). As per the analysts, this digital demand management will create a demand-driven supply chain which is the need of the hour. It will be focused on demand-driven frameworks to facilitate the continuous exchange of ideas and solutions.
The new-normal sees a techno-savvy demand planner working comfortably alongside world-class machines having advanced software.
Liked this post? Check out the complete series on Management