Whenever a new product is designed, or a new concept is developed, it is crucial to brainstorm on it before making it live. The best way to brainstorm on a new product or concept is by raising questions. Starbursting is a form of brainstorming where we raise questions about a product or concept instead of providing answers.
To know about any product or concept in detail, raising questions on it is undoubtedly a great medium.
Starbursting helps in several business functions and helps us to know crucial details associated with those functions.
As the name suggests, it is based on the concept of a star – at the center lies your product/service/concept, whereas the tips of the star contain the questions related to the same. The questions are mostly like – what, why, how, when, where, etc.
Whenever a new concept is developed in the organization, a special Starbursting meeting is held to generate questions on the concept. The goal remains to create different types of questions to cover all the factors related to the concept.
Once the questions are generated, a team is set up to find answers to those questions. Let's understand more about Starbursting and understand how it can be useful for organizations of any scale.
Introduction to Starbursting: A subset of Brainstorming
We all know the essence of brainstorming in any concept building and its implementation.
It's all about gathering as much information as you can about the new concept that you are working on. Starbursting works on a similar concept, here also we aim to collect information about the concept or the product, but here we don't directly answer questions; instead, we gather questions.
This concept of starbursting helps us in easing the decision-making process.
After the development of a new product or a new concept, the confusion among the staff is natural.
Whether the product will succeed?
What about the competitors?
How to work on the new concept? How will be the new work schedule?
These are the common questions that the staff must raise. Through these questions, they get to know about the product/concept better.
How Does Starbursting help Different Organizations?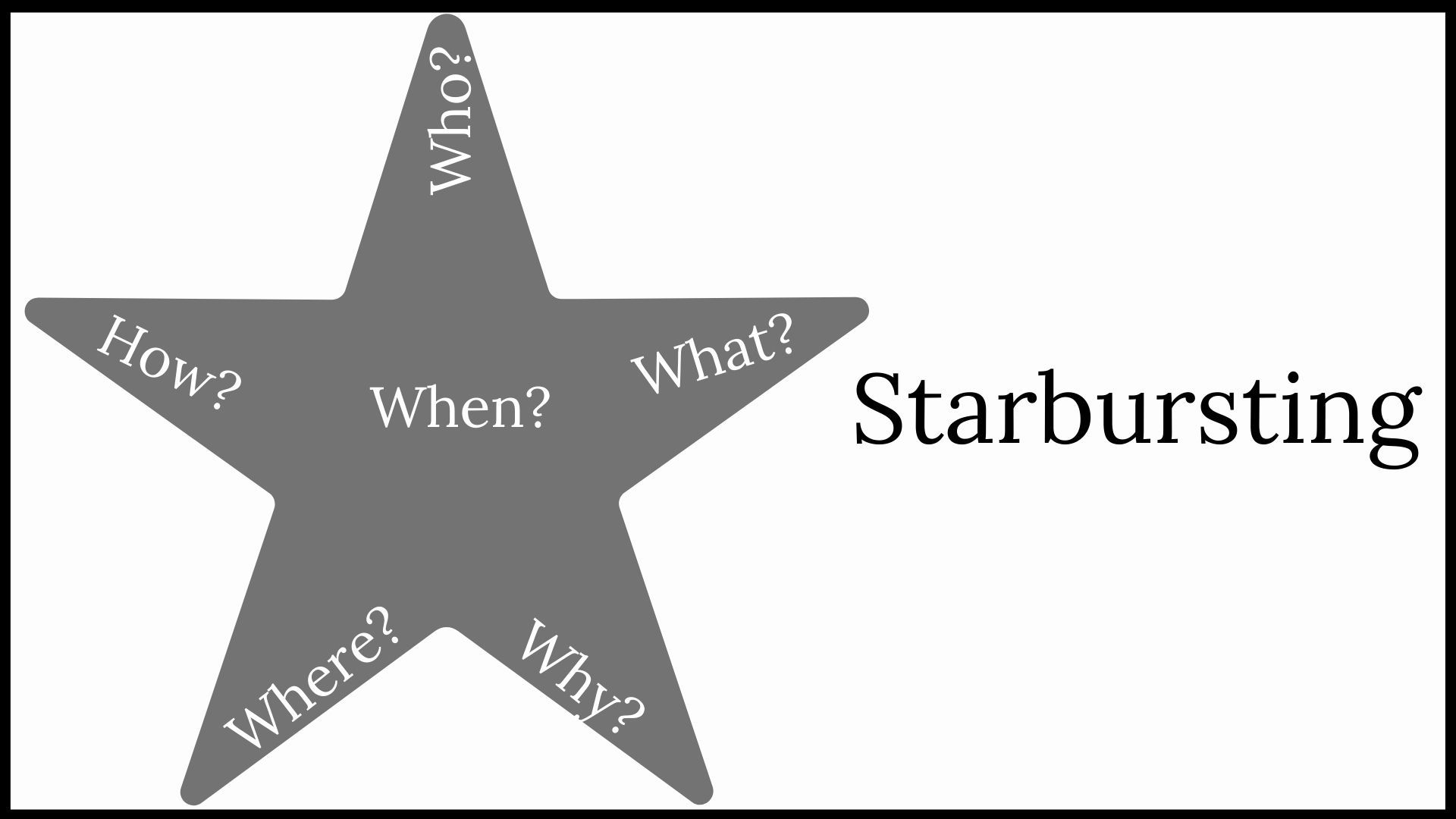 No organization can succeed with any new concept if the members of the organization hold doubts about it, and information known to them is not clear.
Hence, it is essential to reveal as much information as you can about the concept and clear their doubts. The best way to clear one's doubt is to entertain their questions.
Whenever a product/concept is designed, it is recommended to conduct a starbursting session so that everyone associated with that can raise their questions which are
What is the product about?
Who will be the potential customer?
What is the target geographical region?
How to tackle competitors?
When will the product be launched?
How will we handle the post-launch processes?
What will be our benefit?
How will we be conducting the research process?
These questions are directly linked to the curiosity of your team regarding the new product or concept. Once you prepare satisfactory answers to these questions, it is evident that your team's doubts associated with the product/concept will be cleared.
Moreover, conducting starbursting sessions help later when the team is working on the product/concept. Once the team holds no doubts, they can work on the concept with pure efficiency, and the chances of any blunder are quite the least.
So, starbursting is directly linked to your team's efficiency.
Once you allow your team to raise questions, they think differently and more efficiently, which isn't possible otherwise.
It is always beneficial when your team doesn't raise questions when it is the prime time to work on your product/concept. Hence, the importance of starbursting can't be ignored and should be entertained by organizations of any scale.
Along with these advantages mentioned above of starbursting, there are some disadvantages as well, so let us have a look at those as well.
Disadvantages
Starbursting holds tons of perks and seems almost perfect yet; there are certain disadvantages associated with it.
One of the prime disadvantages is that there may be certain questions that come up at later stages which you don't want. Irrespective of a productive starbursting session, you will have to conduct several meetings afterward.
When you conduct additional sessions for planning and other stuff, you will not find those starbursting sessions useful.
To make your starbursting sessions highly effective, you will have to encourage the team to raise questions, which can be difficult sometimes. So, these are some minor or major disadvantages associated with starbursting.
Yet, starbursting is exceptionally efficient for any organization hence should be entertained.
Let us now understand how you can do Starbursting like a pro-
Key Steps of Starbursting
After you have developed your product/concept, it is time for the starbursting session. Now you must do it effectively to gain the maximum out of it. Here's a guide to proper starburst –
Gather your team and ask them to raise questions about the product/concept.
Now draw a big star on the whiteboard and right the concept or product's description in the middle of it.
Once your team is ready with the questions, right them one by one on the tip of the star.
You can also right one-word questions like – who, what, why, how, etc. on the tip of the star at first and then ask your team to brainstorm about the questions associated with those words written at the tip.
Don't focus on answering them at this stage. Just raise questions.
It is suggested that you shouldn't stop until you have three questions for each tip of the star.
After you have gathered all the questions, start answering them one by one. Write those answers in the short form next to the questions on the tip.
Final Thoughts!
So, this is how you should conduct a starbursting session to ensure its pure efficiency.
Make sure you call each member of the team again so that if anyone gets any question later, he/she may suggest that. Don't make it a haste process; rather, give your team sufficient time to think.
It is suggested to conduct two sessions – one to gather questions, second to answer them.
So, this was all about starbursting and how you can use it for your organization's benefit.
Have you ever tried incorporating starbursting in your organizational procedures? What are your thoughts about the applicability and advantages of starbursting in an organization? Please share it with us in the comment section below.
If you liked this article, we bet that you will love the Marketing91 Academy, which provides you free access to 10+ marketing courses and 100s of Case studies.