Definition
Vertical integration is a process which is undertaken by the company to improve its control over the supply chain and give a better managed, more efficient and highly controlled supply chain. It mainly involves the parent company as well as its vendors and customers.
The vendors (from whom material is obtained) are known to lie upstream. The customers are known to lie downstream. Vertical integration can be done with both – upstream vendors or downstream customers.
What is Vertical Integration?
Any industry needs to keep a control over its Supply chain which is why it uses Vertical Integration as a strategy. A company can have many different decisions in front of it. It might have to decide whether it wants to have a focused approach with one single process for one single industry or it wants to have a multi pronged approach by having different approach for different industries.
For example – An automobile manufacturer cannot only manufacture the automobile. He has to make provisions for the repairing as well. However, a biscuit maker needs to put his complete focus on manufacturing only. Thus, Vertical Integration happens at a Corporate level and is a part of Corporate level strategy. When the corporate decides on which strategy to implement for the organization, at that time it also decides which type of Vertical integration to use.
Types of Vertical Integration
There are three types of vertical integration, each of which is explained below.
1) Backward vertical integration
In order to approach this subject, let's take a short look into one of the most powerful companies in Poland, TAURON Group. Being one of the largest companies in the country as well as one of the leading energy holding in Central and Eastern Europe, TAURON Group is operating in all main areas of energy market. The focus business of the group consists in coal mining, electricity and heat generation, distribution and supply. The largest distributor and retailer in the country and the second largest domestic producer of energy is considered TAURON Polska Group.
To increase its stability and revenues, TAURON Group acquired the company which produced intermediate goods. In this case, it was coal. This process, wherein Tauron group acquired the vendor which was providing coal, is known as Backward vertical integration. Thus, in any management case, whenever the company is acquiring or tying up with their vendors for better management, it can be called as a case of backward vertical integration. Generally, the result of backward vertical integration is increased stability and better margins for the company.
2) Forward vertical integration
Forward vertical integration happens when you directly interact with customers instead of having an intermediate. Thus, Magazines which offer direct subscription to readers are doing forward vertical integration as they are bridging a gap by removing intermediates. Lets understand Forward vertical integration with an example.
EAM publications are a publishing and distribution company, situated in Dar es salaam and covering all of Tanzania. Each month they are publishing different media communication tools such as Dar es Salaam Guide, different types of brochures which targets schools, hospitals, etc. By having its own distribution centers, EAM Logistics has implemented a forward vertical integration. Thus EAM logistics is in a win win situation. EAM logistics in short, will have a better price advantage because it is directly giving the published magazines and books to the end customer. There is no distributor in between. Thus, both, quality as well as price is under control.
3) Balanced
The third type of vertical integration is a combination of the backward and the forward vertical integration. In the above example of Tauron group, we have already experience backward integration. Now imagine, that Tauron group directly approaches end customers and starts providing electricity without having a go between. Thus, Tauron group has now successfully integrated with vendors as well as customers. And hence it has covered its upstream as well as downstream vertical. By capturing both upstream and downstream verticals, the company will have better profit margins and will improve in its core competencies.
So, if everything is so positive about the vertical integration concept, why don't more companies try to implement it? The most common answer would be lack of expertise and lack of resources. Lack of resources happens when a company would like to pursue a forward vertical integration but it requires a warehouse or storage room, as well as more employees to take care of the new facilities. Lack of expertise happens when the employees need to have some knowledge and training on how to perform the new tasks that have been integrated and training might be expensive.
Example of Vertical Integration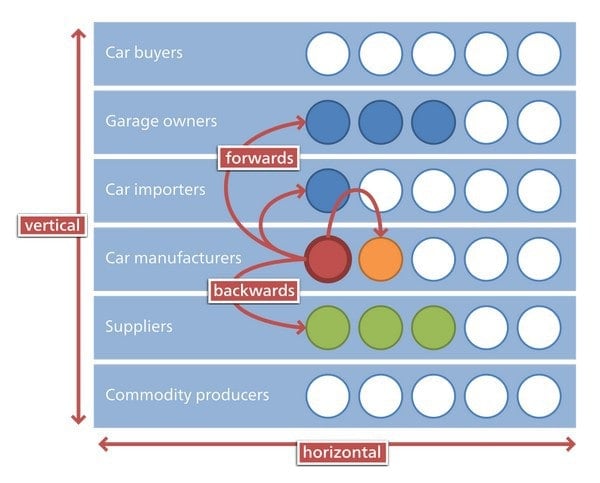 The above image is a good example of Vertical integration. As can be seen, car manufacturers have both – forward integration as well as backward integration. Tesla is a Car manufacturer which requires the latest equipment. Thus, it does a backward integration with its suppliers, distributors as well as its commodity producers (Car batteries, parts etc)
When the raw material is supplied and the car is manufactured, Tesla does a forward integration with its corporate customers, Bulk buyers, Car importers (Who import Tesla cars in their own countries) and also garage owners who can play a crucial role in after sales service and sale of spare parts which is also a product for any automobile manufacturer.
Advantages of Integration
Quality improves – The overall quality of supply from the company improves due to an integrated supply chain
Better Co-ordination – With use of modern technological software, co-ordination in the chain can be improved.
Competitive advantage – A strong supply chain can become a competitive advantage for a company. In fact, in retail industry, supply chain is crucial to gain the competitive edge.
Brand Reputation – A better supply chain means better performance and brand reputation, which helps in sales and marketing of the brand
Preparation for Emergencies – An integrated supply chain can be better prepared for emergencies as compared to a supply chain that is non integrated.
Disadvantages of Integration
Focused management is required – If there is lack of management, then this integration can create more problems then benefits for the company
Higher costs – Better co-ordination means more investments in technology and integration thereby resulting in higher costs and a hit on margins.
Maintenance of quality – With more people involved handling the procedure in the supply chain, regular maintenance and deliverable quality might get affected.
Hit to reputation – If one part in the supply chain fails, it can affect all other parts and thereby affect brand reputation.
Conclusion on getting vertically integrated
If after an in-depth analysis, if you get to the conclusion that vertical integration is not the right path for you, then there are some alternatives you could approach such as: joint ventures, collocation of facilities or long term explicit contract, all depending on you strategy's objectives as well as your own resources and capabilities.
Liked this post? Check out the complete series on Management