Definition
A resource-based view is a strategy in which the organization focuses on internal resources available with it to compete in the market and achieve superiority.
Every company has to compete in the market with multiple competitors. There are local and global competitors as well, along with copy cats and other small-scale businesses. Dealing with so many competitors is a huge task for a company. One way to do that is to achieve external leadership and make necessary changes in external strategies. Another method is the resource-based view.
This method emerged in the 80s and 90s. This method suggests that companies should look inside their organization to find talented and competent resources to gain a competitive advantage instead of looking outside the organization.
Why are core competencies essential?
Core competencies are crucial aspects of any business because they are the prime capabilities of the organization. Think of it as a superpower of a superhero without which he will be nothing.
With core competencies, there may be either a groundbreaking innovation or none at all. Three parameters decide this. Those abilities are product reliability, customer insight, and exploitation of innovative ideas.
With the help of core competencies, the developers will have the freedom to develop a new product entirely or modify an existing one depending on their skills and capabilities.
Resource-based view theory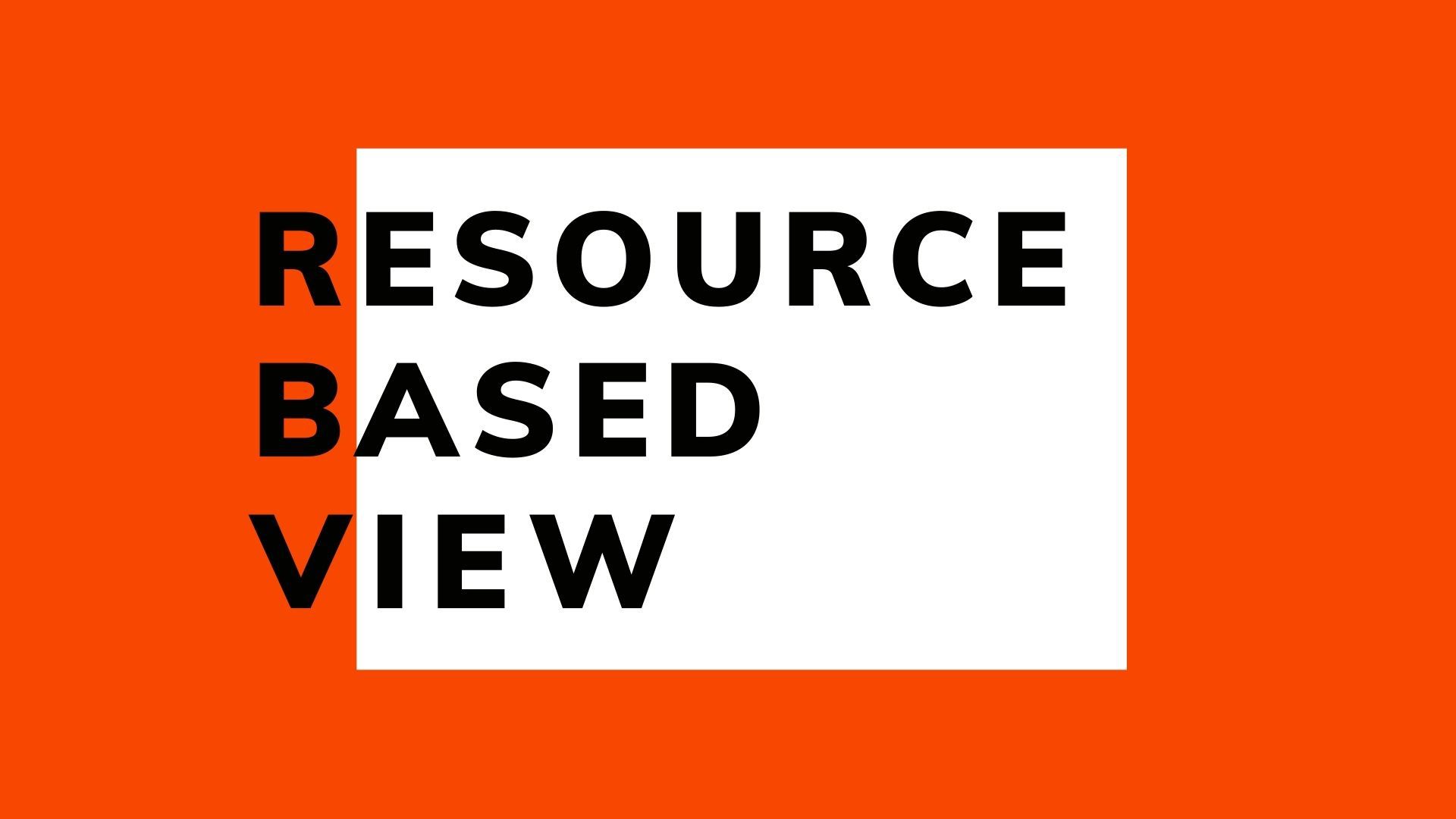 This theory suggests that to achieve a competitive advantage, you have to search in your organization amongst your available internal resources. The following are a few of the critical points of this model.
Types of resources
There are two types of resources in this theory:
1. Tangible Assets
These are the physical assets that you can touch, see, and feel. Capital, machinery, buildings are all examples of tangible assets. These are the resources that can be easily bought in the market.
Therefore these tangible assets do not have a lot of competitive advantage because other organizations can acquire them easily. Basically, tangible assets are resources that can be replicated.
2. Intangible assets
Intangible assets are precisely opposite to that of tangible assets. They have no physical appearance or presence, but the organization can own them. The reputation of the company, goodwill of customers, intellectual property rights, and the organization's talent are intangible assets.
Building intangible assets take a long time rather than tangible assets.  Also, many customers associate the image of the company with intangible assets.
Usually, intangible assets are difficult to replicate and to be copied by other organizations. Intangible assets can provide a sustainable competitive advantage in a better way as compared to tangible assets.
Assumptions of the resource-based view
There are primarily two assumptions of the resource-based view that all the resources of the organization should be heterogeneous and immobile.
1. Heterogeneous
This is the first primary assumption of resource-based view theory. Heterogeneous refers to the variation in capabilities and skills from one organization to the other. This assumption states that if all of the companies have the same amount and the same type of resources, different strategies will not be employed by different companies. And this way, competitive advantage cannot be achieved by any company.
This happens in the case of perfect competition, but companies and markets are extremely different from each other in the real world. All of them are exposed to similar competition and external forces.
This is why this theory dictates that companies should resort to using internal resources rather than searching for external resources.
It is only with the use and variation of the internal resources, and available skills can help a company gain a truly distinct competitive advantage. Variation is essential to have a competitive advantage.
The best example of heterogeneous factors is that of Netflix and Apple TV. Netflix has a very high subscriber base, while Apple TV is just starting. The pricing of Netflix is very high compared to Apple TV because they have a lot of original content compared to Apple TV.
Apart from the original content, Netflix also features licensed content from other sources. At the same time, Apple TV subscribers get to see only Apple content, which is why it is priced at a lesser subscription rate.
Both of the video apps face the same external challenge from external competition. For example, in May 2020, when HBO Max was launched, it was a threat to both apps because the originality of the content was highest compared to both of these apps, but the pricing of HBO max was very high.
The reason that Apple TV+ cannot copy Netflix is that Apple cannot afford to get all the content licensed by Netflix and give less price at the same time. This heterogeneity provides both parties with a different competitive edge.
2. Immobile
This assumption states that the resources cannot move from one organization to another for the short term. Because of this, companies are unable to copy similar strategies like their competitors and implement them in the market.
Whenever an employee gets selected in an organization, he won't leave it for the first 3 to 6 months. If he performs better in the organization, then he will continue working in the same organization.
It will be very long before he decides to change and switch to the competition. In this case, it will be very long before the competition can learn about the organization from its old employee.
VRIO framework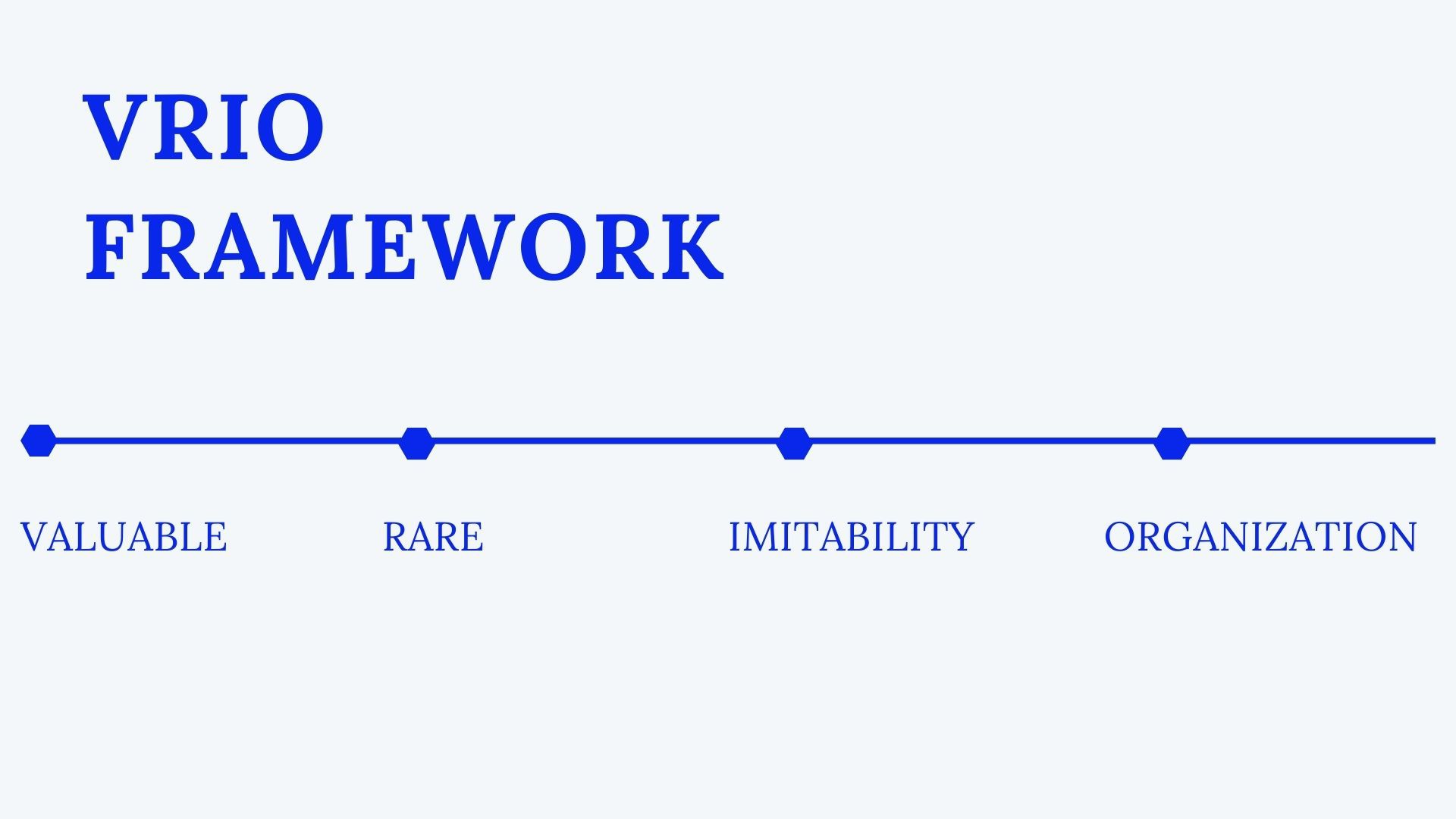 Resource-based view theory
Apart from having internal resources which are heterogeneous and immobile, the organization also needs other elements and qualities in their resources. The VRIO is an acronym that stands for valuable, rare, emitter ability and organization.
Valuable:
The value of the product or service is essential to establish in the market. If the resources are valuable, automatically, the final product or service becomes equally valuable.
This also increases the credibility of the organization. Different methods can be used to improve the valuation of your resources like modifying the existing product, using better quality resources, reducing the production cost, etc.
Competitive disadvantage occurs if the resources are not valuable. In this case, competitors can replicate your offerings because resources do not have anything particular in them.
Rare
This applies to both tangible as well as intangible resources. They should be rare and hard to obtain. Selective availability of the resources gets high value for the product.
For example, Alphonso Mangoes from Ratnagiri, India are world-famous for their taste. They are not easily obtained in any other part of the world. Different types of mangoes can be obtained, but the quality of the Indian mangoes remains unbeatable.
Imitability
The resources should not be imitable by competitors. The lesser imitable, the better competitive advantage the organization will gain. Most companies try to get costliest and forest resources for their products so that the competitors will not be able to incorporate them.
For example, Apple phones use iOS, which is exclusive to Apple products only. It cannot be legally included in any other product without a proper license from Apple.
This is what makes Apple products less imitable than the competition, and this is what gives them a remarkable competitive edge.
Organization
Sometimes apart from resources, the organization also conveys a competitive advantage. The way an organization is managed, including its people, resources, and structural performance, will determine its success.
Having knowledgeable individuals, a talented workforce, proper departmentalization, and a significant number of people add to the organization's positive image for the public.
Overall, the VRIO framework can be explained as
Is the resource valuable? If it is not valuable, then it will provide a competitive disadvantage.
If it is valuable, then the next question is if the resources are rare. If the resource is not rare, then it will provide competitive parity.
If the resource is valuable and rare, then the next question is, is it costly to imitate? If it is not, then it will provide only a temporary competitive advantage. If the resource is rare, valuable, and difficult to imitate, then is the organization organized?
If it is not, then again, it will provide only a temporary competitive advantage. And if it is organized, then an indeed and beatable, sustainable competitive advantage can be achieved by the organization.
Criticism of Resource-based view
The most crucial criticism of this theory is that when a groundbreaking innovative technology arrives in the market, this theory does not hold its ground. This theory clearly says that the organization should always look for internal resources and use them to gain a competitive advantage.
However, if the market brings a groundbreaking technology, then the organization has to resort to incorporate it. Practically, It is challenging to rely only on internal resources.
Further, the theory is criticized for the VRIO framework. Every product in every organization cannot pass this framework accurately. The term resources itself is ambiguous and does not clarify which part of the resource it refers to.
It is, therefore, concluded that this theory is suitable only to gain a short-term competitive advantage. Getting a sustainable and long-term competitive advantage is questionable by relying on this theory.
Conclusion:
Resource-based view is a critical theory that suggests that an organization should depend on its internal resources for competitive advantage. While this is true to some extent, it gets only a temporary benefit.
Liked this post? Check out the complete series on Management