We live in the age of COVID-19, and in this age, leadership can crumble without any notice, which is not surprising. What is important is that while every company faces a crisis – be it in their leadership or any other aspect, they should learn to manage the emergency.
Some leaders have taken up the challenge and stood up to their organization, but that won't be possible for every leader. Whenever the leadership is in crisis, they may have to think out of the box and follow non-traditional routes, challenging them.
The leader's response to the crisis is essential but what is more crucial is their timing of response and how soon and swiftly they respond to the crisis.
During a crisis of leadership, the only goal is to reduce or minimize losses of all sorts and keep everything as normal as possible.
5 Ways to Lead During Crisis of Leadership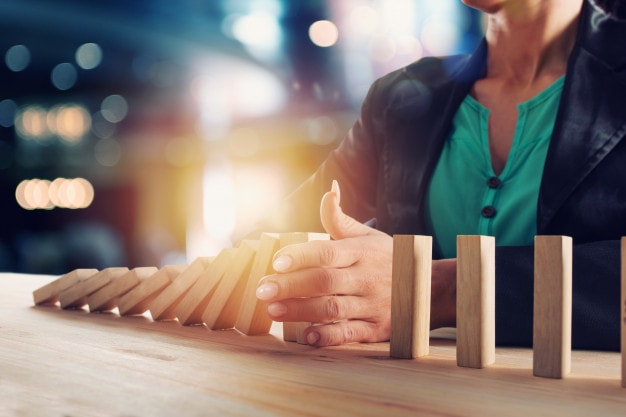 1. Credible Information
Having a trustworthy news source is crucial for a leader – even during normal times.
It becomes vital, especially in a crisis. A crisis leader should not rely only on one source of information or news but should always have multiple sources. Since the organization is passing through difficult times, rumors are widespread, and most of the rumors can be damaging the already depressed morale of the employees.
In such cases, the leader should confirm the information and validate it before circulating it ahead or making decisions. In the times of COVID-19, even trusted sources of news information can be wrong, and it is always better to have a backup because the word of a leader is precious during a crisis.
2. Use of Reliable Communication Channels
Crisis Communication is important during this phase. After all the required information is collected, it should be stored and sent to employees via the best possible communication channel source. Clear and concise information is necessary when it comes to crisis timings. It can either make or break the morale of the employees and, in some cases, affect the culture of the entire organization.
Clear information is useful and powerful since it can decrease emotional distress, reduce uncertainty, and provide guidance during crisis times. A face-to-face conveying of information will always have the best effect, but it won't be possible to meet every employee of your organization, especially for a senior leader.
In such cases, a personalized digital communication will also do the job. Virtual meetings are the best way to do that, along with personalized emails.
Repeating the information and reinforcing it will benefit the employees and reduce uncertainty in them. Regular mailers with details of the organization's current strategy change, if any, plans, or new developments, etc. will keep the employees away from grapevine rumors.
3. Strategy Explanation
Every company will have a different strategy to deal with the crisis. This is usually predetermined, and every company will deal with the crisis in its way.
The 'What if' strategies are a part of every organization, and it is essential that you don't wait for the employees to speculate it; instead, you explain it to them up front. If there are any new SOP's that the employees need to follow, then present it to them.
Ensure that every employee knows the overall vision and the strategy of the organization and detailed steps when it comes to his role. Some companies may not be comfortable sharing the entire step-by-step plan, and in such a case, a general overview is enough.
The idea behind the strategy explanation to all employees is to reduce uncertainty in their minds. However, it is very critical that the leader is honest about the approach. Hiding anything which would affect the employees directly is not recommended.
This may come as a shock to the employees and will have a detrimental impact on your crisis handling strategy.
4. Be Present and Interact
The last thing the employees want to see is their leader unavailable for any reason. If there is an issue that requires your urgent attention, then attend it but post that, ensure you return the emails, and call any queries you might have gotten from employees.
Seeing the leader itself is a boost of morale for the employees, and they want to hear frequently from their leader. The workers, in such cases, feel motivated and can relate more closely to their leaders.
They can associate the leader as one of them, and safety and security are developed in them. It may not be possible for a senior leader to meet every employee every day, but a stroll around the office would also do the job during lunchtime.
The employees are instilled with confidence when they see their leader, and they feel that things are under control.
5. Resource Allocation
A crisis is an urgency, and urgency requires instant decisions. The plan should cover the safety and security of the organization and prepare itself for neat resource allocation. Efforts should be made, and herculean tasks should be accomplished to keep things normal, and in such cases, proper resource allocation is essential. Ensure that you have enough resources to deal with this crisis and also enough for possible future crises.
Make necessary arrangements right now if your crisis stock is depleting and ensure it is ready to tackle future problems as well.
Inadequate resources are worse than no sources at all, and while mismanagement may occur during this time, precautions are to be taken to ensure that they don't.
Components of Leadership Crisis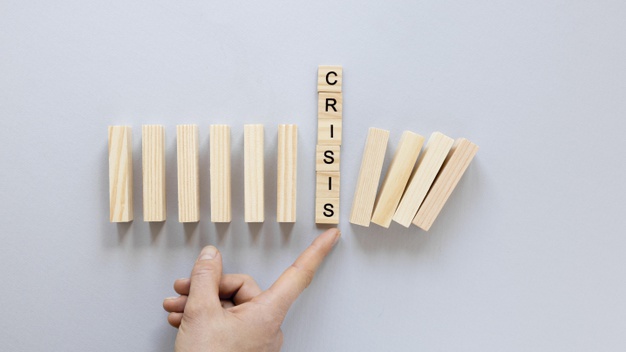 The following are a few of the components or abilities or qualities that a leader should demonstrate during crisis times. There may be other components as well depending on the industry; however, the following are a few common ones:
1. Adaptable
Obviously, the leader is expected to adapt to the situation present in front of him. If the situation demands changes, then that is what it should be. The response in the time of crisis is a balance between proactive and reactive.
The leader should himself be adaptable as well as should ensure that the entire organization adapts as well.
However, the rate of adoption of the leader should be faster as compared to the organization.
2. Empathetic
An empathetic leader goes a long way in the business. He affects the employees positively and ensures that he hears and understands them. He attempts to stand in their place and try to feel what they feel while providing a solution. A leader with high Emotional Intelligence can be highly empathetic.
3. Prepared
The crisis appears unannounced, and in such cases, the leader should always be prepared. Even in normal times, the leader should have a contingency plan to deal with a possible crisis.
Resources necessary to deal with the crisis should be ready. For that, the leader must be visionary.
4. Resilient
The whole point of a crisis of leadership is to be resilient. However strong the blow, the leader should recover from it as soon as possible without wasting too much time. This is because the faster he will recover, the sooner he will deal with the organization and deal with the crisis.
Being resilient is perhaps one of the essential and necessary qualities of any leader.
5. Transparent
The importance of being transparent cannot be emphasized enough, especially in crisis times. A transparent leader is likely to retain more employees. Giving updates on the plan you have, how you are implementing, what can be expected, and what the workers should expect are a few ways for a leader to be transparent.
Giving step-by-step details of every step may not be feasible since the possibility of information leaking is very high. Therefore, only a general overview of the plan is provided to all the employees.
Only the relevant stakeholders know the details of the plan.
6. Trustworthy
Every leader should be trustworthy, but during a crisis, the importance of trust skyrockets. Both the leader and the employee should be able to trust each other. One cannot work with the other without trust. If certain steps should be taken to establish or build trust, then they should be taken.
7. Prioritize and Focus
In crisis times, resources are utilized and exhausted at a faster rate, and in such cases, the leader should focus only on what is essential. Skip the meeting if it's not crucial, conduct a phone call if it can be avoided altogether, postpone the projects if they are not mandatory or necessary immediately, reduce or stop expenses that can be transferred to the future.
Everything that gets the attention of a leader should be primary and nothing secondary. \The leader should stop and ask if his actions add value to the company in this crisis? And if the answer is no, then he should skip or postpone it.
8. Employees first
Since the crisis can be of any kind, usually, a financial crisis calls for cost-cutting and firing of the employees. It is not only a bad strategy but a self-destructive one. You have to remember that these employees have stood in times of need and have supported the organization for many years.
Firing them is not the solution. In the long run, good employees will lose the organization's trust, and employees are assets. Instead of removing them, a more performance-focused approach should be taken, which will ensure productivity.
Supporting the employees in times of crisis goes a long way in the growth of the organization.
Conclusion
The crisis of leadership is a very crucial aspect of leadership. Every leader should be prepared for it and also prepare the entire organization for it. It is essential that the leader adapts, improvises, and implements their leadership strategy to suit crisis times.
A strong leader is required in a crisis to boost the employees' confidence, and for that to happen, a leader should first work on himself and then help the entire organization.
It is essential to realize that employees are delicate assets who require extra attention and strategy to help you deal with the crisis.
Liked this post? Check out the complete series on Leadership