Cloud storage is happening software in the current scenario and has been gaining slow and steady momentum and appreciation over the years. It is most convenient to gain access to any paperwork from anywhere and anyplace. Next Cloud is a cloud storage app that has actually created a distinctive place in the industry because it offers its users a practical way to maintain data back-ups and that to with ease.
The software includes important features like e-mail, chat, and file sharing and software development. It was founded in the year 2016 and in such a short time span this open-source platform has managed to make a niche market for itself.
Yes, it offers several advantages to its users but people should never get stuck in a rut. It is always better to be on the look-out for software that could serve your interests better and that too at more reasonable rates. There are several free apps in the market that can easily meet your demands and if it can do so then why spend the amount on Nextcloud.
Top 10 Nextcloud Alternatives
1) FileCloud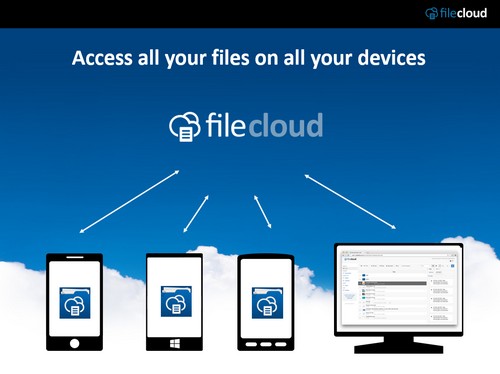 FileCloud is a sharing platform that offers software solution and files hosting services for non-government and government organizations like healthcare, finance, design, construction, consulting, communications and advertising. It offers flawless mobile access to the current network shares in your company and is compatible with iOS, Windows Phone, and Android operating system.  Its powerful interface enables additional security by preventing any data loss.
If you are looking for top ten alternatives of Nextcloud opt for FileCloud as it has multiple integration facilities with several plugins, apps and add-ons like Zapier, Outlook, Gmail and Microsoft Office. It offers a free trial to its users with several subscription plans on a monthly basis.
Important features include back-up, flexible file sharing and workflow automation. It offers the option of customized login screen and logo and share and saves files on a web-based platform or self-hosted server. It automatically syncs all the files that are in your computer to the FileCloud server.   Collaborating has also become much easier as the user can give access to clients or partners to the space created for this purpose. Here he can share specific files and folders while the access to the remaining one remains with him.
2) ownCloud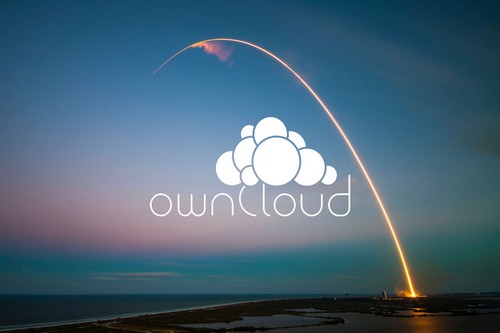 ownCloud is a content collaboration portal with client-server software. It deals in services related to file hosting with its own software suite. This open source portal is one of the largest in the global arena with an estimated twenty-five million users and thirteen hundred contributors.
If you are looking for top ten alternatives of Nextcloud then you have to simply opt for ownCloud as it has several features that can easily sway matters in its favor. The distinction of revolutionizing cloud storage arena goes to this software as it was one of the first to offer a free package for its server edition that was easy-to-use against the so-called proprietary products. The user can easily install the app and operate it without any fee on his private server.
ownCloud has an integrated tool password manager that protects you and offers the best online security for your data. It also helps to sync your passwords for all the devices you are using. It has a polished interface that can support larger files. The fully-cross portal has features like auto-folder sync, server-side encryption, two-factor authentication, scripted automation and file access control for better usage.
3) MEGA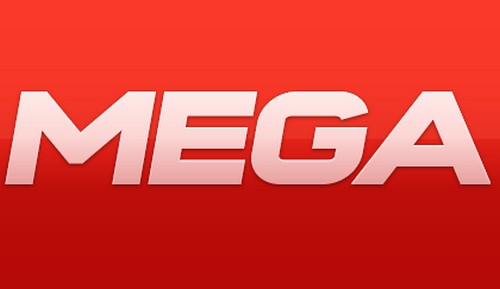 Molecular Evolutionary Genetics Analysis or MEGA as it is commonly known was initially released in the year 1993 by its developers. It is software that makes cloud storage simple and easy work. The user just needs to create an account and this Freemium model will offer 50 GB free storage space.
Important features include file sync that enables drag-and-drop files across several devices simultaneously so that the user can share folders and files with other people. You can easily upload files irrespective of its size and format. Other features include in-built text-file editor, sequence data-viewer and tree explorers.
If you are looking for top ten alternatives of Nextcloud one of the best options is MEGA. It is often called a proprietary freeware that is compatible with operating systems Linux, OS X, and Windows. Available in English and two versions MEGA is used all over the world. Millions of downloads attest to the fact that it has gained immense popularity over the years.
4) Seafile

Seafile is a software system that is associated with data sync and cloud storage and deals in file hosting services. This trusted portal is used by organizations, companies, and teams that are estimated at nearly ten lakh users. In this cross-platform operating system, files are generally stored in its central server where it can also be synchronized with mobile devices and personal computers via apps. The user can gain access to files directly through the web interface of the server and can upload large files easily.
Seafile is one of the top ten alternatives to Nextcloud. This open-source platform is free for use and has gained widespread acceptance because of its security and speed. Its simple interface is known for its performance value and reliability factor. Seafile software can be upgraded by running a script within a short time.
Seafile is a self-hosted solution meant for private cloud applications. Important features include auto sync; file encryption for better security, per-folder permissions, public link sharing, server-side encryption, two-factor authentication, integrated video, text and voice chat, calendar integration, scripted automation, and client-side encryption.
5) Syncthing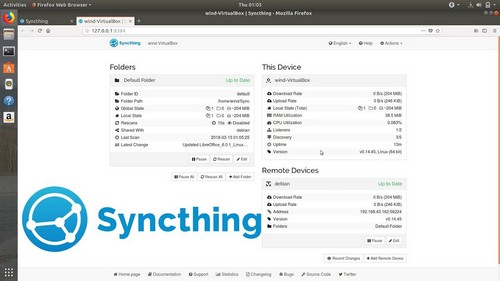 Syncthing is a decentralized service that has a peer-to-peer app for file sync. It was initially released in the year 2013 and is available in eleven languages. If you are looking for top ten alternatives of Nextcloud opt for Syncthing as it is a free service. It is an open-source portal that is compatible with Android, Linux, MacOS, Windows, and Browser.
Syncing allows its users the facility of data sharing within multiple devices without compromising the security. It is a hybrid service that syncs files directly between devices without third-party interference. Even if a person is using a different operating system he can sync the files from one device to another easily.
Syncthing uses TLS for security purposes. Its encryption prevents any lapse in security. The platform uses a Cryptographic certificate to identify each node for authentication purposes. The storage space on your PC is your limit and a user can utilize it for his benefit.
6) Dropbox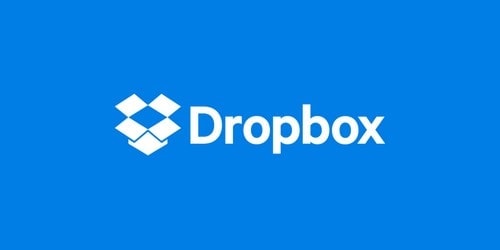 Dropbox is an American origin company that is associated with cloud-based services and deals in services related to file sync, cloud storage, client software, personal cloud, and file hosting. This California based software was initially released by its developer Dropbox Inc in the year 2007. It offers mobile apps for Windows Phone smartphones, tablets, Android and iOS and computer apps for Linux, macOS, and Microsoft Windows.
If you are looking for top ten alternatives of Nextcloud then you must opt for Dropbox. This Freemium business model offers 2 GB free storage space along with a subscription plan that includes better storage space and additional features.
Dropbox is available in seventeen languages and has half a billion registered users on its platform. Its customer base includes freelancers and small, large and medium business entities. It is an easy-to-use app as a user just has to download the app, create an account and start the process of sharing content within a few minutes. Important features include automatic back-up, file sharing, storage and sync, automatic updates, accessibility via any device, offline access and link sharing via text, chat, and email.
7) Pydio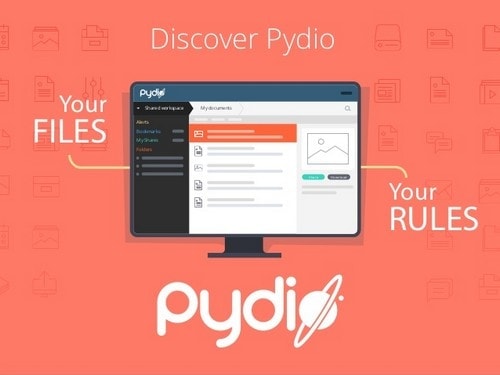 Pydio is cloud-based software that deals in file sync and sharing services. It is compatible with any server that supports PHP version. It is a management portal that has been built to meet the specific needs and regulations of a business entity. With one million downloads it has become a trusted software of the entire business house in the world.
If you are looking for top ten alternatives of Nextcloud opt for Pydio as it is open-source software that runs on the server of the user. It connects with existing storage and directories of the user that enables safe-keeping of data in their own infrastructure. Pydio offers single access to all data storages to make it more user-friendly. It has an easy-to-install version that is free and is included in its basic version along with a subscription-based version that offers several other support services and additional features.
Important features include file sharing within internal users and file sharing with external users with help of download limitation, password protection, public, and private links. It's simple and secured interface helps the users to collaborate on all documents. Other features include TLS/SSL encryption, online editing, and viewing of documents, editing and previewing of image files and in-built video and audio reader.
8) Jumpshare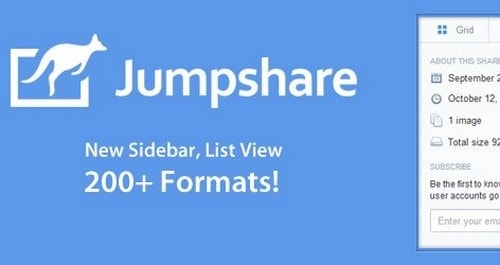 Jumpshare is a cloud-based software that deals with services related to file sharing. It was initially released in the year 2012 by its developers Jumpshare, Inc. This proprietary platform is compatible with OS X and Windows operating systems. Jumpshare initially allowed sharing and uploading files without signing but later made it compulsory if a user needed to operate on this platform.
If you are looking for top ten alternatives of Nextcloud then opt for Jumpshare as it is considered one of the fastest platforms for visual sharing. Creative users have access to two hundred online file formats on this Freemium business model. It has a drag-and-drop function to share the files and screen recording to capture screenshots. Collaborating and organizing have become very easy on this user-friendly platform.
It has a basic plan that is free and offers 2 GB storage space, thirty seconds screen recording, 250 MB uploading limit, basic search, secured sharing and unlimited screenshots. It also has paid subscription plans with additional features like 1 TB storage space; 20 GB upload limit, unlimited tracking alerts and screen recording, file recovery, and versioning history for thirty days, password protection, analytics, customized domain and branding, and HD video playback. Ads are a part of a basic free plan and not of paid subscription plans.
9) Google Drive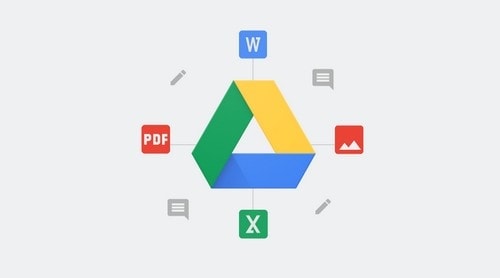 Google drive was launched in the year 2012 by its developer Google LLC and has been an active participant in cloud-based services with nearly one billion active users in its account. It enables sharing, synchronizing and storing files with help of its tools and features that include Office Suite, Sheets, Slides and Google Docs.
If you are looking for top ten alternatives of Nextcloud then Google Drive is a good choice. It offers 15 GB free storage space under its free plan, along with free trial as well as subscription plans on a monthly basis.  Important features of Google drive are a drag-and-drop function to organize files, multiple user facility, integration support with several apps, Chromebook compatibility,  work offline, saving Gmail attachments, scan documents, and image recognition.
Its software monitors change for the last thirty days and allow the user to undo and redo any changes that you have made. This cloud-based app is user-friendly and works compatibly with third-party business apps.
10) pCloud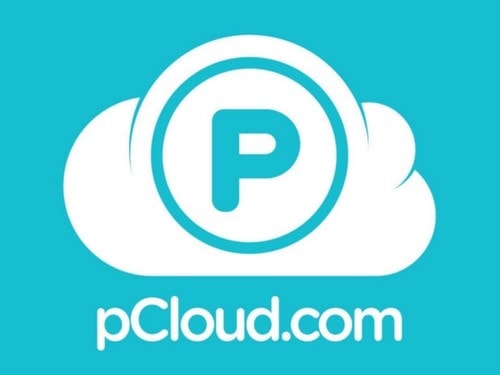 pCloud is cloud-based software that offers its services to freelancers and business entities. It offers access to all devices so that user can share and collaborate his files with other people and save them with pCloud Drive, web, and phone.
If you are looking for an apt top ten alternative of Nextcloud then pCloud is your go-to service. Founded in the year 2013, this Switzerland based company has eight million users in its account. Its open-source platform offers 10 GB free storage space that is extendable to 20 GB if the user can meet the set requirements.
Important features of pCloud are direct music streaming, downloading and uploading from any device, file back-up, sync and view, file versioning, encryption for tight security and file management. An important feature of pCloud is its drop-and-Drag facility that allows the user to organize and save files in its drive so that once they are uploaded it can delete it from his computer and gain the extra space for further use.
If you are looking for viable alternatives for Nextcloud then make a thorough research on the internet. It is the best place that can offer full information about other cloud-based software that can prove a blessing for you and help you to achieve your goals with a minimum of fuss and money. Yes, Nextcloud has some of the best features but so does other software that cost less than it. Looking for an easy-to-use interface that offers all the features you need then simply make the effort and find a good alternative.
Liked this post? Check out the complete series on Lists