A well-designed survey helps you to collect the right data, which further helps you to know about the views of people about a product or service. Conducting surveys requires a lot of work, but with the help of online available survey tools, you can efficiently conduct surveys.
In this article, you will learn about the different online survey tools and their features. If you are planning to invest money in an online survey tool.
I will suggest you go through all the below-mentioned tools and choose a tool that better suits your requirements.
Table of Contents
Transform
SurveyMonkey
Crowdsignal
SurveyPlanet
SurveyNuts
SurveyLegend
FreeOnlineSurvey
Survs
SurveyMethods
SmartSurvey
QuestionPro
FluidSurvey
SurveyPal
Obsurvey
SoGoSurvey
ClientHeartbeat
SurveyGizmo
Zoho Survey
Survmetrics
QuickTapSurvey
Google forms
KwikSurvey
1) Transform 
This survey tool is quite different and attractive than other survey tools available online. The free version of Transform is called the "CORE plan." It provides features like unlimited questions, unlimited responses, easy data export, data report, and also conversational interface.
You can create your survey using a drag and drop option. The pro version of Transform will cost $25 per month. It includes a calculator feature for pricing and scoring, follow-up emails, payment field.
This tool is on the top of our list because of its attractive features in the free version.
2) SurveyMonkey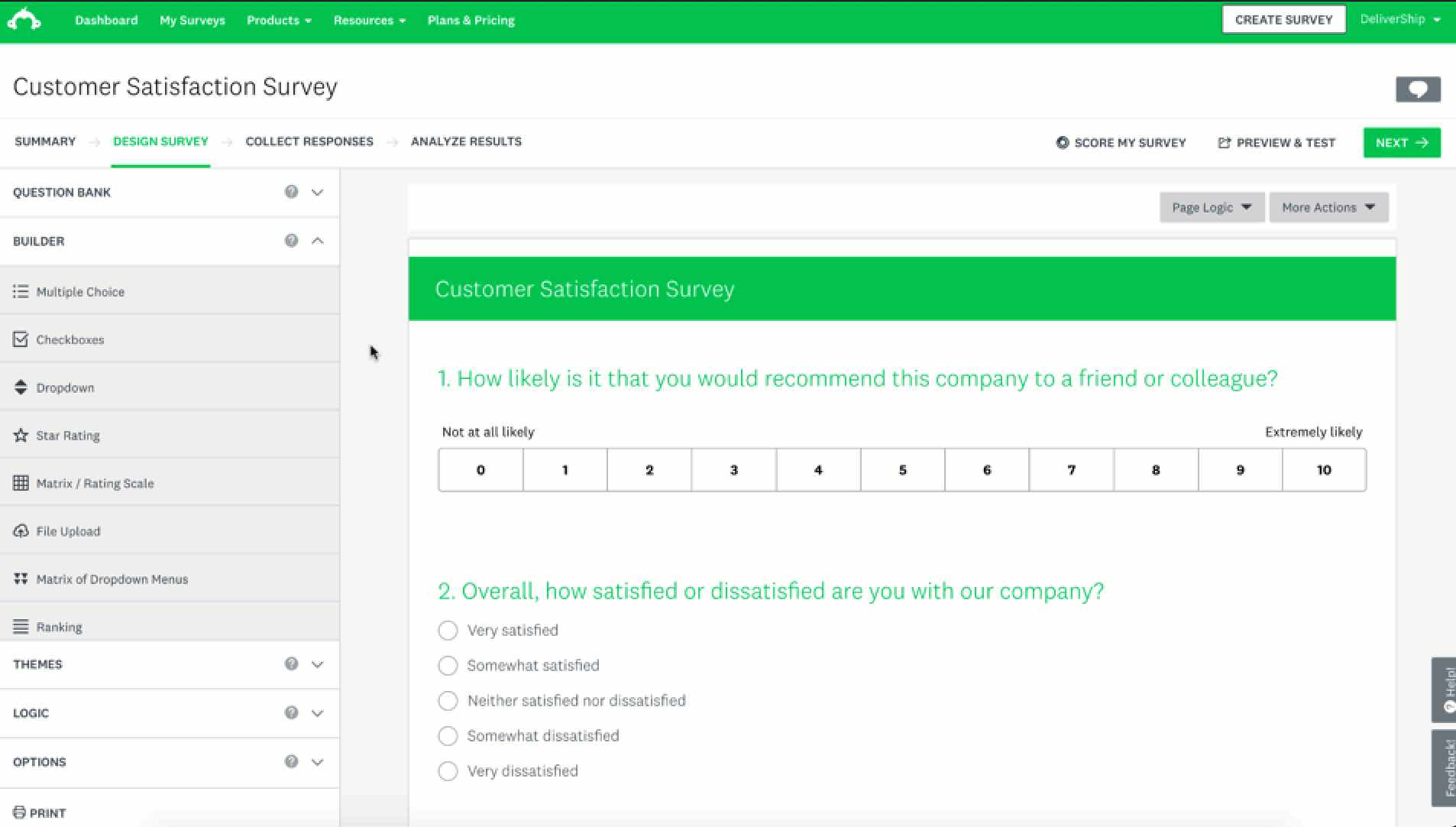 SurveyMonkey is a famous name in the world of online survey tools. You will get 10 questions per survey, 15 types of questions, and 100 responses per survey. Its interface is well-designed and easy to use.
But you will have to buy a pro version to be able to export your data. It will cost you $26 per month.
With the pro version, you can get an unlimited number of questions per survey, more types of questions, and many other features.
3) Crowdsignal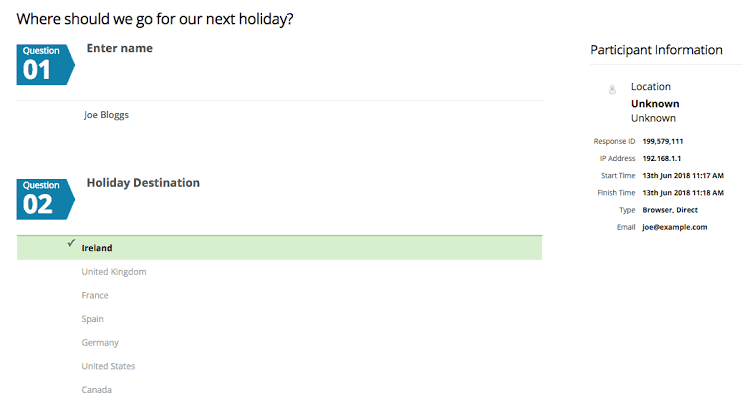 When you search about affordable online survey tools, "Crowdsignal" will be among the top choices. It provides you any number of the survey along with unlimited responses in the free version of PollDaddy.
It let you embed media from Google Maps, Flickr, YouTube, etc. you can get access to base features of "Crowdsignal" by signing in with your WordPress account. You can Pro version of PollDaddy at $29 per month.
4) SurveyPlanet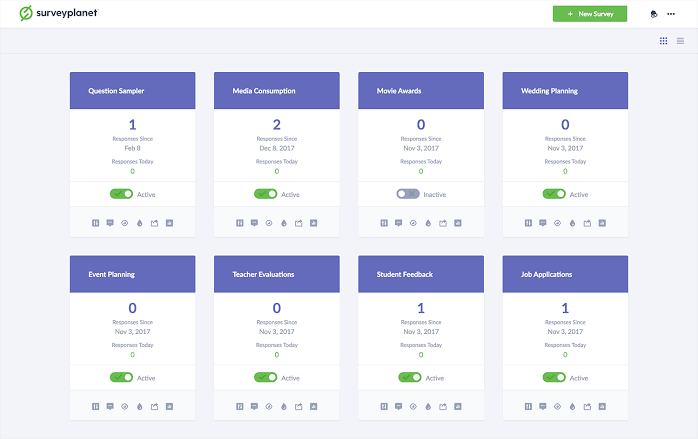 Creating a survey on "SurveyPlanet" is quite similar as compared to other survey tools. It will let you take a survey from the same window where you are editing your survey. It loads questions very fast.
You can enjoy more features like CSV report, Branching questions, Custom branding, and a printable survey by paying $20 per month.
5) SurveyNuts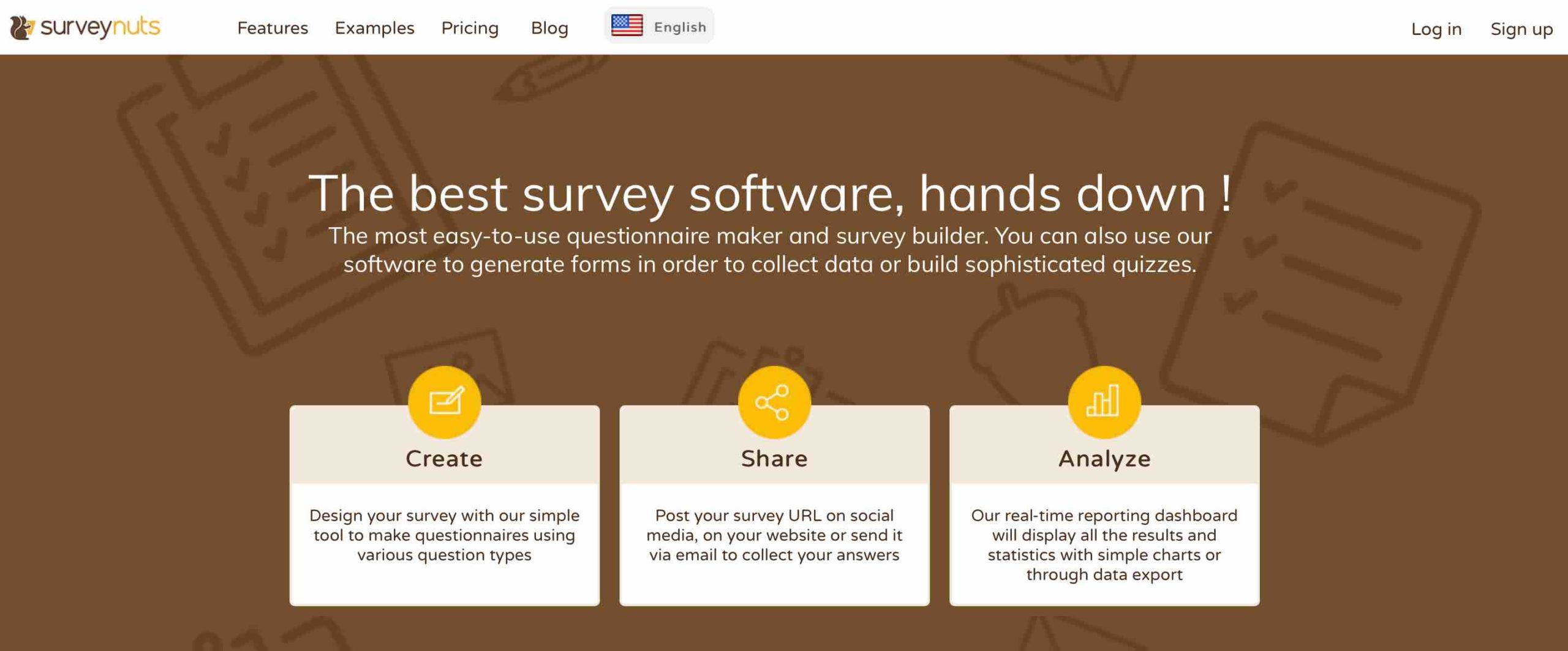 The best feature of this Online survey tool is that you can create your survey on the landing page of its website without even signing up for an account.
Initially, you will be provided 3 questions and if you can enter more questions if you want to. After creating your survey, enter your email address in the space provided and SurveyNuts will create an account for you and provide you link to share on different media platforms.
You will be allowed to enter a maximum of 10 questions in the free version of SurveyNut. You are required to pay $19 per month to get access to the full features of this tool.
6) SurveyLegend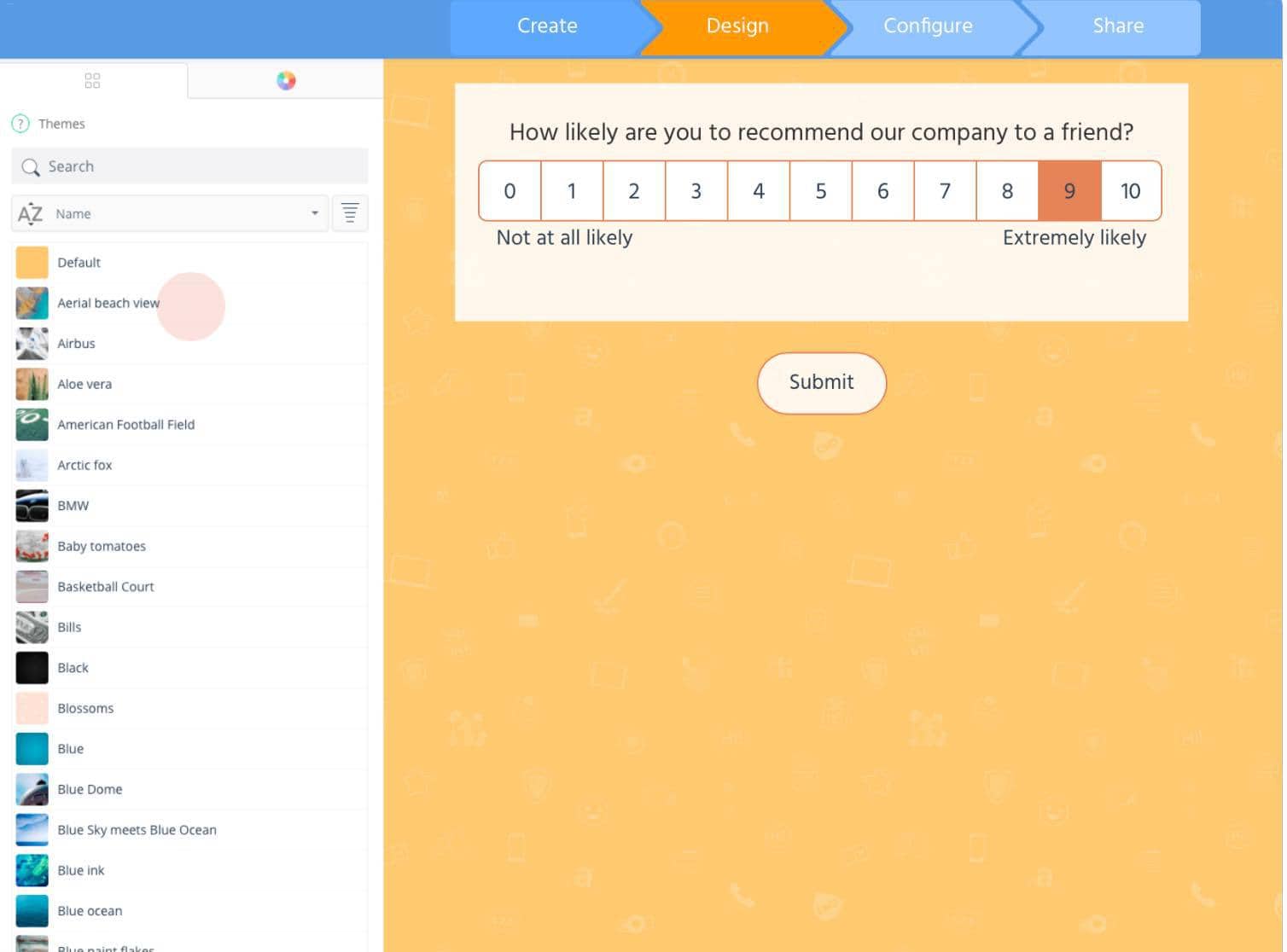 SurveyLegend can be accessed from various devices like desktop, smartphones, and tablets. You can put together your survey in minutes with its drag and drop feature.
In addition to this, you can make you more appealing by entering images in it. this increases the response rate on your survey.
You can get three free surveys with unlimited responses. To be able to use all features of this online survey tool, you are required to pay a $19 monthly plan with a limit of up to 20 surveys only.
7) FreeOnlineSurvey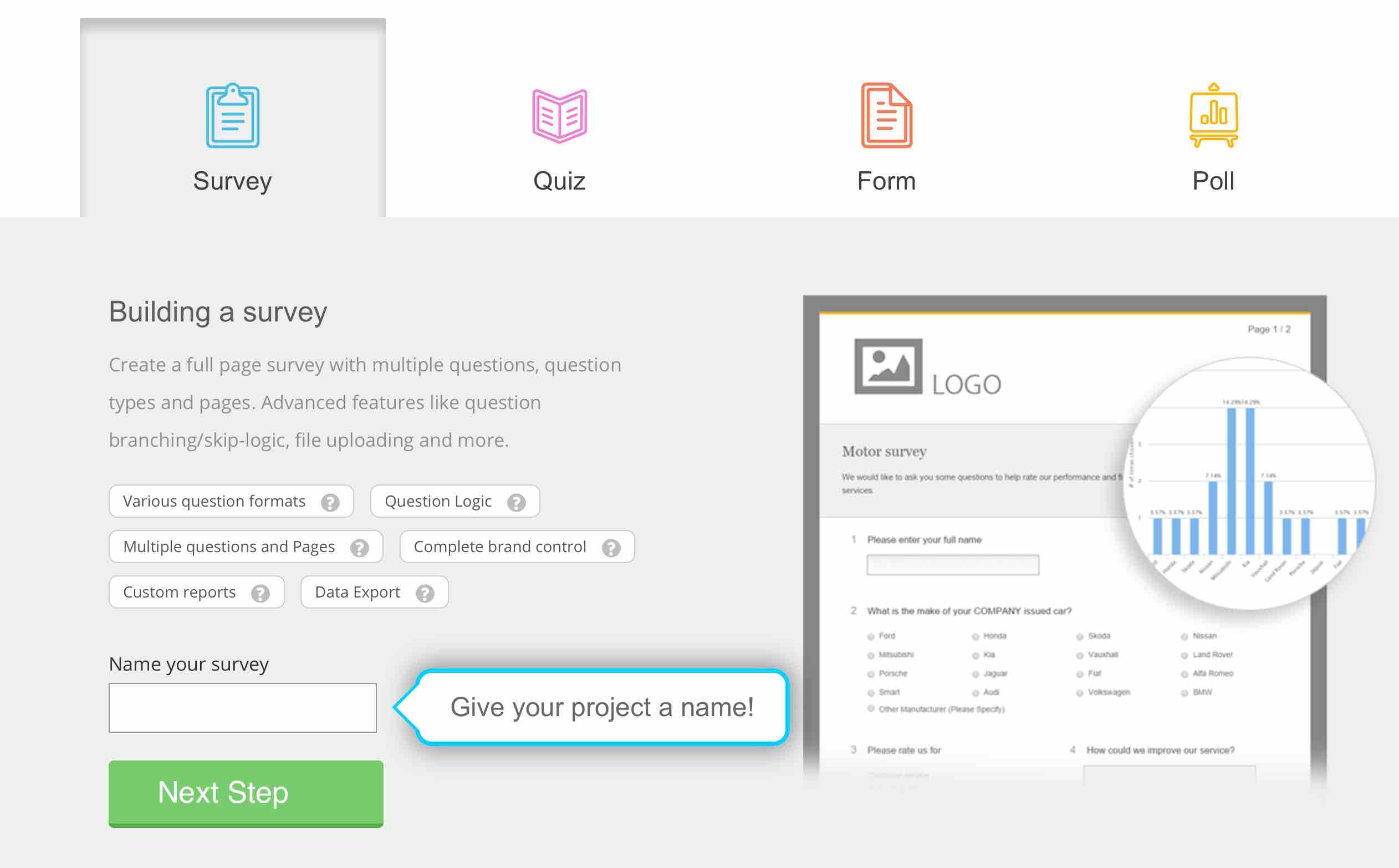 This survey tool will let you choose whether you want to create a survey, poll, quiz, or form right on its landing page. Right after choosing an option, you can enter the survey name/title and theme.
If you like, then you can log in to enter your questions to create a survey. This online tool "FreeOnlineSurvey" is suitable if you want to create a multiple page survey.
In the free version of the free online survey you can add up to 20 questions, 50 number of responses per 10 days, and an unlimited number of surveys, but paying $19.99 a month will get you access to additional features and up to 1000 responses.
8) Survs 
This online survey will provide the list of different question in the form of a scroll-down menu at the top of the window in which enter your questions.
It also provides you color-based themes and additional question options like logic rules and random ordering. A free version of Survs Facilitates 10 questions per survey with up to 200 responses.
You can buy its basic plan at $19 per month and enter an unlimited number of questions per survey with up to 2000 responses.
9) SurveyMethods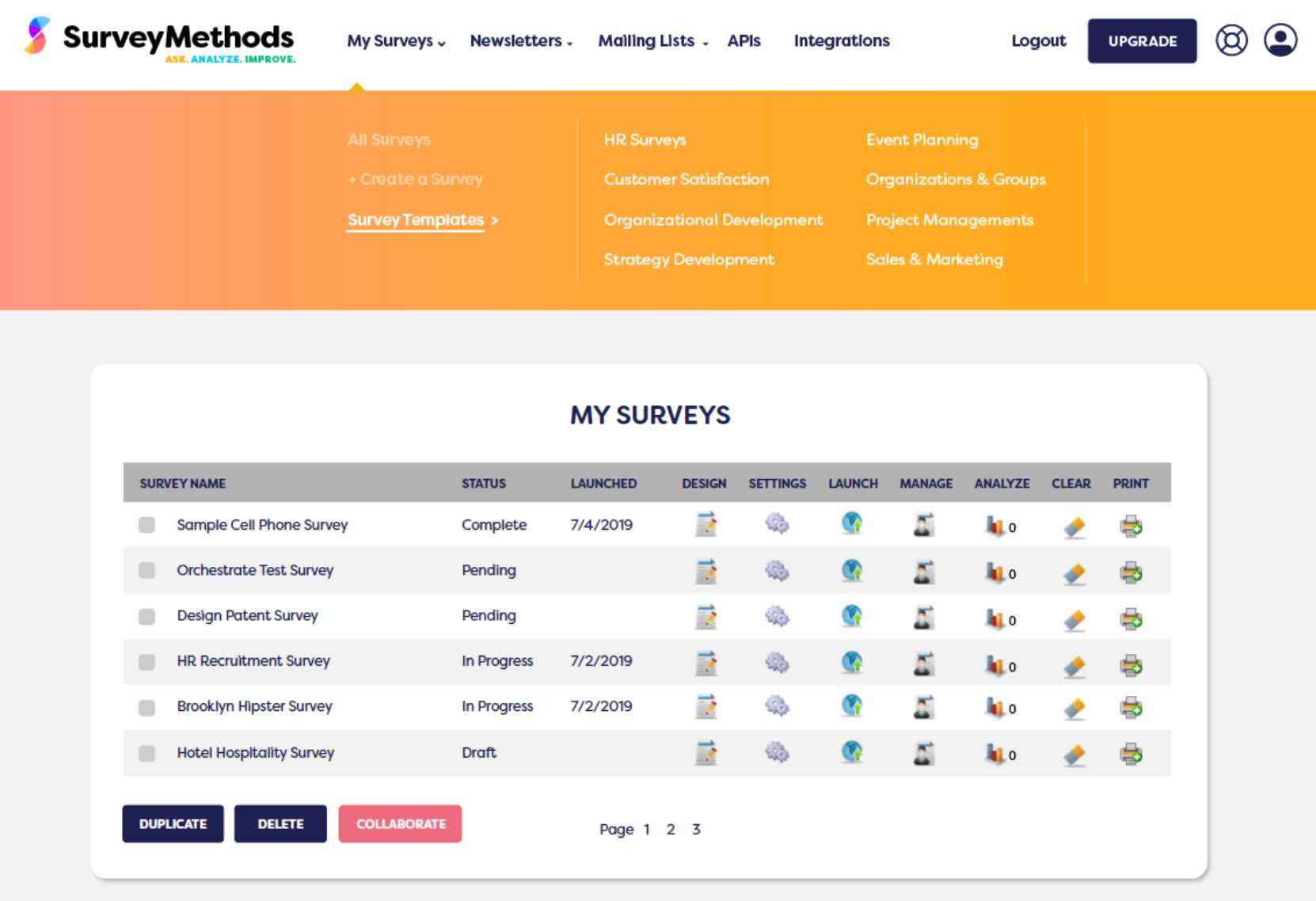 Survey methods you can share your survey with your co-workers and ask them to give their feedback. In short, you can prepare an effective survey with the help of your whole team.
You use traditional survey methods like you can import your email marketing list to send your survey at once to everyone.
Though it does not provide you fancy surveys, it is worth a try at just $9 per month with unlimited responses and up to 500 responses in its free version.
10) SmartSurvey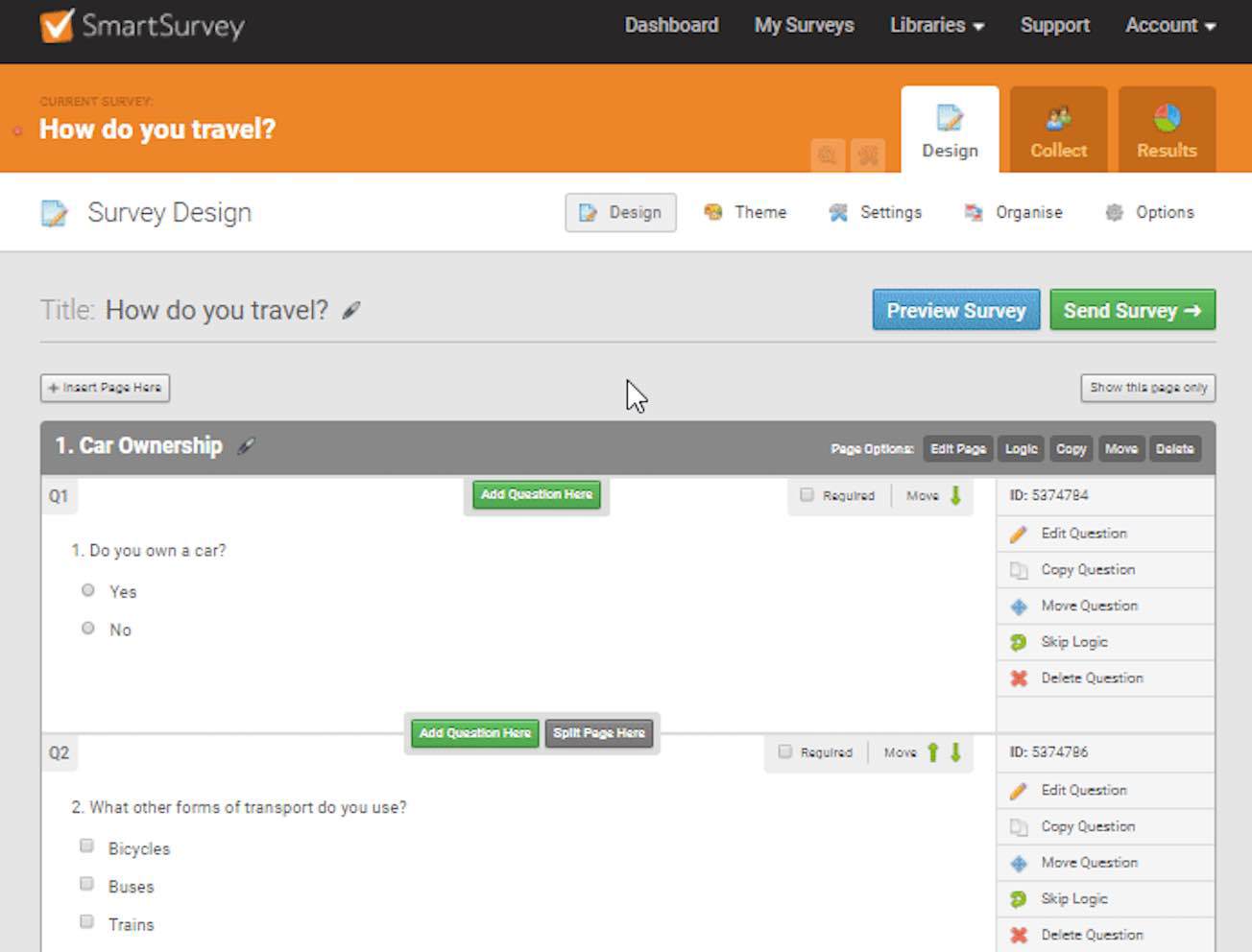 SmartSurvey provides the option of a shared library where everyone on your team can enter questions that they find suitable and responses can also be shared with your team using a password-protected dashboard.
You can add up to 15 questions in your survey while creating it with a free version of this online survey tool and get up to 100 responses.
You can buy its Pro plan by paying $32 a month to get an unlimited number of questions to add to your surveys and get up to 1500 responses.
11) QuestionPro :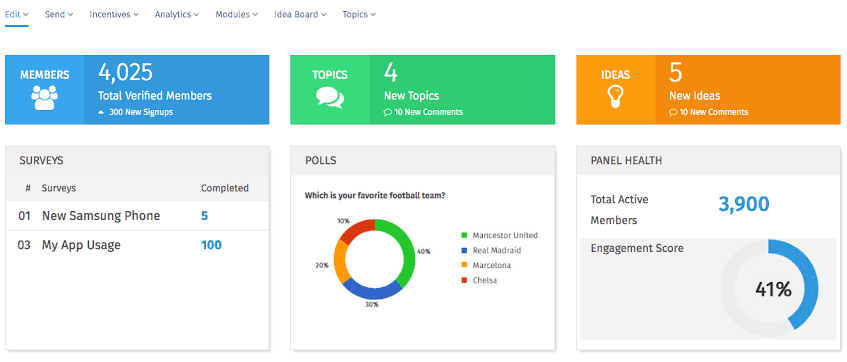 It is a good option to get your customer's response on the go. You can embed the survey that you have created on QuestionPro in your Mobile and can send push notifications to your customers so that they can fill your survey from their mobile.
It also lets you share your survey on various media platforms like Facebook or can send your survey to your customer's email list to get their responses. It is also easy to create your survey on QuestionPro.
You can simply upload the word Doc of your survey in it, and it will convert it into an online survey for you. the free version of QuestionPro provides you up to 100 responses, whereas, you can get its advanced version by paying just $12 per month to get unlimited responses.
12) FluidSurvey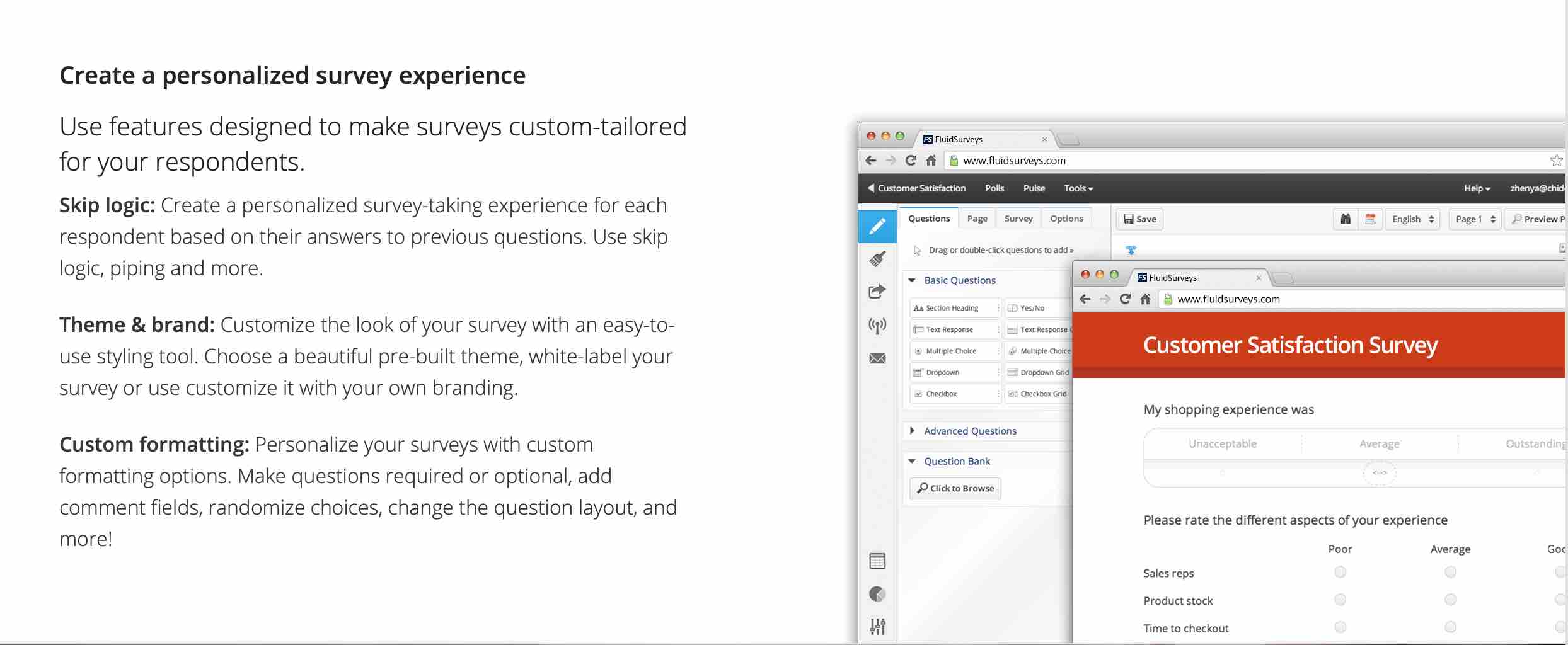 This modern-looking online survey tool provides you Survey's editor, design as well as results with quick links. You can make a survey of 64 different languages for a worldwide audience.
It is a product of SurveyMonkey, and it is suitable for your conducting survey when there is no limit on your survey.
Like all other online survey tools, it also provides you up to 10 questions per survey and up to 100 responses on them, and if your budget gives the green signal, you can select a plan starting from $70 per month to get unlimited responses and many more additional features.
13) SurveyPal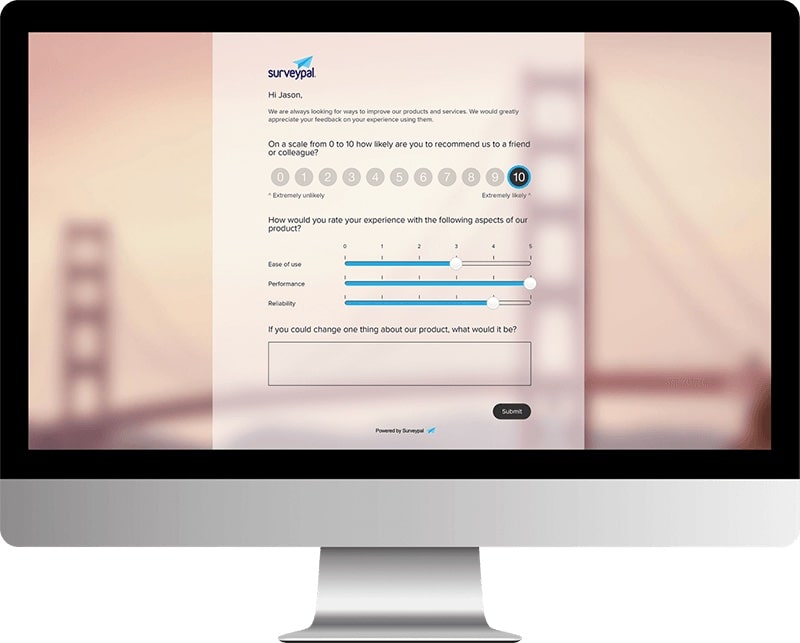 The user-interface of SurveyPal is quite similar to InDesign and PowerPoint. If you are familiar with using them, you will find yourself comfortable using this online survey tool "SurveyPal."
You can use visual content to make your survey more attractive and appealing to your respondents and can help you to get maximum responses.
In the free version of SurveyPal, you will get unlimited surveys along with up to 100 responses, and you can get its premium plan at $40 per month to get up to 1000 responses and many more additional features.
14) Obsurvey

If your budget is not high, then you can go for Obsurvey too. It is pretty basic and allows you to conduct surveys offline by getting a pdf file of the survey, but you will have to upload responses to your survey manually to get all responses in one place.
You get its premium plan at $12 for its best features and unlimited responses.
15) SoGoSurvey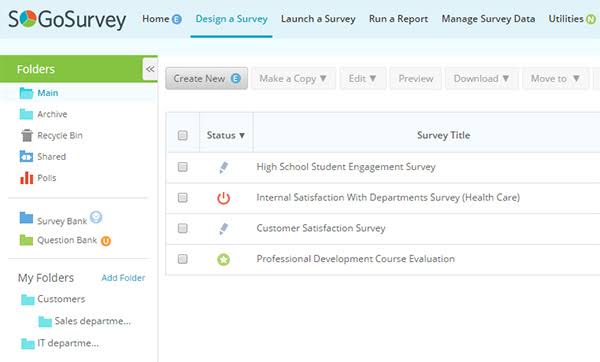 This online survey tool can be used for end-to-end survey design, distribution, and analysis.
Its free version provides you a lot of features like 24 questions type, unlimited survey, unlimited questions, three different page branching freebies, 200 respondents per year, easy to embed a survey in emails and website, and easy data export option (in various formats).
You can choose from their advance packing paid per year basis. The plus plan of SoGoSurvey will cost you $299 per year.
16) ClientHeartbeat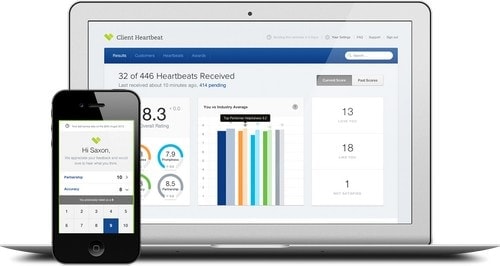 This online survey tool is not available free of cost. You will have to pay $25 at least to buy ClientHeartbeat basic plan to be able to use its services and $57 per year for the Gold plan and $85 per month for the Platinum plan.
It provides you so many advanced features that you will hardly find in any other online survey tool. Therefore, it is worth to spend on it.
17) SurveyGizmo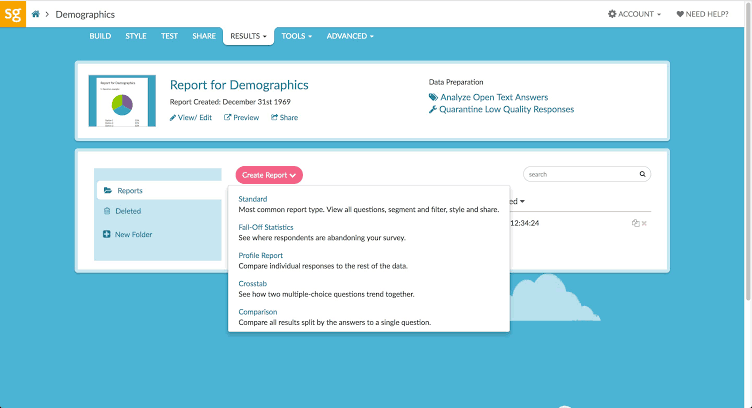 You can create colorful surveys using SurveyGizmo. However, its free version features are pretty limited. You will get unlimited surveys, unlimited questions per survey, 50 responses, CSV exporting, basic question types, and free templates.
You can buy its basic paid plan known as "SOLO" by paying $15 per month. The basic plan will get you additional features like Customized themes, more than one user, data encryption, and API.
However, if you want to use more advanced features, you can buy plans up to $199 per month.
18) Zoho Survey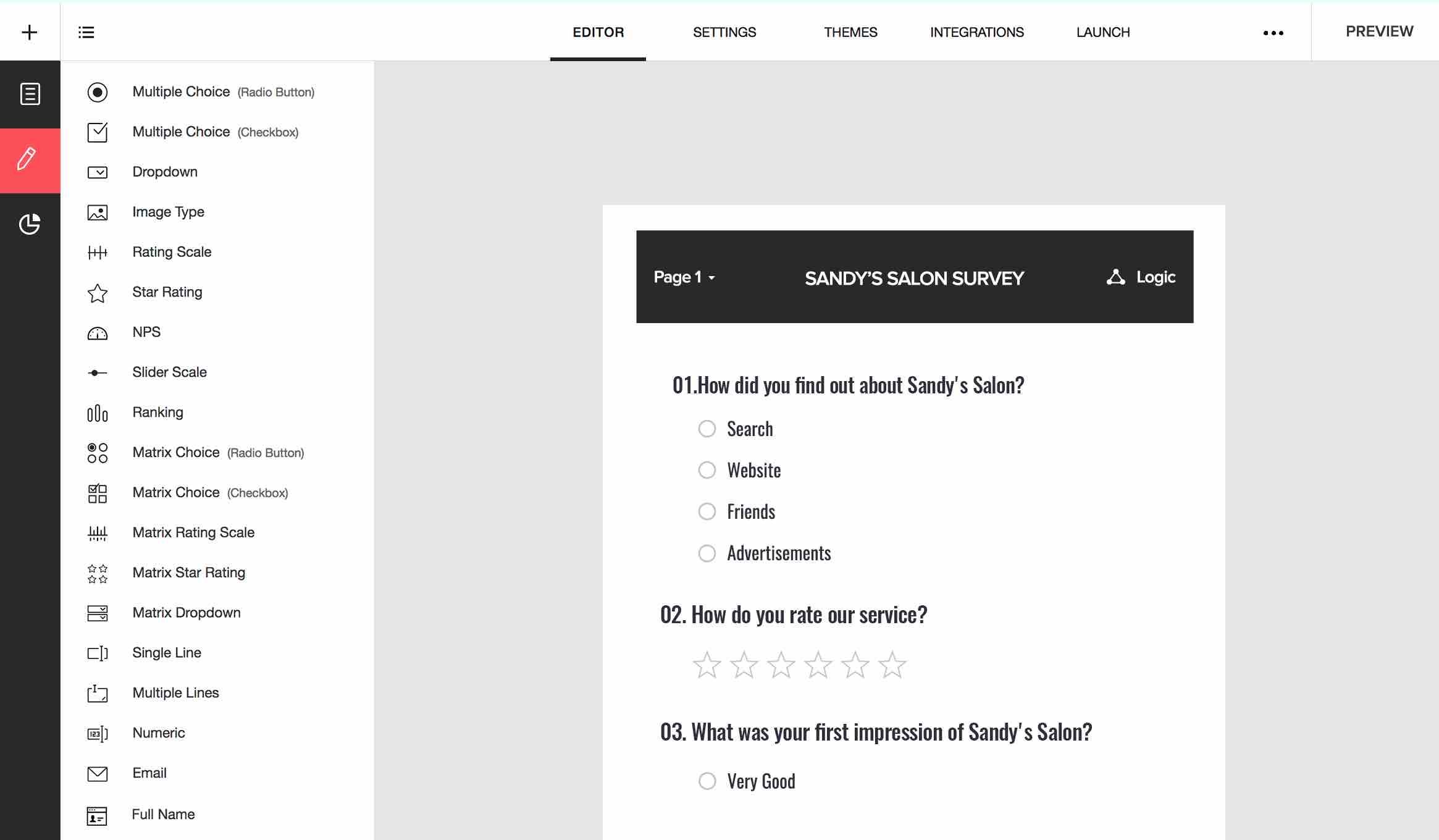 This survey tool also provides you with multiple features in its free version. It provides you features like 15 questions per survey, 150 responses per survey, and an unlimited survey.
You can get a standard paid version of Zoho Survey at $19 per month and its premium plan at $39 per month.
19) Survmetrics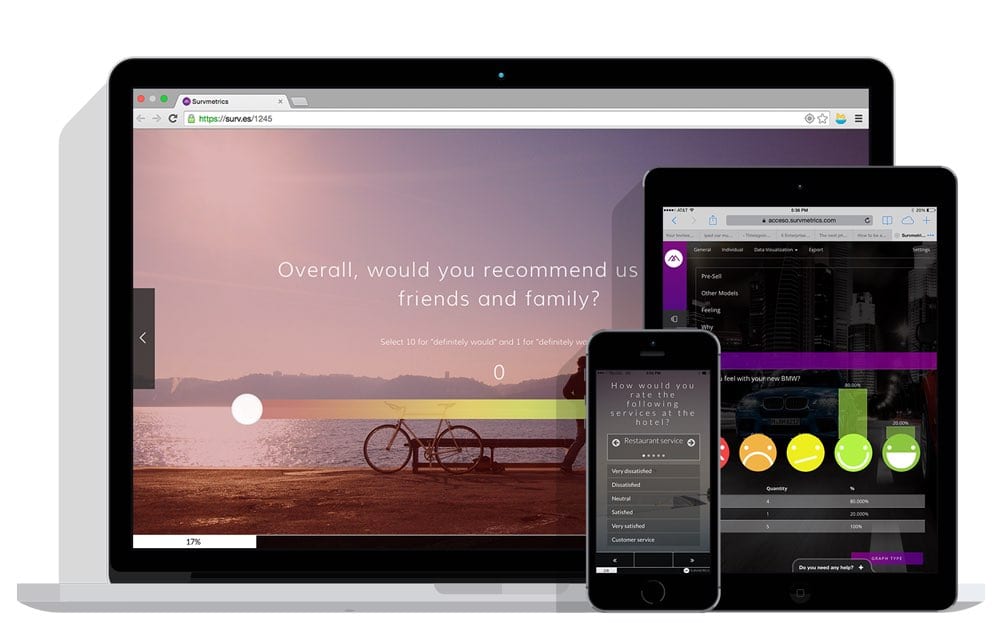 If you want to create a creative and attractive survey with each question displayed on a separate page, then you must give a try to this survey tool. You can choose from pre-designed templates from the tool, or you can customize your template.
It provides you features like various question types, branching, logic, and up to 200 responses in its free version. You will have to pay at least $20 to buy its basic plan to be able to use advanced features.
20) QuickTapSurvey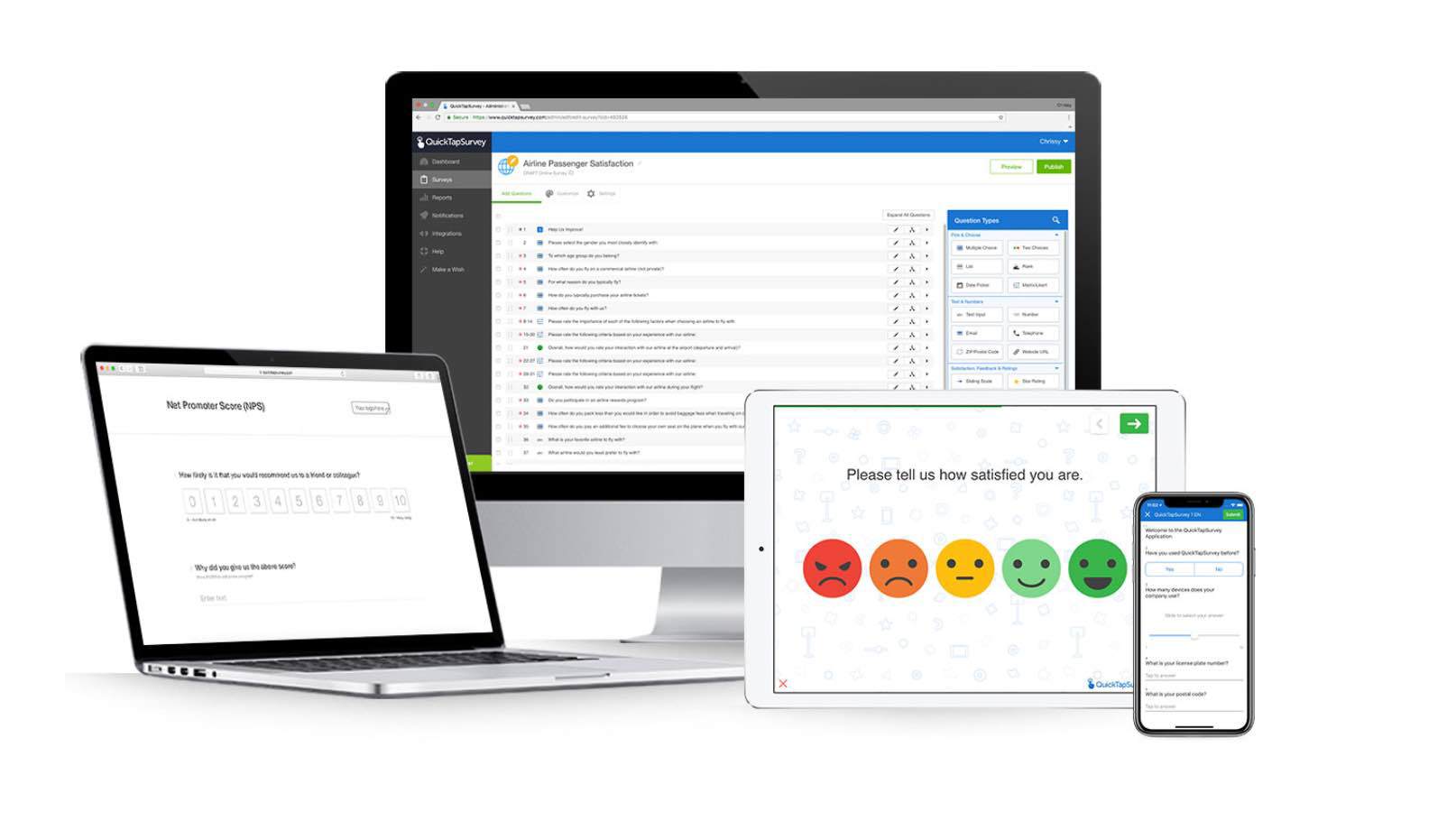 This survey tool provides you an option to conduct an offline survey. QuickTapSurvey also provides you features to scan QR codes, capture photos, and get locations.
The survey can be deployed on IOS and Android devices and can be synchronized gain when you are back online. You can also use the same tool to build a survey for websites.
You can get its basic plan at $19 per month and per device with unlimited features.
21) Google forms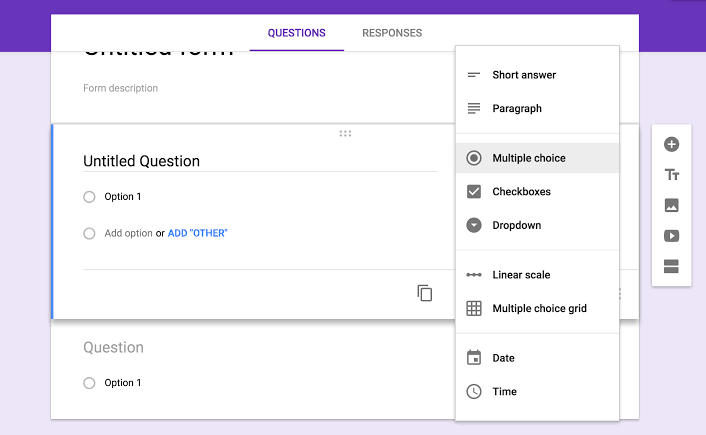 GoogleForm is one of the most famous free of cost online survey tool. You need to have a Google account to access this tool. You choose to decide the privacy option of your survey form.
You can either keep it private and accessible to a few people, or you can keep it public so that you can get the responses of a much larger audience. You can sync your google sheets to get responses and analyze it on the same platform.
However, it comes with a limited type of questions like the open-answer format, multiple-choice, and multi-select. Therefore, it is a good option if you want to prepare a simple survey.
22) KwikSurvey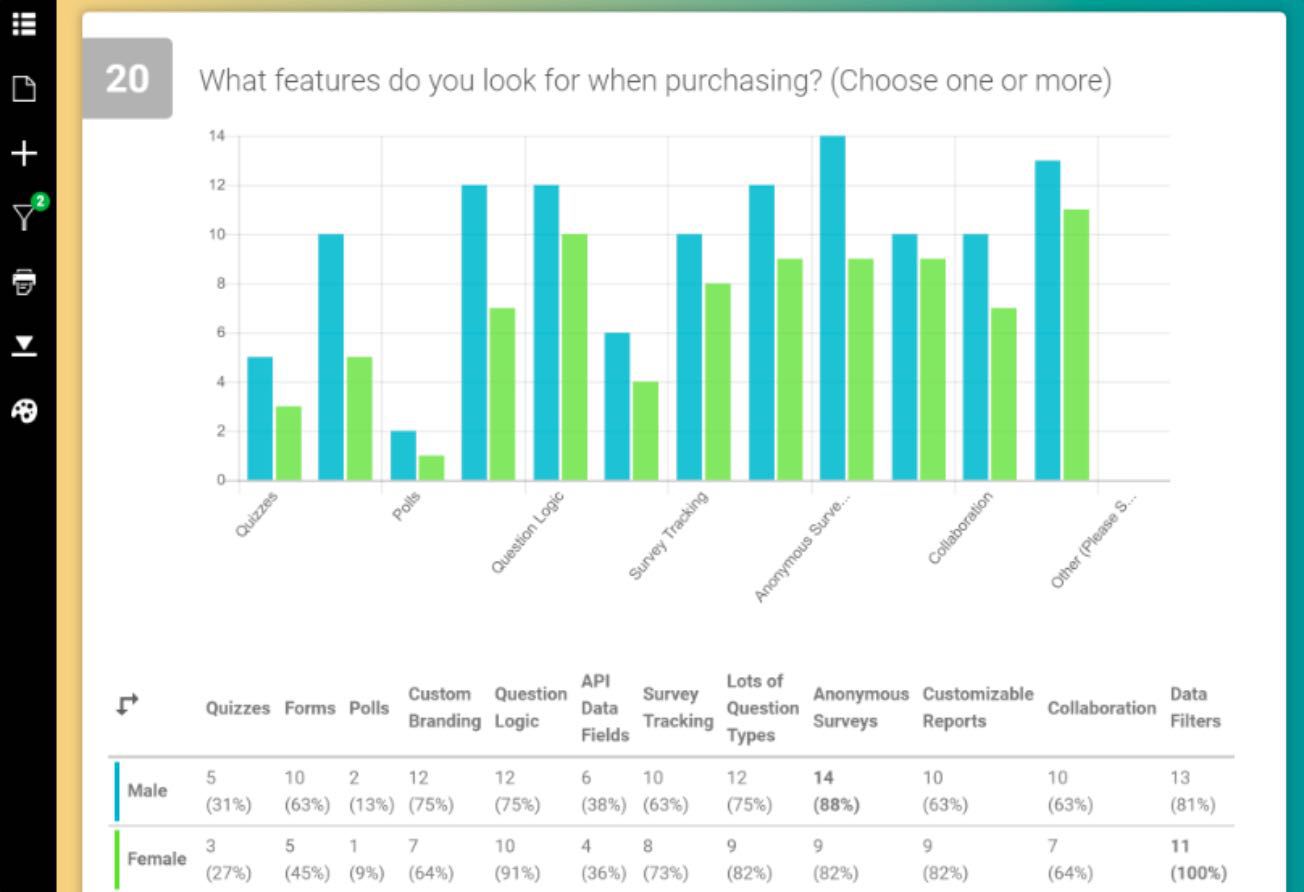 KwikSurvey is a free online survey tool that is free of cost, but you will be distracted by ads in the window you are working on. Customization to templates is not available, but you can choose a template suitable for you from more than 30 options.
It provides you drag and drops features to make your survey effortlessly. you can easily embed your survey on your website to get responses. You can export your data completely and analyze it in excel sheets or any statistic software.