It can be defined as being a product of a transaction that has taken place between a customer and the company from the customers' point of view. Any kind of experience that is physical, visual, rational, emotional or any other kind could be termed under customer experience. The customer experience can be broken down in three parts:
The journey of a customer to the brand
Experience of the customer with the brand
The environment of experience
Thus Customer experience is not only a one-sided input on the part of the customer, but it is also a two-way process involving the company and their offering. An ideally good or satisfactory customer experience would be when customer expectations match with the customer experience with all three points.
Customer experience can be divided into two types :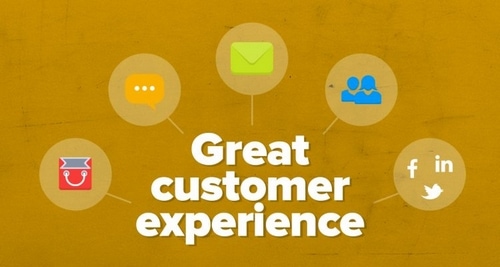 1) Direct contact
In this, customers may touch, feel, smell or use products. Anything that involves the physical presence of product is termed as direct contact experience. Showrooms are involved in direct contact customer experience.
2) Indirect contact
Unlike direct contact, there is no physical presence of the product and the customer may experience it virtually via ads, news reports, word-of-mouth, social media reviews etc. Any brand promoted online would fall under this category.
As explained above, even the process involving reaching of a customer to the brand and during the use experience falls under Customer Experience. When a customer experiences a product, he memorates the feeling which can be recounted to describe in words.
The concept of customer experience plays an equally important role in products which can be seen and felt as well as services which can only be experienced. It involves various points of touch wherein the customer feels the product – they could be termed as touchpoints.
Customer experience is a collection of such touchpoints which is a combination of both measurable and non-measurable aspects. Only when a sale is realized can it be termed a positive customer experience. However, if a repeat purchase is not seen from the customer, it can be termed as Positive Customer experience turned to Negative.
How to develop positive Customer experience?
1) Direct Contact 
It is seen that direct contact brings in more conversion than In-direct contact customer experience. Also, direct contact customer experience pushes up the ratio of conversion of leads to customers. Direct contact stimulates customer senses faster than visual or any other mode would do which brings faster conversion.
The feelings – touchpoints – have to be elevated positively in order to develop positive customer experience. In the case of services, only after availing the services will the customers develop positive experiences.
2) Product quality
The quality of the product should be superior in order to have a good outcome of the experience. The design, taste, color all act as touchpoints and if all of these touchpoints are positive then the customer experience is positive.
3) Indirect Contact
Ads are effective up to a certain extent but with the advent of social media and 1080 and above pixel images, the images can be visually more titillating than the product itself. Such a visual feast can push more and more non-users to buy the product and get the contact customer experience.
Ads of any sort are effective if presented properly and push the customer towards a product demonstration or consideration which is a form of contact customer experience. Word of mouth is another major tool for developing customer experience. An ad may be considered staged and manipulative or misleading but a feedback from a neighbour or relative or a friend would be trusted more. Companies encourage such word of mouth for trustworthy customer experience.
4) Simple but effective language
Using a lot of jargons during a sales pitch may not be advisable from the customers perspective. It is necessary that the language should be simple for every customer to understand but at the same time it should be effective and should convey the superiority of the product or service in the simplest possible language. This is yet another essential feature for great customer experience.
Examples of Good Customer experience :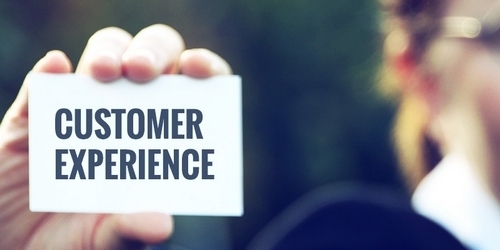 Following are few illustrations of good customer experience:
1) Mobile Phone Industry
The growth of the mobile phone industry has been tremendous in the last decade or so. Every year mobile phones upgrade themselves and add a feature and make the last years model outdated. While mobiles have certainly become a necessity, their added features are optional and to promote them the companies have to spend a lot on proper advertising.
For example, until 2017, Google's flagship phone Pixel 2 XL had the best camera in the industry and to highlight that camera, the company must have spent a lot of money. To show its picture quality, video quality functions in different light conditions and everything a photography enthusiast would want.
Certainly, the advertisement does the job but unless customers really hold it in hand and experience the sleek design, the smooth and fast interface and the dynamic look of the mobile, they would not be impressed. Advertisements have limits in customer experience.
It can be visually as appealing as possible but until the customer does not touch and see the mobile phones, there would be no convincing on customer's part. Advertisements are not an end but they are means to end, they motivate the customers to go and take a feel of it and for good customer experience, it is essential that customer sees the product physically.
2) Starbucks
Starbucks has excelled at providing a fantastic customer service. In April 2018, two black men walked into Starbucks Philadelphia store and asked to use the washroom. Since they had not purchased anything from Starbucks, the customer executive denied. When they insisted, cops were called and the two black men were arrested on account of trespassing. Later when the news became viral via a video, there were numerous protests all over with #BoycottStarbucks trending.
Starbucks later issued an apology saying it would do everything to get this right and ensured that no case was filed on the two black men. In May, Howard Schulz, the CEO of Starbucks issued a statement saying anyone can sit in Starbucks or use its washrooms without buying anything. This proved to be an exemplary gesture towards good customer experience.
Starbucks shares rose and according to the internal source's business of Starbucks rose considerably. Although no percentage was given, it can be estimated that it rose around 10% which is a substantial number owing to the number of stores Starbucks has worldwide. This not only has improved the customer experience for customers only visiting Starbucks but it also has earned Customer Goodwill.
3) Real Estate
Real estate sales are considered to be very profitable and realtors ensure a better customer experience by going out of the way. Things like showing the property by arranging a visit, even multiple visits if required and all of this at the cost of the realtor.
Many of the people don't show up and in that case, the cost is gone. With the advent of Virtual reality glasses, customers can now view the entire property sitting at their home and which also reduces the cost of the realtor. While physical experience matters to close the deal, at least the initial sifting through customers is done and the ones simply browsing are avoided while focusing on serious buyers.
Advantages of Customer Experience :
1) Customer Satisfaction
While the sale is the quantitative way to determine the progress of the company in economic terms, good customer experience is determinant of customer satisfaction.
Knowing that customers are getting the best of the experience by providing all the necessary amenities to convert the sale, companies can ensure that even if there is no sale the customer experience is great. In the long run, it's the customer experience that brings back the customers.
2) Value addition
Customer experience is a valuable addition to sales. When the e-commerce websites were evolving and many stores were shut, Apple maintained a firm policy to keep the brick-and-mortar store with sample phones.
This was to provide a premium customer experience for a premium product and sure enough, it worked well for Apple. About 1/4th of the Sales coming to Apple are generated from Store. The purchase may or may not be from the store and the bargain hunters may hunt for best offer but the sale is ultimate of Apple. This value addition gets a positive customer experience
3) Customer Goodwill
A positive customer experience is a stepping stone of a positive customer goodwill, which in turn is a predecessor for brand loyalty. The importance of Customer experience cannot be emphasized more. A good customer experience may not pay out immediately but it builds a great reputation and brand equity for the company.
Disadvantages of Customer Experience :
1) Everyone is a prospect but not everyone is a customer. Many of the prospects do not get converted into customers. Many of the 'browsers' simply do window shopping. If it's a free tasting arranged by the hotel, they will taste the food item and leave, if it's about taking an experience of a new mattress, a lot of them will flock but very few will buy. In such cases, keeping up with customer experience is expensive for the companies.
2) As much as Customer experience is in the hands of the company, it is equally dependant on customers. A company can have the best of facilities of customer experience and yet the customer may not be satisfied, in which case, it turns out to be bad customer experience. It is not possible to keep everyone satisfied despite the best efforts of the company. Thus there will always be a certain percentage which will be dissatisfied due to personal grudges or any other personal factors.