Do you wish to improve your presentation skills, so you do not get fed up of not being noticed or being a wallflower? Then you need to understand that competence in presentation skills is a definite asset that can optimize the chances of getting favourable outcomes from different situations.
In this post, you will get to know some of the key presentation skills, plus you will also learn how to sharpen those skills. So, let us get started right away-
Introduction to Presentation Skills
Whether you are a student or a high-level executive or a professional, writing and delivering an engaging presentation and reaching a quality presentation skill will be the critical factor in your career.
Do not forget that, in a school or a professional space, the most important decisions are made based on information and opinion shared in a presentation. It is rare to find a classroom or professional space that takes an important decision about the work or about the person delivering a performance without listening to an excellent and engaging presentation.
Delivering a presentation with clear and compelling information is a matter of precise skill. It needs a lot of hard work and practice to take your presentation skills to a certain level.
You will effectively get your message across a broad audience and have the power compel them to make individual decisions based on your presentation. In today's highly competitive world, high-quality presentation skills are a must in every field.
However, not everyone can develop it properly, or they do not have the guidance. Hence, this article will give you detailed guidance on writing, constructing, and delivering an engaging and effective presentation.
But before going into that, let us have a look at some of the critical presentation skills-
Important Presentation Skills you should Master
Verbal communication
Delivery
Persuasion/Selling
Leadership
Humor
Storytelling
Written and visual communication
Self Awareness
Emotional Management
Adaptability
Listening
Facilitating
Networking skills
Interpersonal skills
Stress management
Problem-solving
Research
Time management
Organization
Gestures
Showmanship
Incorporating these qualities will help you in improving your presentation. Let us now understand how you can improve the presentation of your written pieces-
How to Write an Engaging Presentation?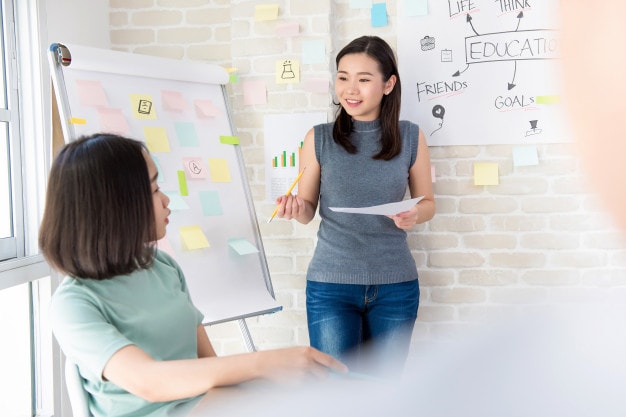 Delivering an engaging and compelling presentation begins with writing an engaging introduction. If a person does not have a great write-up, there is no chance that he will be able to move the audience with his presentation. Hence, writing is the first step to work on.
First of all, one must understand that writing a piece for presentation is different from writing something for reading. It is a little more complicated.
Here you have to realize that there will be a particular type of situation and set of mind who will listen to your writing and have that specific time to convey it.
Hence, here are a few essential things to remember when you start writing for your presentation.
1. Make an Outline
Always make an outline you what you are going to write before you start writing the full speech. Making this outline includes writing down the main points of the central idea of your speech.
And what to include and where to add that is the chronology of topics and ideas in your address. Making this rough sketch of the main ideas will work as a road map for the final writing. Moreover, you will get all the ideas and important points in front of you in the right order.
Hence, you will be able to include or exclude a thing or change the chronology at any point. Moreover, it will make the process quick and easy.
2. Add some Personal Insights
Apart from being very factual and objective, it is always an excellent choice to add personal views and insights.
However, this again depends on the situation. If you are presenting an academic paper, then try to ignore this point. But if this not strict academic writing,
then adds some personal views. It will create a possibility of discussion, and the listeners will feel engaged. Most people do not like to listen to bland speeches without any personal insights and opinions.
3. Try to Add some Humour
There is nothing much to tell about the importance of adding some humor. Adding some elements of humor in your writing will make it more exciting and fun to listen to. Many people get bored in many talk sessions after listening to multiple speeches.
Hence, in this situation, if you succeed in adding some fun elements in your writing, it will stand out from the crown, and people will quickly pay attention to you.
Moreover, it will lighten the mood and create a positive environment. Besides being entertaining, a joke here and there reminds the audience that you're human. The audience is more likely to listen if you seem relatable to them.
 4. Create Repetitions
A good piece of writing always emphasizes the key points. One of the best ways to create this sense of empathy is to repeat specific key points of the writing. It will make the listeners stick to those ideas, and they will regularly be reminded of them.
Hence, while writing, remember to repeat the core points of your speech throughout the whole writing.
How to Structure the Presentation?
After the initial writing process discussed above, you have to move to the original copy of your writing. Now, the thing you have to remember while writing the final copy of your presentation is how to structure it. Structuring is the ultimate key to a persuasive speech. It is like the foundation of a house, and the foundation needs to be correct.
The tradition and most widely used structure of a speech are to have an opening, a body, and a closing. You have to include what you are going to say, you have to say what you have to say, and lastly, you have to tell the audience what you have said to them. Following this simple structure will make your speech effective and straightforward to grasp.
1. The Opening
The opening of your presentation must serve the purpose of a brief idea about the body. It should make the audience aware of your presentation's core idea by giving it a summary of the whole paper.
Moreover, the opening should have something in it that makes an emotional connection with the audience. After listening to the summary, a person must feel some necessarily and excitement to listen to your whole presentation.
Hence the opening is like an entry to your house. It has to be very attractive and will serve a fundamental purpose.
In the opening, you can add a little story about your key topic that will engage the listeners. Or, if you want something more serious, you can ask a question in the opening that makes the audience a little uncomfortable and want to have the answer, or you can also add some inte+resting and surprising fact.
However, it should not be too long. Keep the opening short and engaging.
2. The Body
Once you have an engaging opening, you have to come to the body. The body should be straight to the point and have only those things which are crucial to the topic. Remember, your body is your topic.
Whatever you have to, you have to say it here. Many people repeat the things they have already answered in the opening. However, this is an instant let down. No one wants to move around and round for too long.
Hence, when you start the body, come directly to the topic.
Tell them the things you have to say, make them aware of the critical points by repeating them throughout the body. Add some opinion, present them with some facts related to the topic. At the same time, make sure that your body has a linear progression.
That means make sure that you are not saying the same thing or talking about the same point again and again. Instead, try to build an argument and reach a certain point in the presentation's body.
Also, make sure that all the key topics have been discussed and mentioned at least once.
3. The Closing
Never ignore the closing. It is as essential as the opening.
Take it as your last chance to give the audience something to remember. Just like the opening, you close the presentation by asking a question that will stick to their minds forever.
Moreover, you can end it with a positive note or by talking about a possible positive thing about the main discussion. You can also add some humor in the closing so that the presentation ends with a light note, and people can feel relaxed. It will give it a positive vibe.
How to Improve Your Presentation Skills?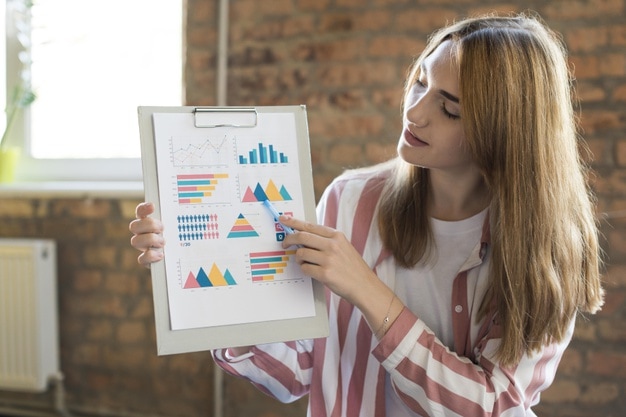 1. Practice
This needs no description. There is no alternative to anything better than regular practice. In the case of an excellent presentation, you have to practice. Before making your final presentation, you have to rehearse your presentation multiple times.
Rehearsing the presentation various times will make you aware of the things you have included in the paper and its chronology. Hence, you will know the things you are going to say, and this will give the presentation the necessary fluency.
However, rehearsing a presentation multiple times can be a little difficult for those people who have busy schedules and have no time to practice. But, there is no alternative to this.
Hence, one has to take out some time by any means as it is essential if you want to deliver an engaging and fluent presentation. If you are a student you can read it during the break; office people can too read it a few times between their works and during the lunch break.
Otherwise, one can always read it by staying up late at night. It will lessen your nervousness and give you the necessary confidence.
2. Be Enthusiastic
Some people might find it a little odd. But this works. You have to be enthusiastic about your presentation only then you will get positive energy.
A person who is not interested or excited about a thing he is going to do has already lost half the battle.
As Winston Churchill once said, "I make sure that I'm as enthusiastic and energetic as possible before going on stage."
3. Listen to Other Presentations
This is one of the most effective ways to lessen nervousness. Listen to some other people before you start talking. Listen to how they are telling and what types of responses they are getting.
Look at the environment that has been created in the hall. As you listen to others, you will get to know about the mood of the audience and the number and types of questions that can be asked. It will make you familiar with the surrounding.
4. Be Comfortable
One of the secrets to a positive delivery is to be comfortable with the surroundings.
The more a person adjusts to an environment, the more positive he will be. And the best way to be healthy is to come early to the place. Never come just before the speech. It will make you more nervous as everything around you will be new, and you will not be familiar with the environment.
Hence, arrive a little early and spend some in the room and with the people. If there is any break, talk to the audience and other talkers. It will give you an idea about their mindset.
5. Engage with the Audience
 Do not just give a plain talk; instead, try to engage the audience and make a discussion out of the presentation.
It is where the question/story/fact or humour that you have included in your opening and closing will help you. No one likes to listen to the plain, bland talk.
Instead, they want to put up their opinion, listen to the personal opinion of the presenter. Hence, always put up some questions with your speech and welcome any advice or question that comes your way.
6. Focus on the Pauses
This is a very professional thing to follow.
Always pause at the critical place for the necessary period. Many people do not follow the pauses, and as a result, it sounds like a blunt reading.
But you do not want to sound like you have memorized the speech rather speak like you are discussing something. Also, maintain the pace of reading. Do not read too fact under nervousness.
It is why rehearsal is essential.
Final Thoughts!
By now, you must have got some understanding of how to write, construct, and deliver an engaging and compelling presentation.
Start with writing a high-quality performance and remember that if your writing has good quality, then you have absolutely no reason to be nervous. Just be relaxed, practice, listen to others and present a positive speech with a confident smile.
What are your thoughts about the tips mentioned above for improving presentation skills? Tell us in the comment section below.
Liked this post? Check out the complete series on Skills