Soft skills are natural, non-technical and intangible abilities that become character traits with time. These are aligned with personal traits and general disposition of an individual. Your aptitude to interact is inherent and cannot be described via your resume.
In today's competitive environment an employer is looking for a comprehensive balance between both soft and hard skills in a potential hire that will take his company further. Soft skills actually refer to personal qualities, attitude, creativity, habit, social graces, critical thinking, communication skills, social intelligence, taking the lead and adaptive nature.
Soft skills matter as it differentiates an adequate employee from the ideal member. It is these skills that make a workplace happy and satisfied for productive work.
1) Communication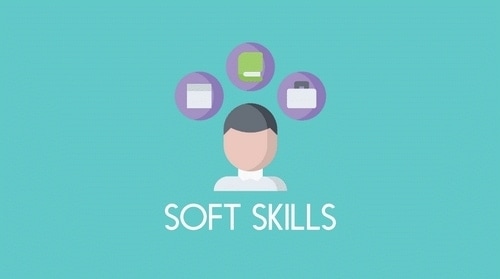 Communication is the means of interaction with employers, colleagues, customers, clients and even vendors. This soft skill is about making the other person understand your thought process and instructions in a doable and effective manner.
Precise, clear and comprehensive dialogues are important aspects of an able communicator who must adjust his style and tone according to the circumstances.
It is also about his writing capabilities, negotiations, persuasion powers, public speaking, nonverbal communication, visual communication, excellent presentation, and active listening. A good communicator will set his tone to encourage good relationships with co-workers.
2) Teamwork
Teamwork and team bonding are crucial in a professional environment because success is dependent on a team, not a single entity. It is one of the best soft skills you should have as it enables integrating talents and efficiently in group settings.
Being co-operative with your positive attitude is a plus that motivates other team members. Working together in a team is about combining several skills to achieve a common goal. The members must be perceptive to the emotions and receptive to the needs of its fellow team members.
In order to be a good team player, you must have the necessary qualities and traits like negotiating, networking, coordination, mediation, co-operation, collaboration, listening and delegation.
3) Creativity
A workplace is a beehive of problems that needs someone to be creative enough to find interesting and new solutions. A creative person will stand out in such circumstances and prove his worth to the organization.
It is one of the best soft skills that an employer must look for as it will remove several inconveniences at once. The ability to question, design, experiment, innovate, reframe and inspire are part of a divergent and creative thinking process.  An employee needs to be imaginative and resourceful to find innovative and suitable solutions at the workplace.
4) Problem-solving
Problems are part of any organization but do you have the necessary resources and skills to become a good problem solver for your organization. Thinking creatively and logically are no doubt two important aspects of problem-solving soft skills but the most important ability is his mindset towards any situation.
Can he approach the problem with a level head and reach the appropriate solution without losing his cool is an important question that needs to be addressed if you are looking for this soft skill. Problem-solving is all about thinking on one's feet, negotiating, making an active decision, observing logically and taking an initiative to meet the unexpected challenge successfully.
5) Flexibility
Advancements in science and technology have made every industry susceptible to change at the drop of a hat. It is at such times that employers need employees that have flexibility as one of their soft skills so that they can pick up new technologies and adapt to critical changes in their surroundings.
Nobody wants a worker who cannot implement new skills and is going to whine about it. Flexibility is about adapting to change and new situations easily with an upbeat attitude. The willingness to try something new and the ability to be open-minded about new challenges is one of the best soft skills you should have.
6) Time Management
Time is a precious commodity that you cannot recover when it has gone. Several jobs are very demanding with high stakes.  Completing projects in an organized manner within the given deadline is part of work culture.
The industry has become a very fast pace and it is crucial to be on time. You cannot have someone in your employ that does not respect time nor does he know how to manage time efficiently. One vital soft skill you should have is time management qualities.
It demonstrates your willingness to complete the given work in an efficient and timely manner. In order to manage time wisely in the workplace, the employee must set precise goals, prioritize, plan, focus, cope, delegate, organize and make the appropriate decision.
7) Leadership
A good leader is one that stands behind his team during success, with them during working and in front of them during failures. Leaders are born and not created is a great proverb that we have heard again and again.
Positive outlook, aptitude, and attitude are necessary for a leader along with a commanding presence that will prompt others to follow him. A leader is the one that guides and encourages his team to fulfill the vision of the organization.
Important skills that emphasize good leadership qualities are empathy towards every member, generosity in heaping praise, versatility in coming up with solutions, an authenticity that distinguishes him from others, his humility in taking a back seat during praise and intelligence to take his team forward. One of the best soft skills you should have is leadership as it will easily inspire and motivate members to work efficiently so that they can easily reach their potential.
8) Positive attitude
Business is fast paced with stress as part of its work environment. You need someone that will bring a breath of fresh air with his positive and sunny attitude. A happy place will result in a good ambiance that will be reflected in the smiling faces of its employers.
When the workforce is satisfied and happy in their workstations they try to give their best and achieve better work productivity. One of the soft skills that an employer looks for is a positive attitude in his employees. Such individuals are a pleasure to work with and their friendly attitude makes the surroundings healthy.
An upbeat attitude, friendly personality and optimistic nature are appreciated within tense surroundings as it spreads goodwill and good energy. People like interacting with easygoing and fun loving souls that can take away their stress for a few minutes.
9) Work ethic
Employers are taking suitable actions to improve the work ethic of a place as it helps in increasing the efficiency and productivity of an organization. Is the employee dedicated and motivated to meet the deadline in an effective manner is a question that revolves inside every employer's mind.
A strong work ethic will prompt an employee to stay focused, punctual and organized. One of the best soft skills you should have is work ethic as it strengthens the character of a person and brings traits like attentiveness, dedication, persistence, responsibility, discipline, integrity, commitment and professionalism to the forefront.
10) Critical thinking
Companies are in the look-out for critical thinkers as they have the ability to observe, analyze and make prompt decisions. They are good at intuitive solutions and bring a fresh perspective to the table. A critical thinker helps to make his co-workers work better.
It is his ability to garner the available resources to his advantage that makes him stand out in difficult situations. One of the best soft skills you should have is critical thinking as it enables a worker to use his reasoning and imagination to come up with viable solutions. He goes through the research and past experiences, analyzes that data, understands the minute details and then comes up with a solution that will resolve the issue effectively.
Liked this post? Check out the complete series on Skills