Have you been thinking about how some people can generate new ideas quickly and represent very well when other people struggle to do so? They do so because of the power of creative thinking.
Their thinking ability is entirely different from other people. They are creative in nature. They do not put any effort to think creatively. It comes automatically.
Now an obvious question arises in your mind that is what creative thinking is?
What is Creative Thinking?
Definition: Creative thinking is the ability to create or formulate new things and ideas which can be any kind of artwork, any concept, any method, any solution, or even any gadget. Creative thinking is about "thinking outside the box".
Everything comes with creativity and inspiration. Even the people you know who are billionaires are creative creatures.
Any person who has a fresh perspective towards a particular thing is different from any usual perception. Musicians, artists, engineers, business tycoons, entrepreneurs, and several people like them are creative thinkers. One cannot copy anything; everyone has their way of creativity.
Generally, people think it's hard to be so creative like well-known personalities, but it's not. Anyone can be creative; all you need is a different way of thinking.
Examples of creative thinking skills include visual art, problem-solving, communication skill, writing, composing music. All creative thinkers are not an artist. Some include science and business too.
So in simple word, we can say creativity means when a person comes up with something new, something unique which is different from others.
Try something new, take challenges, keep struggling and come out of your comfort zone. These ways are certainly you g to help you become a better thinker.
Creative people can carry a task with new ways and ideas.
Lateral thinking is one of the means of creative thinking to take a path that isn't much obvious. Trying to be unorthodox and creative, your perspectives can be another definition of being creative.
Even Sherlock Holmes was someone who created solutions from his artistic abilities, try to think like him.
Examples of Creative Thinking 
1. Creative writing 
If you are a writer, try to be creative. Any writer, poet, author, novelist or even a journalist should work on writing creatively. Nowadays, creative writers are high in demand. Any graphic design company, marketing company or any other, everyone desires to hire a creative writer for their company.
Even in journalism, a person should have excellent writing skills which can help her/him write more effectively. And for this, you need lots and lots of practice. Putting efforts will always make you think big and creative. So try to think differently, and keep struggling with your ideas.
2. Communication 
Communication skills are something everyone should be good at. Let's assume a person is a topper in his academia yet a lousy speaker; this will make her/him suffer. Communication helps you create a better impression in front of people around you. It is one of the creative ways that you can use in your workplace.
Communication not only helps you in speaking, but it enables you to become a good listener. When you become a good listener, you observe better. It will help you in finding others and grasping their kind words. Therefore, try to maintain excellent communication skills to be creative.
3. Open-mindedness
Don't be an orthodoxy who always tries to take the path as others. Try to accept challenges, and when you become open-minded, you become creative. You always look for different solutions than those who follow orthodoxly. Try to oppose stereotypes instead of becoming a narrow-minded person.
We aren't telling you to boycott the good old ways simply, but try to think differently. Try to come up with different ways to tackle problems. It will always help you in becoming more creative. Open-minded people are creative thinkers.
How to Improve your Creative Thinking?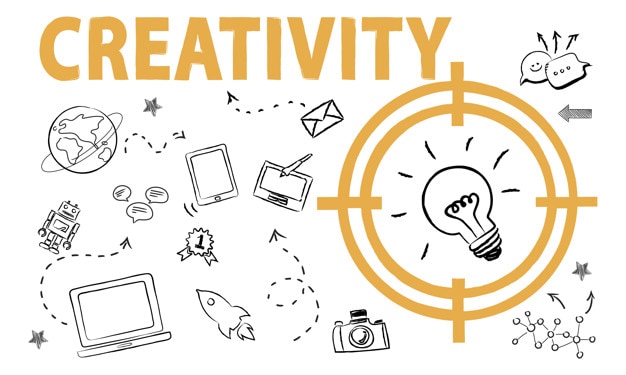 1. Keep working even if you feel uninspired 
Numerous distractions are roaming around you, don't let them hit you.
It often happens to a writer when a writer's block distracts her/him from his path. Procrastination and Writer's block are two different things. Procrastination is when you keep on delaying any task due to your laziness or less interest in it.
On the other hand, Writer's block is when you want to write, but you can't find any word to initiate. There can be weeks where you don't feel like writing anything. And on those days, try to work, work for short periods, but keep on working. And don't let anyone distract you; don't get indulged in any other work than this.
Keep yourself focussed, though it won't be effortless, the harder you try, the better you'll get. Even if you work for 20 minutes and take breaks, do that. Keep practicing this, and after a few attempts, you'll observe that you are doing great. The Writer's block or any other distraction won't bother you the same way.
2. Leave your Comfort Zone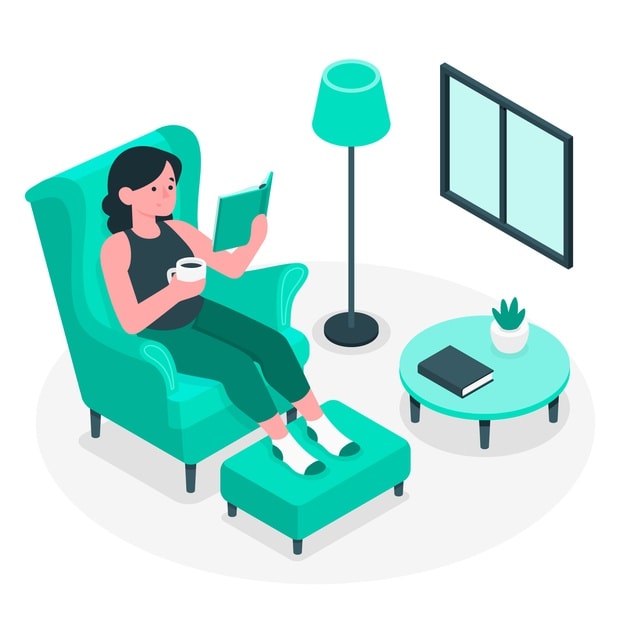 We know that it's tough for a person to choose a path of struggle instead of staying in their comfort area.
But you know, it's for your benefit, you get to know yourself better. The more you try new, the more creative it gets, every time. The comfort zone makes you lazy and a bit less productive.
Creativity gives you strength and the idea to think more about new ways. If you are one of those people who have never struggled for anything in your life, you are privileged but less creative. Creativity comes with effort and struggle, try hard and put effort. Whenever you feel you are on your low, try being creative.
Creativity lets your mind think more and encourages your brain to give creative solutions. Imagine if there is any competition, be it writing or any artwork. If you try to be more creative and different, then you have a higher chance of being a winner. Hence, take challenges and come out of your comfort zone.
3. Work, enjoy, dream, work 
Keep your mind fresh and relax when you are at work. You don't have to worry too much about it; you should create your own space.
Try to work with full effort and when you relax, try to relax all your muscles. Enjoying and relaxing should be a part of your daily routine.
It is better if you work and daydream and then continue to work. Dreaming, napping or even dancing helps you in enhancing the creative side of your brain. There are several works which can give you a headache, so the better way to tackle it is relaxing. Try to compose your mind and be comfortable with whatever you do.
Also, when you are working on a serious topic, it's better to take time and a nap. The creative side of your brain gets enhanced instead of getting a headache. Always working makes you feel irritated, thus allowing it to relax can help it reach more creativity.
4. Brainstorm
 
Brainstorming is a way to generate ideas for solving any problem.
This method includes an association that encourages creative thinking and creates a free-thinking environment. It's about containing groups of people and asking them for a solution regarding any problems. This teamwork and combination of creative thinkers give us a method named brainstorming.
And the group members have to listen to each of the ideas. Most of them will come with creative, innovative and positive thoughts. We suggest you go with the one who gave you the worst idea, try to create the best out of it. You'll think creatively about converting it into a positive one.
And we guarantee that you will love this new kind of brainstorming. Being creative is what everyone likes; new ideas are encouraged. An exciting twist to this brainstorming will be proved to be one of the best ways to build creative thinking skills. It's better to create the best out of the worst and work better in every form.
Common uses of Creative Thinking

There are multiple ways where one can implement creative thinking in real-life situations, be it on an artistic capacity or find solutions to a practical problem.
Anything which involves intensive brainstorming followed by a "lightbulb" moment can be regarded as creative thinking. Here are some examples of how to implement innovative thinking in day-to-day practical scenarios.
1. Artistic Creativity
One doesn't need to be a connoisseur of art to put an artistic touch to their work. Mundane tasks such as making discounts more appealing to the customers in retail displays or chart out a scenic path for a hiking trail can use your artistic creativity.
Other tasks or creations where you can implement an artistic touch include designing logos for a brand or an initiative, writing advertising copies so appealing that the customers cannot overlook innovative ideas for product packaging.
Below given is the list of tasks where artistic creativity takes center stage:
Composing a positively-worded fundraising script for the volunteers to appeal to the prospects.
Dialogue writing for a television or a radio commercial which appeals to the customer
Setting an exam to test the accuracy of students
Innovative ideas for product packaging
Creative logo designing for a brand or an initiative which people can recognize and appreciate at the same time
Creating a lesson plan that is more engaging for the students and participative.
Designing a newer look for a clothing line that speaks of the particular season it releases.
Scripting an appealing marketing copy for a print or online advertisement.
2. Creative Problem-Solving
Innovation also includes finding a solution to a particular problem by thinking out-of-the-box
One who can implement creative thinking to find a specific solution for a problem stands a better chance not only to solve that particular problem, but there are high chances that the solution is more efficient.
Finding a solution to find a way to solve the energy crisis, cutting costs due to a budget deficit or coming up with valid and persuasive arguments to defend your stand or your clients- all of them require innovative ideas. Innovative ideas demand creative thinking.
Some more ways and examples of developing creative thinking and making use of it are
Finding innovative steps to create a perfect strategy plan for a financial year during a staff meeting
Coming up with solutions which can cut energy use without compromising on efficiency
Implementing innovative ways which can improve the quality of a particular product or a service
Finding efficient ways to process travel reimbursement to the employees
Devising a new strategy and coming up with ideas to tackle a budget deficit
Improving worker efficiency by implementing appropriate incentives and rewards program to be awarded to the hard-working employees
Implementing an efficient database system to enter and access information
Bringing in better ways of communication between two individuals engaged in a relationship
Finding better ways to improve customer-company interaction which will further enhance the company's credibility
Top Creative Thinking Skills are
1. Open-Mindedness

Creative thinkers can think in a different and novel way. Keep aside your assumptions and look for things utterly new way. When a problem arises, try to deal with it with an open mind. Give yourself a chance to think creatively.
2. Analysis
The first rule of creative thinking is to listen first and try to understand it very well. Do not jump into the conclusion. To understand the things you need to have to the quality of examining things minutely, carefully to understand what exactly it wants to say.
3. Problem-Solving 
Not every employer is the same. Every employer wants to hire creative thinkers so that they can bring changes in the organization. The employer wants creative thinkers who will help them to solve problems.
So when you are applying for a new job writing that you can think creatively but also implement your thinking in work and solve problems.
4. Organization 
The organization is an integral part of creativity. During trying a new idea, you might sometimes feel messy. It would help if you organized your thoughts so that other people will able to understand your concepts and follow your vision. Create a plan of action and make your goal clear.
5. Communication

One will appreciate your creativity if you can communicate well with them and make them understand well about your idea. To make other people understand, you should have strong oral and written skills.
Final Thoughts!  
Analyzing things in your ways and trying to tackle it with new solutions is creative thinking.
Any artist who is appreciated for her/his work is a creative thinker. He never copies any work of someone, s/he instead tries to get inspired. A person can get inspired by anyone or anything, and then create something different in their ways.
Being innovative will take lots of effort; not everyone is going to be a supporter. But a creative person has to believe in her/herself and carry on. Not everyone will appreciate you, but when you are successful, there will be numerous people congratulating you.
So keep on moving and being creative.
Did we miss any of the critical, creative thinking skills that you consider essential? Feel free to share with us in the comments below.
Liked this post? Check out the complete series on Skills