Conversational skills are defined as the skills required to have a great conversation with another person or group of persons. It is usually informal since if the conversation becomes formal, it turns into a business discussion.
Explanation: Conversation is communication with one or more people. Therefore conversational skills are the skills that help and facilitate good conversation. The conversation mode was only face-to-face talk and possibly a few emails and letters, but people started talking to each other on phone calls as time evolved.
The world seemed to be shrinking, and people got closer. These conversations further evolved with the development of the internet. Messages, calls, emails, Instant messengers, and video conferencing are different modes of conversation.
Depending on the intention of the speaker and the message, various modes are used. For example, if the conversation is casual, then a phone call or messenger would be better, but if it turns out to be a long talk, it is better to use a video call or even mail.
Conversational skills are not by birth. However, some people are born with the ability to do that while others are not so much. You mustn't lose focus on the objective of the conversation.
Importance of Conversational Skills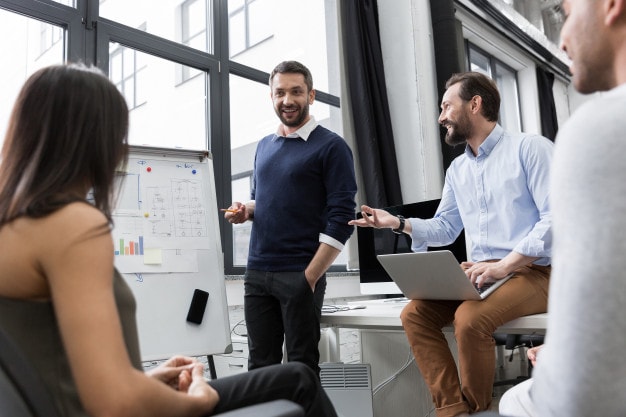 Communication is essential everywhere, especially in business. A person communicates with everyone day in and day out. Be it his boss, his colleagues, or his customers. Conversational skills are essential in the job.
The person should know how to communicate in different modes. Face-to-face conversations are long gone, and digital communication has replaced it. Communicating by message, phone, email, social media, video call, or any other relevant media is a skill.
A person is expected to have all sorts of skills when communicating or conversing with someone. Especially in business, an employee is expected to have all these skills to be an outstanding employee.
Good conversation skills help to alleviate conflict. Conflicts are persistent and present everywhere. A person may or may not work, but he will face conflict everywhere. In such cases, good conversational skills will help to reduce the conflict and its effects.
Good conversation skills allow you to be understood as a person. With good conversation skills, a leader can influence his employees and inculcate positivity in the work culture.
9 Ways to Improve your conversational skills
Although there are numerous conversation skills, the following are a few important of them:
1. Appreciation
Whenever you are talking, you have to remember that you are dealing with a human. Not your boss, not your co-worker, not your spouse or a customer, a human.
A human is a complex organism with thoughts and emotions. You may have known the person for years, but it doesn't mean you can consider that person merely an entity.
You have to appreciate the person from time to time for his emotions, kindness, humor, beauty, or any other emotion that he represents. Conversing with that person is not like talking to an online chatbot.
No matter what you think, the person in front of you will remain a person. You have to look him in the eyes and tell that you appreciate and recognize them for their quality, which sets them apart from others and quality that is genuinely theirs.
You have to say to them that you are honored to be in their presence, and you should confide in them.
2. Storytelling
The importance of a story cannot be emphasized enough. Humans are wired for storytelling, and everybody pays their complete attention to the story. They provide purpose and emotion and make us more empathetic.
Storytelling is also used in business and is termed as business storytelling used to connect with the customers. Leading with a story makes a conversation more interesting.
It provides something of a common base for both the speaker and the lister to bond on. Storytelling is also essential to introduce a humane aspect into the conversation.
It is a skill of which everyone should be aware of and should be brought up into conversation from time to time. Usually, the questions that lead to storytelling are open-ended, and they help us connect and surprise, delight, inform, or thrill. Business storytelling has a different purpose altogether apart from all of these.
Marketing and sales make use of business storytelling to no small extent to connect with customers. They are a medium by which the customers can understand a brand or a product's humane perspective.
Stories make the conversations more exciting and delightful, and if used correctly, they can go a long way in building relations.
3. Listening skills
While conversing is talking, it is not only about talking. If both parties talk, then there will be noise. One of the parties must listen. Hearing is when someone talks, and you browse your phone.
The words fall on your ears but don't reach your brain. This is called merely hearing, and it is very different from listening. In listening, you understand what the speaker is saying, and you respond accordingly.
Listening skills are essential in conversational skills. Listening helps us get the other person's perspective since if we keep on speaking, no one will listen. Intentional listening is when the person lowers his speaking ability to focus on the speaker or the other person.
The conversation is giving a turn to everyone involved to speak, and if they don't do that, it is tough to understand. The conversation will be successful only if listening is done like speaking. Listening requires patience and effort but once developed, it can have fantastic rewards for you and your conversational partner.
In business, listening skills are perhaps one of the important leadership skills, and it is only by listening to your customer; you can understand what exactly he wants. Marketing is all about listening to your customer and their demands.
4. Good Vocabulary
Don't underestimate the role of good vocabulary in a conversation. An idea can be conveyed in different ways, and it can have different impacts on the person depending on what vocabulary you use.
You can say the same thing in different ways and have different effects. For example, saying 'your performance is bad' is going to have a negative impact. It is a negative conversation opener, and it cannot end in any other way than argument or altercation.
It's either that or the other person would feel insulted. Instead of using 'Let's talk about how we can improve your performance' has a guaranteed success rate.
The other person will not be defensive when he hears this because this sentence shows that the person is willing to work it out. The message remains the same, but the change in vocabulary did the trick.
Similarly, to get the conversation your way, you should ensure that you use apt and correct vocabulary. Misinterpretation and confusion can occur because of incorrect words.
A common problem is encountered in British and American English wherein many times, both cannot understand each other.
5. Ask questions and be patient
Questions are the key to starting as well as continuing conversation. An open-ended question can invite an extended response and open up new directions to the conversation, and a close-ended question can restrict the response.
Right questions must be asked at the right time to the right persons. The person asking the question should be aware of what he is expecting when he asks the question.
For example, in business, especially in sales, open-ended questions must initially be asked to the customer. These questions help the customer open up, and the salesperson can pick up relevant points in the talk and take the business talk ahead.
On the other hand, when the salesperson tries to close the deal, closed-ended questions will help. Depending on the flow of the conversation, the questions should be asked.
In any case, asking questions is one part, and being patient is an entirely different aspect. After asking questions, there must be patience on the part of the first person so that the other person can respond.
If the person does not have patience, then there will be no time to answer the question, and it will be a pointless firing of questions. Wait for at least 1 or 3 seconds before the responder answers the question.
Sometimes it may take longer, and it is strongly advised to stay patient while the responder prepares for a response.
6. Be honest and open
More in-depth conversations happen only if you are honest and open while speaking. If you want to go beyond the superficial layer of talk to the deep realms where true relation starts, you have to open yourself up in the talk.
There are many things in which we avoid bringing up in conversation, like our failures or shortcomings. These things may embarrass us, but you must be honest about it.
If something you like about the other person, then say it; if something is bothering you, then speak it out. Being vulnerable does not mean you are weak, nor will the right person judge you.
Being vulnerable will help you accept yourself and your shortcomings, and you must trust that the other person will as well. Your vulnerability will reciprocate if you are honest and open in your conversation.
It is important to remember that the other entity in the conversation is also a human, just like us. Honesty is the key to connecting with other people, and it is how we sync and build relationships with others.
7. Non-judgemental attitude
All of us want to be heard and we – being humans – desire to be included. Every one of us wants to know that we are accepted and being valued. And this can be done if there is a non-judgemental attitude.
We have to understand the person who we are talking to is simply a human just like us. He will have flaws just like us, and it is okay to have flaws as long as the person is aware of it and he is working on it.
Turning his shortcomings against him is an awful thing to do. Let the person speak his heart in front of you. He may be angry, he may be emotional, joyful, conflicted, or any other emotion, but you mustn't judge him.
You should have a compassionate nature so that you understand the person without judging him. Do not deny or deflect in any way.
This will cause the person to feel misunderstood or shut down. You have to be supportive and kind, and if someone opens up to you in a conversation, it is a good thing. This means that they trust you.
If you judge, you break the trust. It may cause the person to not trust anybody after having a bad experience with you. Therefore it is essential not to be judgemental about another person.
8. Limit your bits of advice
This is the plain and simple fact: nobody wants your advice repeatedly. Unasked advice is probably the worst thing that you give.
If they want your advice, they will ask for it directly. You may have a lot of experience, and you have seen a lot of seasons and a lot of rain, but it does not give you the right to sell your advice to every single person that you see.
Sometimes, the person wants to talk, but you should stop if you start giving him advice. The self-imposed enlightenment will not work all the time. It can be annoying a lot of times.
If the conversation partner tells about his shortcomings or flaws or weakness, you do not have to advise it. Try to understand rather than giving advice directly. Do not offer opinions or quick fixes because that is not what the person is expecting. He is here to open up his heart.
Don't give them a sea of empathy or drown them in your rain of advice.
Take a deep breath, and limit your response. If you have so much wisdom as you claim to be, you would be a good listener rather than a good adviser.
9. Non-verbal cues
Most of the communication which happens is non-verbal. More than 60 to 70% of communication happens non-verbal rather than verbal. The person may intend to say something else, but his non-verbal gestures will give away something else entirely.
Look at the person in the eye and maintain eye contact. Look for his non-verbal gestures, which will give away his true feelings.
For example, a person might be confident in front of you, but a constant shaking foot reveals anxiety. Sometimes even the tone of the voice can give away a lot of things rather than the words.
Concentrate on the person, focus on the conversation, and be in the moment.
Conclusion
Conversation skills are the backbone of success in any organization. Apart from the company, conversation skills are essential for a person to develop himself personally and professionally.
These skills can be used almost anywhere and are for everyone since a great conversationalist is welcome in any situation.
Liked this post? Check out the complete series on Skills