We all like those people who stand up and raise voice for their or other people's rights (and against wrongdoings), but we admire those self-assured and confident individuals who do this calmly and positively without being aggressive.
– This quality is nothing but assertiveness.
So, those who do not passively accept the wrongs, and raise their voices for the rights of people in a calm, composed and practical manner are understood as assertive individuals.
When one incorporates the quality of assertiveness, he or she expresses themselves more powerfully and authentically without being passive or aggressive.
Dooren Virtue, an Angel Therapy charlatan, has once said-
"Once you have a major success with assertiveness, you learn that it's a much healthier path than being a doormat to the insensitive folks. You gain respect for yourself, have more time for your priorities, and develop authentic and healthier relationships."
In this article, we will understand what assertiveness is and how you can incorporate such quality to become an assertive person. So, stay with us, as we are going to unfold the world of assertiveness here and now-
Meaning of Assertiveness
Nowadays if you do not take a stand for your needs, there is no way you are going to get one fulfilled.
It is essential to put your opinion in front of everybody without being rude or hurting someone else's feelings to get what you want rightfully.
– And assertiveness helps you to do so.
It is not easy to be assertive; you need to learn about it properly. You need to incorporate some of the critical characteristics to be assertive.
An inspiration author, Shannon L. Alder once emphasized the importance of raising voice against the wrongs, and she said-
"Staying silent is like slow-growing cancer to the soul and a trait of a true coward. There is nothing intelligent about not standing up for yourself. You may not win every battle. However, everyone will at least know what you stood for—YOU."
But, it is essential that when you stand up and speak, you do it in the most effective, constructive and productive manner. – Assertiveness will empower you to do this in the right fashion.
What is Assertiveness?
Assertiveness is all about presenting and taking a stand for your desires while keeping other's dreams, needs and wishes under consideration.
There is a fine line between aggressiveness and assertiveness. – And you need to maintain that to make your voice more impactful and result-driven.
Because it will be of no importance that you raise your voice quite aggressively that it misrepresents your personality and viewpoint as anarchic, chaotic and disturbing, it will never offer you the favourable results for which you stood up and raised your voice.
All in all, assertiveness is taking a rightful persistent stand for own ambitions while keeping other person's preferences in viewpoint.
What does being assertive means?
Being assertive helps you to get what you want without undermining your own or other's beliefs. It will always help you to be more confident and less stressed in your life.
Assertive people are always confident in putting forward their opinions, but they do it in a calm, positive and authentic manner.
How to recognize assertive behaviour?
Assertive behaviour helps the person achieve his goals with a rightful, positive attitude.
A person with assertive behaviour will always regard what others think and what they have as their preferences.
Unlike aggressive behaviour, assertive behaviour still has respect for what other people have.
Why should you become Assertive? – Benefits of Assertiveness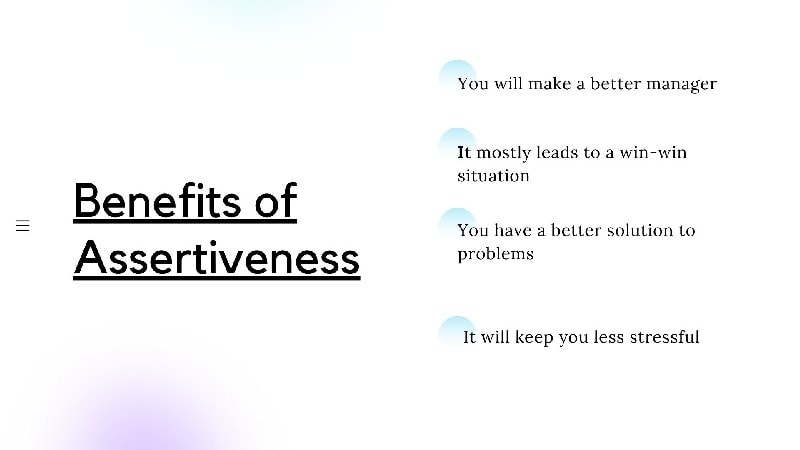 There are several reasons you should become assertive.
It helps you gain your dream and being more positive in your life.
Being assertive boosts your self-confidence and self-esteem, which assists you to prosper more in life. So here are some reasons you should become assertive-
1. You will make a better manager
People with assertiveness behaviour make an excellent manager. And as they care for other's wishes and feeling people tend to follow them more.
2. It mostly leads to a win-win situation
Unlike aggressiveness, assertiveness focuses on both own happiness as well as the opposite person's wishes. It results in a win-win situation, ultimately.
3. You have a better solution to problems
The assertiveness helps you stay positive and calm, which yields better solutions from you than others.
4. It will keep you less stressful
As assertiveness keeps you calm from inside, makes tolerant and makes you accept other's opinions easily, this keeps your stresses down.
Assertiveness Vs Aggressiveness Vs Passiveness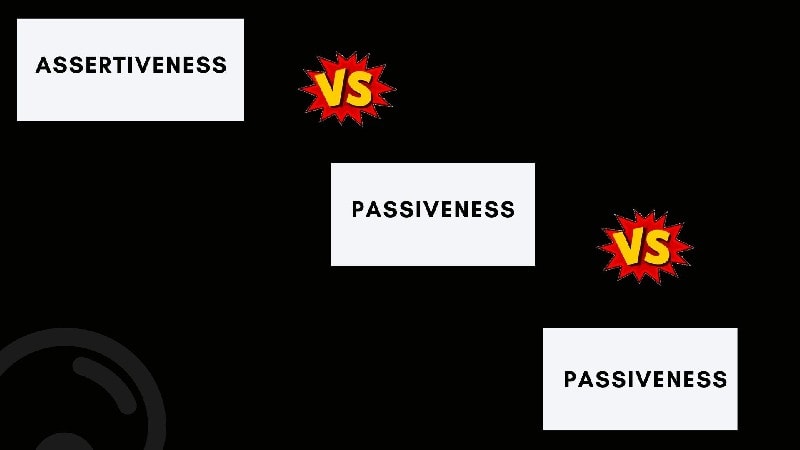 It is crucial to identify your behaviour before you try to change for good.
There are three types of behaviour you can have in life. They are assertiveness, passiveness, and aggressiveness.
There are notable differences among these behaviours. So let's have a little look at them.
1) Aggressiveness
This has a small difference with assertiveness. Both of these focus on getting what they want. But the main difference is aggressiveness does not care about what others feel. But assertiveness cares about others desires while taking a stand for own need.
2) Passiveness
This behaviour is mainly about doing something, even when you do not want to do anything. A person with passiveness will never be able to say 'NO' to something, yet it has an extreme problem for him to do the job.
3) Assertiveness
Most psychologists consider this as the most balanced behaviour. Here you take a stand to what you want without hurting anyone else's feelings. It is the best way to make a stand for yourself.
Edith Eva Eger differentiates these qualities in her book The Choice: Embrace the Possible, and she says-
"To be passive is to let others decide for you. To be aggressive is to decide for others. To be assertive is to decide for yourself. And to trust that there is enough, that you are enough."
Now, comes the question of how you can incorporate assertiveness in your personality. Let us have a look upon some of the critical tips that will help you in integrating assertiveness-
How to become more assertive?
1. Use more ' I ' sentence
When you use the, I statement it shows that your opinion is about what you think rather than just charging others. It clears what you want in front of others. Try to use "I disagree" next time in an argument where you want something else.
2. Learn to say 'NO.'
It is essential to say 'NO' for everyone. If you do not learn to refuse, you will never be able to make it assertive. Practice saying "sorry, but I cannot do it" the next time someone asks you to do some favour in your otherwise busy schedule.
Warren Buffet, the fourth wealthiest person in the world with a net worth of US$88.9 billion as of December 2019 has once said
"The difference between successful people and really successful people is that really successful people say no to almost everything."
3. Rehearse to put your opinion
It is crucial to speak about your needs and what you want openly.
It would be best if you practised it often. If you find it hard to do it at first, try role-playing with your friend or colleague.
4. Use your Body language properly
Our body language speaks a lot about us. Once you learn to use your body language, it is just a piece of cake to present yourself to your needs.
Maintain eye contact properly while communicating with the opposite person. Keep a confident posture with an upright position. Try practising assertive body language too if you find it difficult.
Paying heed upon the gestures and postures of assertive people will always help you in incorporating assertiveness in your personality as well.
5. Control and check your emotions
It is another crucial step to assertive behaviour. Emotions do not let you stay calm and leads to hot and exciting arguments or sometime you may feel just too broken to put your statement.
Therefore, it is vital to keep your emotions under control before you put your perspective in front of someone.
If you are feeling emotional, wait for a moment, calm down and then start communicating.
6. Take small steps at first
Do not try to be 100 per cent assertive on the first day. It is not easy to change your behaviour. Even if you are keeping it slow make sure the change stays with you.
Start by changing small habits or one change a week. And keep practising the positive attitude and assertive body language even if small steps take the permanent ones.
7. Accept that you cannot change what other people do
Assertive behaviour is not always getting what you want. You can put your point of view in front of other people irrespective if they change their mind or not.
It is a simple fact that assertiveness teaches us that we cannot change what the opposite person feels.
Final Thoughts about Assertiveness!
After going through the above points, we believe you have gained enough knowledge about assertiveness and how you can make it to it.
We hope that you got the needful information for yourself and it will help you to your journey to becoming more assertive.
How important do you consider assertiveness while putting forward your opinions?
What according to you, are the essential characteristics of an assertive person? Share your opinion with us in the comments below.
Liked this post? Check out the complete series on Skills