Do you like humble people? Then you are not the only one who loves humble people; we all do. – And this state or quality of being humble is understood as humility.
Humility offers freedom from arrogance.
In the words of C. S. Lewis, a British writer, and lay theologian-
"Humility is not thinking less of yourself; it's thinking of yourself less."
In this post, we will be talking about what humility is in our regular as well as business lives, plus we will be covering different aspects associated with humility.
So, let us get started right away-
What do you understand by Humility ?
"The quality of having a modest or low view of one's importance."
– That's how the Oxford dictionary defines humility.
It is a source of modesty and humbleness that a person has in him. Lack of pride and genuine gratitude describes the modesty of humility.
Our creator has gifted us with the blessing of humbleness. Every creature is reasonably gentle in its way. Humility is about prioritizing the lowliness of one's mind and thereby be humble towards others.
Although humility is an old-fashioned term yet it has great importance in one's life. If a person isn't humble, he or she can't be modest and genuine.
All the great leaders who followed the path of humility are remembered in history.
However, the lowly of mind sounds a bit negative, yet it is precious. Not just the religious leaders but the political followed humbleness. Keeping others first and prioritizing others is one of the pillars of humility. People who have humility, work for the welfare of others.
Even Jesus was never terrified to speak about others.
He used to speak and care for those who were struggling genuinely and miserable.
And he never distinguished between those in authority and poor people. He remained an unbiased soul his entire life, and this is a lesson every individual should seek from him.
What is the importance of humility
Thomas Moore, an Irish poet, once said-
"Humility, that low, sweet root, from which all heavenly virtues shoot."
As we have mentioned, humility is about caring for others.
But that doesn't mean that a humble person becomes a 'doormat' where anyone can walk over them. No, it's not like that. Instead, it is about understanding that each individual is worthy of value and love. No one is above or lower than any other person.
Assertiveness and self-esteem both are crucial to understanding humility.
Assertiveness is about standing up for others and yourself. And present your views in a very calm manner. And a person needs to show humility to be an assertive person. To develop assertiveness, the first step is about being modest and humble.
Then comes the self-esteem – which is a feeling that one has for him/herself
The way we think and have an opinion, not about others, but for ourselves is self-esteem.
Hence, humility and self-esteem are inter-related. And being humble is about having a reasonable opinion and optimism about oneself.
A person should accept their qualities, also, to allow other attributes and value them. Recognizing others is also a part of humility, valuing and speaking for them — acceptance for the benefit of your own and others who are struggling.
Humility in the Bible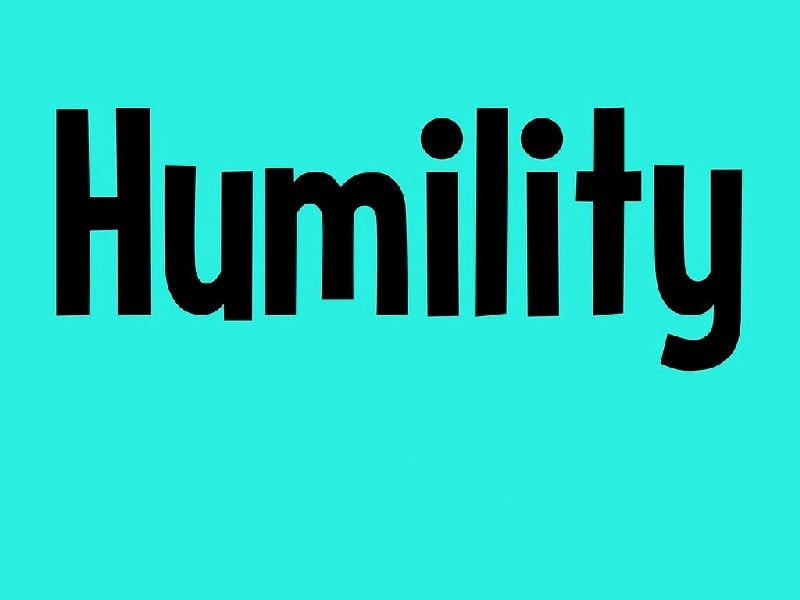 In the Bible, it is mentioned that a selfish person will lose everything in the end.
Humility is crucial to be the right person. Start valuing others instead of focusing on yourself. Below we have mentioned some of the verses that show how vital humility is-
Humble yourselves, therefore, under God's mighty hand, that he may lift you in due time. – 1 Peter 5:6
If my people, who are called by my name, will humble themselves and pray and seek my face and turn from their wicked ways, then I will hear from heaven, and I will forgive their sin and will heal their land. – 2 Chronicles 7:14
When pride comes, then comes disgrace, but with humility comes wisdom. – Proverbs 11:2
For all those who exalt themselves will be humbled, and those who humble themselves will be exalted. – Luke 14:11
Humility is the fear of the Lord; its wages are riches and honour and life. -Proverbs 22:4
Before a downfall, the heart is haughty, but humility comes before honour. – Proverbs 18:12
How to Develop Humility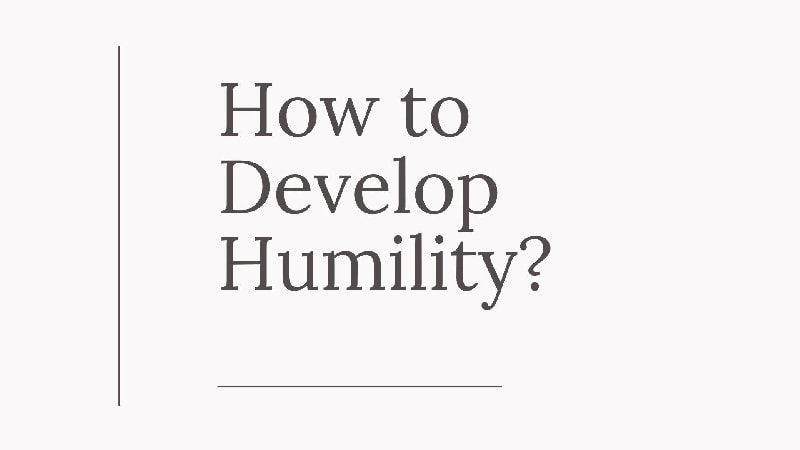 The hardest trait which can't be acquired easily, that's humilit
You need a lot of selflessness in yourself to be a humble person. You should accept the fact that you can't always be right. Therefore, you will have to listen to others. Start accepting others' opinions and valuing your feelings also.
It is moderately easy to remain humble when you are at the low end. But as soon as you start moving upwards, you stop valuing others.
It means when a person gets a senior post in their office; they begin ignoring others. And they only care about themselves, instead of caring about other employees.
Try to follow the below-mentioned activities to develop the humility embedded deep down your soul.
1) Focus on the present, and practice mindfulness
It's better not to cry over memories of the past.
You should try to focus on what is happening in the present. Don't hamper yourself by worrying about the future. Plus, you should also accept yourself with every flaw you have and appreciate yourself.
You must stop judging and start caring.
2) Whenever you need, ask for help from others.
Many people refuse to seek help from others.
That's because they are full of pride or they hesitate or shy in letting people know about their shortcomings.
Don't be any one of them; you will only end up losing.
You should start seeking help whenever you want it.
It will grow your humility and people will appreciate you. Never let your pride enter between these things.
3) Be grateful for whatever you have in your life.
You must start counting your blessings. That's a straight and precise way to understand how you should start being grateful.
A person quickly points on God whenever he is in a problem, but how many times have you thanked him?
Start appreciating the creature for whatever you possess. Also, thank others if they do any favour to you. It teaches you to be humble.
4) Never coose the path of pride.
Pride leas to destruction. We all know that arrogance and pride can only make a person selfish and self-centred. Instead, a person should be down to earth and liberal.
This unpleasantness of pride will make a person vulnerable.
However, try to appreciate others and recognize them. It will safeguard you from heading towards arrogance, plus you will slowly develop the humility in you.
5) Listen to others 
Lend your ear to those who want to speak.
You should not always be ready to speak, also, listen.
You must spend your time in valuing and listening to others. Express your values and respect their emotions.
It is a powerful way to be a humble person.
6) Start asking for feedback from others.
It is crucial if you are a leader of any organization or group.
You should try to hear from others about yourself. Don't only ask for feedback, also provide it to others. It will help each one of you in being genuine towards each other.
And, don't be afraid of receiving negative comments, you can never be perfect. Hence, you will receive both types of feedback, accept them and acknowledge.
Here is a video by Marketing91 on Humility.
Final Thoughts about Humility
There is no bad in being humble. Humility is a pillar of becoming a great leader.
Therefore, every leader follows this area. Instead of focussing on "I, me and myself", the humble person focuses on "us". Each one of us should strive to be an ordinary person and develop humility in ourselves.
Saingustine, whose writings influenced the development of the Western Church and Western philosophy, had once said-
"Humility is the foundation of all the other virtues; hence, in the soul in which this virtue does not exist there cannot be any other virtue except in mere appearance."
What are your thoughts about the importance of humility in our lives?
What kinds of practices do you opt for to stay humble? Feel free to share your thoughts in the comment section below.
Liked this post? Check out the complete series on Skills