Good speaking skills empower individuals to communicate or convey their message or thought-process or viewpoints in an articulate, convincing, thoughtful, and passionate manner.
By incorporating the right speaking skills, a good speaker will be able to add flavor, styling, variety, and dynamics to optimize the chances of getting favorable outcomes from their spoken words. Let us delve into the world of speaking skills and understand how you can incorporate the right ways of speaking to optimize your success rates.
Introduction to the Speaking Skills
In today's highly competitive and professional world, having professional and fluent speaking skills is not only highly desirable but also necessary.
Eloquent and effective speaking means speaking in such a manner that the message you want to convey is delivered and received and is capable of moving the listener and compelling him to act. Speaking effectively depends on two main pillars.
They are what you say and how you say. One has to be very clear and precise on these two pillars if they want to speak effectively.
First of all, what to say does not mean the subject of your talk but rather the words you choose to say. For example, when you talk to your family member or your friends, you will select certain words. But when you are taking in a professional space like a debate or an interview, your words will be different. This means what to say.
Secondly, how to say means the way you deliver your words. The method of speaking or taking makes the most significant difference. If you have an exact choice of word but do not deliver it accurately, all your choice of words will be futile. Hence the attitude of speaking is as important as the words.
The Technical Steps involved in improving Speaking Skills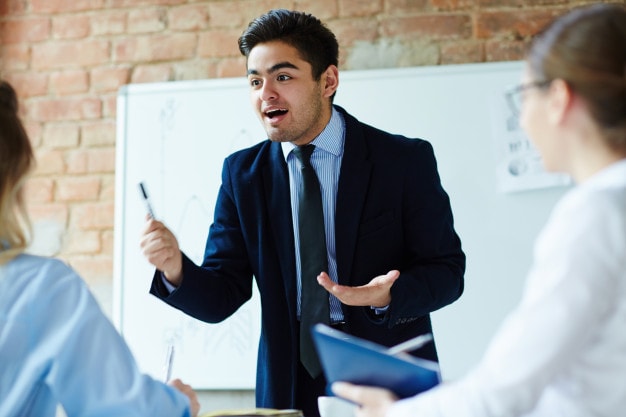 Here are specific technical steps that one must follow to improve the speaking skills.
1. Expand the vocabulary
First thing first, a useful vocabulary is the key to quality speaking skills. Hence, if you want to improve your speaking ability, you have to expand your vocabulary right away. One can start expanding the vocabulary by learning new words every day. One can start doing this by making a daily target for himself. One can set a goal of leaning 1/2/3 words a day as per convenience.
However, if you have time or can learn only one word a day, do not be discouraged, learning even one word a day will make a massive difference at the end of the year as you will have learned 365 new words.
Learning new words does not only mean to memorize them once. You have to practice them at regular intervals, use them in sentences. You can learn new words from different sources, like books, newspapers, magazines.
However, in today's digital world, several practical applications are highly useful for learning new words. You can download an app and start learning right away.
2. Improve the Pronunciation
After learning new words, correcting pronunciation is the second step. Remember, even if you discover hundreds of new words but end up mispronouncing them, all the learning will be useless. It is because by mispronouncing it, you will change the meaning of the word.
To correctly pronounce a word, you can ask someone who knows the pronunciation. Otherwise, there are other features that you can use on your own. You can go to YouTube and search for the articulation of a particular word.
If you are using an online dictionary, you will see a voice symbol on the top right corner or beside the word in most of the apps. You can tap it, and the app will pronounce the word for you. Hence, pay precise focus to pronunciation.
3. Observe the Flow
This is the last step in the technical part of improving speaking skills. Once you have a useful vocabulary and know the correct pronunciation, the last thing you have to do is to observe the flow of the language.
Remember, your final goal is not to learn new words and how to pronounce them but to speak fluently. Hence, you have to practice speaking to improve your flow of language. You can start by reading paragraphs, short stories, poems, etc.
Pronunciation plays an important role here. There are specific differences in pronouncing a single word and pronouncing a sentence. And, this is what you have to work on.
For example, if you want to improve your English speaking skill, you can adjust it by listening to English films, English music, discussions, documentaries, etc. See how native speakers speak with a particular flow.
How they pause, how they emphasize specific words.
How to Improve Your Speaking Skills? 
1. Talk to Yourself
Talking to yourself is the most effective way to practice and improve your speaking skills. Remember, there is no alternative to speaking. The more you speak, the more you grow. By talking to yourself aloud, you will learn about your standard of speaking, reveal the faults, and eventually improve yourself.
For example, you have written something that you have to read, start by reading it to yourself. Do it multiple times. You can also look into a mirror while speaking. It will give you an idea about your gesture and your attitude while speaking.
Hence, talk to yourself as much as possible. It will make you speak fluently.
2. Record Yourself
This is another fantastic idea to check your speaking skills. While you speak to yourself or read a speech, story, or poem, you can always record the reading and listen to it later. If you get a clear idea about the way you speak.
Once you listen to your recording, you will know about your voice, your flow, and if you are having any problem while speaking.
You can also make a video; this will give you added advantages. You will get an overall picture of your speaking. You can see if you have the correct body language, posture, etc. and improve them accordingly.
3. Talk with Someone
Talking with yourself is helpful and improves your skills. But, what is more, helpful is speaking to someone else. Hence, if you have a family member, friend, or even colleagues, you can talk to them and practice.
You can ask them for their feedback. To point out your mistakes and the things to improve. Speaking with someone else will add the perspective of a third person. You will get feedback from a listener in a real sense.
He will be more objective in pointing out your mistakes and positive things.
4. Take Part in Speaking Events
Taking part in various speaking events prove to be a huge help. The more you speak in front of people, the more confidence you get. By taking part in public affairs, you will get the chance to listen to others and learn from their positive sides.
Moreover, you will have the practice of facing people; as a result, you will get used to the environment and eventually lose your nervousness and stage fright if there is any.
You can participate in poetry reading events, debate shows, cultural events, present papers, etc.
5. Using apps
This is an additional way to improve your speaking skills. Today, there are several applications available that prove you with a platform to practice speaking. You can take the subscription of any such apps.
It will give you a list of native speakers of a given language who will personally talk to you, discuss it with you. You can schedule your talk and practice talking with them. Hence, this is an effective way to improve the language as you get the chance to speak directly with native speakers of the word.
If you have any mistakes or need to work in specific fields, they will point them out.
Additional Things to Remember for honing Speaking Skills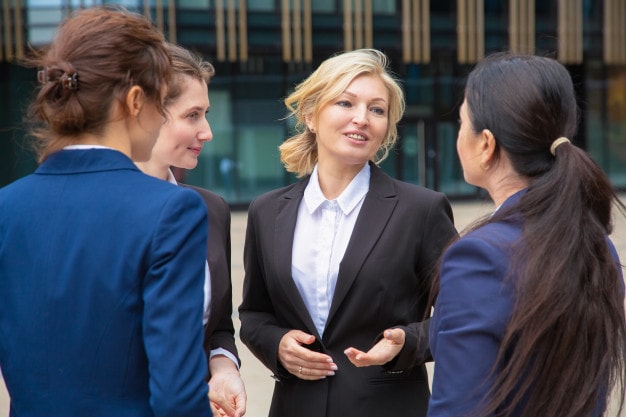 Here some additional things that you can remember while speaking. These things will put a final touch on your speaking.
1. Voice Control
Controlling your voice while speaking is one of the finer details to add to your presentation. As a public speaker, you have to have reasonable control over your voice. It will take your speaking to another level.
Controlling the voice includes different things such as managing and maintaining a specific tone, controlling the breath, controlling the pauses, etc. Paying attention to such small details will make you a professional speaker, and people will love you listen to you.
2. Breathing Practice
If you want to raise your speaking skills, you have to practice Diaphragmatic breathing. It will decrease the feelings of breathlessness and speech anxiety while speaking. Also, it will give you better control over your voice. It will make your talk more fluent and smooth.
3. Tone
The tone is also essential while speaking. Though people generally do not pay much attention to tone and speak in their natural sound, you have to remember that not everyone has a similar sound. And certain tonal qualities are preferable than others.
Hence, if possible, you should practice a tone that will be better for public speaking. You might even have to adopt a new sound for that matter. But remember that these are very professional things, and if you succeed, you will easily stand out from the crowd.
4. Volume
Work on your amount of speaking. Different topics end the environment of speaking demand different volumes. But most people do not remember this. Some talk too loudly when they need to be very soft, while others are very smooth when they need to speak with aggression. Hence, work on practicing the volume and how to change it according to needs.
5. Body Language & Expressions
 Body language and facial expressions make a massive difference in speaking. Hence, look at yourself while speaking. Talk in front of a mirror or shoot a video. Look how you are standing, how you are moving your hands. At the same time, pay attention to your facial expression.
When you smile, when you show aggression and the way you move your eyes. You have to practice to maintain constant eye contact with the audience. It will keep them engaged
10 Hacks for Mastering Public Speaking Skills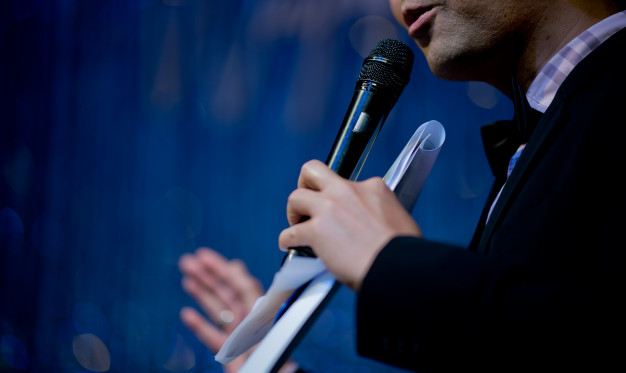 Being nervous is normal, so do not panic, instead, practice and prepare
Know your audience, as your speech is about them
Organize your speaking material to attain your purpose
Always look for the feedback and then adapt to that
Always let your personality come through
Include humor, tell stories, and opt for effective and relevant language
Try to work from an outline and do not read unless you have to
Adeptly use verbal and nonverbal forms of communication for effective speaking
Grab the attention of audiences at the start and close with a dynamic end
Use audiovisual aids intelligently
Final Thoughts about Speaking Skills!
Improving speaking skills needs constant practice and hard work. Remember that you will not be able to recover it in one day, one week, one month, or even one year.
There is no end to improvement. You will have to keep doing the things mentioned in the article. Practice, practice, and practice more. Pay attention to the minute details. And always be ready to admit your mistakes even if it does not sound or feel right.
Also, listen to others speaking. Listen to professional speakers and see the things they do. Hence, keep working hard, keep looking, and keep talking.
How do you rate your speaking abilities? Did this post help you in improving your speaking skills? Share your views with us in the comment section below.
Liked this post? Check out the complete series on Skills